More than 300,000 people moved to North Carolina from another state during 2018, new estimates from the U.S. Census Bureau show.
While some 200,000 people moved away from North Carolina during the same period, that still left North Carolina a gainer in interstate migration.
Many movers didn't go far: Virginia, South Carolina and Georgia were among the top states of origin and destination during the year.
Other trends are more dramatic: after decades of booming growth in the Sun Belt, almost 500,000 people born in New York had made their home in North Carolina by 2018. 
Pennsylvania, New Jersey also rank high on the list of states that have seen their native sons and daughters come to North Carolina over the years.
"I have helped quite a few people who could go to anyplace who have looked at North Carolina" and relocated here, said Winston-Salem Council Member Jeff MacIntosh, who sells residential real estate. "The boxes they check off are health care, four seasons, cost of living, quality of culture and low traffic."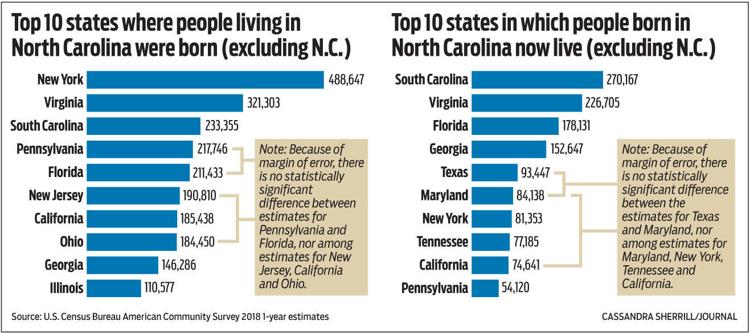 In 2018, Florida was the single state that saw the most residents moving to North Carolina, while only a relative handful made their way here from the distant reaches of North and South Dakota.
It was hard to tell from the 2018 estimates whether most states were net gainers or losers in migration to and from North Carolina, but certain patterns were unmistakable:
*New York was a heavy loser in migration to North Carolina. So was New Jersey.
*While Florida was one of the most common destinations for people leaving North Carolina, more people came here from Florida than left North Carolina for that state.
*Where California may have once been the golden shore for some North Carolina residents in times gone by, the movement between the states now flows the other way: It is possible that two people left California to come to North Carolina for every one going the other way.
*The high-poverty states of West Virginia, Mississippi and Louisiana gave North Carolina more people than they received from this state. North Carolina also netted gains from Puerto Rico.
*Arizona was the only state that clearly received more folks from North Carolina than went the other way. The imbalance may have been as high as five to one, although that would be on the high end of the estimates.
*With the exception of the states specifically mentioned in the bullet points above, the margin of error was too great to say whether North Carolina was a net gainer or loser compared to any other state in 2018.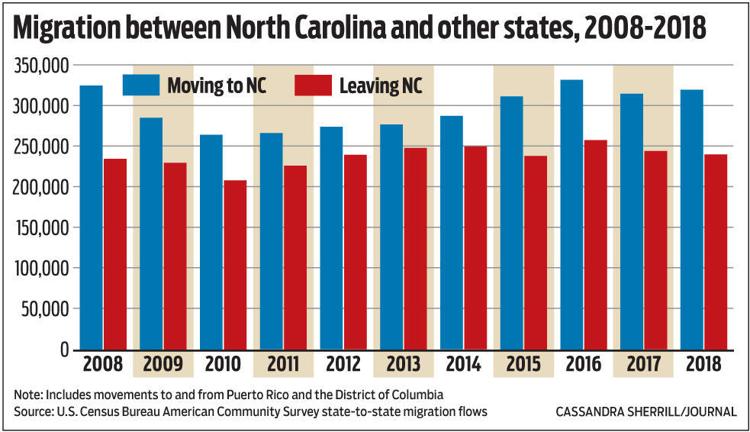 For all the moving about, most North Carolinians stayed put during 2018, the Census Bureau said. Of the state's 10.3 million residents, 8.7 million were living in the same house that they had lived in the year before. Another 1.2 million moved to another place but stayed in North Carolina.
The Census Bureau survey also picked up 50,000 people who moved into the state from abroad in 2018, although no detail was available on what places people came from.
The estimates showed that in 2018, some 35,000 people moved from Florida to North Carolina, while around 25,000 went the other way. Around 25,000 people both came from and went to the states of Virginia and South Carolina.
While some 25,000 people came to North Carolina from New York in 2018, only 10,000 or so went the other way. Exchanges between North Carolina and both Texas and Georgia were about balanced, some 17,000 to 18,000 going either way.
Where almost 18,000 people came from California to N.C., only 11,000 or so were going the other way, the estimates suggest.
Meanwhile, all that migration has created quite a mix of origins for people in the Old North State, which in 1940 had a population that was 90% native to the state.
According to the estimates, 5.7 million people born in North Carolina still lived here in 2018. There were another 3.6 million people living in North Carolina who were born in other states: 1.1 million from the Northeast, about 625,000 from the Midwest, 1.6 million from other states in the South and some 340,000 people from the West.
A smaller number of people, some 140,000 or so, were born in Puerto Rico, other U.S. island areas or born to U.S. parents abroad.
Then there were the foreign-born: some 825,000 people, of whom about 325,000 were naturalized citizens, and around 500,000 non-citizens.
Geographer Keith Debbage, a professor at UNC Greensboro, said New York's status as a leading source of in-country migrants to North Carolina has been a trend so long that many know the joke about what "Cary," outside Raleigh, actually stands for:
"Containment Area for Relocated Yankees," Debbage called it. "You see a lot of high-skilled talent there, not just from New York but from other northeastern states. The fact that we know that acronym in North Carolina shows the perception and the reality of their contribution."
Debbage said he'll be worried about North Carolina if it becomes a state of net-outmigration, as California has become.
"I've often thought that people vote with their feet," he said. "People move. People arrive in places. Despite all the challenges the state faces, if you look at how people behave in terms of how people move, we have been a winner for decades. I view that as the ultimate metric."
If the percent of residents born outside North Carolina is a measure of economic health, it is clear that Forsyth County lags behind places like Mecklenburg and Wake counties in N.C.
Where 58% of the people in Forsyth were born in North Carolina, only 40% of the residents of Mecklenburg were born in the state, the 2018 estimates show. Wake County was 43% born in state. 
While New York has been a top state for sending folks to North Carolina over the long haul, 2018 saw the state of Florida clearly in first place for the year. 
A lot of those Floridians may be people who originally moved south from New York, Debbage said, then tired of the flat landscape and lack of four seasons.
Rich Geiger, the president of Visit Winston-Salem, is one of those people who grew up in New York, later on found himself in Florida, where he met his wife, and is now happy to call North Carolina home. In between Florida and North Carolina, though, there was a 14-year stay in Buffalo, N.Y.
Geiger said that when he was in Buffalo he thought about returning to Florida, but that his wife wanted four seasons. 
"A lot of friends that we had in New York now live in North and South Carolina," he said. "My closest friend, who grew up on Long Island on the same street as me, sold his business and moved to Charleston. It is the weather, the cost of living, and the taxes are generally lower. That is appealing to people who are getting older and are going to retire on a fixed income."
In many cases, Geiger said, the parents of younger people working in North Carolina are moving here, too.
"We have quite a few people who come into the visitor's center who are looking to relocate," he said. "It is anecdotal, but you hear them saying, I have a family member who works in Charlotte ... or Raleigh ... we want to be close but not too close."