GREENSBORO — Wham! Bang! Thump!
The walls vibrate as the sounds of splintering plastic and shattering glass compete with the bass of a loudspeaker playing hip-hop music. You might think there's a fight happening on the other side, but instead ... there's laughter.
Vonya Adams and Briseida Castro are at Break 'N Bash, Greensboro's newest entertainment venue. It's a place where people pay to smash things. TVs. Computers. You name it.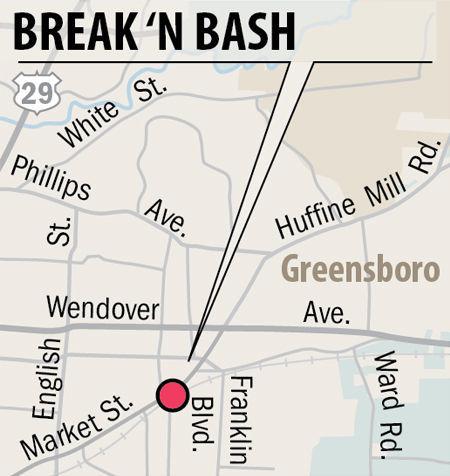 Adams and Castro emerge from a room. What was a television has been reduced to bits as a smattering of twisted wires and shards of circuit board litter the floor. Tiny pieces of gray glass from the TV screen are mixed among the remains of dinner plates and wine goblets.
"I just figured it was a way to come and let off some steam after a stressful work week," Castro explained.
Adams, on the other hand, was looking for a way to deal with her mood swings.
"When I was in there I was thinking about all of the things I was angry about this week," Adams said.
Step aside, axe throwing. Breaking stuff may become the country's new entertainment trend.
Therapeutic? Maybe. Satisfying? Definitely.
Millia Edwards opened Break 'N Bash last year. The Greensboro native is a 2018 graduate of Winston-Salem State, where she got a degree in vocational rehabilitation and received training in substance-abuse counseling and crisis intervention.
Of course, counseling doesn't work for everyone.
"Not everyone wants to talk to somebody, but a lot of people find this relieves stress after a long day at work," Edwards said.
Break 'N Bash has three "break rooms." Adams and Castro seemed a little tense before entering one, but they were all smiles when they came out.
TVs, computers, dinner plates, glassware and even Christmas ornaments are some of the things you can break — items Edwards purchases or gets through donations.
Customers have a choice of a sledgehammer, crowbar or bat to use — or they can try all three.
"People will come in and listen to Christmas carols and smash ornaments in the middle of the summer," said Edwards with a laugh.
Customers suit up in coveralls, goggles and other protective gear.
Edwards provides heart-thumping music or customers can stream tunes from their own devices.
Break sessions are 20 minutes long at a cost of $45 per person. Get a friend or two and it's cheaper. The clock starts ticking when Edwards hears the first wham. She uses a closed-circuit monitor to keep an eye on things.
After a break session, Edwards cleans the mess and sets up for the next person.
Customers can even bring their own stuff to smash. There was the woman who came with a lipstick-stained coffee cup — a reminder of her husband's affair.
There was also the man who suited up and entered a break room. Edwards watched him on the monitor as he stood there for about a minute. Then he took off the coveralls and walked out.
"He scared me a little bit because he was a big guy. And I was, like, 'Are you alright?,'" Edwards recalled. "He just sat down and he was, like, 'I don't think this is for me. I don't like that side of me to come out.'"
Edwards and the man ended up talking for over an hour.
"He said, 'That was better for me than going in there and smashing things,'" Edwards said.
Courtney Kent, who works at a veterinarian clinic, said dealing with people's sick and dying pets takes an emotional toll. She managed to save a pet the day she came to Break 'N Bash.
"I had a good adrenaline rush," Kent said, "so this was perfect to work that off."