New Census Bureau estimates for 2018 show Forsyth County still struggling to attract millennials, who are a key demographic for communities that are growing.
That's in contrast to Mecklenburg, Durham and Wake counties, which appear to be doing quite well in that department.
"Across urban America, the share of 25- to 29-year-olds is invariably driven by the geography of the experiential and knowledge economy," said Keith Debbage, a geographer at UNC Greensboro. "Wherever that sort of economy is thriving, you tend to see disproportionate shares of young, talented workers.
Why do you think Forsyth County doesn't attract as many millennials as other large counties?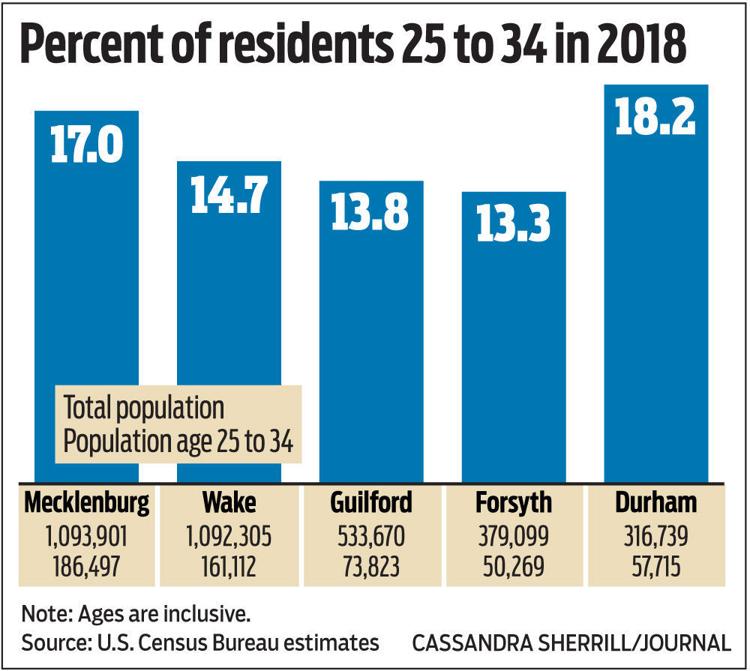 Forsyth County's struggle is a relative one: This county pales in comparison to Mecklenburg and Wake counties for attracting millennials, but stands above the mid-sized counties of the old industrial Piedmont, places like Davidson or Catawba counties.
And Forsyth County is among the 20 most youthful counties in North Carolina. With a median age of 38.4 in 2018, Forsyth County almost hits the national average of 38.2 years on the nose.
Still, the median age here is higher than in the other counties in North Carolina that are competing to attract millennials.
There's no official definition of what a millennial even is, but the 25 to 34 age range includes people who came of age in the 21st century. Those ages fall into two five-year age brackets in the Census Bureau's estimates program: one covering people in the 25-to-29 range and the other for those who are from 30 to 34 years old.
In Forsyth County, the Census Bureau estimated there were about 26,000 people between the ages of 25 and 29 in 2018, and they made up 6.9% of the population. Another 24,000 or so were in the 30-to-34 bracket, and they were 6.4% of the total here.
For comparison, in North Carolina statewide, 7% of the population is in the 25-to-29 age group, and 6.4% is in the 30-to-34 age group.
Mecklenburg County's population is higher, so naturally its people between the ages of 25 and 29 (97,000) outnumbered those in Forsyth. But in Mecklenburg County, the people in that age bracket made up 8.8% of the population. Mecklenburg had another 90,000 people who were ages 30 to 34, and they were 8.2% of that county's 2018 total.
In Durham County, a whopping 9.3% of the population was in the 25-to-29 age group. Or, look at it this way: With 62,000 fewer residents overall, Durham County boasted 4,500 more people than Forsyth in that age group. In Durham County, there were another 28,000 residents who were ages 30 to 34, or 8.9% of that county's total.
Add the numbers up, and they show other urban North Carolina counties have done a better job than Forsyth in attracting the key demographic. Even Guilford County does better with this group, although that county's demographic profile in general more resembles Forsyth than, say, Wake.
Where knowledge economies rely on brain-power, experiential ones might be said to feed other needs. It's no surprise that counties like Mecklenburg and Durham lead with millennial growth, Debbage said. 
"Events and activities are the fastest-growing segment of the experiential economy, and millennials spend much more on this segment of the economy than do Gen Xers or Boomers," Debbage said in an email. "One good example is the transformation of many brick-and-mortar retail shopping centers into fitness centers and 'eatertainment' or 'drinkertainment' venues. Think golf-based games, arcades and even table tennis paired with upscale food and beverages."
Mackenzie Cates-Allen, a millennial who heads up the Winston-Salem Ambassadors, thinks Winston-Salem is a perfect place for people in her age group, but that so far the word hasn't gotten out enough. A good cost of living and welcoming people are among the attractions, she said. 
The Ambassadors are a group that works to welcome newcomers to the city and connect them with community resources.
"If people are not familiar with North Carolina they are going to gravitate to the names they know — Durham, Raleigh, Mecklenburg and Charlotte are just bigger places," she said. "I very much do try to keep my ear to the ground because this is the perfect place for millennials in cost of living and things to do."
Cates-Allen agrees with Debbage that millennials want experiences, and thinks that as Winston-Salem gets more businesses that provide them, the city will be more popular with her age group. Specifically, she sees Industry Hill — the area around the Ramkat, in what Winston-Salem has designated as an entertainment district — as the magnet that will draw millennials.
"The more jobs we have, the better off we will be," she said. "The Ambassadors encourage small business growth and connections with the other small businesses that exist. In terms of identity, Winston-Salem is still trying to figure out who it is. I think there is a lot to do in terms of cool things. And there is more coming."
Forsyth and Guilford counties do closely track the state average in terms of what proportions of the population are in various age brackets. 
But most North Carolina counties were a desert for millennials in 2018: In 41 North Carolina counties, people ages 25 to 29 made up less than 6% of the total population. In 72 counties, people in the 30 to 34 bracket made up less than 6% of the total.
Of course, some hot-growing places have other things going for them: They're retirement destinations. In Brunswick County, near Wilmington, only 4.6% of the population was in the 25-to-29 group in 2018, but Brunswick County is the state's fastest-growing county. There, almost 12% of the people were in the 65-to-69 bracket, and 42% of the people were over 60.
In Forsyth County, only 22% of the people were over 60. In Mecklenburg County: 16% were over age 60.
Then there's Buncombe County, which has a double bump: It's urban enough to attract millennials, and in a desirable retirement spot as well.
Some counties have high numbers of millennials because they are home to large military populations. Count Cumberland, Onslow and Hoke counties in that batch. 
Debbage said that while developments such as the Wake Forest Innovation Quarter are important for Winston-Salem's transformation, the city can't afford to rest.
"Winston-Salem has moved mountains to reinvigorate its economy," Debbage said. "But now is certainly not a time for complacency, especially with respect to the recruitment of young, innovative talent."