Map: North Carolina Interstates
History: 1930's
History: 1930's
The genesis for the interstate system began when President Franklin D. Roosevelt became interested in the construction of a network of major highways that could provide jobs for more people during the Great Depression. The Federal Aid Highway Act of 1938 called for a study on the feasibility of creating three eastwest and three north-south superhighways, to be financed through tolls. The Bureau of Public Roads, which conducted the study, determined that a toll system would not be able to support itself. The department instead recommended a 26,700-mile interregional highway network. The idea was put on hold because of World War II.
History: 1940's
History: 1940's
The Federal-Aid Highway Act of 1944 established the construction of up to 40,000 miles of a "National System of Interstate Highways." The first routes, totaling 37,700 miles, were announced in 1947. However, since legislation had not specifically earmarked funds for interstate construction, progress was slow.
I40 construction at Broad.jpg
History: 1950's
History: 1950's
President Dwight D. Eisenhower took office in 1953. He had learned the importance of good roads as a young officer on an Army truck convoy from Washington, D.C., to San Franciso in 1919. Most of the roads were unpaved, the trucks averaged 6 mph, and the trip took 62 days. During World War II, he also saw the speed with which troops could move around on Germany's autobahns. He signed the Federal-Aid Highway Act of 1954, which authorized $175 million for an interstate system. He wanted more done, but Congress could not agree on how payment for the roads should be split between the federal government and states, and legislation failed. Eisenhower put forth the idea again in his State of the Union speech in 1956, and Congress finally passed legislation authorizing $25 billion for an interstate system for fiscal years 1957 through 1969, with 90 percent of the cost provided by federal funding. The money would come from a Highway Trust Fund that received the revenue from the federal gasoline and other motor-vehicle user taxes.
History: June 29, 1956
History: June 29, 1956
Eisenhower signed the Federal-Aid Highway Act of 1956 — popularly known as the National Interstate and Defense Highways Act of 1956 — which established an interstate highway system in the United States.
COURTESY OF FORSYTH COUNTY PUBLIC LIBRARY PHOTOGRAPH COLLECTION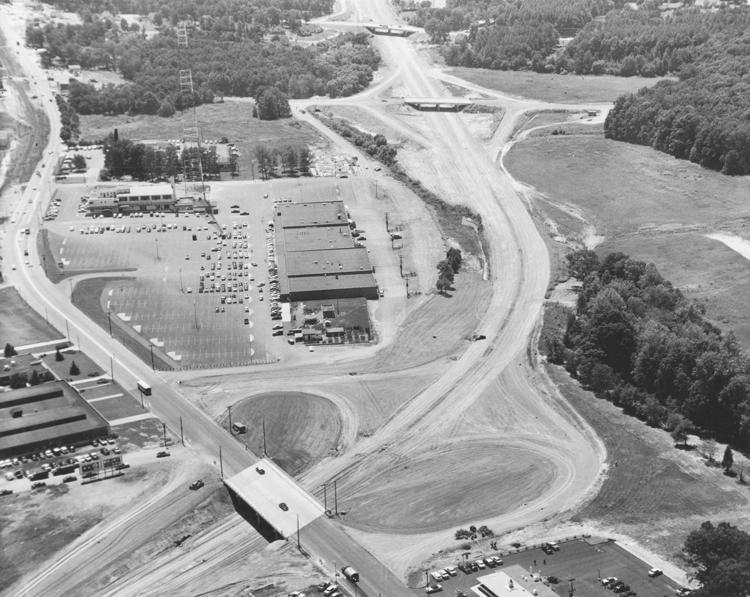 I40 construction.jpg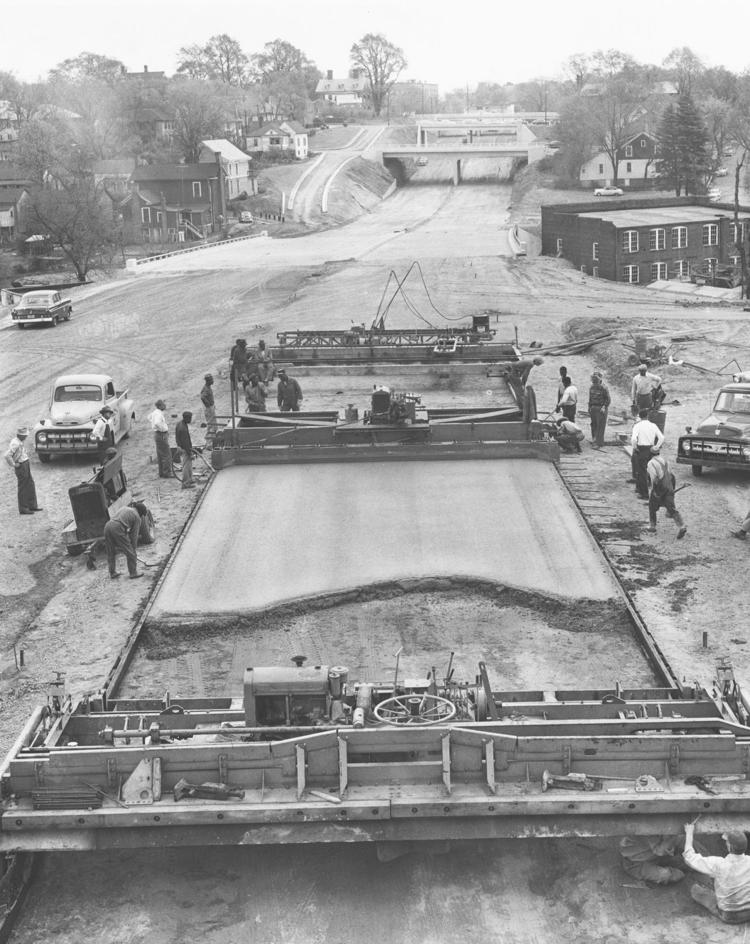 History: November 14, 1963
History: November 14, 1963
John F. Kennedy became the only president to participate in the opening of an interstate highway, the Maryland Northeastern Expressway-Delaware Turnpike on I-95. He was assassinated eight days later. 
I40 signs.jpg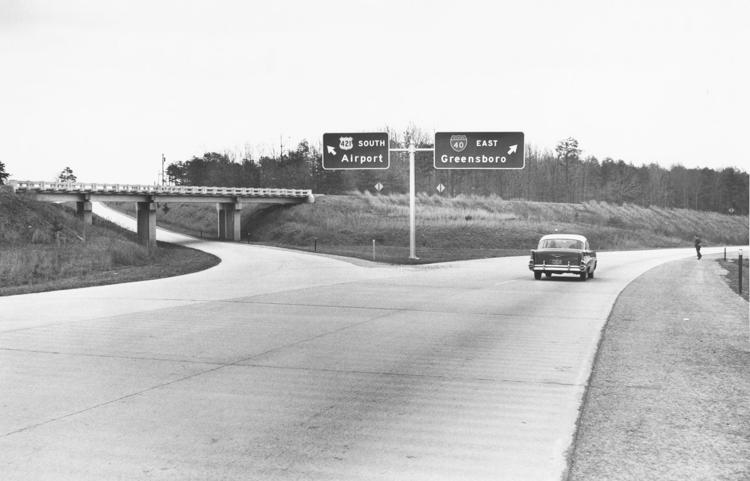 History: August 22, 1986
History: August 22, 1986
The final segment of I-80 was dedicated in Salt Lake City, making it the first transcontinental interstate to be completed. It runs from Teaneck, N.J., to San Francisco. 
History: Oct. 15, 1990
History: Oct. 15, 1990
The interstate system was officially renamed "The Dwight D. Eisenhower System of Interstate and Defense Highways." In 1991, the name was slightly modified to become "The Dwight D. Eisenhower National System of Interstate and Defense Highways."
History: January 29, 2010
History: January 29, 2010
North Carolina opened the final portion of I-40, which runs from Barstow, Calif., to Wilmington (2,554 miles). The first interstate-funded construction on I-40 had taken place in Haywood County in 1958. The total cost of building I-40 was $3.3 billion.
Fast facts
Fast facts
Longest interstate: I-90, from Boston to Seattle, 3,085 miles.
Shortest complete two-digit interstate: I-97 in Maryland, 17.57 miles.
Interstate that crosses the most states: I-95 crosses 15 states and the District of Columbia.
Miles of interstate: 49,699.35 miles as of Dec. 31, 2018.
Cost: The final estimate of the total cost of the 42,795 miles built under the Interstate Construction Program was issued in 1991 and came to $128.9 billion, with a federal share of $114.3 billion.
Most lanes: I-75 in Atlanta has 15 lanes.
Usage: In 2018, motorists drove 824.2 billion vehicle-miles on interstates.
Busiest interstate: In 2018, 374,000 vehicles a day drove on I-405 in California.
Rest areas: About 1,500.
Business "interstates": Despite markers the same shape as those of interstates, business routes aren't technically part of the interstate system and don't meet interstate standards.
Mileage of N.C. interstates
Mileage of N.C. interstates
| ROUTE | TOTAL MILES |
| --- | --- |
| I-40 | 420.21 |
| I-85 | 231.23 |
| I-95 | 181.36 |
| I-77 | 105.50 |
| I-73 | 99.43 |
| I-74 | 75.03* |
| I-485 | 66.68 |
| I-26 | 52.69 |
| I-540 | 25.84 |
| I-795 | 25.46 |
| I-285 | 23.79 |
| I-440 | 16.77 |
| I-295 | 14.10 |
| I-840 | 13.47* |
| I-87 | 12.90* |
| I-240 | 9.54 |
| I-785 | 6.81 |
| I-140 | 6.79 |
| I-277 | 4.46 |
| | *Includes overlap miles |
Interstate signage
Interstate signage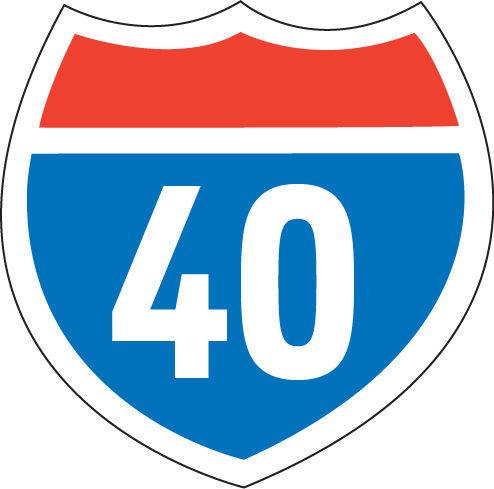 The familiar interstate shield was designed by the American Association of State Highway Officials (AASHO) after dozens of proposals were submitted by state highway agencies. The shield combines aspects of designs submitted by Texas and Missouri and was placed into use on Aug. 14, 1957. The design was trademarked on Sept. 19, 1967, so that nobody else could create confusion by using the design near an interstate.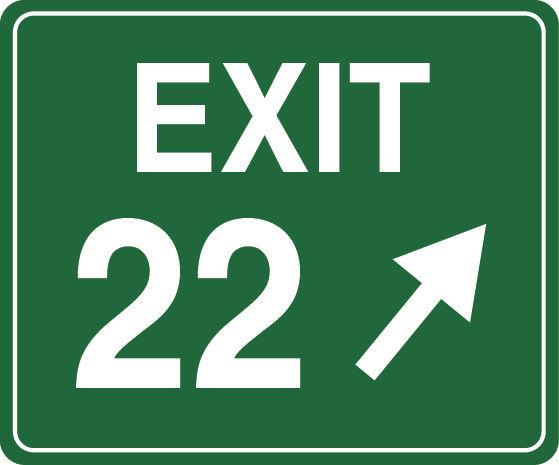 There was disagreement about whether guide signs should be blue or green. A two-week test of 200 non-colorblind motorists was conducted in 1957 on an unopened section of the Capital Beltway near Greenbelt, Md. Signs directing motorists to "Metropolis" and "Utopia" were erected in blue, green and black versions. Fifty-eight percent of test motorists preferred green, so that color was approved in January 1958. The motorists also picked capitals and lowercase lettering over all-capitals.
What was the first interstate?
What was the first interstate?
There are claims for multiple roads being the first interstate. Missouri was the first state to award a contract with new interstate construction funding after the Federal-Aid Highway Act of 1956 was passed; it signed a contract for work on I-44 on Aug. 2, 1956. However, construction actually began first on another contract awarded that same day — for I-70 — on Aug. 13, making it the first contract initiated and worked on after the 1956 legislation. Kansas also claims it has the first interstate.
Construction had begun on a section of I-70 near Topeka before the 1956 act was signed, but it was the first section on which paving began, on Sept. 26, 1956. The road opened on Nov. 14. In addition, interstates incorporated some highways that were built long before, such as the Pennsylvania Turnpike, whose first section opened on Oct. 1, 1940. It is sometimes called the "Grandfather of the Interstate System."
How are interstates numbered?
How are interstates numbered?
The American Association of State Highway and Transportation Officials (AASHTO) designates the names for new interstates. Interstate highways with one- or two-digit even numbers (such as I-40) run east-west. Odd numbered interstates (such as I-77) run north-south. The directions are based on the road's end points, so portions of the interstate can run in a di¥erent cardinal direction. A three-digit number means that it is a spur into or a loop around a city; an odd first number indicates a spur route, an even a loop. Multiple states can have the same three-digit interstate (there are eight I-295s).
Source
Sources: N.C. Department of Transportation; American Association of State Highway and Transportation Officials (AASHTO); U.S. Department of Transportation; OurDocuments.gov; National Archives; Journal reporter Wesley Young; Journal research
-- HIDE VERTICAL GALLERY ASSET TITLES --