Easter Sunday marks third year since Martin Roberts disappeared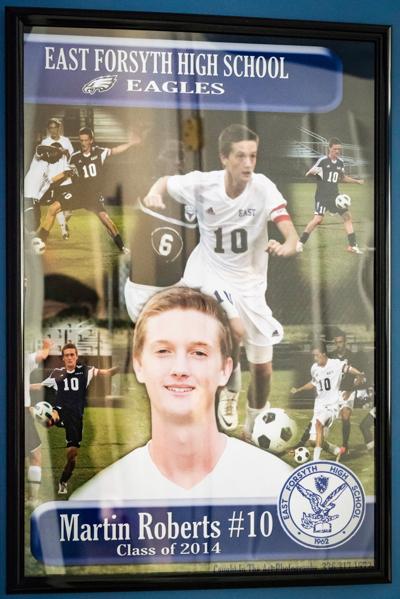 Next month would've been Martin Robert's college graduation. Instead his parents will acknowledge a tragic milestone.
Easter Sunday marks three years since their only son vanished from a Boone street without a trace, leaving behind a cryptic note.
The investigation has yielded little information about what had happened after Martin was last seen April 21, 2016, at Appalachian State University — even with the recent breakthrough of accessing Martin's iPhone data.
"We try not to focus on the potential negative outcomes until we're faced with one," his father, John Roberts said. "We realize the odds are that it's not going to have a positive outcome, but that doesn't keep us from having hope that we will be back together again."
Investigators unlock iPhone
Investigators initially believed the key to solving Martin's 2016 disappearance could lie within his locked iPhone.
The phone — left behind in Martin's Boone apartment along with his laptop, iPad and bank card — remained an enigma until late last year when investigators gained access to the device's data.
"They retrieved a lot of data from the phone that has led to a lot of conversations," said Roberts, who lives in Kernersville with wife, Abbie. "They looked at names, numbers, locations, and they've been able to follow up on some leads from the information."
Boone police contacted Apple in 2016 to override Martin's passcodes on his devices, but hit a roadblock.
Apple representatives declined to help, citing a 2016 precedent where Apple resisted the FBI's demand to crack an iPhone linked to the fatal shooting in San Bernardino, Calif., in December 2015.
Police obtained a search warrant for any data Martin had stored in the iCloud, but found nothing.
After finally gaining access to Martin's phone data, a thorough exploration provided frustratingly little direction to what had happened to Martin, his father said.
"They found nothing definitive," Roberts said. "There were some contacts that were previously unknown that they followed up on, they looked at GPS mapping functions, but they didn't find anything more than they had before."
A mystery
Martin — then age 19 — was last seen talking to his cousin around noon on Thursday, April 21, 2016, where he was captured on a bus surveillance video for 17 seconds walking near the university's Convocation Center.
At his apartment, he had left a vague and unspecific note — which police declined to characterize as a suicide note. Police also found a bag of unprescribed anti-depressant pills, even though Martin had never been diagnosed with depression.
The only other things missing from his room was the several TV dinners, frozen pizzas and the like, that Martin had bought a few days previously.
Martin is described as lean and 5-foot-10 with brown hair and blue eyes. He also has two distinct tattoos: multicolored mountains on his left forearm and a quote from a song by the reggae musician Bob Marley over his right rib cage.
Roberts said they are still praying for his safe return.
"There's no rhyme or reason when an emotional wave will hit. It's been peaks and valleys," Roberts said. "All the messages of encouragement support and prayers are much appreciated and part of what gets us through one day to the next."
Butterfly exhibit in Martin's honor
Three years after Martin's puzzling disappearance, his family is sponsoring part of a new zoo exhibit in remembrance of the East Forsyth High School graduate and avid soccer player.
The exhibit at the North Carolina Zoo in Asheboro, the Kaleidoscope Butterfly Garden, will open Saturday and run through Oct. 31.
The family is sponsoring the Monarch butterflies and there will be a sign in the garden in his honor, Roberts said.
"Never miss an opportunity to tell someone that's important to you that they're important. Never miss a chance to hug someone you love," said Roberts, who had spoken to his son on the phone a few days before Martin's disappearance.
"A lot of people are going through tough times and sometimes you just never know until after something unfortunate happens."
'Search For Me'
The episode of "Disappeared" has aired worldwide and has stoked a surge of 11,600 followers on the "Help Find Martin Roberts" Facebook page.
"We've heard from people in Brazil, South Africa, Europe, everywhere," Roberts said. "It's definitely achieved the goal of spreading the story to a much wider audience."
But even with all the exposure, an answer remains elusive to the question that has haunted the Roberts family for three years.
Martin's family is hoping to attract the help of a North Carolina private investigating nonprofit that delves into high-profile missing person cases.
Smithfield-based Search For Me Foundation accepts applications from loved ones of missing people, and solved four missing person cases in 2018.
In December, the organization's lead investigator David Marshburn tracked down the remains of a Raleigh teenager, who had been missing for four years, within a day of being on the case, according to the Search For Me website.
Roberts, who lights a candle in his front window for Martin each night, said he has reached out to the foundation and hopes they will take up the case.
"There's always an emotional pull around family holidays — Easter, Thanksgiving. It's definitely a tough time to get through," Roberts said.
"We're just hoping for some answers."