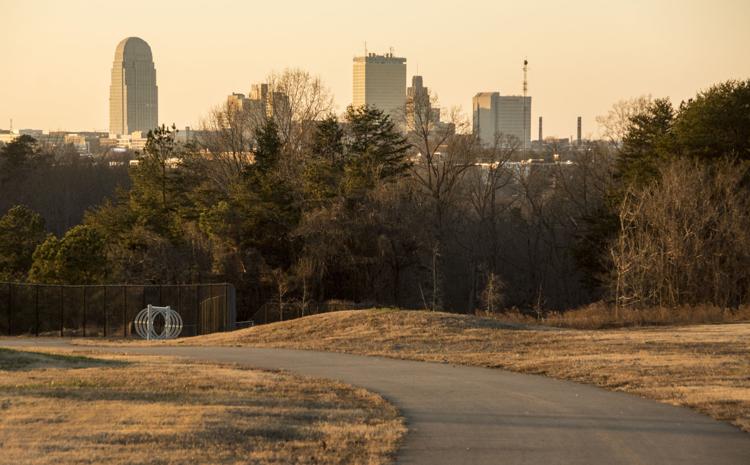 Every area within downtown Winston-Salem is a hot spot for future growth and development, local government officials and business leaders say.
Mayor Allen Joines said that current projects in the city's downtown are the key to more commercial and residential development.
"We are fortunate that there has been development throughout the downtown area," Joines said.
Joines pointed to more than $1.9 billion that has been invested since 2000 in downtown.
"The core area along Fourth, Main, Trade and Liberty (streets) has seen intensive development, and there remains opportunity for additional spot development in these areas," Joines said.
New areas that will offer increased opportunities for growth are north of Martin Luther King Jr. Drive in the Industry Hill area, around the BB&T Ballpark, west Fourth Street near Broad Street, the area around the former GMAC building, the South Marshall Street area, and along Main Street south of Third Street, the mayor said.
In addition, the Wake Forest Innovation Quarter will continue to have strong development from Third Street south to Salem Parkway, including the Bailey Park South project.
The Wake Forest Innovation Quarter has received nearly $367 million in local, state and federal money as well as private investments since its beginning in 1994.
Innovation Quarter, which is one of the fastest-growing urban-based districts for innovation in the United States, has more than 170 companies, five local academic institutions, more than 3,700 employees, 1,800 degree-seeking students and more than 8,000 workforce trainee participants.
The site, which is a place for research, business and education in biomedical science, information technology, digital media, clinical services and advanced materials, has 1.9-million square feet of office, laboratory and educational space on more than 330 acres. There are about 770 apartments and condominiums within or close by the Innovation Quarter.
James Patterson, the Innovation Quarter's director of marketing and communications, said that the Innovation Quarter will see more growth.
"Two of the most exciting projects in downtown Winston-Salem will come online in the next 12 months or so (will be) Link Apartments Innovation Quarter and Bailey South," Patterson said. "The Link Apartments, with its 340 plus units, represent the largest development of apartments in downtown Winston-Salem and will open to residents this fall.
"Bailey South, which will begin to come online in early 2020, will feature close to 100,000 square feet of new retail, restaurant and office space," Patterson said. "Both projects flank Bailey Park, making this part of the Innovation Quarter one of the most vibrant hot spots in Winston-Salem for retail, restaurant and nightlife space over the next year and into the future."
Reynolds American Inc., Forsyth County's fourth largest employer and the second largest U.S. tobacco manufacturer, is nearby with its main office at 401 N. Main St.
"We've seen an incredible transformation of downtown in recent years into a lively mix of businesses, apartments, restaurants, bars and outdoor fun activities," said Mamie Sutphin, Reynolds American's director of community engagement programs. "This really supports our efforts to attract, and keep, talented employees who want to work and live in a thriving, connected community.
"For us, it's especially great to see the old tobacco buildings in the Innovation Quarter, including our company's former Bailey Power Plant, gain new life, and judging by what we can see from our offices on Main Street, there's still plenty of growth coming to this area," Sutphin said.
Reynolds American has a workforce of about 5,500 employees. It's the parent company of R.J. Reynolds Tobacco Co., American Snuff Co. LLC, Santa Fe Natural Tobacco Co., Inc., and R.J. Reynolds Vapor Co., according to its website.
Evan Raleigh, an assistant city manager who works on economic development projects, said he sees several growth areas in the greater downtown area.
"Downtown continues to grow in multiple directions, and I believe it will continue to be a significant growth engine for the community as a whole into the future," Raleigh said.
Growth will likely come to Merschel Park, which was formerly known as Merschel Plaza and the area surrounding it, Raleigh said. The city of Winston-Salem entered into a public-private partnership with Mayfair Street Partners last year to redevelop the site.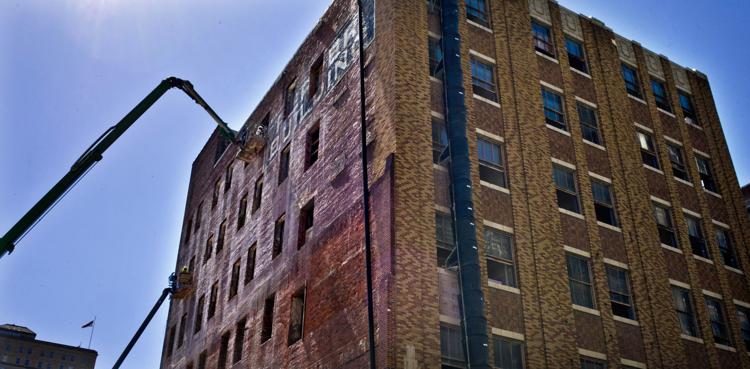 Plans call for the renovation of the Pepper Building as a hotel with a restaurant. A nearby underground parking deck will be built, and it's scheduled to be open this summer. The park and the hotel should be completed in the fall of 2020.
"The (site) will undergo a multi-million dollar renovation and a become a central feature and impressive new gathering place in the landscape of downtown," Raleigh said. "These projects represent a total investment of well in excess of $40 million, and will add to the vibrancy of the 4th and Liberty Street corridors."
Growth is occurring through collaborative efforts happening downtown and all around Winston-Salem, said Mark Owens, the president of Winston-Salem Chamber of Commerce.
The Hotel Indigo, which is being built in the Pepper Building, is working with local vendors as sources for at least 20% of its local goods, Owens said. In Industry Hill, the new Winston Junction Market brings together dozens of businesses to support each other, Owens said.
Downtown growth will push northward as well, Raleigh said.
The Industry Hill district has brought a renewed energy to the area of downtown immediately proximate to and just north of Martin Luther King Jr. Drive, he said. Recent development in that area includes a new restaurant, several breweries, bars, retail outlets and a market offering a variety of local and regional consumer goods.
"This area of downtown is quickly emerging as a hotspot for leisure and entertainment," Raleigh said.
On downtown's western side, growth will continue around BB&T Ballpark, Raleigh said. He pointed to the new 225-unit apartment complex just to the north of the ballpark.
Several hundred additional apartments are being considered for this area, Raleigh said.
Jason Thiel, the president of the Downtown Winston-Salem Partnership Inc., said that 600 additional housing units in downtown are available for lease.
"We expect to see additional retail that supports the residential growth," Thiel said. "We will continue to see new restaurant, bar, and entertainment concepts that parallel choices in other cities across the country."
Thiel pointed to the new axe-throwing venue.
"And we will continue to see more entertainment options, such as a bowling alley," he said.
Axe Club of America opened recently as a 5,200-square-foot bar at Winston Junction, the renovated former E.G. Forrest food-distribution building.
The bar, at 121 W. Ninth St., has seven ax-throwing lanes, laid out similar to bowling alley lanes. One of the lanes will be in a private room for events of up to 30 people.
Other downtown projects include an $18 million, 126-room Courtyard by Marriott, which is scheduled to open this summer at 640 W. Fourth St.
Don Flow, an automotive executive in Winston-Salem, is working with Charlotte-based Grubb Properties to renovate the former GMAC Building on West Fifth Street. Affiliate Flow 500 West Fifth LLC spent $6.15 million to buy the property from Slate Winston Holdings Inc.
The project's first phase is renovating the tower and adjacent site on Fourth Street into the headquarters of Flow Automotive Co. and an entrepreneurial center. A second phase involves a residential/retail project by Grubb that will add street-level retail space and 240 apartments, 30 percent of which are being designated as affordable housing units.
A new Forsyth County Central Library opened in 2017 at a cost of $28 million.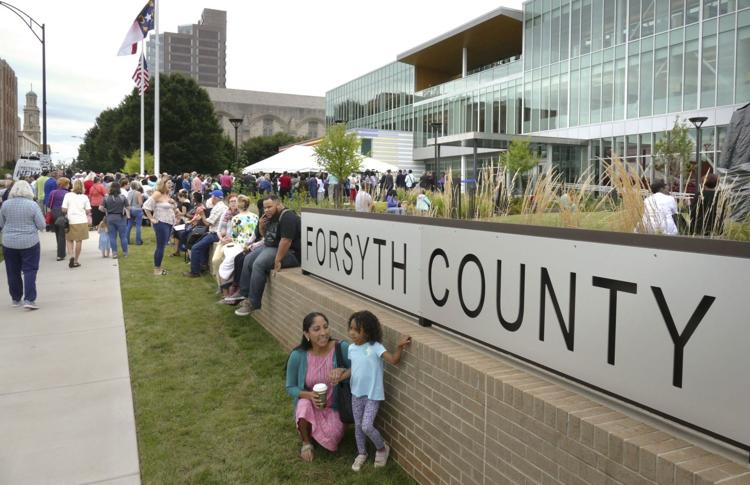 That building has more than 106,000 square feet of space with 90 public computers with internet access, as well as a 20-seat computer training lab.
The UNC School of the Arts is planning $42.2 million in renovations to the Stevens Center.
Hampton Inns and Suites is building a 119-room hotel at 235 N.Cherry St. at an estimated cost $6.49 million.
Last month, the Forsyth County Board of Commissioners voted to spend an additional $13.2 million on the downtown Kaleidem project. The county will now spend a total of $30.5 million on the Kaleideum museum that will be in the site of the former Forsyth County Sheriff's Office at 120 W. Third St.
Kaleideum is a joint effort between the former Children's Museum and SciWorks, which merged in July 2016.
Elizabeth Dampier, Kaleideum's executive director, said that museum's location on West Third Street is an ideal spot because it will be within walking distance of the Campbell Transportation Center, restaurants, hotels and stores.
"One of the things we were interested in was expanding access to all Forsyth County residents, and also allowing ourselves to play a role in downtown Winston-Salem's renaissance," Dampier said. "This is a regional destination for families and lifelong learners, and having that in the heart of downtown — as we think about this vision of downtown of living, work and play made a lot of sense to us.
"We are creating an awesome corridor for families to come and experience a weekend or day while shopping and eating at great restaurants and having all of this local flavor," Dampier said.
Downtown Winston-Salem will continue to grow, said Michael Walden, an economics professor at N.C. State University in Raleigh.
The city and its downtown rest on major east-west and north-south interstate highways, Walden said.
The city has Smith Reynolds Airport and is near to Piedmont Triad International Airport in Greensboro.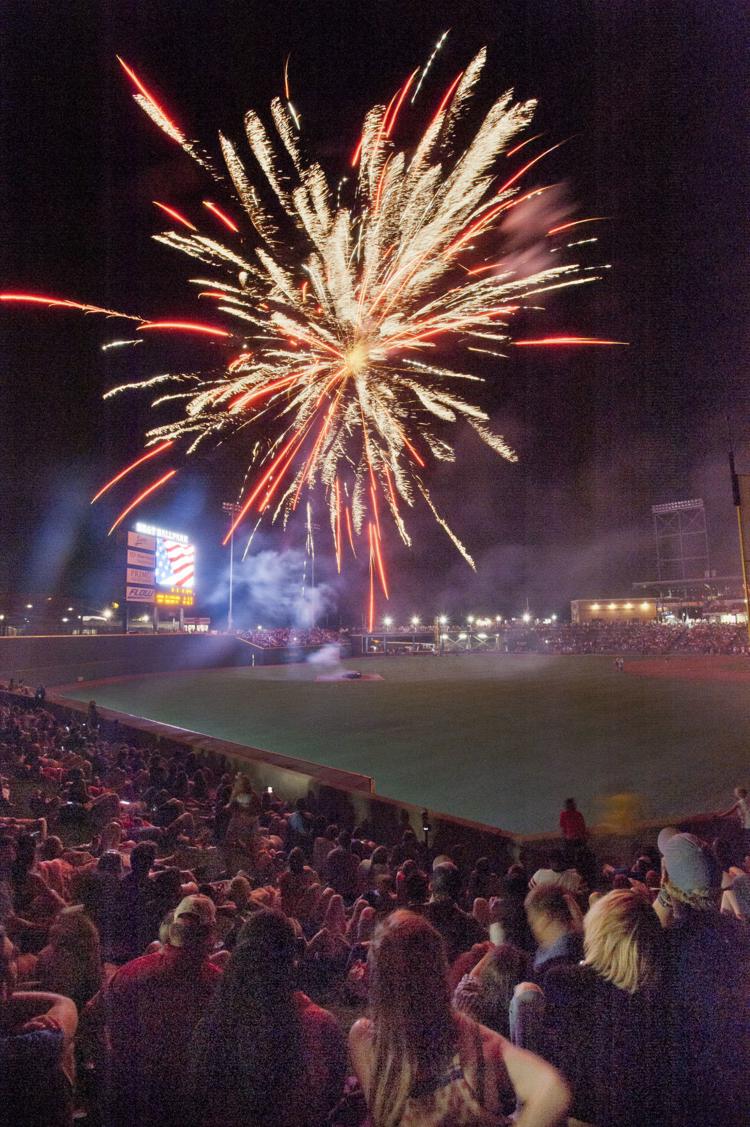 The cost of land, home mortgages and apartment rents are lower than those in Charlotte and Raleigh, he said.
"Wake Forest (University) gives the region 'gravitas' in higher education," Walden said. "So with the younger generation (Millennials and Generation Z) preferring urban locations with quick access to entertainment, restaurants and other amenities, I think both businesses and developers have opportunities in downtown Winston-Salem."
Another collaborative project, called Renaissance East Corridor, is where business owners are working with Winston-Salem State University students to promote and market their businesses, Owens said.
The chamber is working with the organization, Winston Under 40 and Bookmarks, in which the chamber is helping to support an initiative to bring 25,000 new books into school libraries, Owens said.
The chamber also is working with Venture Café in the former Bailey Power Plant to focus on the entrepreneurial economy, innovation and young leaders, Owens said.
C.J. Johnson, the president of the Winston-Salem Dash, the city's minor-league baseball team, said that the BB&T Ballpark is a "nice bookend (to downtown) to what has become a thriving area for residents to live, work and play,"
Johnson attributed the growth of downtown Winston-Salem to efforts of elected officials, the Winston-Salem Chamber of Commerce, the Downtown Winston-Salem Partnership, Visit Winston-Salem and other organizations.
With 70 Dash home baseball games and more than 200 other events at the ballpark, there are nearly 500,000 people who visit BB&T Ballpark each year, Johnson said.
"The vast majority of our guests live outside of downtown and travel in to experience an event at the ballpark," Johnson said. "Often, they visit downtown bars and restaurants before or after an event."
Johnson said that the venue is important.
"I love that our ballpark is downtown," Johnson said. "The opportunity for our fans to enjoy our events while taking in the downtown skyline is a key component to the experience at BB&T Ballpark. As the downtown population increases, we continue to see more and more foot traffic to the ballpark as well."