The total number of COVID-19 cases identified in Forsyth County is fast approaching 700 following another sharp uptick in reported cases.
The county Public Health Department reported Monday there were 53 new cases on Sunday — the fifth time in a week with at least 50 in the daily count. There were five cases reported for Friday and 24 for Saturday. The Forsyth total has reached 698, up from 395 a week ago.
There were no additional COVID-19 related deaths in Forsyth as of Sunday, keeping the count at seven. With 236 individuals considered recovered, there are 455 active cases in the county.
Joshua Swift, the county's health director, said last week that most of the new cases are coming from "clusters in families across Forsyth County."
Swift said the new cases are predominantly in the county's Latino community, but did not say specifically how many people in that community tested positive.
The Forsyth health department said that, as of 10:15 p.m. Sunday, there were 676 positive results out of 8,006 tests of county residents for an 8.4% positive rate.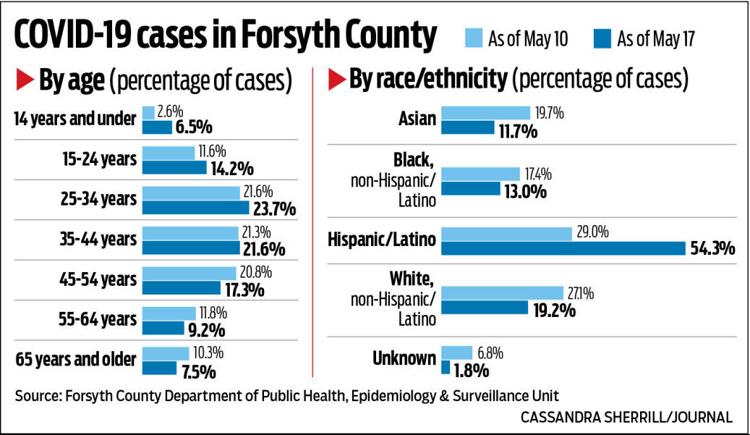 About 54% of those testing positive, or 365, are Latino residents, although Latinos make up only 13% of Forsyth County's population.
Another 19%, or 128, are white, while 13%, or 89, are black, and 12%, or 81, are Asian.
The state Department of Health and Human Services said the number of COVID-19 related deaths statewide increased by two Sunday to 661, while the number of laboratory-confirmed cases increased by 511 to 19,023. There are 511 North Carolinians hospitalized for treatment. The number of individuals statewide listed as recovered as of Monday is 11,637, or 61.2%.
"Any increase like this is concerning and a reminder about how quickly this virus can spread," N.C. Health Secretary Mandy Cohen said.
The state reported 7,039 coronavirus tests were completed Friday, and approximately 12% were positive. The amount of testing done Friday was significantly lower than Thursday when more than 12,000 people were tested.
Cohen has said anywhere from 5,000 to 7,000 tests being completed a day is sufficient.
"With more testing, we expect to see more cases," Cohen said. "As we test more, it's also important to watch the rate of positive tests as a percentage of the total number of cases.
"Fortunately, that has remained stable at about 7%, which is in line with our targets. Our hospitalizations continue to remain stable."
Cohen said the increase also is linked to the easing of the stay-at-home orders from Phase 1 that began May 8.
On Sunday, officials confirmed two Forsyth group living centers — one an apartment complex for seniors and the other a rehabilitation center — have COVID-19 outbreaks. An outbreak includes two or more cases.
Swift said two staff members at the Trinity Elms independent apartment building tested positive for coronavirus and are now in isolation. No residents are showing symptoms.
At Silas Creek Rehab, one resident and one staff member tested positive.
On Friday, Hanesbrands Inc. confirmed that at least one employee tested positive for coronavirus at its Rural Hall distribution center. Spokesman Matt Hall said there's another preliminary positive case at the 531 Northridge facility, which has been closed for cleaning and sanitizing.
At least 70 of Forsyth's cases are connected to a Tyson chicken processing plant in Wilkesboro, including county residents who either work at the plant or have been in close contact with someone who works there, the health department reported.
Statewide as of Monday morning, nursing homes account for 2,523 confirmed cases and 352 deaths, while residential care facilities have had 472 confirmed cases and 47 deaths, and correctional facilities have had 1,117 cases and 14 deaths.
About 78% of COVID-19 cases have come from outside those facilities.
However, 62.5% of deaths statewide have come from inside nursing homes, residential care centers and correctional facilities.
The state defines nursing homes as providing nursing or convalescent care. Residential care facilities can include adult-care homes, family-care homes, multi-unit assisted housing, group homes and intermediate care facilities for individuals with intellectual disabilities.
As of Friday, DHHS reported that nursing homes and residential care centers in these counties have active outbreaks: Guilford with four, Forsyth with three, Alamance with two and Davidson, Randolph and Wilkes with one each.
The state said Monday that more than 3,000 state-licensed long-term care facilities will get personal protection equipment packs that include a 14-day supply of face shields, procedure masks, gloves and shoe covers.
Adult care homes, family care homes, nursing homes, intermediate care facilities for individuals with intellectual disabilities and mental health facilities will receive supplies.
NCDHHS is providing a time-limited Medicaid rate increase for nursing facility services, such as skilled nursing, rehabilitation services, personal care assistance and home health services.