David Kessler doesn't need to see the numbers to know that in the early 2000s, North Carolina was awash in hydrocodone and oxycodone pills, more than 2.5 billion from 2006 to 2012, according to recently released government data made available by the Washington Post.
Back in those free-wheeling days of loose regulations and lax oversight, Kessler could fake a toothache and walk away from a hospital emergency room with 20 oxycodone, an addictive opioid. He learned quickly which doctors would write him a prescription and which pharmacies would fill it. No questions asked.
"It was astonishing," marveled Kessler, a Davidson County native, who battled opioid use disorder for years before getting clean nine years ago.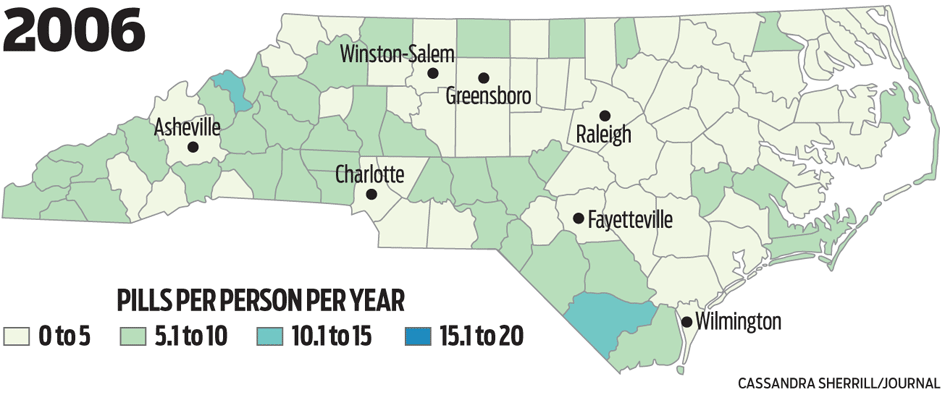 Seventy-six billion pills were distributed throughout the country during those six years, an avalanche of addictive substances that inflamed a smoldering opioid epidemic. More than 300,000 people in the U.S. have died of opioid overdose since 2000, including 47,000 in 2017, according to the Centers for Disease Control and Prevention.
Acting on a request by the Washington Post and the Charleston Gazette-Mail in West Virginia, a federal judge recently ordered the Drug Enforcement Administration to release a portion of its database that tracked the path of every pain pill sold in the country from 2006 to 2012. The numbers show where pills were manufactured, distributed and sold in every town and county in the country, shedding light on the roots of the epidemic in such places as Surry County, where 42.2 million pills were distributed in that six-year period.
That equates to 80.3 pills per person, the second most pills per person in the state, behind Columbus County with 111 but far surpassing the state average of 42.9. Forsyth County fell below the state average at 38.4.
John Shelton, Surry County's director of Emergency Medical Services, said the county has not recovered from the onslaught.
"That trend, from those dates, have absolutely contributed to where we are now," he said.
Fifty-five people died of opioid overdose in 2017 in Surry County. The increasing use of the overdose-reversal drug Narcan, has resulted in a lower death rate, but people continue to overdose at an alarming rate.
So far this year, Shelton's department has responded to 228 overdoses and administered 111 doses of Narcan. He knows of 20 overdose deaths.
"For a county our size," Shelton said, "that's just horrendous, really."
Most other counties in Northwest North Carolina fell below the state average of 42.9 pills per person. One exception was Wilkes County at 55.2. From 2006 to 2012, more than 26 million pills were distributed in a county of 69,000 people.
Dr. Jana Burson works at the North Wilkesboro Comprehensive Treatment Center, one of the few clinics in Northwest North Carolina that prescribes methadone, a drug that is used to treat opioid use disorder. She has worked in addiction treatment since 2001.
The numbers in the DEA database, she said, are not surprising.
"This is just a six-year period, and there's a big time period where it was probably even worse, but this is quite representative, at least for those of us who have been working in the field," Burson said. "We've seen for some time that this is a terrible problem."
The data shows one sliver of good news for Wilkes County. Unlike many counties, the number of pills distributed each year steadily decreased, from a peak of 4.1 million in 2009 to 3.9 million in 2012.
Most counties, in contrast, saw a steady uptick in pills as the epidemic worsened. In Forsyth County, the number of pills shipped to pharmacies each year ballooned from 9.3 million in 2006 to 17 million in 2012.
The drop in Wilkes County may be attributed to proactive measures taken by Project Lazarus, which sounded the alarm on the county's high overdose rate in 2007.
A nonprofit organization started by Fred Brason II, Project Lazarus developed a model that focuses on educating the public and health-care providers, offering treatment, diverting unused prescription drugs and involving all parts of the community in the fight against opioid use disorder, including hospitals, pharmacies, law enforcement and courts. It was also an early champion for the distribution of Narcan, medication assisted treatment and other harm reduction measures.
People come from neighboring counties to be treated with methadone at Burson's clinic.
Though the DEA database offers a glimpse into how opioid use evolved into a national crisis, Burson said it can be used to detect where treatment centers need to be placed.
"All these counties where there are big numbers of pills per capita, they need to be looked at to see where they should be expanding treatment or getting new kinds of treatment," she said.
At 42 pills per person, Davie County is right at the state average. In the six years the data covers, drug distributors shipped 12.1 million hydrocodone and oxycodone pills to Davie County, with nearly half, 5.7 million, winding up at Foster Drug, an independent drug store in Mocksville.
Foster Drug received the 11th highest number of pills among pharmacies in the state, according to the database. Omnicare Pharmacy of North Hickory received the most pills at 9.2 million. Omnicare serves long-term care facilities such as hospitals, nursing homes and assisted living communities, according to the Hickory Daily Record.
Store manager Karlyn Armsworthy, whose grandfather, Bill Foster, started Foster Drug in 1974, and Mark White, a longtime pharmacist, said last week that the volume of pills doesn't surprise them.
Foster Drug is a high-volume pharmacy with nine pharmacists and a customer base that covers Davie, Iredell,Yadkin and other surrounding counties, they said. During that same six-year period, it dispensed 63.8 million pills, Armsworthy said.
"When you look at the number of controlled substance prescriptions in relation to the volume of prescriptions we fill, it's a low volume," Armsworthy said. "We are a community pharmacy and we are aware of the opioid epidemic. We do everything in our power to prevent fraudulent prescriptions from being filled."
Armsworthy and White said they work closely with local law enforcement, are quick to call doctors when something looks suspicious on a prescription and have systems in place to make sure all controlled substances are accounted for once they arrive in the pharmacy. Foster Drug also partnered with Project Lazarus to place a prescription drop box in its pharmacy, among the first in the county.
"The last thing we ever want to be is a pill mill," White said. "When you are a busy pharmacy, a certain percentage is going to be controlled substances."
Foster Drug's distributor, Cardinal Health, shipped more than 542 million oxycodone and hyrdocodone pills to North Carolina from 2006 to 2012, the most of any distributor in the state.
It is among several distributors that have been named as defendants in lawsuits filed by state and local governments, including Forsyth, Surry, Stokes, Wilkes, Yadkin and Davie counties.
The role that manufacturers, distributors, pharmacies and health-care providers have played in the opioid epidemic is complex, Burson said.
"There's a lot of blame to go around," she said, "a lot of blame, for sure."