No doubt it was going to be an exercise in futility — a total waste of time — but it needed to be done.
Another weekend in America had dawned with two more random mass shootings this time in Texas and Ohio. At least 30 dead and a few dozen wounded.
Sorrow, outrage and frustration followed quickly by another outcry for those with a real ability to do something went up and went limp.
To start that conversation, you'd have to know what members of Congress were saying, thinking or doing. For our purposes, that would be U.S. Reps. Virginia Foxx, R-5th; Ted Budd, R-13th; and a couple U.S. Sens., Richard Burr of Winston-Salem and Thom Tillis of Cornelius.
The answer, judging by online presence — the
only metric these days, it would seem: Not the first darned thing.
You expected something different?
Standard stuff
A sampling of what the honorables had posted Monday morning on their website "Newsrooms" — we use the terms "honorable" and "newsrooms" loosely — reads this way:
"Local Educators Participate in Foxx's Teacher in Congress Internship," Aug. 1.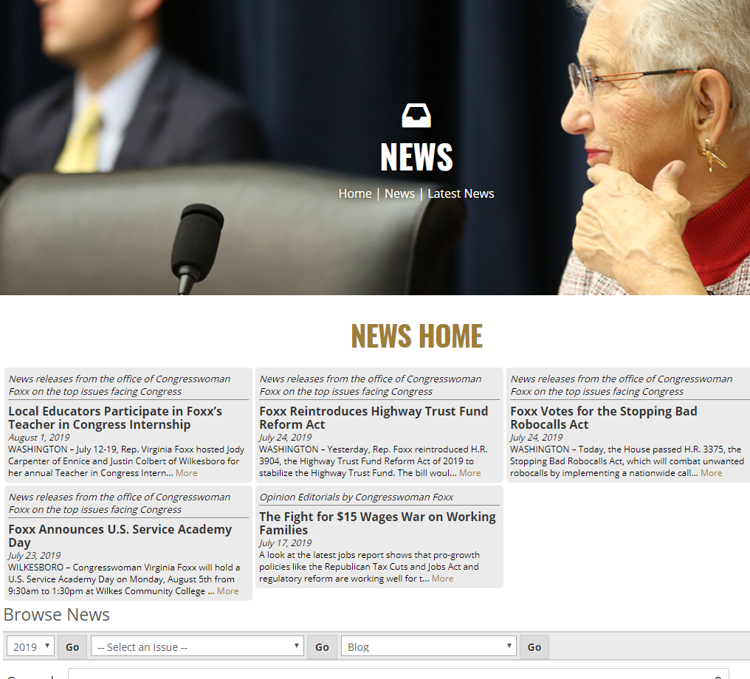 "Rep. Budd Urges Germany to Designate All of Hezbollah as a Terrorist Organization," July 29
"Senate Intel Chairman Burr Statement on Departure of Director Coats," July 29.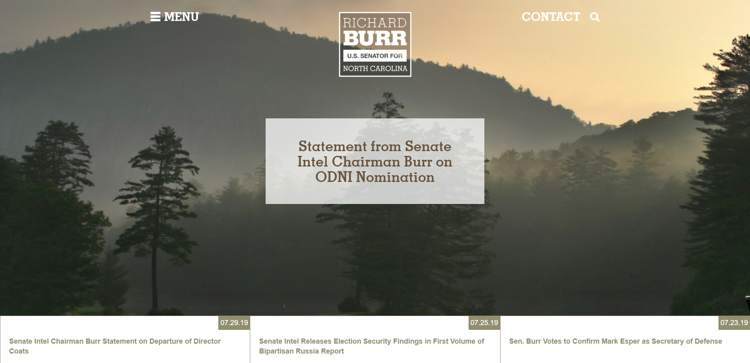 Perhaps it was random luck of a scrolling feed, but Burr's website opened with … a peaceful, idyllic forest. Blanketed with snow. It's August. Out of touch much?
Tillis' site opened with a montage of the senator literally shaking hands, kissing babies and holding a dog. He is a man of action, no doubt about it.
At least Tillis — or more accurately, the people he pays to monitor such things — updated his social media accounts with … wait for it … thoughts, prayers and gratitude for police, firefighters and EMTs.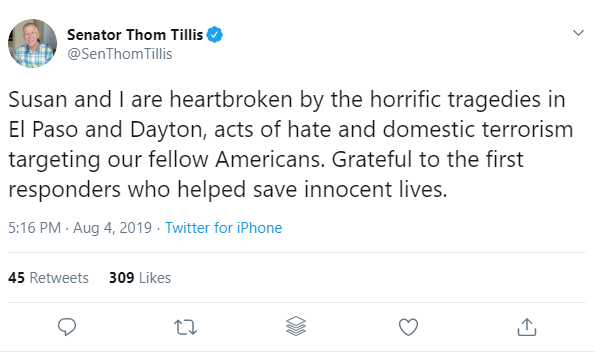 "Susan and I are heartbroken by the horrific tragedies in El Paso and Dayton, acts of hate and domestic terrorism targeting our fellow Americans. Grateful to the first responders who helped save innocent lives," Tillis tweeted and posted to Facebook.
Burr got into the act. With a Tweet, naturally, that didn't say much. "The shootings in El Paso and Dayton are acts of pure evil. We mourn the lives tragically lost, and my prayers are with the victims, their families, and the first responders who rushed to help."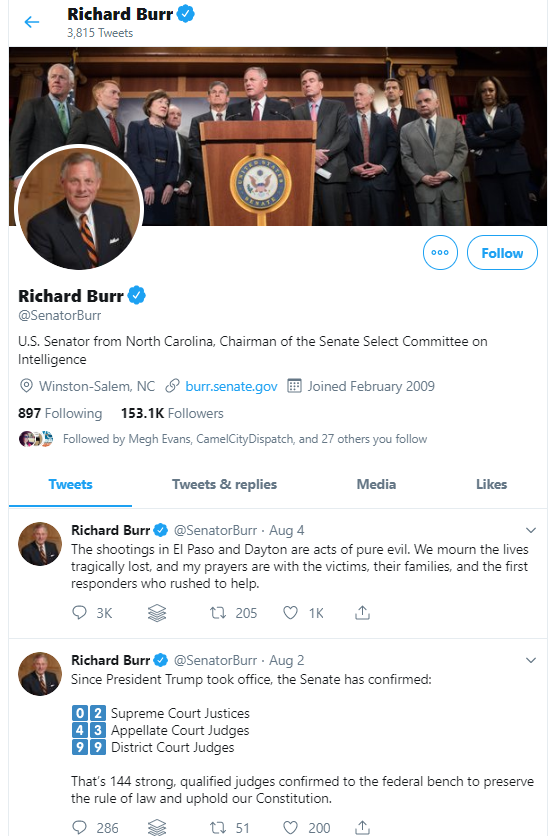 Budd crept a little closer to actually saying something in his tweet.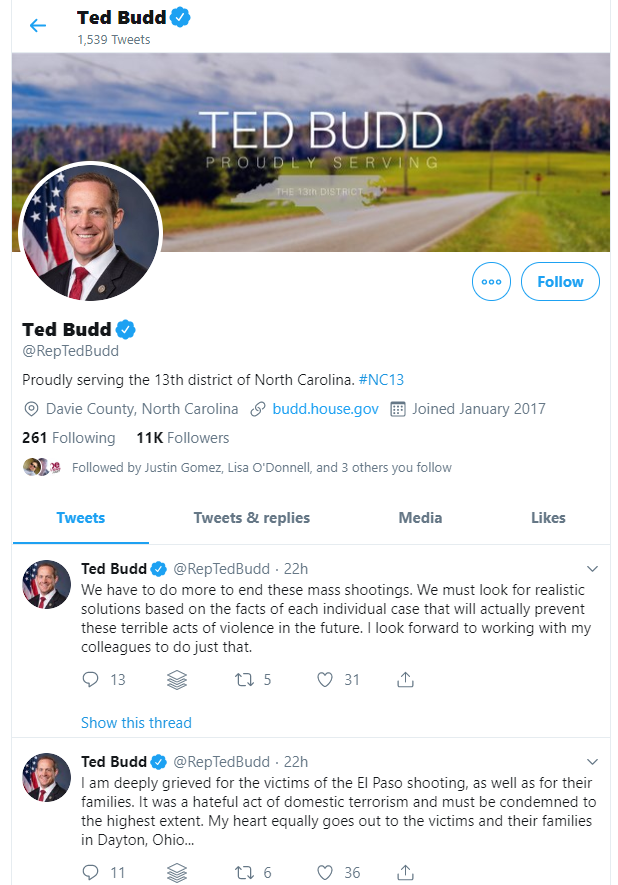 "We have to do more to end these mass shootings. We must look for realistic solutions based on the facts of each individual case that will actually prevent these terrible acts of violence in the future. I look forward to working with my colleagues to do just that," tweeted the owner of a gun store and shooting range.
Thoughts and prayers with no specifics. The standard stuff.
Meanwhile, what did you talk about in your homes, churches and workplaces Sunday and Monday? Anyone engage in any robust dinner table talks about Hezbollah, teachers in Congress or the minimum wage?
In 2013, post-Sandy Hook. and again in 2015, the very day after 14 people were shot to death in San Bernardino for who-can-even-remember what, the Senate declined action on a bill that would tighten background check requirements for prospective gun buyers.
Reliable, scientific polling conducted by the Pew Research Center indicates that 84 percent of Americans support expanded background checks to include private firearms sales and purchases at gun shows.
It's not that hard. And that's just one thing. There's plenty more we can debate if only elected leaders had the will.
Empty suits, no comments
Most days, I could not care less about members of Congress or what they do. I doubt you do, either.
But the fact of the matter is, outside of tax matters that pumped an extra $12.32 into the take-home, the actions of Budd, Foxx, Tillis et. al. affect my daily life very little. I'm too old to get drafted and trade deals might cause the price of sneakers to increase.
Most days, I'm far more concerned about what's happening in my neighborhood. Local people — and the stories they tell — are far more interesting. I bet you think so, too.
It only takes four members of the Winston-Salem City Council to cost the average homeowner a few hundred bucks in property tax or kick up a ruckus by voting to change the name of the Dixie Classic Fair.
If you want to buttonhole the mayor or a council member, they're easy to find. And they return phone calls and texts.
That's just not true for our members of Congress.
Following President Trump's comments suggesting that duly elected U.S. representatives should "go back to where they came from," a colleague here tried to get a statement from Foxx, Budd and gang. After the weekend's shooting, I reached out some, too.
Crickets, tumbleweeds, empty website searches and Tillis' tweeted, regurgitated prayers. Those and a buck will get you a cold, soggy hamburger off the dollar menu.
You expected something different?