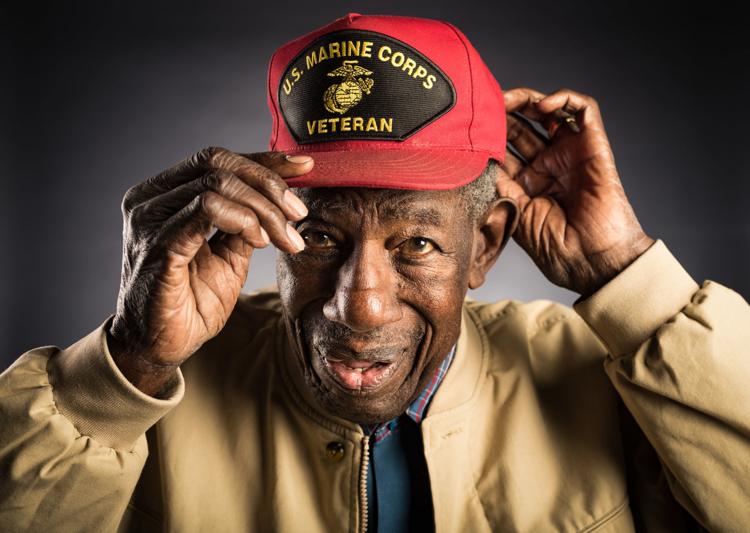 Jakay Ervin was injured in early 1952 when the Jeep he was riding in overturned at Fort Benning, Ga.
That wreck, he said, likely saved his life.
He was a passenger in a Marine convoy in which the trucks and Jeeps were traveling at night on a training mission.
"We were out there on a night problem, and this driver turns the Jeep over. They were getting us ready to go Korea."
The convoy stopped, and other Marines righted the Jeep. The vehicle had minimal damage
The same couldn't be said for Ervin.
Ervin, then a 19-year-old Marine private, suffered a severe injury to his left knee.
"My leg got caught under the Jeep when it turned over, and it tore all of my ligaments in my left knee."
"It hurt a little bit, but I'm
tough. We went on and finished the drive."
Ervin, who was being trained as a mechanic, felt the pain of his injury the next morning.
"I couldn't move that leg. It swelled up like it was two or three legs."
He was taken to the base hospital, where doctors performed surgery. Meanwhile, his unit was deployed to South Korea, where his fellow Marines suffered heavy casualties in a battle in 1952.
Ervin, 88, who lives in Winston-Salem, said he couldn't remember where the battle took place in South Korea.
"My outfit got wiped out, and I was laying … in the hospital in the USA. Getting hurt was the thing that probably saved my life.
"God knew that, and he took care of me. He has been taking care me all of my life."
At the time, Ervin said he wanted to go with his unit to South Korea.
"I (was) tough. I was a Marine. I wanted to go over there and fight and win the war by myself. Most Marines think they can win a war by themselves."
After he recovered, he was assigned to the Second Marine Air Wing at Cherry Point Air Station in Craven County.
Ervin dropped out of Carver High School and was drafted into the Marines in November 1951.
He went to basic training in Parris Island, S.C.
The Marine Corps had started to fully integrate its ranks. When he and the other black recruits arrived at Parris Island, a white officer told them they weren't wanted.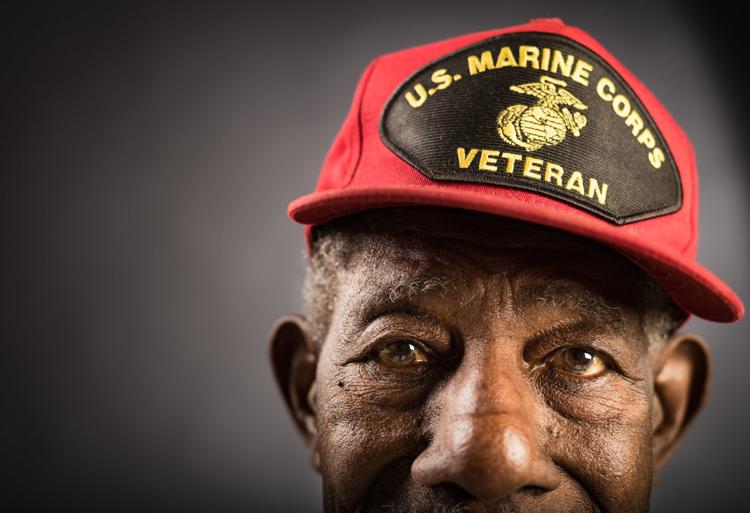 That motivated Ervin.
"I made a model Marine," he said.
Afterward, Ervin went to Camp Lejeune, where he was slated to be trained as a mechanic in a transportation unit.
Ervin traveled to Fort Benning to attend an Army mechanics' school because the Marine Corps didn't have a mechanics' school at that time.
The Marine Corps was the last U.S. military branch to integrate, Ervin said. During his time as a Marine, Ervin didn't see any black sergeants or officers.
However, the Marine Corps had a Pentagon directive to provide opportunities for blacks to be promoted to sergeant and higher ranks.
The black recruits were given tests to determine their qualifications for promotion.
Ervin achieved one of the highest test scores among his unit. But an officer told him that he couldn't be promoted because he was a high school dropout.
In 1953, he finished his tour with the Marines and was discharged as a corporal. He returned to Winston-Salem, and re-enrolled at Carver.
He received his high school diploma later that year.
Ervin enrolled at Winston-Salem State Teachers College, now Winston-Salem State University. He graduated in 1958 with a bachelor's degree in education.
Ervin received a master's degree in education from N.C. A&T State University. He worked for the U.S. Postal Service, where he retired in 1988 after 29 years of service.
Ervin said that the U.S. military is a viable career choice, especially for young people who don't want to attend college or can't afford it.
"The military is a good backup," he said. "And they will take care of you, too."