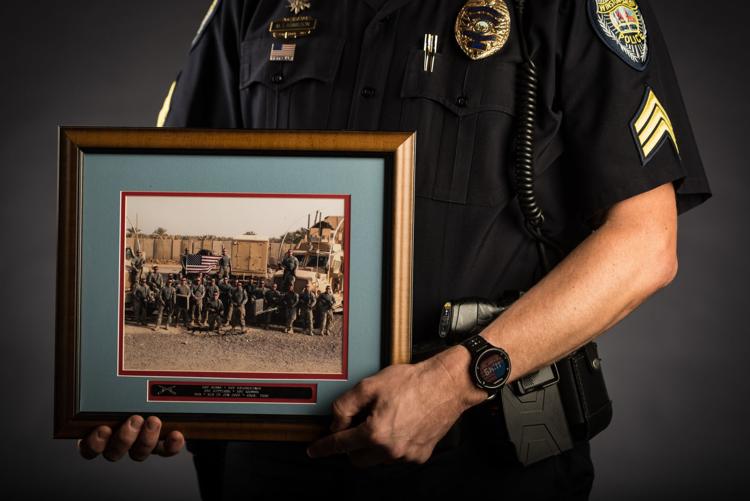 Marcus Hamilton loves the military. His office is full of different depictions of the Marine Corps insignia, American flags, military-themed stickers and mementos from his service. A picture of his platoon hangs on the wall.
Hamilton's journey with the U.S. military started in 1995 when he joined the Marines, following his brother and his father into the Corps. He left the Marines in 1999 after getting married because life in the service isn't conducive to raising a family — Hamilton spent six months on deployment in Okinawa, Japan, after his wedding.
Upon getting out, he took a job with the Winston-Salem Police Department, but leaving never sat right with him.
"I always say I regret getting out, because I love the Marine Corps,"
Hamilton said. "But I also say I made the right decision for my family."
From 1999 to 2007, Hamilton, 44, made a career out of being a police officer and devoting time to his family. Then came a chance conversation with a fellow officer, Bobby Staley, that reignited his passion for military service.
At the time, Hamilton was a full-time firearms instructor, and Staley, who was a motorcycle officer, came to the shooting range. The two had not talked much before, Hamilton said, but Staley mentioned that he was planning to attend the Army National Guard's Officer Candidate School.
That's all it took.
"If Bobby had not said anything, I would have probably not rejoined," Hamilton said.
Two years later, in April 2009, Hamilton, Staley and a few others from Winston-Salem were at Camp Shelby, Miss., getting ready to deploy to Iraq. After finding out it would be a few days before they went overseas, the men got a pass to return to North Carolina, rented a van and made the long drive back to see their families.
Then tragedy struck. On April 18, 2009, Bobby Staley went for one last motorcycle ride at home on the day before the men were scheduled to return to Camp Shelby. A truck turned in front of Staley, causing him to crash. Hamilton and the rest of the group got permission to attend his funeral.
Less than a week later, Hamilton was in Iraq.
A catastrophic mission
At first, Hamilton said, Iraq was exciting. He and his platoon were patrolling the southern countryside, going from village to village working to talk to sheikhs and gather intelligence about possible enemy activity.
He was only a lieutenant at that point, and he, his platoon and their convoy of armored Humvees seemingly went on the same mission every time: Gathering information. With most of the fighting around Baghdad and the northern parts of Iraq, it wasn't long before monotony set in, and operations became mundane, Hamilton said.
"There wasn't a lot of violence down there at that point," he said. "Our main mission was figuring out where the bad guys' stuff was."
Hamilton said he remembers one of those missions vividly.
It was June 29, 2009, Hamilton's "one bad day" in the service.
The mission was straightforward, he said. His platoon was to drive to Al Qa'qaa, a massive, abandoned weapons facility about 30 miles south of Baghdad. Information had been passed down that the enemy was storing bombs or bomb-making materials there. Hamilton and his men were to go find out if it was true.
There were 116 separate factories and more than 1,100 structures of various kinds at Al Qa'qaa, mostly as ruins, destroyed in bombing operations during the Gulf War, Hamilton said.
About two hours before dusk, Hamilton directed his patrol into the compound. Then one of the Humvees ran over an improvised explosive device.
"It was catastrophic," Hamilton said from his desk, his voice going quiet.
All four men in the Humvee died in the explosion.
Hamilton doesn't like talking about June 27, 2009.
But he remembers.
"It's a thing you don't want to ever forget," he said, voice still quiet. "But at the same time, you don't want to talk about it. You, you feel bad that you don't think about it."
For the most part, Al Qa'qaa is in the middle of nowhere, miles from any semblance of civilization. So why was an IED there? Hamilton said he doesn't know. He can only speculate.
"The only thing that makes sense is they saw us coming," he said. "For whatever reason, why would you want to deny access in the middle of nowhere? My theory is there was something going on in the Qa'qaa that night."
Two days later, July 1, Hamilton was back in action. His commanding officer told him to lead a mission to Baghdad, where his platoon would take their fallen to the plane that would carry them home.
As the commanding officer on the mission to Al Qa'qaa, Hamilton had to write a report of what happened. Now, on his office wall, a framed copy of that report hangs next to a picture of his fellow service members.
Later, after his interview, Hamilton sent a text message wanting to add one more detail about June 29.
On Jan. 19, 2010, Hamilton and his platoon were waiting for the helicopter that would begin their journey back to the States, he wrote. Another platoon had conducted a raid and captured the person who planned the fatal attack on his unit at Al Qa'qaa.
"I was able to tell them the guy responsible for killing our brothers had been caught," Hamilton wrote.
Hamilton would complete one more tour of duty, this time deploying to Jordan at the end of 2014.
His place, he said, is at home with his wife and their children. He is focused on his job at the police department. He is a sergeant there, training the next generation of police officers.
His wife is happy to have him home. She doesn't want him to leave again.
He thinks he won't, says he doesn't want to. Hamilton paused. He is not so sure.
The National Guard needs experienced commanders, Hamilton said. He is now a captain in the Guard, but said he would take a reduction in rank to lieutenant so he could lead a platoon again.
If the Guard really needed him, needed his combat experience, Hamilton knows what he would say. Even if it means having another bad day.
"If that call comes, begrudgingly, I would say yes."