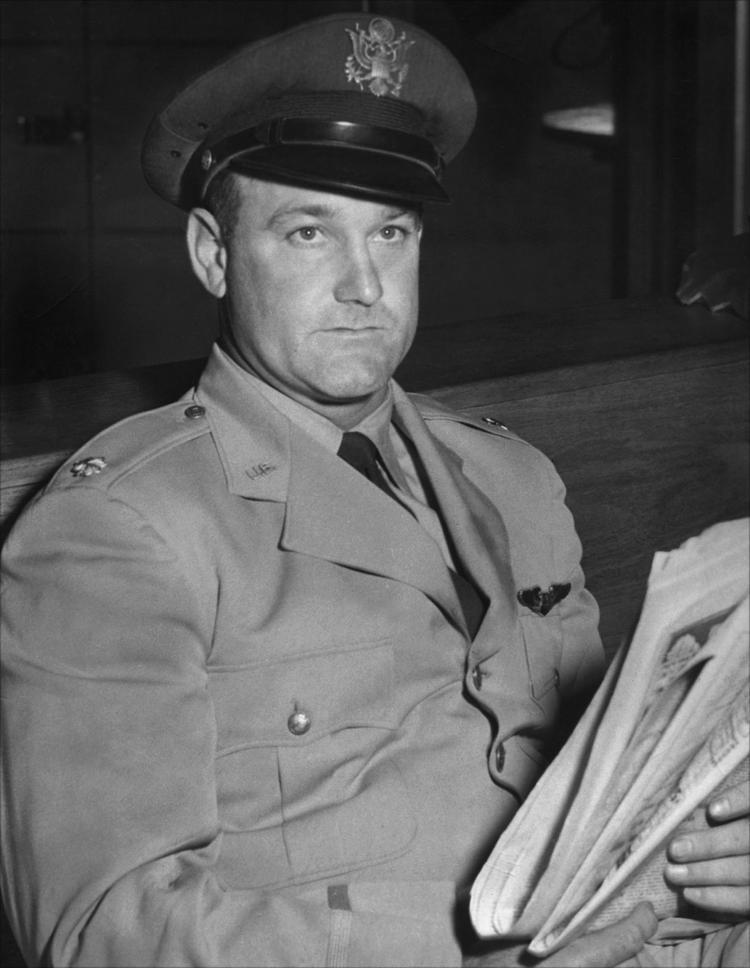 Story originally published Aug. 7, 2013.
In 1945, as the world reacted with a mix of jubilation and horror at news of the atomic bombing of Hiroshima, a small farm in western Davie County buzzed with excitement.
Between tending to their tobacco and corn crops just outside of Mocksville, William Flavius and Zella Ward Ferebee closely followed news of the war. But it wasn't until they took a call from a reporter on Aug. 7, 1945, that they learned that Thomas, their soft-spoken, athletic son, had released the bomb over Hiroshima the day before, the first of a two-part atomic attack on Japan that ended World War II and ushered in the Nuclear Age.
Asked for her thoughts about her son's role in the Hiroshima bombing, Zella Ferebee told a reporter from the Winston-Salem Journal by phone: "I think it's grand that my son had a part in the raid." Her husband was unable to hear over the long-distance connection but asked his wife to relay to the reporter: "I'm proud of Thomas and so glad he wasn't hurt."
Ferebee's service throughout the war — he earned two Distinguished Flying Crosses, one for merit, another for heroism — has been well-documented in newspapers, magazines and documentaries. In Davie County there is a state historical marker near his boyhood home and a bridge named after him.
But writers and historians aren't yet finished telling the story of Ferebee, who died in 2000 in Orlando, Fla., and is buried at Wesley Chapel United Methodist Church in Mocksville.
Robert O. Harder, who writes about the military, wrote a book about the crew of the Enola Gay, the name of the B-29 that dropped the bomb, focusing on pilot Paul Tibbets, navigator Theodore "Dutch" Van Kirk and Ferebee.
He previously wrote about Ferebee in a short story titled "My Encounter with Immortality," which was included in the "We Were Crewdogs" collection of essays.
In his book, "The Three Musketeers of the Army Air Forces: From Hitler's Fortress Europa to Hiroshima and Nagasaki," Harder gives a complete account of the three men's contributions in the war, shedding some light on their often-overlooked missions in the early days of the strategic bombing campaign in Europe in August 1942.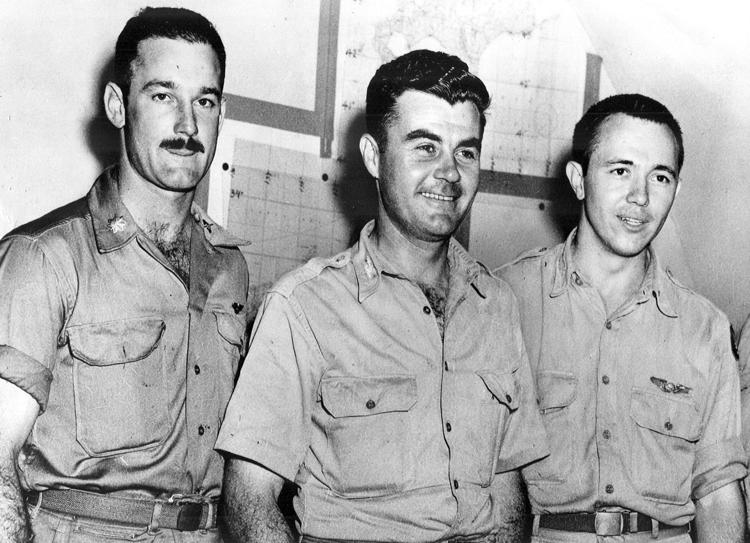 The three men quickly emerged as the top crew in the Army Air Corps, flying several missions over Nazi territory.
"They opened up the strategic war and literally closed the war three years later in Japan," Harder said.
It was in the European Theater of Operations that Ferebee performed what Harder believes to be his most heroic act — one that resulted in a Distinguished Flying Cross. In May 1943, Ferebee led a squadron into heavily defended air space in Sicily. The nose of his B-17 was hit with a 20 mm shell, wounding the navigator.
Ferebee left his position at the bombsight to treat the navigator, even giving him his oxygen mask.
Ferebee hustled back to the bombsights and, in a near-collapse from lack of oxygen, led a successful attack on the target, according to a document stored in the N.C. Museum of History in Raleigh.
"That was probably the most heroic thing he did in the war," Harder said.
Harder said he also plans to write about the influence that Ferebee, Tibbets and Van Kirk had on strategic air command as well as their lifelong friendship. All three are deceased.
Creating a portrait of Ferebee has been difficult, Harder said. Van Kirk has self-published an autobiography and Tibbets was the frequent subject of interviews.
Ferebee did talk to the media occasionally, but he was never one to seek publicity, Harder said.
"He was a bit of an enigma," Harder said. "Researching him has been a real challenge. He rarely talked about himself." Shortly after he died, his wife, Mary Ann, donated papers and documents to the N.C. Museum of History, which has helped Harder in his research.
The collection includes photographs and newspaper and magazine clippings compiled by family members.
"He did save a lot of his orders, which is very helpful, so I can track down where he was, but he didn't write a diary or articles, so it's been a real challenge to root out his past," Harder said.
One of 11 children, Ferebee was a farm boy who grew up helping his family harvest tobacco, corn and wheat. He graduated from Mocksville High School and later Lees-McRae College in Banner Elk. A promising baseball player, Ferebee gave up on his dream to pursue professional baseball, deciding to enlist in the Army after the Japanese attack on Pearl Harbor.
He trained in heavy bombardment and almost immediately distinguished himself as a crack bombardier.
In a Jan. 12, 1943, story in the Winston-Salem Journal, Ferebee spoke humbly about earning the Distinguished Flying Cross and the Airmen's Medal.
"My medals don't make me a hero, though, just shows I am still giving 'em some hell." Ferebee expressed no regret for his role in Hiroshima, telling a reporter from The Associated Press in 1982, "If you saw what the Japanese still had to fight with, you would know there would have been a lot of casualties. They had hundreds of planes — anything that would fly — lined up and ready for kamikaze pilots. Everyone was ready to fight, including women and children." Ferebee occasionally visited Davie County after the war, choosing to pursue a military career that took him all over the world.
Davie County never forgot him, honoring its native son at various points throughout his life.
At the unveiling of a historical marker near his childhood home in 1991, the always humble Ferebee told the crowd, "I'm happy that you people thought that much of me, that you think I might be somebody who is worth this honor."