Matt Kendrick did not need to be familiar with Tinariwen's music to know he wanted to stand in solidarity with the band after it was attacked on social media.
In July, a Facebook post from The Ramkat showing the North African band dressed in traditional garb of desert people set off a a slew of racist, hate-filled comments that drew attention from the national media.
To counter the negativity, the owners of the downtown music club are planning a few events in advance of the band's show on Sept. 17.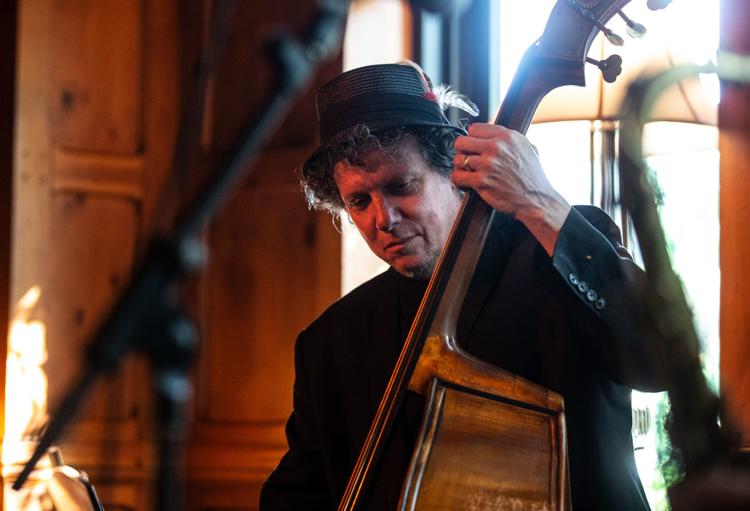 On the day of the show, The Ramkat will have a moment of unity in its parking lot, beginning at 5 p.m. Andy Tennille, one of the owners of the club, has been in contact with Interfaith Winston-Salem to help coordinate the gathering.
The Ramkat also spearheaded a project asking local musicians to record a Tinariwen song of their choice, which the club plans to post on its Facebook page and compile on Spotify. The Journal will also post the songs in the days leading up to the show at www.journalnow.com.
Tennille got the idea while watching the bluegrass jam band The Waybacks play at The Ramkat in August.
A MerleFest mainstay, The Waybacks covered the Tinariwen song, Imidiwan Ahi Sigdim, slipping it in just after playing Guy Clark's "Texas Cookin'."
The gesture moved Tennille, who saw it as a nod of support to musical brothers. Struck by the camaraderie, Tennille got in touch with several local musicians, asking if they'd be willing to record a Tinariwen song, creating something of a musical welcome mat for a band that has made advancing the cause of marginalized people a cornerstone of its sound.
"That musician-to-musician connection knows no borders or city limits. It really transcends divides, and that was of interest to me," Tennille said. "If what happened resonated with The Waybacks, who aren't even from Winston-Salem and could care less about its reputation in the broader world, what would local musicians do with this? And I jotted off emails to a handful of musicians. Within an hour, I got a pretty strong response from people who said, 'Let's go with it.'"
Kendrick, a longtime veteran of the city's jazz scene, said he was happy to put his skills to use.
"It's a small thing I can do," said Kendrick, a bass player.
Kendrick researched the band's catalog and decided on "Cler Achel," which he described as a lament of the struggles of the Taureg, the marginalized, semi-nomadic people of North Africa to which the members of Tinariwen belong. He layered five bass tracks to create an instrumental evocative of a dark Saharan night.
Other musicians who recorded Tinariwen tracks are Mr. Haircut, a project of bass player John Ray; singer-songwriter Cashavelly Morrison; 1970s Film Stock, the project of Eddie Garcia; and The DeFacto Brothers, a band of eight musicians from around the country that Ed Bumgardner pulled together.
Made up of musicians from Miami to New York, The DeFacto Brothers gathered in a Charlotte recording studio a few weeks ago to cut "Assawt."
"This is taking a stand against idiocy, which is sadly prevalent in this thing," said Bumgardner, a longtime fan of Tinariwen. "For the band to be getting threats... they have to put up with that in their homeland. There's no reason to put up with it in the United States."
Ray enlisted the help of local alto sax player Ali Sakkal as well as Canadian Justin Hauck (drums) and Raleigh resident Matt Bell (violin). Ray had never worked with the musicians.
"The guys I normally play with weren't available, so I reached out on Instagram, looking for people who could record and film themselves," Ray said. "They were people who came around to the idea of creating something positive. It was one of those magical things that worked and shouldn't have."
Tennille is excited by the results of the project and is hopeful Tinariwen will hear the songs.
"The musicians took this germ of an idea — 'Hey, record a song on your iPhone and send it to us' — and went to much greater lengths," Tennille said. "This is something they can be proud to present to Tinariwen as this sort of homage."
Since the flurry of hateful comments in July, The Ramkat has had the occasional negative post about the band. However, it has slowed down considerably, said Richard Emmett, one of The Ramkat owners.
"We do plan on additional security," he said. "We want to be safe rather than sorry."