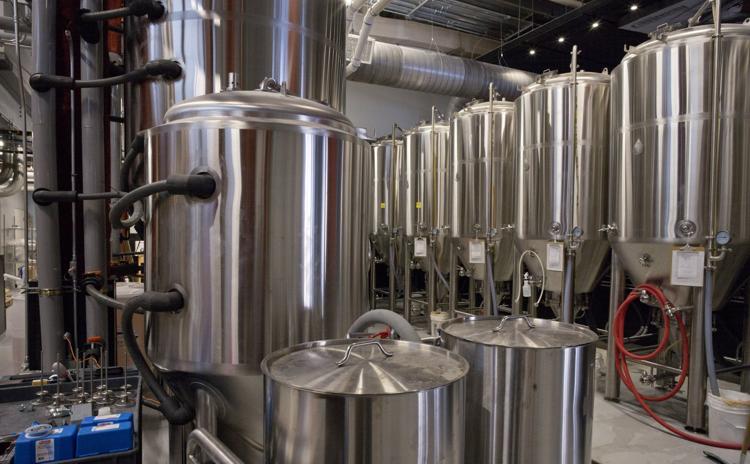 Winston-Salem has continued to see growth in craft breweries, but it appears to be catching up with other cities.
When Incendiary Brewing opened last summer, it became the sixth brewery and eighth taproom in the city. (That's if you don't count Joymongers because it doesn't actually brew beer in its Barrel Hall but do count Foothills' two outlets — its brewery taproom and downtown Brewpub.)
One brewery has announced plans to open this year. Radar Brewing Co. is finishing construction on a brewery at 216 E. Ninth St., just down the street from Wise Man Brewing. Radar is owned by childhood friends Aaron Wall and Aaron Sizemore and partner Eric Peck.
Radar's 4,000-square-foot space will be about equally divided between brewery and taproom. Their building, next to the Ninth Street Water Tower, is expected to eventually include a restaurant, events center and five Airbnb rooms.
Radar is hoping to open this summer.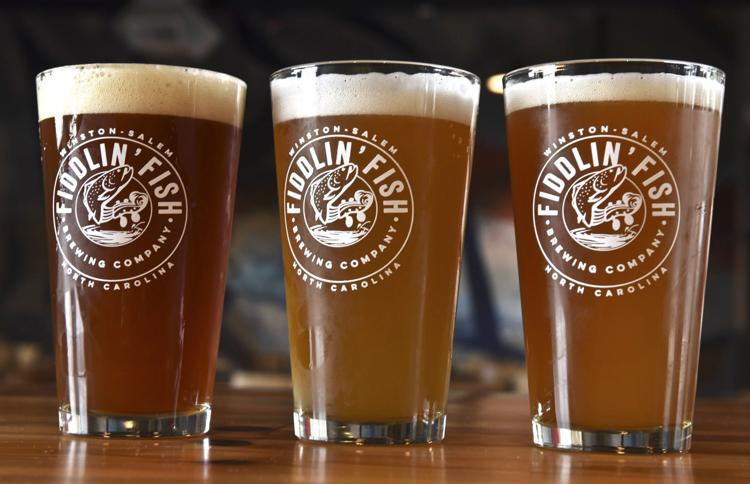 Breweries are also popping up in surrounding areas. The folks at Full Moon Oyster Bar in Clemmons opened The Other Side of the Moon brewery in the fall of 2017, and it seems just a matter of time before another brewery opens in Clemmons or nearby Lewisville.
Kernersville Brewing Co. — which had been brewing and selling wholesale for three years — opened its own tasting room this winter. Also in Kernersville, Gypsy Road Brewing Co., which opened last September selling other companies' beers, is getting ready to start brewing its own beer this summer.
The question on many people's minds is how many more breweries the area can handle before the market is saturated. Most people in the brewery business think we're not there yet.
"I think we have room for more, for sure," said Sam Victory, the brewmaster and a co-owner of Wise Man Brewing.
"I'm going to say we'll probably end up with about 10," said Jamie Bartholomaus, the president and co-owner of Foothills Brewing Co.
Several brewers remarked on the quality of the beers. The more breweries that open and produce high-quality beer, the more breweries the city is likely to handle. That's because at some point, a critical mass of good breweries becomes a draw for out-of-towners. Just ask brew folks in Asheville, where at last count about 30 breweries were thriving in a city of about 70,000 permanent residents.
Also in the news this spring has been HB 363, a bill that N.C. General Assembly passed that will double the maximum amount of beer a craft brewery can self-distribute without using a distributor.
The new law will increase the amount from 25,000 to 50,000 barrels that breweries can self-distribute. Craft brewers had argued that going through a distributor can be cost-prohibitive for a small business.
Fiddlin' Fish Brewing Co.
Address: 772 N. Trade St.
Hours: 4 to 10 p.m. Monday through Thursday, noon to midnight Friday and Saturday and noon to 9 p.m. Sunday.
Facebook: Fiddlin' Fish Brewing Company
Fiddlin' Fish continues to draw strong crowds downtown almost two years after its opening in the summer of 2017. Fiddlin' Fish has been known for its live acoustic music — including open mic nights — and strong food-truck lineup. A lot of craft-brew fans take advantage of the proximity to Wise Man Brewing to do a little bar hopping between the two.
Co-owner Stuart Barnart said that Fiddlin' Fish added a 15-barrel fermenter last year with an eye to boosting production. "We have increased our distribution to bars and restaurants (kegs only) and are projecting to produce 1,150 barrels in 2019."
It recently added a sales rep in the Raleigh area.
Barnhart said that That Fish Cray New England IPA is Fiddlin' Fish's most popular beers, but customers have taken to the series of sour beers that the brewery has begun to produce.
Fiddlin' Fish this spring became the first brewery to strike up an agreement to have a single food truck serve the brewery. Slanted Shed, owned by Will Newell in Winston-Salem, is now the food truck of record for Fiddlin' Fish.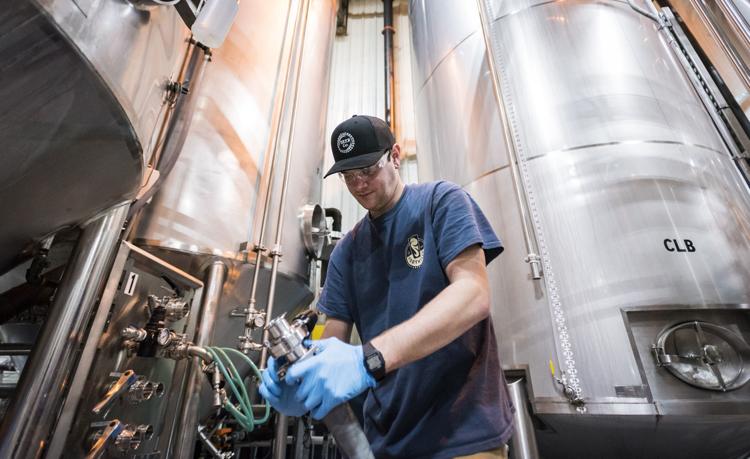 Foothills Brewing Co.
Address: 638 W 4th St., Winston-Salem
Hours: 11 a.m. to midnight Sunday through Tuesday, 11 a.m. to 2 a.m. Wednesday through Saturday.
Address: 3800 Kimwell Drive, Winston-Salem
Hours: 4 to 9 p.m. Monday through Wednesday, 4 to 10 p.m. Thursday and Friday, noon to 10 p.m.m Saturday and noon to 8 p.m. Sunday.
Facebook: Foothills Brewing
Winston-Salem's oldest craft brewery continues to be its largest by far. Distributed in supermarkets and other stores in five states, Foothills produced 41,500 barrels last year.
Foothills also has multiple retail outlets — at its brewery on Kimwell Drive, its restaurant and bar on Fourth Street downtown and, most recently, the Footnote coffeeshop and event space that sits between Foothills Brewpub and Bookmarks bookstore.
"Footnote has been a killer spot for us," said company president and co-owner Jamie Bartholomaus. "We had always turned down parties (at the brewpub). Now Footnote is moving 700 or 800 people through there each week for parties."
Bartholomaus said that Foothills overall has continued sustained growth in the last year. It recently put in a new mill at the brewery and new façade neon sign at the brewpub.
The Hoppyum IPA continues to be Foothill's best-seller. "Not only is Hoppyum IPA our top seller, it's the top-selling IPA six-pack in North Carolina for six years running, 2013-2018, according to IRI data of grocery chains, Bartholomaus said.
Among its newer beers sold in six-packs is the Maltshaker Amber Ale, now available in Food Lion supermarkets.
Foothills also is now a coffee roaster, a venture that grew out of one of Bartholomaus' longtime hobbies. Foothills coffee is now sold in bags at Footnote and select Lowes Foods.
Hoots Beer Co.
Address: 840 Mill Works St., Suite 110
Hours: 4 p.m. to midnight Monday through Thursday, 4 p.m. to 2 a.m. Friday, and noon to 2 a.m. Saturday and noon to midnight Sunday.
The big news at Hoots Beer Co. is that it will open a second bar. The new one will be at 701 N. Trade St., in the heart of the Downtown Arts District.
"Growth had become a necessity," said co-owner Eric Swaim.
Hoots always has operated a little differently than most other craft breweries, and it will continue to do so. Instead of having one big tasting room, it will have two bars. It also will continue to operate a full bar, so customers can not only get Hoots beer there, but also a cocktail or any kind of liquor drink. "We never saw us being a giant warehouse brewer. The more we talked about it, building another small space instead of a big tasting room made sense."
Hoots Roller Bar is classified as a private club, so, unlike brewery taprooms, it can and does allow dogs.
The space on Trade is getting a major renovation and probably won't open till mid-summer.
Less visible changes at Hoots include renting a storage space for kegs and supplies off-site. This will free up much needed space in the brewery to make more beer. "We needed to grow. We were running out of space. We were running out of beer. That little brewery we built on a shoestring was bursting at the seams," Swaim said.
Hoots will continue to distribute on a modest scale, mostly to Triad restaurants and bars.
Production has hovered around 600 or 700 barrels for several years. But now Hoots is poised to increase to 1,000 or more barrels.
With the expansion, Hoots plans to start offering some beers in cans. The Gashopper IPA, Hoots' best-seller, will be the first beer to be canned; those cans should be released this summer. Other popular Hoots beers include the ESB pub ale and Wheelbite Wheat. "And then we have a lot of seasonals," Swaim said. "With having a second pub, that'll gives us more room to play around with different beers."
Incendiary Brewing
Address: 486 N. Patterson Ave.
Hours: 4 to 10 p.m. Monday through Thursday, 2 p.m. to midnight Friday, noon to midnight Saturday and noon to 10 p.m. Sunday
Facebook: Incendiary Brewing Company
Incendiary is Winston-Salem's newest brewery, having opened Labor Day weekend last year.
It recently got some company next door in Bailey Power Plant when Cugino Forno starting turning out wood-fired pizza.
Incendiary has been making good use of the former plant's coal pit for patio seating, kids play area and music concerts. It's already planning a big blowout for its first anniversary, including a free concert by Fuel in the outdoor coal pit.
In February, Incendiary released its first cans. It also is getting into barrel-aging. "We are up to approximately 30 spirit barrels filled with imperial stouts, barley wines and Belgian Quads," said co-owner Brandon Branscome. The first of those barrel-aged beers are expected to be released this fall.
By the end of March, the brewery had brewed 60 batches of beer in less than seven months, Branscome said. He estimates that 2019 production will reach 1,500 to 1,800 barrels.
Incendiary sells most of its beer through its taproom, but has begun limited distribution to Triad restaurants and bottle shops.
Incendiary is probably best-known for its SHIfT New England IPA series — with a base recipe that's varied with different hops. "For N.C. Beer Month (in April), we brewed an Imperial Version of our SHIfT: BLUE IPA using all N.C. grown and malted grains," Branscome said.
Joymongers Barrel Hall
Address: 480 West End Blvd.
Hours: 4 to 10 p.m. Monday and Tuesday; 4 p.m. to midnight Wednesday and Thursday; 2 p.m. to midnight Friday; noon to midnight Saturday; and noon to 10 p.m. Sunday.
Facebook: Joymongers Barrel Hall
Joymongers, founded in Greensboro, opened its barrel hall across from Hanes Park in Winston-Salem last March.
"Our first year in Winston-Salem has been fantastic and we love our fans in both of our 'hometowns,'" co-owner Jim Jones said.
Joymongers doesn't brew in Winston-Salem — but it does barrel-age beer. On a typical day, the Winston-Salem taproom will have a mix of beers that also are available in Greensboro and those that are unique to the barrel hall.
Joymongers declined to release production figures, but Jones said that it sells about 90% of its beer in the two taprooms, and the remainder in a small number of local bars and bottle shops.
"Our American Pale Ale is a big seller and in addition to our popular IPA series featuring versions like our Citrus Session, West Coast, and Brux IPAs," Jones said. Recently featured among the barrel-aged beers have been a Foederbier with Peaches and Cherries and an American Barleywine.
Small Batch Beer. Co.
Address: 241 W. Fifth St., Winston-Salem
Hours: 11 a.m. to 10 p.m. Tuesday and Wednesday, 11 a.m. to midnight Thursday, 11 a.m. to 2 a.m. Friday, 10 a.m. to 2 p.m. Saturday, 11 a.m. to 10 p.m. Sunday.
Facebook: Small Batch Beer Co.
In the last year, the folks behind Small Batch have brought their sister restaurant, originally named Burger Batch, under the Small Batch banner, in part because of a legal challenge by Burger Bach in Charlotte.
Small Batch, founded in 2013, sells all of its own beer directly, but some of that is sold at the Small Batch location in High Point. Co-owner Tim Walker has said he wants to open a new place in High Point next to Small Batch called Juice Batch, selling fresh juice, poke bowls and more.
Small Batch is still small. It usually makes 250 to 300 barrels, but it is on track to exceed that this year. "We're doubling our capacity, and we're making more beers," Walker said.
Small Batch's signature beer remains the Lemon Main IPA (formerly Lemon Head IPA). "That's our flagship beer," Walker said. The seasonal Blood Orange IPA is also very popular. And the Beet Gose On is a "cult favorite," he said.
Among Small Batch's new beers, its pilsner is selling well, Walker said.
Wise Man Brewing Co.
Address: 826 Angelo Bros. Ave.
Hours: 4 to 10 p.m. Monday through Wednesday, 4 p.m. to midnight Thursday, 2 p.m. to midnight Friday, noon to midnight Saturday and noon to 10 p.m. Sunday.
Facebook: Wise Man Brewing
Like Fiddlin' Fish, Wise Man also has hired a sales rep for Raleigh to boost its presence there from bottle shops to restaurants and bars. Wise Man is producing a mix of cans, bottles and kegs at this point. Brewmaster and co-owner Sam Victory said that production was about 2,000 barrels last year and may hit 2,500 barrels this year.
Victory said that Wise Man's three staples are its Mountain Calling IPA, Body Electric Double IPA and Scoop Dogg Cream Ale.
It recently started producing Conceited Genius New England IPA and Chosen Vehicle Pale Ale in cans. Victory said he expects Wise Man to increase its canned offerings to seven or eight different beers, selling them not only in the taproom, but in such bottle shops as Stella Brew and even in a select number of Lowes Foods stores.
Victory said he has been making sours for a while, rotating among different fruits. "We are working on a warehouse space for barrels. We have 125 barrels aging the true sour beers."
Wise Man began aging the first ones last summer and expects to start releasing them this summer.