The Greensboro Farmers Curb Market, which the city of Greensboro closed when Gov. Roy Cooper issued the order for all non-essential businesses to shut their doors, is moving to an off-site drive-through concept.
Since the usual market is inside with a large number of farmers and vendors and a high volume of interaction, Lee Mortensen, executive director of the market, said the drive-through model is an interim option.
"With the uncertainty of where we are as far as North Carolina goes, this is the next step we're taking to connect customers and vendors," Mortensen said.
The drive-through market will be Wednesday and Saturday mornings in the parking lot at Revolution Mill at 2001 Yanceyville St. at Textile Drive and will be open for pickup only of orders placed in advance. Shoppers who have not arranged to pick up an order will be turned away.
Orders and payment are made directly to market vendors. There will be no payment transactions on site. Customers must set a pickup time with the vendor who will provide additional instructions.
To see a list of participating vendors and more information, visit gsofarmersmarket.org and click on the Drive-Thru Market link at the top of the page.
Mortensen said she is exploring other ways the market can accommodate shoppers and growers as local farms head into the summertime produce season.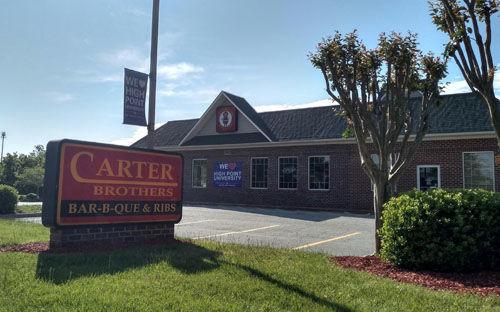 Barbecue joint closes
The sign on the drive-through window of Carter Brothers BBQ and Ribs reads: "Due to Covid-19, we will be closed for about 2 weeks."
But when the governor ordered restaurants to close dine-in last month to curb the spread of the virus, few restaurants imagined two weeks would turn into a month or more.
Carter Brothers, a popular barbecue restaurant at 3802 Samet Drive, is among the first restaurant casualties of the pandemic.
According to the restaurant's Facebook page, it has closed for good.
In the post, owner Tim Carter said he paid off $100,000 in bills and closed the restaurant over fears from the wake of the coronavirus pandemic.
"We have decided to go ahead and hang up our apron and lay down our spatula and retire," Carter said in the post.
Carter and his brothers Darin and Steven opened Carter Brothers in 1997. Since the deaths of this brothers, Tim Carter had been running the business by himself.
Last year, Carter closed a second location on North Main Street due to the building's age.
Donate meals
Restaurants are responding to the pandemic crisis by making it easy to serve meals to first responders and health care workers.
And the business helps restaurants stay in business.
Downtown Greensboro Inc. set up a GoFundMe page to provide 100 meals a day from local restaurants.
Over a dozen downtown Greensboro restaurants have pledged support.
Donations can be made at charity.gofundme.com/o/en/campaign/greensborostrong.
The following restaurants are also offering ways to provide meals.
Gift a fresh-baked breakfast from
Other restaurants will be added as they become known. Check Short Orders each week for updates or visit Short Orders online.
Free coffee
Convenience store and restaurant chain Sheetz is offering free coffee to first responders and health care workers.
The offer is good through June 1.
Virtual wine dinner
The Undercurrent in Greensboro will hold a virtual wine dinner May 9.
The dinner includes a four-course ready-to-heat meal for two, pictures and description of the plating, three bottles of paired wine and a virtual wine discussion held through the Zoom virtual conference platform.
Cost for the meal is $130.
The meal will be available for pickup from 1 to 5 p.m. May 8 and the Zoom call will begin at 7 p.m.
Visit undercurrentrestaurant.com for details.
Restaurant group puts forth recovery plan
The country's restaurant industry has laid off two-thirds of its workforce as a result of the COVID-19 pandemic, according to the National Restaurant Association.
According to the survey done by the association, that translates to 8 million restaurant employees who have been laid off or furloughed since the beginning of the outbreak.
The association estimates the restaurant and food service industry will lose $80 billion in sales by the end of the month.
In response, the association has created a Blueprint for Recovery that asks for $240 billion to cover the amount the association expects the industry will loose by the end of the year. It also asks that the Paycheck Protection Program Congress passed to provide loans to small businesses be tweaked to enable restaurants to choose a loan period, revise loan forgiveness restrictions and restore a 10-year loan repayment. Lastly, it also asks that there be a tax credit or grant program to help restaurants reopen with additional health and safety precautions.
For more information, visit restaurant.org.
Waffle House at home
Craving those Waffle House hash browns? Now you can have them at home.
The iconic diner chain is offering its hash browns, along with waffle mix and coffee, through mail order at shhop.wafflehouse.com.
It's a nearly complete Waffle House breakfast. All you need to add are the eggs and bacon. You can even order a coffee mug.
Chain promotions
Participation varies. Inquire before ordering.
has introduced Mexican Pizza with Chorizo, Mozzarella, Cheddar cheese, black olives, diced tomatoes and jalapeños.
is now delivering through DoorDash. The first 1,000 customers to order a Family Basket to-go April 30 get the meal half off and no delivery fees.
Fleming's Prime Steakhouse and Wine Bar
is offering two burgers and a bottle of cabernet for $40.
is offering new family meals for four that include a choice of chicken or pulled pork for $25, and ribs or brisket for $45. Meals include sides and sauce.
has three Date Night Deals that include a choice of appetizer, entrée for two, family-size side, four Cheddar Bay Biscuits and dessert. Entrée choices are two Maine lobster tails, two lobster tails and two New York strip steaks or the loaded Ultimate Date Night with lobster tails, snow crab legs, garlic shrimp scampi and corn flake-crusted shrimp.