By 9:30 a.m. Friday, the parking lot at Popeyes Louisiana Kitchen was about full.
By 9:45 a.m., a line of 50 people had formed at the door.
By 10 a.m., when the doors opened, a string of cars stretched down North Point Boulevard as they lined up for the drive-through.
At one point Friday morning, 25 vehicles were parked at the North Point Family Fare BP at 7765 N. Point Blvd., said Andrew Colon, the owner of the business. Popeyes' customers parked there and walked to the nearby restaurant. Colon said the cars weren't a problem because they didn't block the gas pumps.
A passing motorist called 911 about 2:30 p.m. Friday to report many vehicles parked at businesses near the restaurant. A Winston-Salem police officer was dispatched to check on that report, said Chad Higgins, a public-safety communications supervisor in the Burke Public Safety Center.
A few people took time off work. Several high-schoolers skipped out on their free periods — or more.
It was all part of opening day at the Winston-Salem Popeyes at 7791 North Point Blvd. 
Winston-Salem has been starved for Popeyes ever since the one on the campus of Winston-Salem State University got replaced by a Chick-fil-A in 2017.
"I have been coming here every day for two weeks. I've been waiting for this," said Malaka Williams, the second person in line at the new Popeyes.
"I don't even eat fried food, but I want to try the chicken sandwich," said Tina Marsh as she waited to get in. "I just want to see what all the talk is about."
The interest in Popeyes has been heightened since Aug, 12, when Popeyes introduced its first chicken sandwich — and ignited a Twitter war with competitor Chick-fil-A. Part of the social-media barrage involved people coming out in favor of Popeyes because they objected to Chick-fil-A's support for anti-LGBTQ organizations.
Demand for Popeyes' sandwich was so heavy that the company announced Aug. 27 that it was sold out. The company reportedly sold what it thought was two months' supply in two weeks.
Popeyes reintroduced the sandwich on Nov. 3 — not so coincidentally a Sunday, when Chick-fil-As are closed. 
Demand was just as high with the reintroduction of the sandwich, producing long lines at many locations. In one instance, that led to violence. Police in Upper Marlboro, Md., reported a fatal stabbing following a confrontation between two Popeyes customers — one of whom apparently cut in line in front of the other.
At the Winston-Salem Popeyes, the opening appeared peaceful and orderly. Customers didn't seem to care much about any controversy. They were there to eat. 
"This is my favorite place," said Pat Bullock, the first person in line Friday and someone happy she didn't have to drive to Greensboro anymore. "The chicken is so good," she said. "And I like that it tastes just as good when you heat it up the next day."
Like Bullock, Samuel Sutton was glad he could get his Popeyes fix without a drive to Greensboro or Mocksville, the location of the other nearest Popeyes.
"I've been feeling deprived in Winston-Salem," said Sutton, a senior and the drum captain of the marching band's drum line at Wake Forest University. "At home (in Little Rock, Ark.) there three Popeyes within 10 minutes of me."
Popyes was founded in 1972 in New Orleans, La., and now has its headquarters in Miami. The company says on its website that it has more than 2,700 locations across the United States and around the world.
Originally known as Popeyes Chicken & Biscuits and Popeyes Famous Fried Chicken & Biscuits, it has been called Popeyes Louisiana Kitchen since 2008. 
According to an article Oct. 7, 2019, in the Nation's Restaurant News, Popeyes is the nation's third-largest chicken chain with $3.2 billion in sales, behind KFC ($4.4 billion) and Chick-fil-A ($10.5 billion).
Popeyes has been having a good year. Since the sandwich was introduced this summer, Popeyes "had one of its best quarters in two decades," said Jose Cil, the chief executive officer of Restaurant Brands International, Popeyes' parent company. Chief Executive Officer of Restaurant Brands, in an earnings statement. Sales for the quarter were up 9.7%, almost double what analysts had projected, according to Consensus Metrix.
Popeyes has always been known for its fried chicken, which it says is marinated at least 12 hours and cooked with Louisiana spices.
Its signature chicken is bone-in, skin-on chicken, but it it also sells tenders and boneless wings, as well as the boneless-breast sandwich, which comes in Classic and Spicy ($3.99). A $10 tenders box includes six tenders, two sides and two biscuits.
In addition to all the chicken, Popeyes sells fried popcorn shrimp — a quarter-pound's worth for $6.19 with one side and biscuit.
Still, most people come for the chicken. 
"It's the seasoning. It's the crunch. It's the lack of grease," said Niiesha Beauford, grew up eating at Popeyes in the Bronx, N.Y. 
"It's better than Chick-fil-A," said, Eric Khalouf, a senior at WFU who had tried both sandwiches.  "It's the combination of spices, and I like the bun. Also, the chicken stays crunchy."
And, according to Dee Currence, it was worth the wait. 
Currence and her friend Johnny Burris picked up nine sandwiches for themselves and friends. "I had to park across the street and wait in line," Currence said, "but I will come back."
Reporter John Hinton contributed to this report.
Popeyes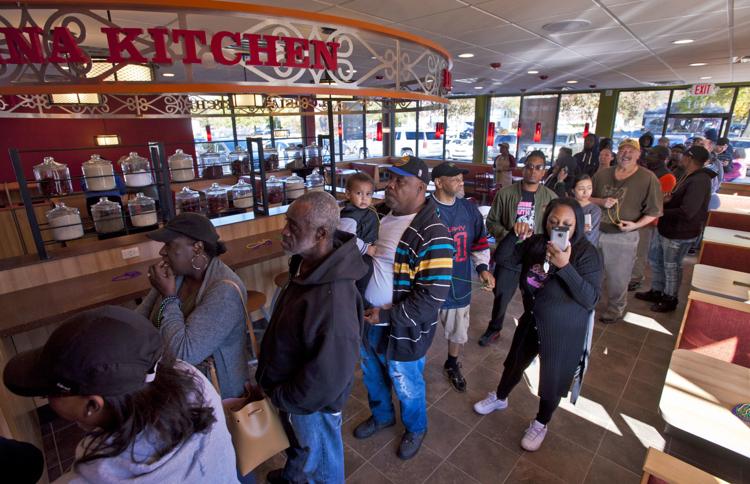 Popeyes
Popeyes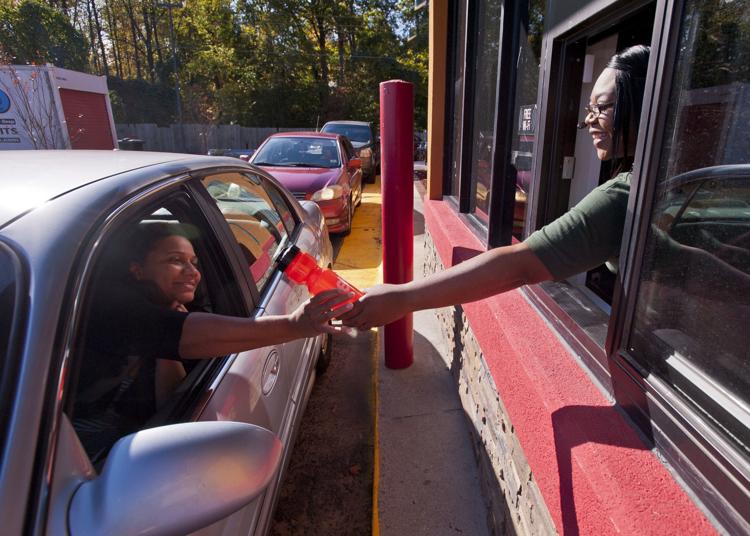 Popeyes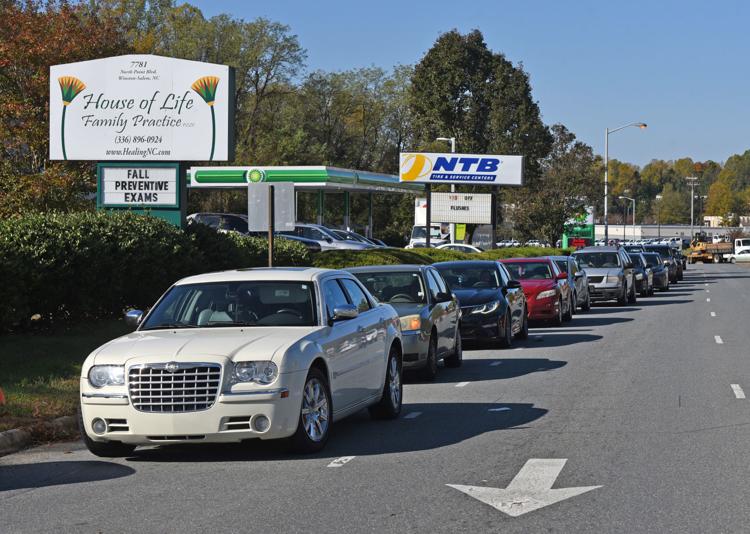 Popeyes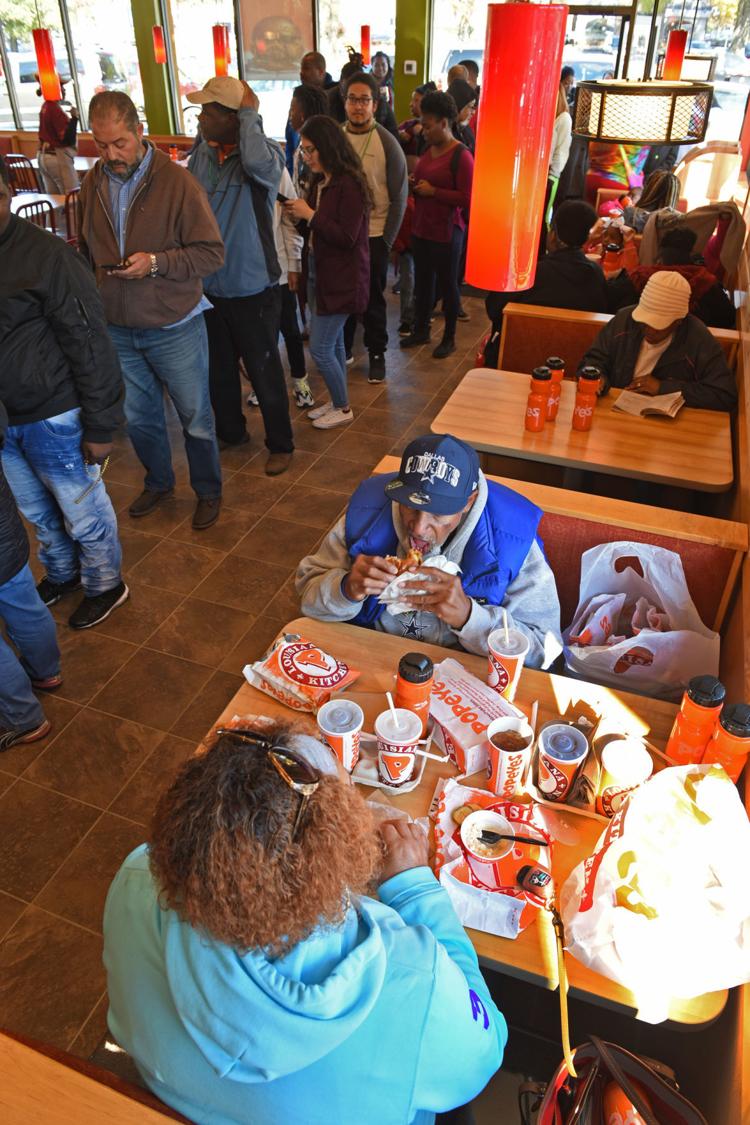 Popeyes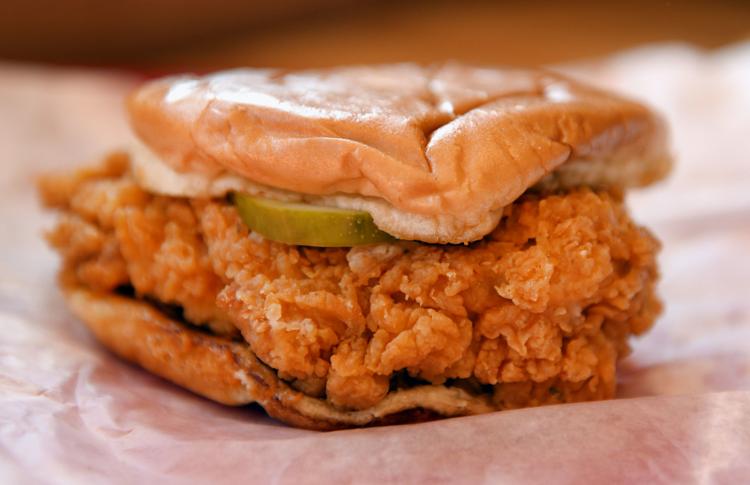 Popeyes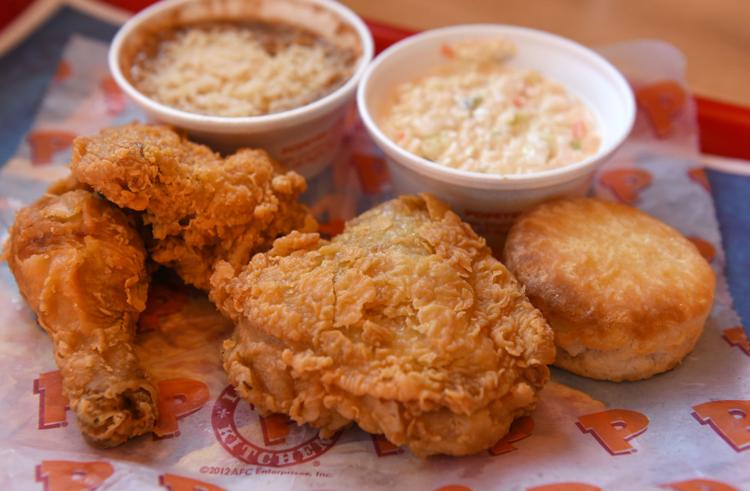 Popeyes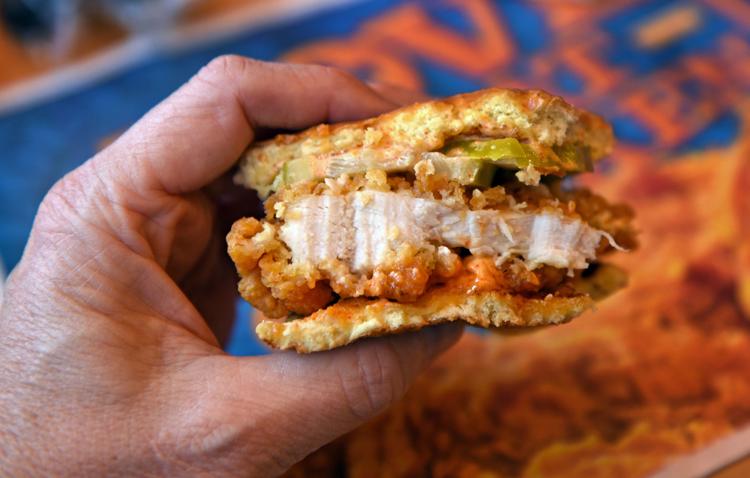 Popeyes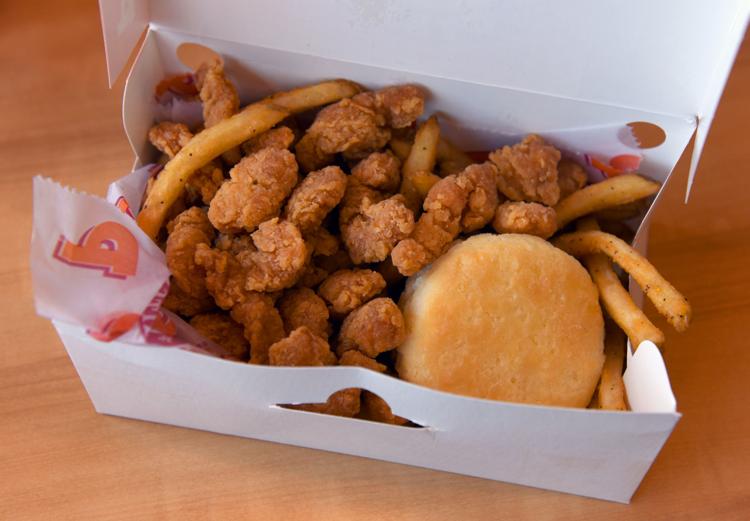 Popeyes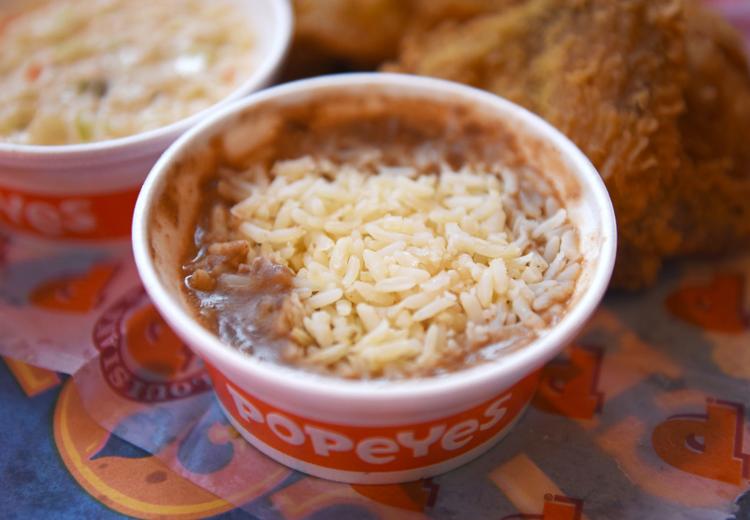 Popeyes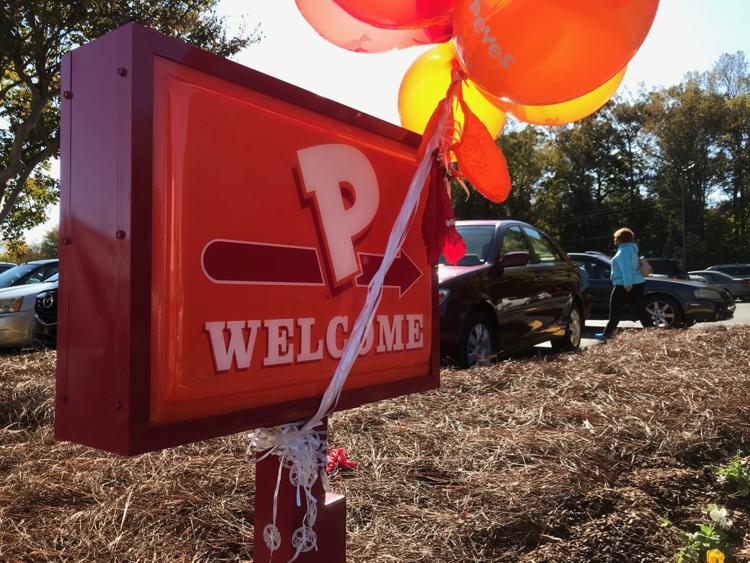 Popeyes

Popeyes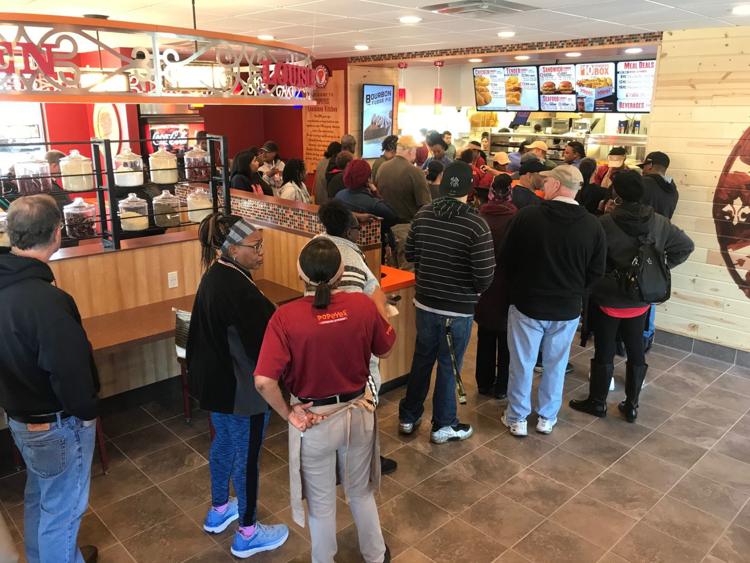 Popeyes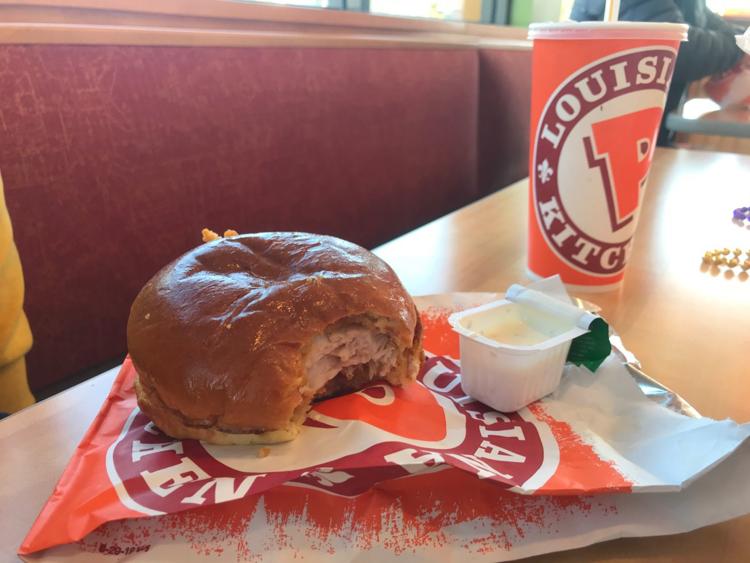 Popeyes Louisiana Kitchen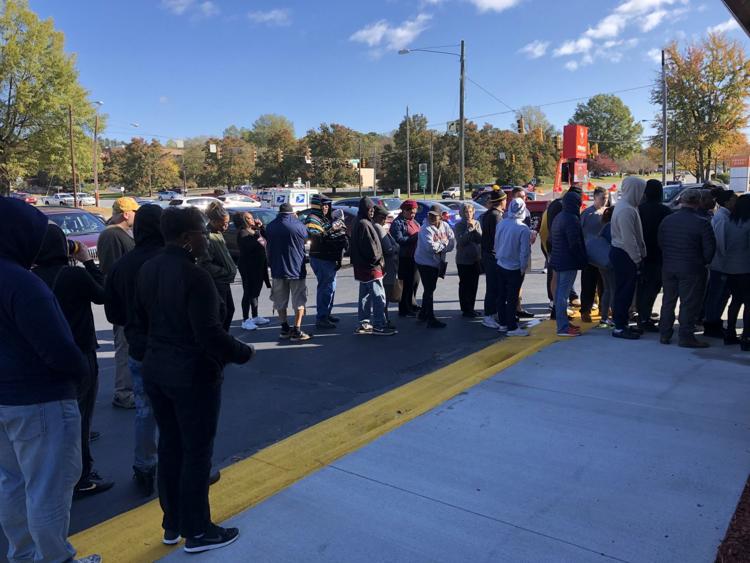 TWEET: Michael Hastings and Popeyes chicken sandwich
View this post on Instagram
Tweet: Michael Hastings at Popeyes
View this post on Instagram