We all know and love pumpkin pie, and almost every Thanksgiving table will have one this month. But sometimes we need something a little different — or a little extra.
So for anyone looking for an alternative or a supplement to pumpkin pie, we got some ideas from several local cooks in Winston-Salem.
Mary Haglund, the founder of Mary's Gourmet Diner, still carries memories of childhood of Sugar Cream Pie. Haglund, an Indiana native, said that this simple flavored dessert is also called Hoosier Pie.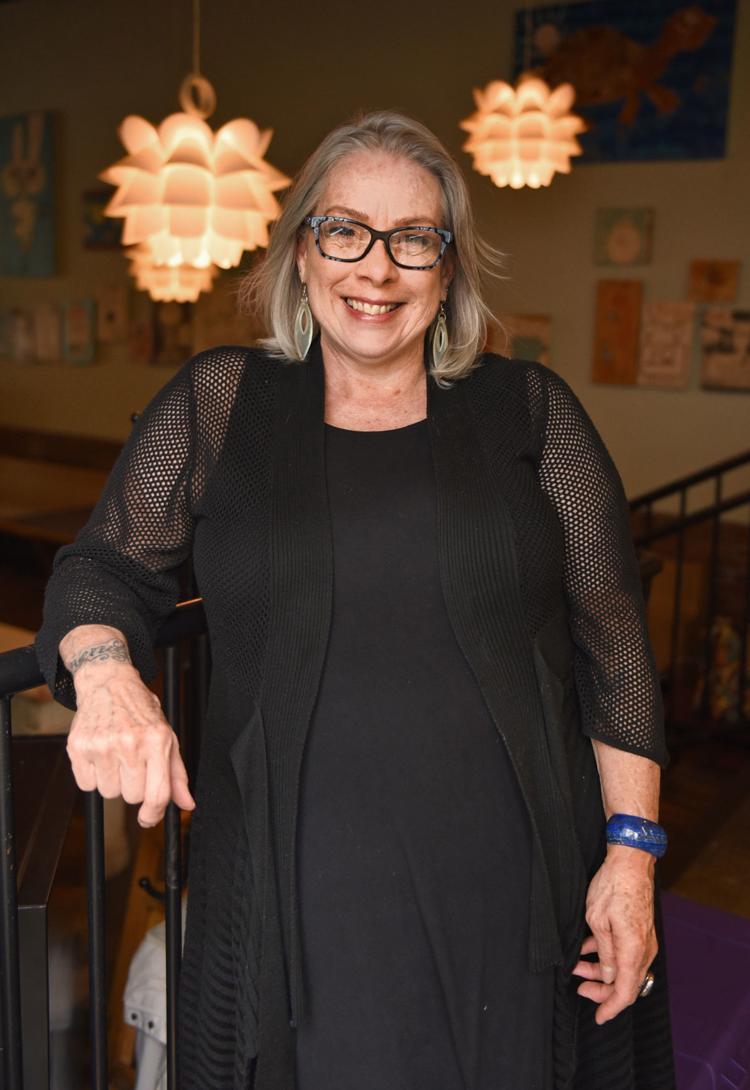 "I've never even seen it outside of Indiana," she said.
"It's super cheap and it's super easy. It's like a poor man's custard pie."
The pie is half-and-half, flour and sugar, flavored with a bit of vanilla and nutmeg. It doesn't even contain any eggs.
"My Mom (Nancy Hartwig) said she first had it in a little restaurant near Crane, Indiana. "
But, Haglund said, the pie does have a North Carolina connection.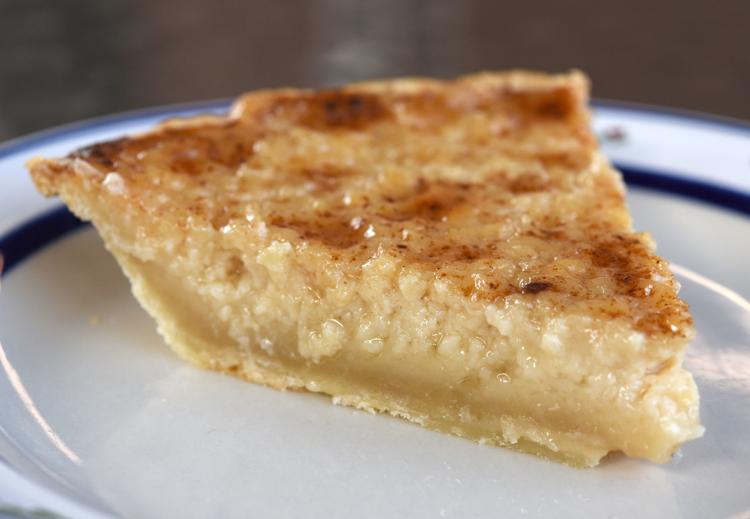 "The Indiana version of a sugar pie, known as 'sugar cream pie,' is believed to have originated with Quaker settlers who came from North Carolina in the early 19th century, and thereafter settled in east-central Indiana, particularly around the cities of New Castle, Portland, Richmond and Winchester," she said.
To keep things simple, Haglund recommends using a store-bought crust. "I don't make pie crust because I haven't yet perfected pie crust. My grandmother set the bar so high," she said. "There is no shame in using a store-bought pie crust."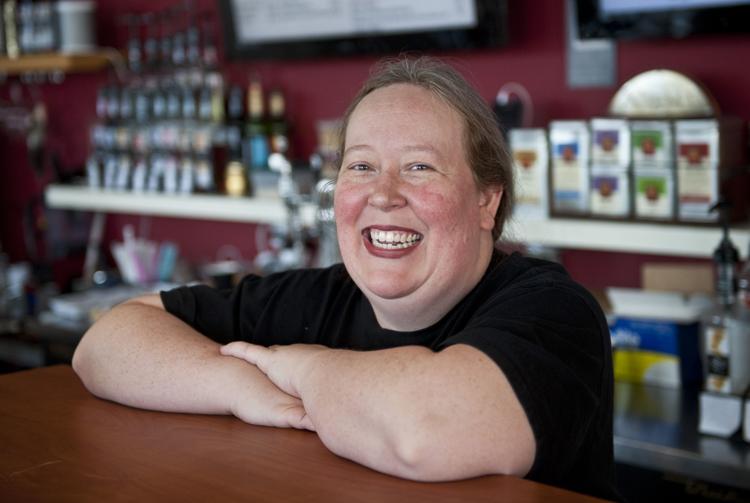 Dana Moody has been making more and more pies this year at West End Coffeehouse. The shop used to be known more as a gelato and coffee place. But these days, customers are perhaps more likely to come for the pie.
In fact, Moody is taking orders for a list of six different pies for Thanksgiving. Whole pies, priced at $28 to $33, can be pre-ordered by Nov. 18.
The list includes the Great Pumpkin (with cheesecake swirl), Chocolate Biscoff, Orange Spice, Coconut Cream, Sweet Potato and Apple Crumble.
People can make two of those themselves, as Moody was gracious enough to share the recipes.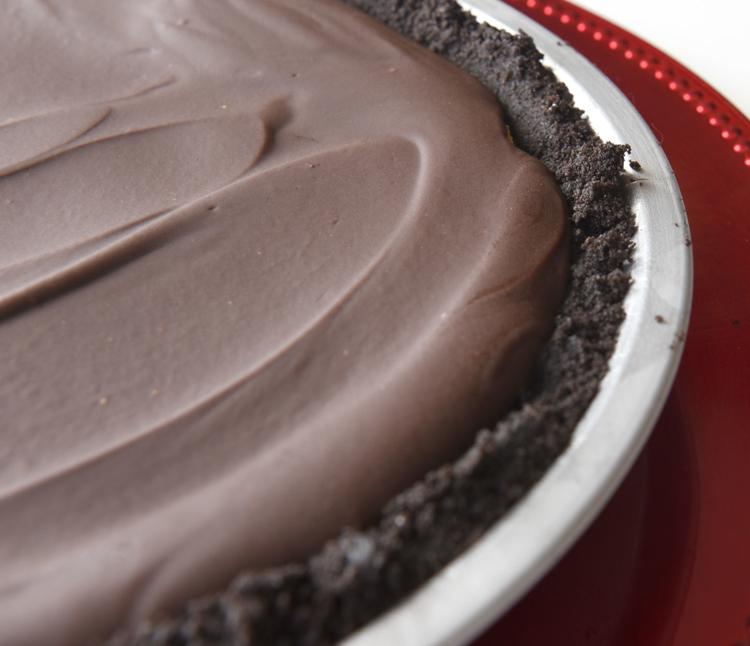 The Chocolate Biscoff is one she has shared before.
Moody won a Pie Day contest held by the Winston-Salem Jaycees with this pie in 2016. She has tweaked it a bit since then.
This rich pie has an Oreo crust, a Biscoff layer and a chocolate ganache layer.
"I got the idea from a peanut-butter pie," Moody said. "I like Biscoff so much better than peanut butter."
Biscoff is the name of a popular Belgian biscuit-like cookie that has been around since the 1930s and was introduced in the United States in the 1980s. The name Biscoff comes from "biscuit" and "coffee."
About 10 years ago, Biscoff spread or "cookie butter" — basically ground Biscoff cookies blended with oil and sugar — was invented by Els Schleppers, a contestant on a Belgian television show. The spread was introduced to the U.S. in 2011 and is said to be the inspiration behind Trader Joe's popular Speculoos Cookie Butter.
Biscoff spread is sold locally at select Harris Teeter, Lowes Foods and Walmart.
Her second recipe is a new one, Orange Spice. "Our Key lime pie is very popular but it's not Key lime season anymore," Moody said. "So I was looking for something that is similar but with fall flavors. It's the same concept."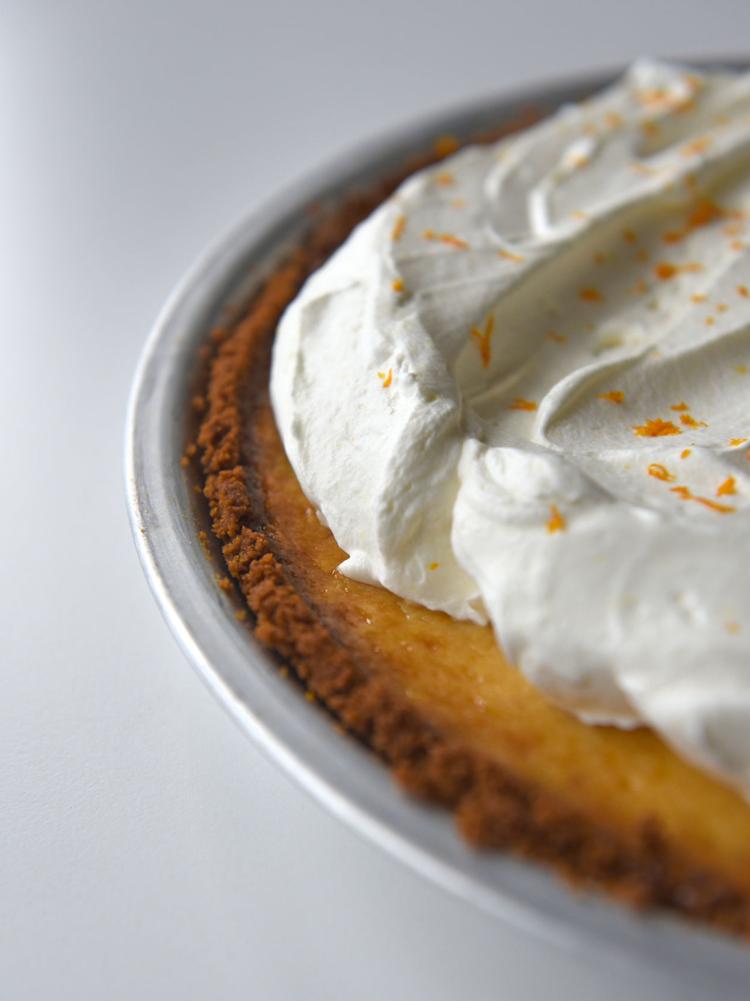 The pie has a gingersnap-cookie crust, and the orange-ginger filling is made with sweetened condensed milk and fresh orange and lemon juice.
"The lemon is needed so it doesn't taste overly sweet, but you still get the orange flavor first," Moody said.
The whole thing is topped with whipped cream, and Moody has a trick to make the whipped cream stay firm without leeching for a couple days: She adds a little gelatin. The pie must be refrigerated, but with the use of gelatin, it can be made ahead of time, which is always a plus at Thanksgiving.
Jessica McClure, a co-owner of Acadia Foods, makes a Harvest Pie that's almost three pies in one, with its filling of apples, pears and cranberries, flavored with a bit of orange juice and zest. It's a single crust, with traditional pie crust on the bottom, and a crumb topping made with oats, almonds and pecans.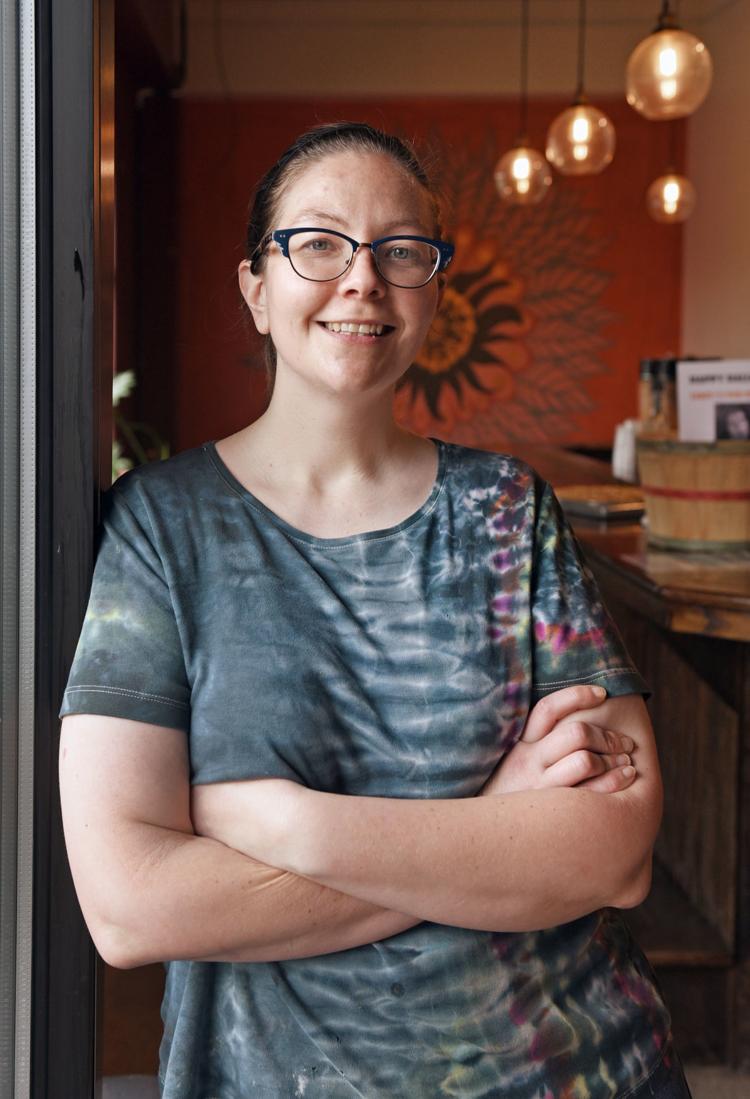 McClure makes a mean all-butter pie crust. "I use European butter — that's important," she said.
European butter has more fat than American butter as well as a slight tang. Most U.S. stores now carry at least one brand of European-style butter, such as Plugra.
After she makes her crust, she said, she likes to chill it thoroughly, preferably overnight, for best results.
But McClure also said that a store-bought crust will work just fine in this recipe.
"You definitely can use store-bought crust. My mom didn't make pie crust when I was a kid. But if you're going to buy it, get the kind you roll out yourself so you can get that homemade look," she said.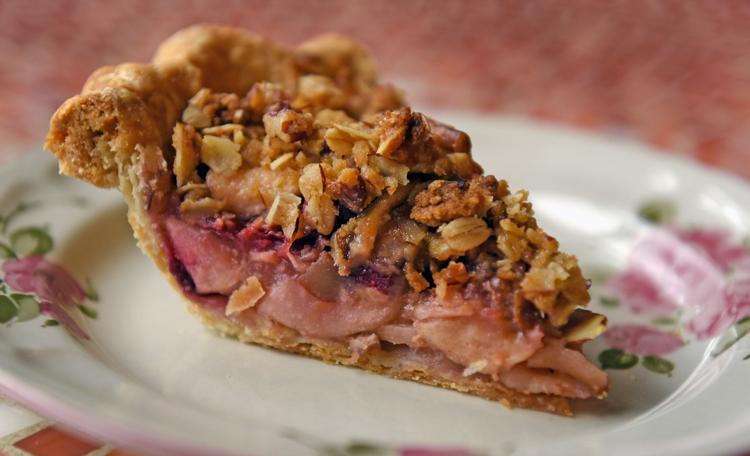 McClure said she has been making this pie for years — including the time she was making the desserts at Krankies Coffee.
Unlike a lot of pies that use cranberries, McClure keeps the quantity down to a dull roar, so it has a touch of tartness but is not puckery tart like apple-cranberry pies that are half cranberry. "To me, this just feels very fall-wintry with cranberries in it," she said.