GREENSBORO — Vike Butler was doing her best to put on a happy face, to smile beneath the fake green mustache she held over her stiff upper lip.
The witching hour of 5 p.m., wrought by the coronavirus pandemic, was a scant 40 minutes away on this oddest of St. Patrick's Days.
Butler — whose first name is pronounced Vicki — stood on the Market Street sidewalk outside Stumble Stilskins taking a slow, satisfying drag on her cigarette.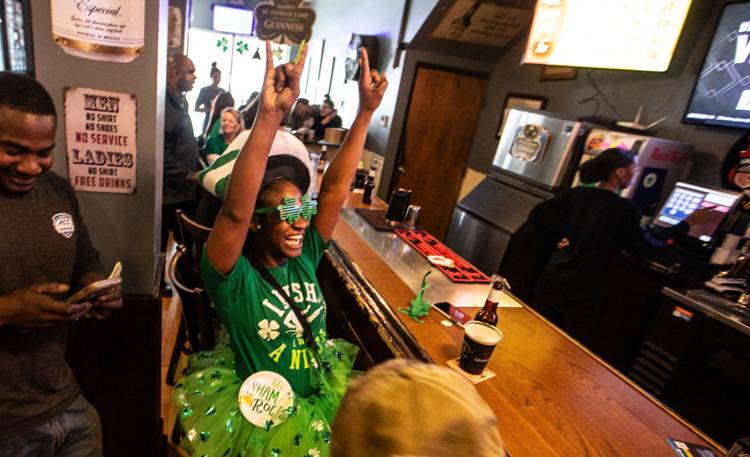 Decked out in a green top hat, green sunglasses, green T-shirt and green tulle tutu, Butler soaked in as much of her favorite holiday as she could before all the bars and restaurants in North Carolina closed to dine-in — or drink-in — service, a public health halt ordered by Gov. Roy Cooper.
One last last-call, in broad daylight.
Butler was doing her best to put on a happy face, to smile beneath the fake green mustache she held over her stiff upper lip.
"I was supposed to go on a trip to Ireland this week, a once-in-a-lifetime thing," Butler said. "My flight was leaving at 9 a.m. Saturday, and I was going for St. Patrick's Day and my birthday on the 21st. I won't say how old, but it's a milestone. It was going to be epic. I've never been there before. I've been waiting my whole life to go. And now I'm not going, and I'm so sad about it."
Inside at the bar, patrons savored their final pints as the sound system pumped out loud, traditional Irish music.
The High Kings were belting out the sad ballad "Red Is The Rose" while people in small groups of three and four talked among themselves.
It's not for the parting that my sister pains/
It's not for the grief of my mother/
'Tis all for the loss of my bonny Irish lass/
That my heart is breaking forever.
Chris Flathers opened the watering hole known to regulars simply as "Stumbles" back in 2004. He, and the rest of downtown Greensboro, have never seen anything quite like the last two weeks.
"Yeah, St. Patrick's is a big day," Flathers said. "But this was supposed to be a big month for the whole city. The ACC tournaments. The NCAA Tournament. The NCAA swimming and diving. The Tanger Center opening. There was a lot of excitement downtown, and it was long overdue. …
"I've been here since 2000. I've seen all the ups and downs. I've seen it when downtown was a ghost-town, and I've seen the fun times when it came back, when dead streets came to life. This was a different feeling downtown. A good feeling … If this had to happen, I wish it could've happened 20 years ago."
Instead, it happened in a March this city has looked forward to for the last five years, when the stars aligned and Greensboro prepared for a Tournament Town trifecta of basketball tournaments among a long string of lucrative events for local hospitality businesses.
"If it's two or three weeks, we'll all rebound," Flathers said. "My pain, and my fellow bar owners' pain, is for our employees. They're part time or their earnings are gratuity based. (Hospitality) is a top-three employment industry in Greensboro. It's not just bartenders and servers. You're talking hotels. You're talking hairdressers. The list goes on and on. … There's a lot of folks who are going to hurt bad."
If the COVID-19 pandemic deepens and social distancing continues, some small operators could go under.
But on this last hurrah under the afternoon sun, Flathers wasn't in the mood to cry over spilt beer.
"We get it. Trust me, we absolutely get it," he said. "All the bars thought we would make it until tomorrow, but we all know it's the right decision. We all know it's for the greater good. So, yeah, it's a morbid feeling counting down the hours until 5 o'clock. But it's absolutely the right thing to do."
For his customers, it was one last celebration before hibernation.
"I had to do something today, even if it's the end of the world," Butler said as she finished her cigarette. "It's St. Patrick's Day, my favorite holiday, and you've got to celebrate. Even with everything going crazy, you just can't sit around and be sad. All I've got left is about an hour, and I'll take it. I'll take every little bit of Ireland I can get today."