HIGH POINT — Coast, a high-end seafood restaurant, opens July 25 at 5820 Samet Drive at Palladium at Deep River in High Point.
Carl and Sandy Wrenn, owners of Steak Street in High Point, are opening the seafood restaurant.
"It's been a vision I've had for three years," said Carl Wrenn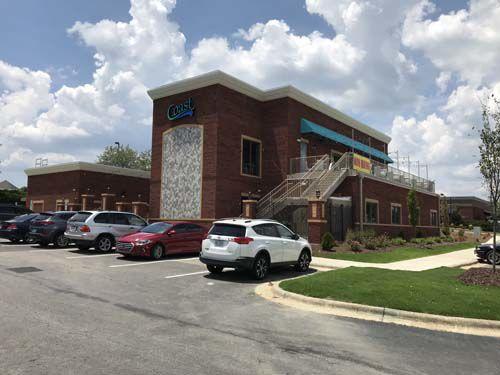 The 9650-square-foot free-standing is two floors with an atrium dining room and a second-floor lounge with rooftop patio overlooking Regal Cinemas movie theater.
Lighting and decor evoke a coastal feel reflecting a menu of wood fired seafood like grouper, Chilean Sea Bass, Ahi Tuna and North Carolina River Trout. Seafood comes with a choice of toppings like Voodoo Butter and Chimichurri.
Entrees include items like Salt and Pepper Catfish, Shrimp and Grits and pasta with scallops, shrimp and oysters tossed in a Tasso Ham cream sauce.
The oyster bar offers fresh shucked oysters at market price served raw, steamed or wood-fired.
The restaurant specializes in towers, a tiered display of cold shell fish that are make a sizable shareable appetizer.
Voodoo P.E.I. Mussels, Alligator Bites, Crisp-Fried Lobster Tall Lollipops and Smoked Trout Deviled Eggs are some seafood-inspired appetizers.
"A lot of our inspiration comes from loving the coast and loving Charleston," Sandy Wrenn said.
The restaurant also offers plenty of non-seafood items like wood-fired Folly Beach Chicken, Barrel Cut Filet, and Folly Beach Sirloin.
The restaurant is open daily and serves a brunch menu on Saturday and Sunday.