"When the healthiest thing you get is an Elvis sandwich, you know you're in trouble."
So said Tim Clodfelter as he and I left the Dixie Classic Fairgrounds after almost three hours of nonstop indulging in sugar, fat and just about everything your doctor tells you not to eat.
We did have a couple of vegetables, deep-fried, of course.
There was a noticeable mac 'n' cheese trend going on this year: mac 'n' cheese in tacos, quesadillas, with just about any kind of meat you can name, and, of course, deep-fried.
Here's a list of what we ate. Burp.
The Elvis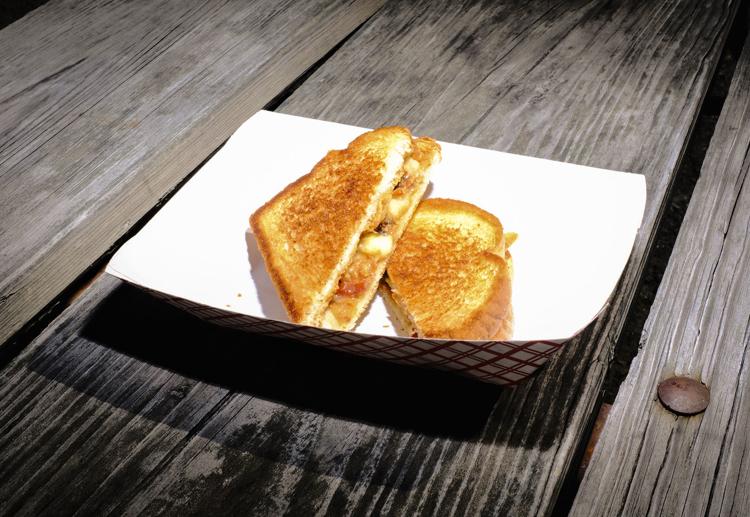 The Elvis is, in keeping with the King of Rock n' Roll's famous favorite, a peanut butter, banana and bacon sandwich on toast that has been grilled in butter ($5 for the sandwich or $8 for a combo with fries and a drink). It comes from City Lights Ministry. This is their first year at the fair, set up in one of the church and civic group spaces.
WutYaSay's deep-fried collard greens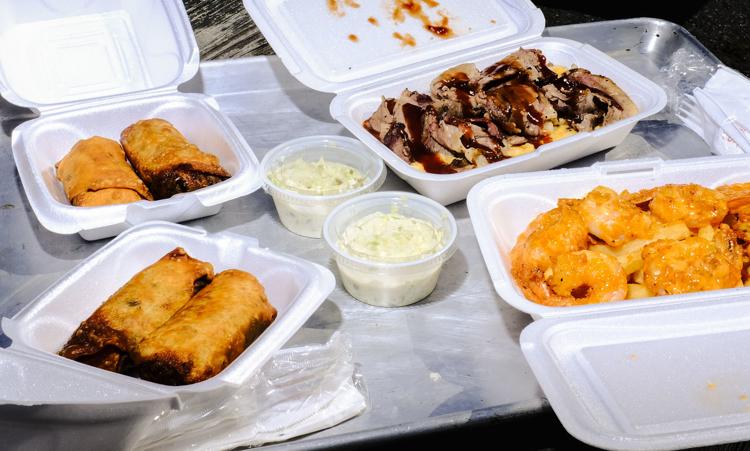 Roger Billingsley-Hayes is offering a host of creative Southern fare at his WutYaSay booth. We enjoyed the Mac & Brisket ($15) – real smoked brisket over creamy mac 'n' cheese. Even better were the Deep-Fried Collard Greens ($6), egg rolls stuffed with collards and cheese. Best of all was the WutYaSay Shrimp ($12) – seven perfectly cooked, crispy shrimp topped with a spicy, creamy take on bang bang sauce and served on a bed of fries.
Christ Cathedral of the Triad's Stuffed Chicken Wings
Also among the brick buildings, Christ Cathedral of the Triad of Greensboro has Stuffed Chicken Wings ($12 for 6), in which wings are stuffed with a choice of collards, mac 'n' cheese, or jalapenos and cheese. The church also sells Crac Mac ($8), pulled pork barbecue over mac 'n' cheese.
Grands 2 Grown's meatloaf sandwich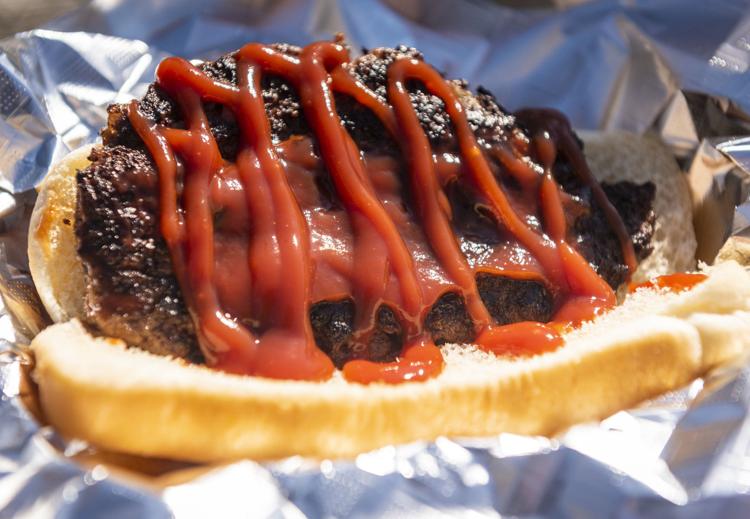 Grands 2 Grown, a civic group near WutYaSay that helps grandparents raising their grandkids, had a tasty fried meatloaf sandwich - a slice of meatloaf with onions and peppers cooked in and a tomatoey glaze served on a hot dog bun for $7. Other items there included fried corn for $4.
Fork'et Me Not's Philly Cheese Bomb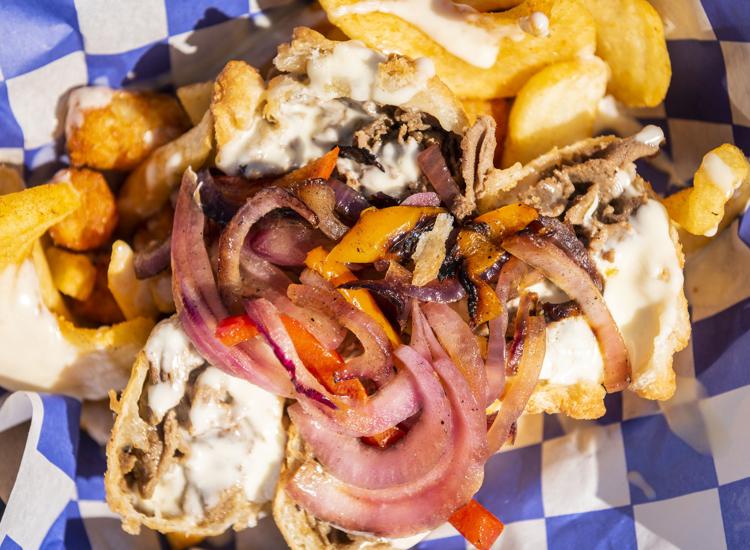 Fork'et Me Not, a food truck from Nags Head, had some of our favorite dishes, including a Philly and Cheese Bomb, a meat-filled puff pastry covered with peppers and onions and served on top of various types of fried potatoes ($10), and gourmet tacos with options including chicken, shrimp, fish, and tempura cauliflower, which was crispy and delicious with a light Thai chili glaze ($5 each, 2 for 9, or 3 for 12).
Rocco's pickle lemonade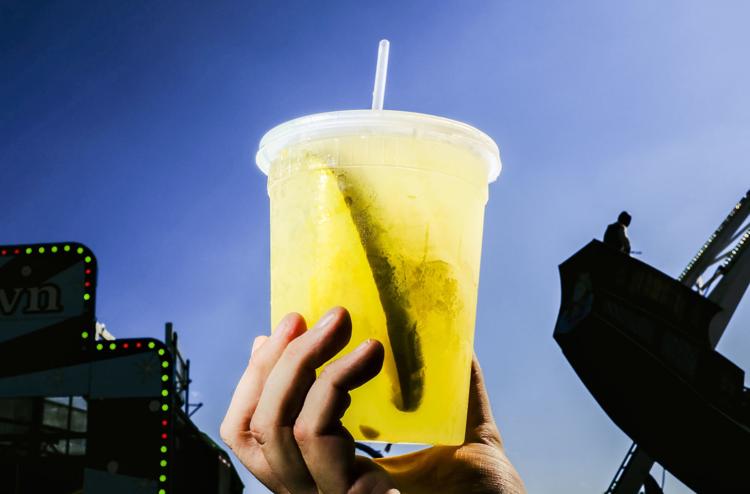 On the Midway, Rocco's Roasted Corn (near the haunted house) had an odd-sounding but very refreshing pickle lemonade ($7) which was, yes, a mix of Mount Olive dill pickle juice and lemonade (sugar or artificial sweetener options), in a 32-ounce tumbler complete with two pickle spears. That ingenious idea came from 15-year-old Rocco Willis of Winston-Salem, whose family runs the booth.
Sticky Rice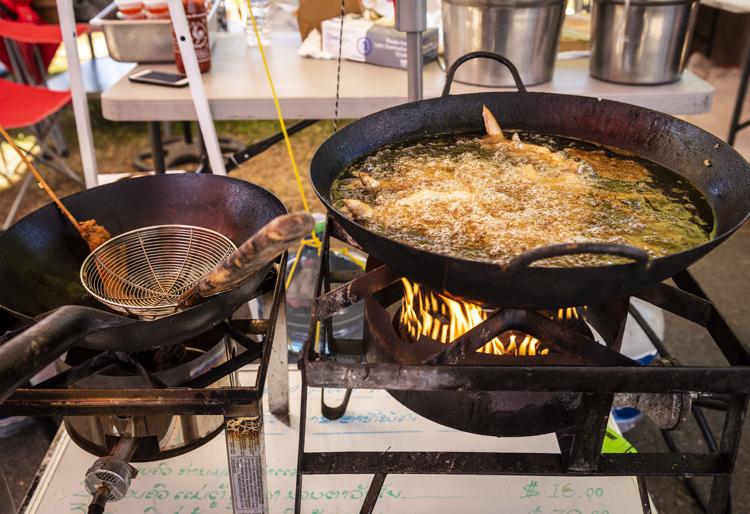 Thai specialties at the Sticky Rice booth near the Coliseum Annex include spring roll, pad Thai (vegetarian and chicken), fried rice and sticky rice. We sampled the crispy pork belly – skewered and fried in a light batter. That's deep-fried bacon, Thai-style, y'all – and a good deal for $5.
Jim's Deep-Fried Tacos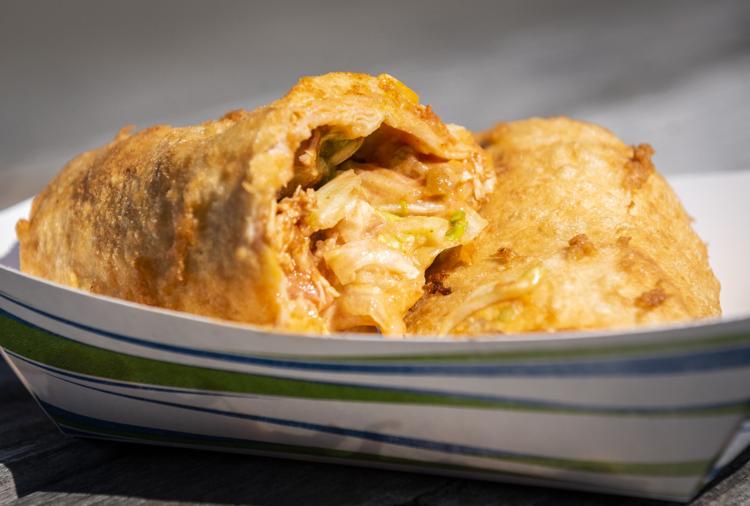 Speaking of deep-fried, Jim's Deep-Fried Tacos offers over-sized fried tacos with a choice of beef, chicken, Buffalo chicken, pork, veggies or, you guessed it, mac 'n' cheese.
Dessert anyone?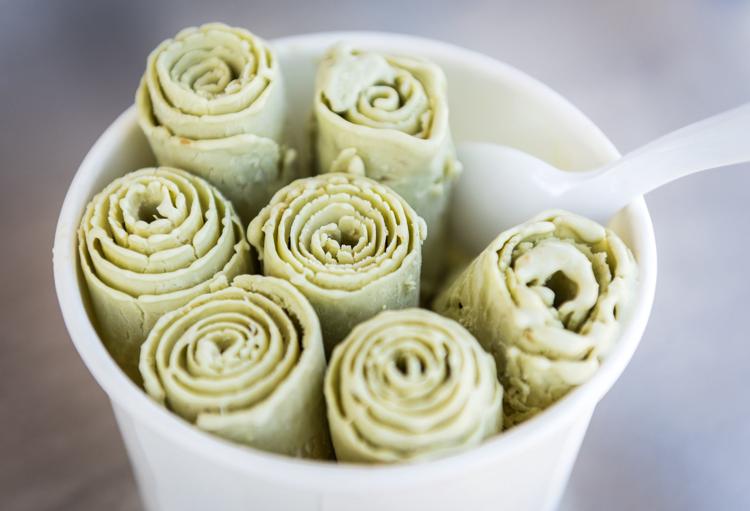 For a fun dessert – and a two-minute show - order the rolled ice cream from Mileo on the Midway. Owner Tony Roll makes ice cream on a metal slab chilled to 20 degrees below zero. This technique, originated in Thailand, produces ice cream right before your eyes that is scraped into neat rolls. The Green Tea ($7) was creamy and tasty. Other flavors include the Mint Oreo, Nutella Banana, and the best-selling Cookies and Cream.
Green Tea rolled ice cream
How the cookie (dough) crumbles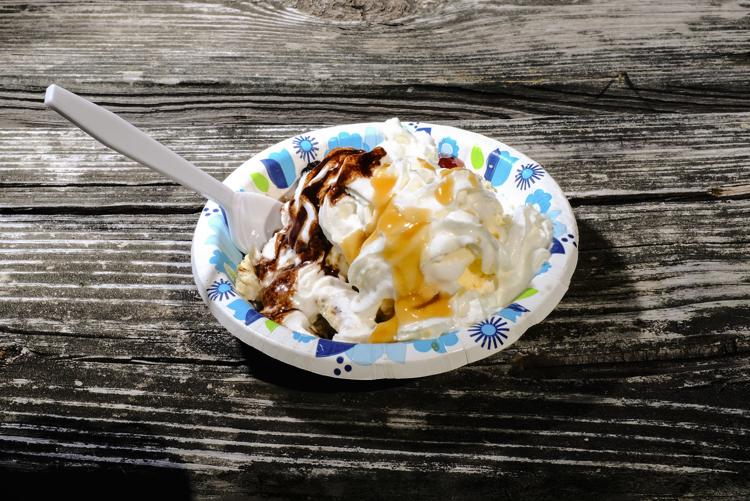 Another new sweet treat is the Cookie Dough Crumble ($6) from Beaver Concessions near the Clock Tower. It's sugar-cookie dough cooked to order on a flattop grill, then chopped up and put in a bowl with vanilla ice cream, whipped cream and a choice of caramel, chocolate or strawberry drizzle.
Now Peachey's oversized doughnuts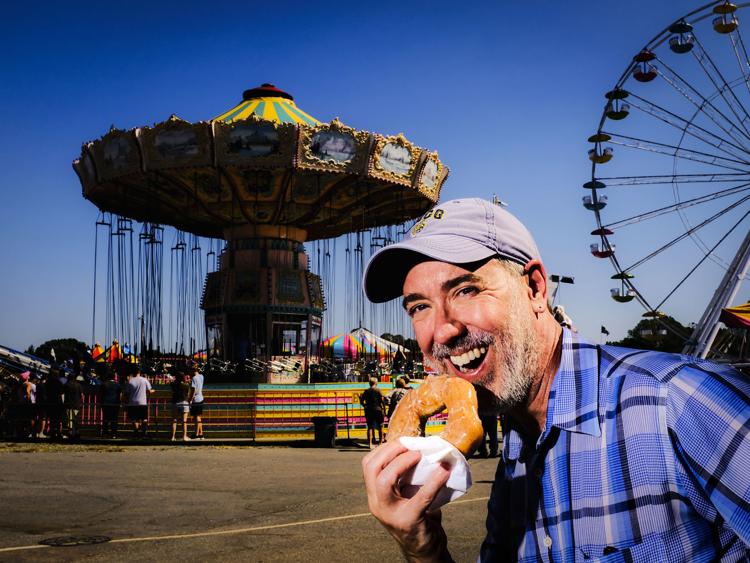 The former Amish donuts booth, a popular option for several years now, has changed its name. Now Peachey's Baking Company, it has two locations, one near the Grandstand and one near the northwest gate. They sell oversized doughnuts ($4) and pretzels ($6). By this point we were too stuffed to try the decadent-looking coconut cream doughnut ($8), but the regular was still delicious.
Plenty more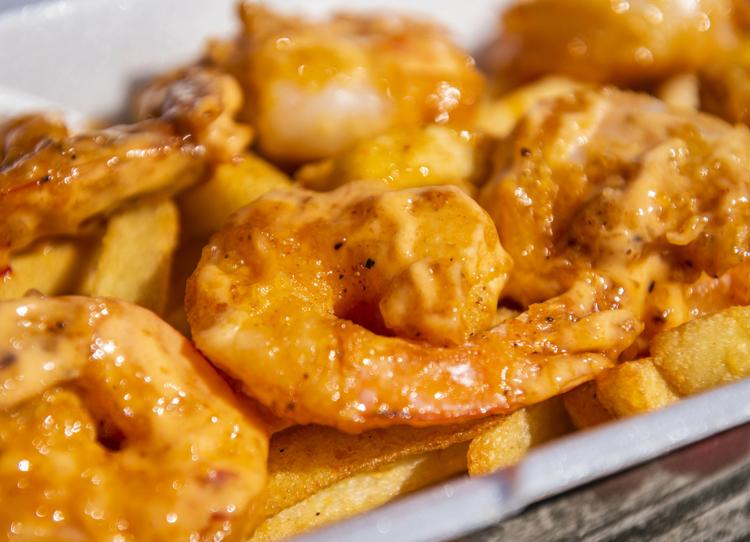 And we barely scratched the surface of tasty treats available. Tim predicts that his annual physical, unfortunately scheduled for this Monday, is going to be more of a confessional.
In short, the fair isn't a place for moderation. As Melanie Bell, founder of City Lights Ministry, put it, "I think everything here at the fair is not something you would eat every day."  We'll call that understatement of the week.