9 Dishes We Can't Live Without
Local foodies and staff members serve up our 9 favorite dishes in Winston-Salem.
Just one? How do we do that?
Name one local dish you can't live without.
That's the assignment we gave ourselves this month, part of an effort to spotlight some of our city's best cuisine. We also asked a few local foodies to weigh in, combining the answers with our own to create a customized list of "Nine Foods We Can't Live Without."
First, though, we had to set some ground rules. One, all the dishes had to come from a locally owned restaurant (e.g. no chains). Two, the dishes needed to be considered main courses, whether it was an entrée, sandwich, taco, whatever. That meant no appetizers, no side dishes, and no desserts.
We thought it'd be a simple assignment. It turned out to be anything but. As we were finalizing our list, weighing one item against the next, we kept coming back to the same conclusion: It's nearly impossible to pick a favorite dish in this town; we have too many good options.
So, with that out of the way, here are nine dishes we consider among the best in Winston-Salem, along with a handful of other "bonus favorites." We hope you enjoy reading about them as much as we've enjoyed eating them over the years.
Let the food fight begin!
Cruz Bay Benedict from Village Tavern
Tammy Holoman, WSM's managing editor, said she was looking for something "a little different than traditional eggs benedict" when she stumbled upon the Cruz Bay Benedict ($10.75) at Village Tavern. The Southwestern-themed brunch item combines spicy black beans, gooey Monterey Jack, poached eggs, sour cream, and a pico-style salsa, all served over toasted English muffin halves.
"I love how the heat of black beans is offset by the coolness of the tomatoes and sour cream," she says. Like all of Village Tavern's brunch specials, the dish comes with an apple walnut muffin and Tavern Hash Browns. "And it's even more delicious with a nice, crisp glass of pinot grigio."
INFO: Two locations: 221 Reynolda Village; 2000 Griffith Road. villagetavern.com.
Hot Dog from Pulliam's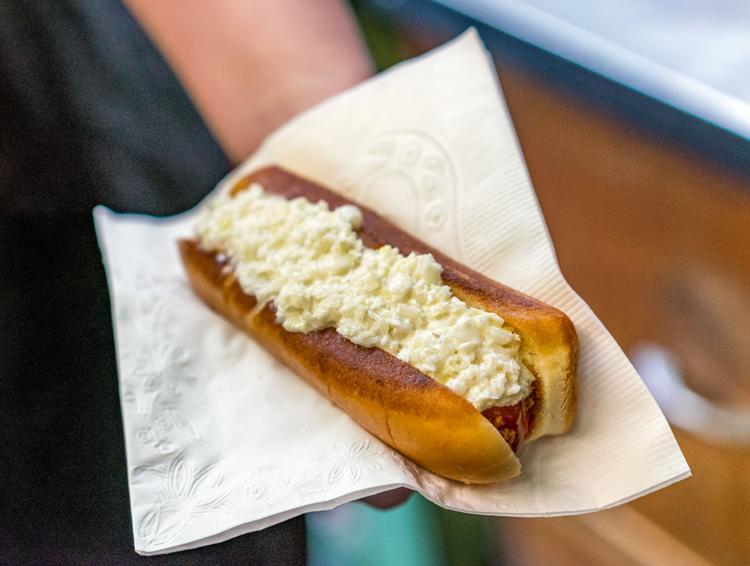 Winston-Salem is famous for its hot dogs, with places like Dairi-O, Kermit's, and PB's being generational standbys. But when it comes to the best dog in town, WSM Creative Director Richard Boyd thinks it's an easy choice.
"It's Pulliam's, and it's not even close." The beloved hot dog stand has occupied the same building for more than 80 years, making it among the oldest in Winston-Salem.
For Richard, it's a combination of taste and tradition that sets the hot dogs apart. "My dad used to take me there when I was a kid, and he went there when he was a kid. So to me, it's like biting into the past. The homemade slaw, the chili, the buttery toasted bun, the red dogs—Pulliam's has been making them the same way for as long as anyone can remember."
INFO: 4400 Old Walkertown Road. 336-767-2211 (no website)
Box Truck from Crafted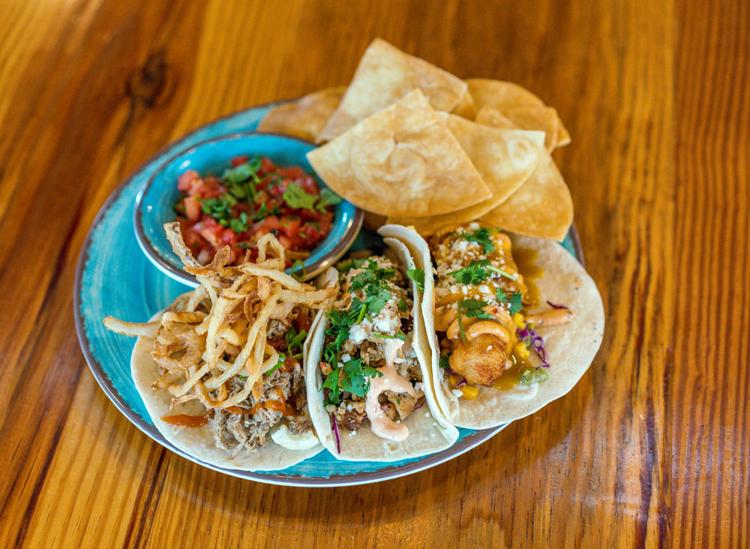 Why have one great taco when you can have three? That's photographer J. Sinclair's thoughts every time he goes to Crafted: The Art of the Taco and orders up the Box Truck ($13.95), which comes with three of the restaurant's finest offerings. This includes (1) The Big Truck, filed with pulled pork, BBQ sauce, and mac 'n ' cheese. (2) The Oxford, flavored with chipotle chicken and a pineapple-jalapeno relish. (3) The Bowtie, with beer-battered fish, roasted corn, red cabbage, guacamole, and salsa.
"The collection of flavors doesn't seem to make sense together," he says. "But somehow, with some kind of kitchen black magic, Crafted manages to make it all work. Throw in some homemade tortilla chips and salsa verde on the side—and yummm."
INFO: 527 N. Liberty St. eatatcrafted.com.
Filet Napolean from the Filling Station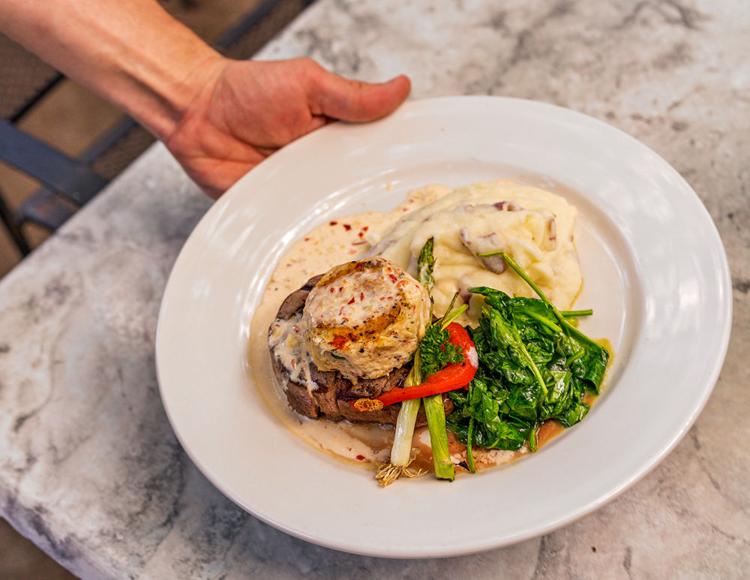 There are certain dishes that come to mind when we think about celebrations—splurge foods that, once we're eating them, let us know life is good. For WSM Editor Michael Breedlove, that dish is the Filet Napoleon at The Old Fourth Street Filling Station. Diners can choose either a 4- or 8-ounce tenderloin ($20–$28), which comes crowned with lump crab cake and laced with a chipotle cream sauce.
"Steak and crab cakes are two of my favorite foods, and this dish lets me have both," he says. "I love everything I've ever eaten at the Filling Station (the Shrimp & Grits is another standby), but this dish is on another level. Every bite is perfectly cooked and incredible."
INFO: 871 W. Fourth St. theoldfourthstreetfillingstation.com
Tomato Pie from Mozelle's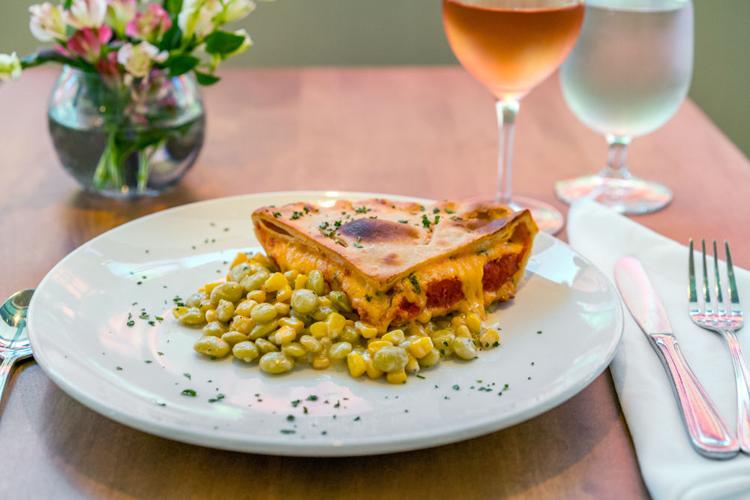 Of the nine people we polled for this story, four of them mentioned this simple, flaky tomato-and-cheese concoction from Mozelle's Southern Bistro. Among the fans is writer/graphic designer Hannah Fish, who called it "a symphony of delectable happiness." The dish is $17 at dinner and comes with cheesy grits. A smaller portion is also available at lunch for $11 and served with succotash (shown left).
"It's a savory and cheesy offering, a rich pie cut by the bright acidity of fresh tomatoes. In short, it's the South in a pie shell, and one bite can transport you back to Grandma's farm table. Plus it comes with cheesy grits if you order it at dinner, and they're delicious."
INFO: 878 W. Fourth St. mozelles.com.
Chicken Biscuit with gravy from Krankies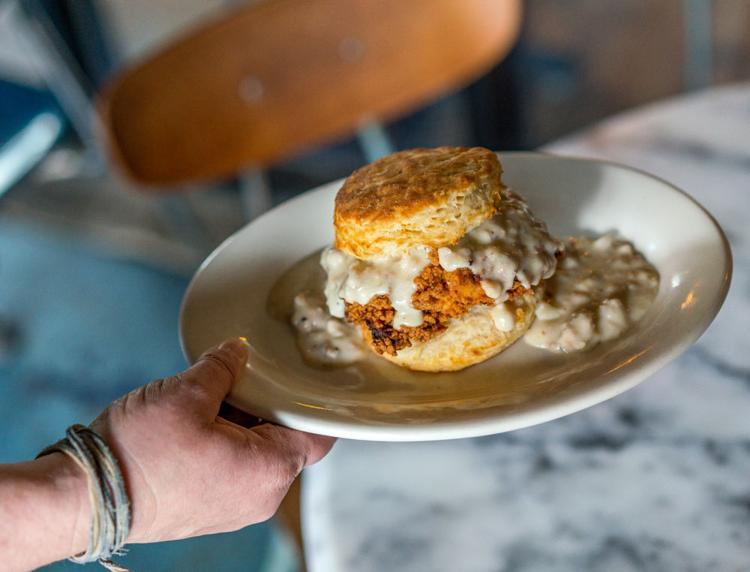 Krankies is known throughout the land for its coffee—and for good reason—but it's becoming increasingly known for its great food, too. Take the Chicken Biscuit with gravy ($7), for instance—a dish local food blogger Nikki Miller-Ka called "the best biscuit in town." Krankies also serves a chicken biscuit topped with Texas Pete and honey, which Miller-Ka also lauded. But when forced to pick just one, she goes for the gravy.
"It beats anything that you'll get at Bojangles' or Biscuitville. The spicy, marinated chicken is perfectly fried and tucked into that hot biscuit with the brown, crisped, buttery edges. And then the thick gravy settles into the nooks and crannies of the fried chicken…it's just delicious."
INFO: 211 E. Third St. krankiescoffee.com.
Grilled Ahi Tuna from Willow's Bistro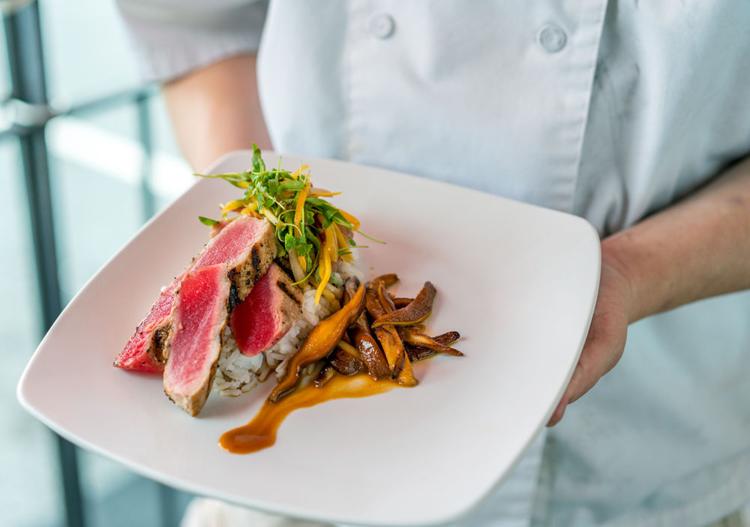 Local food blogger Tim Beeman (aka, The Man Who Ate the Town) admitted that picking his favorite local dish was next to impossible. "I love it all!"
So instead he decided to select his favorite dish from his favorite restaurant, Willow's Bistro. That led him to the Ahi Tuna, which is served with white rice, Asian salad, and a tangy scallion-shiitake ponzu. Beeman described the dish ($25) as "an Asian treat that's both filling and full of umami goodness.
"I think Chef Travis Myers (at Willow's) does scallops and tuna better than anyone else in town. Every time I order either, they are cooked just like I like it—barely seared and mostly raw on the inside. When you combine that perfectly seasoned, crispy exterior with its cool interior, it's heaven."
INFO: 300 S. Liberty St. goodvibeshospitality.com/willowbistro
Grilled Dry Rubbed Antelope from Meridian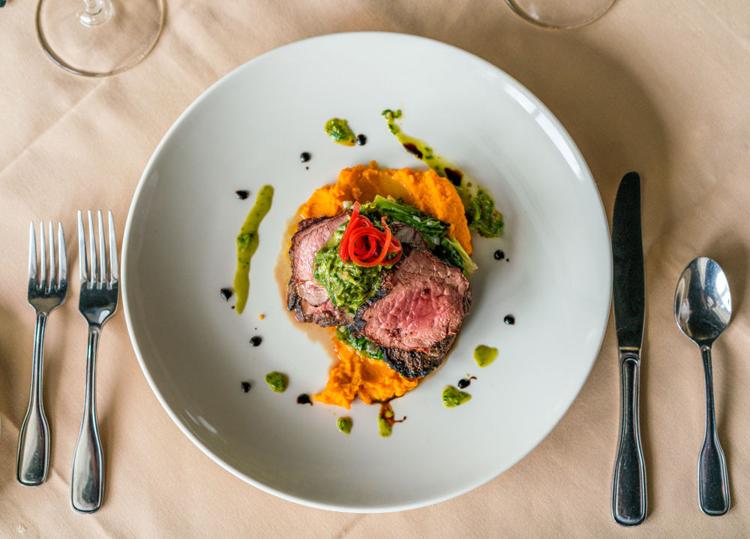 Food blogger Kristi Maier of TriadFoodies.com says she doesn't always get to go to Meridian, but when she does, she can't resist the Grilled Dry Rubbed Antelope ($33), served with carrot puree, braised escarole, and chimichurri. She describes antelope as a cross between steak and venison.
"It's very lean and VERY flavorful," she says. "I can't think of another restaurant in the area that regularly serves it. Chef Mark (Grohman) sears it to absolute perfection and always includes the most delicious accompaniments that range from season to season, like a chimichurri with local garlic scapes. The meal is always amazing."
INFO: 411 S. Marshall St. meridianws.com.
Cook's Salad from West End Café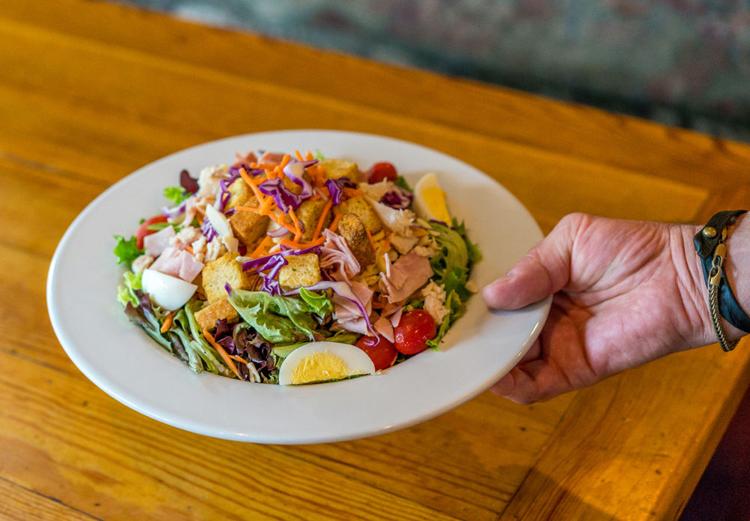 Local foodie and WSM writer Carroll Leggett says that when it comes to salad, the more complex the better. That's why he loves the Cook's Salad at venerable West End Café, which costs $8.50 for a small or $10.95 for a large.
"I can't just eat a plateful of green stuff," he says. "I have to have different textures to be satisfied. The Cook's Salad at West End has fresh greens and vegetables as well as cheese, boiled eggs, and deli meats (ham, turkey). Add in their house-made ranch dressing, and I can easily make it to dinner satisfied"
INFO: 926 W. Fourth St. westendcafe.com.
More Must-Tries
You didn't think we could stop at nine dishes, did you? The following 19 dishes were all near-misses on our "favorites list." Happy eating!
1. Spicy Noodle from Thai Sawatdee (Michael's No. 2 choice)
2. Hot Sicilian from TJ's Deli; Silas Creek location (Michael's No. 3)
3. Steak Au Poivre from Ryan's Steakhouse (Jay's No. 2)
4. Breakfast Club from Mary's Gourmet Diner (Jay's No. 3)
5. Dreamy Steamy Bucket from King's Crab Shack (Tammy's No. 2)
6. Angus Filet Mignon & Crab Cake Benedict from Milner's (Tammy's No. 3)
7. Tomato soup from Finnigan's Wake (Richard's No. 2)
8. Ajillo fish tacos from Senor Bravo (Richard's No. 3)
9. 3-Cheese Mac & Country Ham Soufflé from Sweet Potatoes (Hannah's No. 2)
10. Wood-fired Cauliflower Wedge from Mission Pizza (Hannah's No. 3)
11. Seafood DiLisio from Di Lisio's Italian Restaurant (Tim's No. 2)
12. Steak Tartare from The Katharine Brasserie (Tim's No. 3)
13. "Phil's Favorite" (fried catfish) from Sweet Potatoes (Carroll's No. 2)
14. Chargrilled lamb chops from The Tavern in Old Salem (Carroll's No. 3)
15. Potato salad from Miss Ora's Kitchen (Nikki's No. 2)
16. Tacos from Antojitos from Las Delicias (Nikki's No. 3)
17. Chicken from Slappy's (Kristi's No. 2)
18. Lobster Roll from King's Crab Shack (Kristi's No. 3)
19. Steak (any steak) from Fratelli's … or Putter's (unanimous choice)