Pizza place closes
Cottage Inn Gourmet Pizza at 427 Tate St. in Greensboro has closed.
The location is no longer listed on the company's website, and a banner in the store's window says Taaz Indian Kitchen is coming soon.
An inquiry to Cottage Inn main office was not returned.
The Michigan-based chain of pizza joints made its North Carolina debut when it opened in Greensboro two years ago. A year later, the store closed for eight months during a transition to a new franchisee.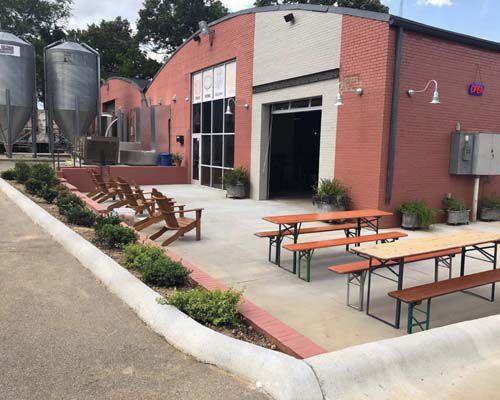 Natty Greene's reopens Gate City Blvd. taproom
Natty Greene's has reopened its Brewhouse at its brewing facility at 1918 W. Gate City Blvd. in Greensboro.
The taproom features 24 taps of Natty Greene's beer and an outdoor patio from which to enjoy them.
The Brewhouse is open daily. A grand opening will be at 4 p.m. Thursday.
Coffee roaster hits the road with mobile shop
The Triad has a new coffee option on wheels in the form of a blue and white 1972 VW van.
Greg Pittman founded the Greensboro-based e-commerce coffee company in 2015. He knew someday he'd like to have a coffee shop but said the van was a more affordable way to make the leap from the digital world to the real world.
"We don't have brick and mortar, we have steering wheel and tires right now," Pittman said.
Pittman bought the bus last fall and customized it with a pop-up roof from which to serve a full coffee menu.
Good Coffee and Good Vibes is the van's motto.
"I want to build community and cultivate conversations," Pittman said.
The "cause" in the company's name can be any number of global challenges such as food, education or health. Cause Roast donates 15% of profits to a different cause every three months. Right now, the cause is clean water in developing nations.
Pittman said he plans to partner with more local causes such as Make-A-Wish, Red Cross and area churches.
He also said he would like to open a shop someday.
In the meantime, you can find the Cause Roast van on the road where partner Hannah Leigh serves drip and pour-over coffee, lattes, iced coffee, cold brew, tea and some baked goods.
Pittman said the bus is usually parked at Healthy House at 109 W. Main St. in Jamestown from 8 a.m. to 2 p.m. Monday through Friday.
Drake's opening
Drake's is opening Monday at 1377 Boone Station Drive at Alamance Crossing shopping center in Burlington.
It will be the North Carolina debut for the Kentucky-based sports pub chain.
Drake's offers traditional American-style pub food such as burgers, mini-sandwiches and wings.
The restaurant also offers build-your-own tacos and an extensive sushi menu.
The majority of menu items are less than $12.
Drake's is known for its night-life such as trivia, shuffleboard, corn hole and DJ and dancing on weekends.
Drake's operates 12 locations, mostly in Kentucky and Tennessee.