Best Bets in entertainment and the arts
Performance to feature dancers — and their phones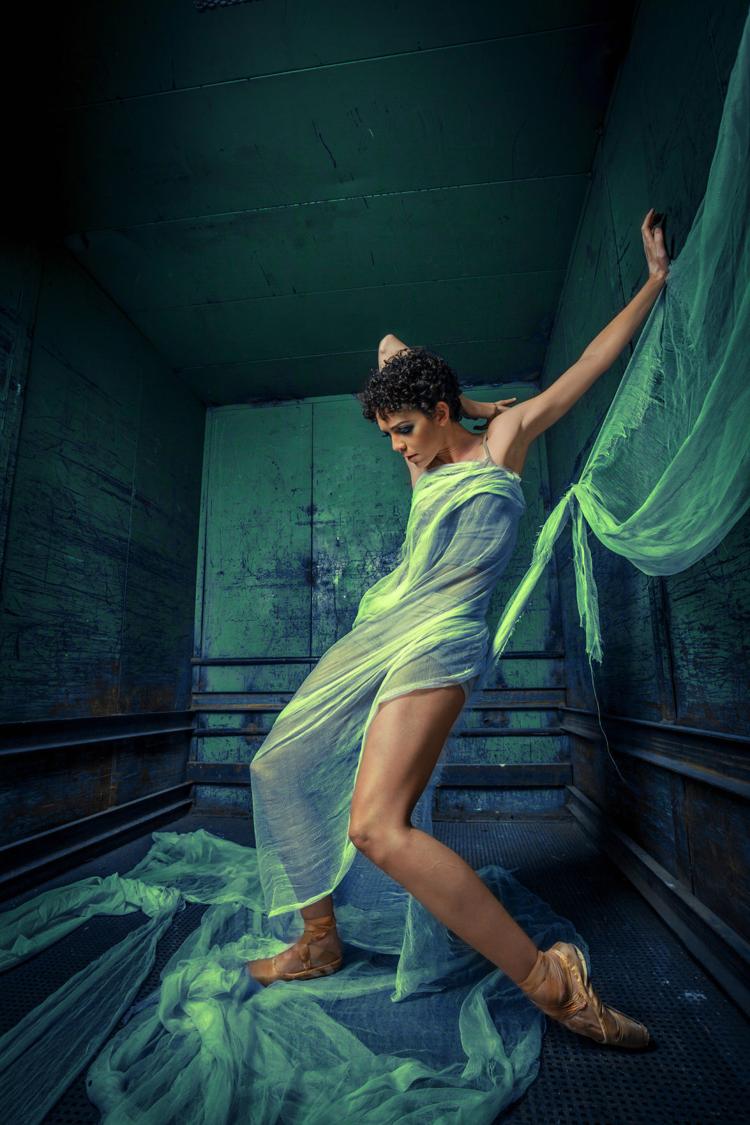 Terpsicorps Theatre of Dance, in collaboration with Second Harvest Food Bank, will present "HUNGER" at 7:30 p.m. July 11-13 in the Hanesbrands Theatre, 209 N. Spruce St., Winston-Salem.
Terpsicorps will also perform "Extensions," by the late Salvatore Aiello; and "AYT? (Are You There?)," a world premiere featuring dancers and their phones. "AYT?" is a tongue-in-cheek commentary on our relationship with technology.
"HUNGER," by Terpsicorps Artistic Director Heather Maloy, a Winston-Salem native, was created to call attention to food insecurity in Northwest North Carolina. It asks the question, "What do you hunger for?"
Aiello, who founded NC Dance Theatre in Winston-Salem, choreographed "Extensions" (1990) to showcase the talents of the late Mel Tomlinson, a New York City Ballet star and a local favorite. Maloy was a student of both Aiello and Tomlinson. All were affiliated with UNC School of the Arts.
Terpsicorps hires professional dancers from prominent U.S. companies during their summer downtime. This year's cast includes two Triad natives who came up through UNCSA's pre-professional and high school ballet programs, and two UNCSA graduates: Lydia McRae (Kernersville ) dances with the Memphis Ballet; Samantha Griffin (Winston-Salem) and Christina LaForgia Morse are with the Cincinnati Ballet; William Fowler is a freelance dancer.
Tickets are $20-$40 at 336-747-1414 or www.rhodesartscenter.org .
Not Bros. Band to perform at Hilda's Place in Pilot Mountain
Not Bros. Band will play 8-11 p.m. July 12 at Hilda's Place, 215 E. Main St., Pilot Mountain.
The band is heavily influenced by Motown and Detroit old-school R&B and all kinds of music that gets people dancing.
Admission is $5. For information, call 336-444-4359 or visit Hilda's Place Facebook page.
Wilkes Art Gallery to hold reception
The Wilkes Art Gallery will present an opening reception and awards presentation for the 40th annual Northwest Artist's Juried Competition and Exhibition 5:30-8 p.m. July 12 at 913 C St., North Wilkesboro.
The awards presentation will be at 7. More than $1,500 in awards will be presented along with a prize of $500 for Best in Show, The Margaret Bloomfield Award.
Three categories are in the exhibition: 1) paintings, drawings, lithographs; 2) sculpture, pottery, metals; 3) mixed media, collage and fiber.
The juror was Robert H. Way from Pinehurst. Way rose quickly to prominence as an artist in his native New England. He studied under the direction of Tom Blackwell, one of the original photo-realists, but has developed a range of techniques.
Admission is free. For information, call 336-667-2841. The exhibit will be on display through Aug. 10. Gallery hours are 10 a.m.-5 p.m. Tuesday-Friday, 10 a.m.-2 p.m. Saturday.
Yadkin Arts Council to show juried exhibit
An opening reception for the eighth annual Yadkin Arts Council Juried Exhibition will be at 5:30 p.m. July 12 at the Welborn Gallery, 226 E. Main St., Yadkinville. The show will hang through Aug. 30.
Juror Bryce Hauser is an independent artist and curator who specializes in metal sculpting. He is the former director of artist development and programming for Associated Artists of Winston-Salem.
The show was open to fine artists over 18 and NC residents. Prizes totaling $3,500 will be presented at the reception.
Admission is free. For information, visit www.YadkinArts.org .
'Hairspray' coming to Theatre Alliance
Theatre Alliance of Winston-Salem will present "Hairspray!" at 8 p.m. July 12, 13, 17-20, and 2 p.m. July 14 and 21 at 1047 Northwest Blvd.
"Hairspray," winner of eight Tony Awards including Best Musical, is a family-friendly musical piled bouffant high with humor, romance and songs.
It's 1962 in Baltimore, Md., and teen Tracy Turnblad has only one desire — to dance on the popular "Corny Collins Show." When her dream comes true, Tracy is transformed from social outcast to star. She must use her newfound power to dethrone the reigning Teen Queen, win the affections of heartthrob Link Larkin, and integrate a TV network.
Jessie Stewart plays Tracy. John C. Wilson is Link, and Gray Smith is Edna Turnblad. Jamie Lawson directs.
Tickets are $16-$18 at www.brownpapertickets.com/event/4188088 .
Cricket's Nest to host Firecracker Festival
The Cricket's Nest will present its annual Firecracker Festival 9 a.m.-3 p.m. July 13 at South Fork Park and Community Center, 4403 Country Club Road, Winston-Salem.
The indoor/outdoor craft festival will feature more than 50 artisans. The Dogwood Blossoms, a dulcimer group, and the Winston-Salem Youth Flute Ensemble will perform.
Free ice cream sundaes will be served till 2:30 p.m. Food trucks will sell food.
Admission and parking are free. The festival is rain or shine.
For information, call 336-659-4315 or visit the Cricket's Nest's Facebook page.
Trellis to present workshop on writing through grief
Trellis Supportive Care will present Writing Through Our Grief: 2019 Workshops for Grieving Adults With Kay Windsor 9:30 a.m.-noon July 8, Aug. 12 and Sept. 9 at the Williams Education & Counseling Center, 101 Hospice Lane, Bldg. 121, Winston-Salem.
Participants may attend one or all of the workshops.
Windsor is a writer and a writing group leader. She coached writers as a teacher of journalism and English for 40 years and as a mentor to journalism teachers. She has led writing sessions at Trellis Supportive Care in recent years, and she continues to lead a reflective writing group in Bethania sponsored by the Geist Institute for Women's Words as well as for church and community groups.
She has been a member of the Farther Along writing group led by Carol Henderson for 17 years, and her writing about her daughter and the stories of this group of bereaved mothers are included in "Farther Along: The Writing Journey of Thirteen Bereaved Mothers." Kay administers and continues to write for the Farther Along blog at www.fartheralong book.com.
Admission is free, but registration in advance is required at 336-768-6157, ext. 1600.
Glenn Miller Orchestra to perform at Stevens Center
UNC School of the Arts will present the Glenn Miller Orchestra at 3 p.m. July 14 in the Stevens Center, 405 W. Fourth St.
The Glenn Miller Orchestra will bring such classics as "In the Mood," "Moonlight Serenade" and "Chattanooga Choo Choo" to the stage.
More than 18 musicians and singers will bring the Glenn Miller sound. Miller was the most successful of all the dance bandleaders back in the swing era of the 1930s and 1940s.
Tickets are $58, $69, $78 at 336-721-1945 or www.uncsa.edu/performances/stevens-center.
Bookmarks to hold three events this week
Bookmarks will host three events this week at the independent bookstore and public gathering place, 634 W. Fourth St., No. 110. Admission is free. Call 336-747-1471 or visit www.bookmarksnc.org .
6:30 p.m. July 11: Book Buzz Book Club discusses lesser-known titles by some of today's favorite authors. In "The Sparrow," by Mary Doria Russell, humanity discovers proof of extraterrestrial life and, after a failed mission, a sole survivor tells the tale.
10 a.m. July 13: Scholastic Summer ReadingPalooza & Storytime for young readers will present Clifford and Dog Man characters, as well as book recommendations and giveaways from Scholastic.
3-6 p.m. July 14: Moon landing 50th anniversary celebration with children's authors. Stacy McAnulty has a new picture book, "Moon! Earth's Best Friend"; Kristy Dempsey has "Papa Put a Man on the Moon." Plus moon-themed crafts, activities, books and snacks.