People whose hours are cut could receive unemployment benefits. Gov. announces that, other measures to ease filing requirements.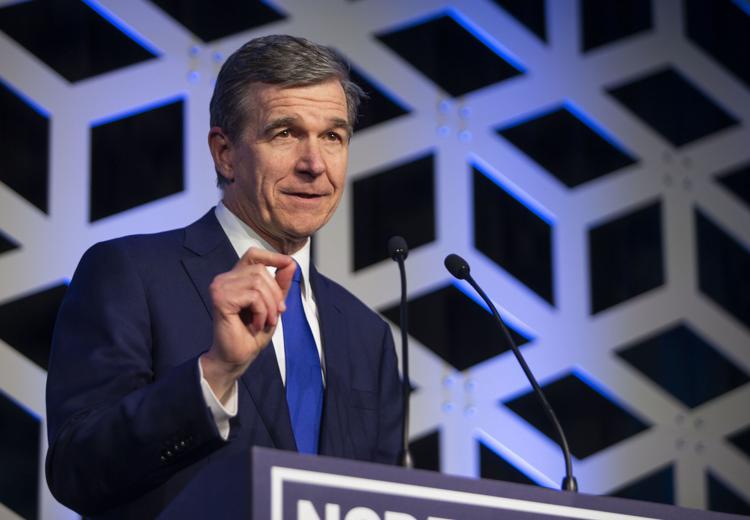 Gov. Roy Cooper, trying to get ahead of the coronavirus' impact on the state's job market, issued an executive order Tuesday that he said would "take down some barriers to unemployment benefits."
The order went into effect at 5 p.m. Tuesday.
The biggest concern is the financial blow to service-sector businesses, such as bars and restaurants, after being ordered by Cooper to close indoor dining for an indefinite period. Grocery and convenience stores can remain open, but can't serve sit-down meals.
Knowing that Cooper's order likely was coming, given similar decisions by other governors, many restaurants already had responded by closing or laying off staff as they try to transition to takeout and delivery meals that require fewer employees.
"North Carolina must keep fighting this pandemic with the right weapons," Cooper said.
"We realize these steps will cost people their jobs, and we hope this executive order will help bring some relief."
Among the key elements of the order:
Waiving the one-week waiting period to receive benefits;
Allowing applicants to file for benefits if they are subject to reduced hours as well as laid off;
Removing the requirement that recipients have to look for work during the benefits period.
"Workers want to work and businesses want to stay open, but they can't," Cooper said. "We know restaurants and bars will want to re-hire employees once this crisis subsides."
The N.C. Commerce Department said the fastest and most efficient way to apply for unemployment benefits is to visit its website at des.nc.gov. A customer call center can be reached at (888) 737-0259.
Lowest in country
The executive order was needed to amend a state law passed in June 2013 by the Republican-controlled General Assembly.
The law reduced the number of unemployment insurance benefit weeks from 26 to 12, and the maximum benefit amount from $535 to $350 per week.
North Carolina and Florida have the lowest number of benefit weeks in the country.
The number of UI benefit weeks remains on a sliding scale based on the state unemployment rate and could increase to 20 weeks with a spike in the jobless rate.
Cooper said he is aware that the virus that causes COVID-19 may soon test the flexibility and effectiveness of North Carolina's shrunken UI program.
Economists forecast that as many as 2.5 million North Carolinians may be at high- or moderate-risk for a layoff, reduced wages, tips and work hours, or furloughs.
There are an increasing number of retailers closing for several weeks, some pledging to continue paying their employees, while others have not disclosed plans.
Cooper said the executive order also allows waivers of in-person interview requirements for UI benefits.
Employers also will not be charged additional state UI benefit taxes for employees who lose their jobs related to COVID-19. Employers pay a UI payroll tax based on their number of workers, with the rate rising with the level of job cuts.
The General Assembly changed state law in 2017 to ensure that applicants for benefits paid during federal disaster declarations are not required to wait a week or show a job search if unemployed due directly to an event covered by a federal disaster declaration.
Legislative response
House Speaker Tim Moore, R-Cleveland, said the state's $3.9 billion Unemployment Trust Fund "is ready to activate with emergency measures that support families hurting from the economic impact of the COVID-19 response."
"Those who are missing paychecks and bearing the brunt of these drastic economic measures need immediate access and support from these benefits and can have confidence our state will provide another robust disaster response," Moore said.
Several Triad legislators said there's talk about having a potential special session on the UI program.
"It is top of mind for a lot of legislators trying to help their fellow North Carolinians," said Rep. Pricey Harrison, D-Guilford.
Sen. Joyce Krawiec, R-Forsyth, and co-chair of a joint oversight committee on healthcare, said legislators "are assessing the needs of the immediate health threats and what those needs might be."
"The economic impact is real and we will certainly be looking at ways to lessen the negative outcome. Many in our communities are already feeling this impact and we will certainly do what we can to offer assistance.
"Hopefully, it will be a short timeframe facing the unemployment situation and our citizens will be back to work quickly."
Great economic experiment?
Analysts say that for North Carolinians seeking UI benefits in the near term, finding out how much they can receive and the limitations on number of weeks may come as a rude awakening.
"Many people in North Carolina are about to discover that the changes didn't reform North Carolina's ... unemployment insurance system, but rather, they effectively dismantled it," said John Quinterno, a principal with South by North Strategies Ltd., a Chapel Hill research company specializing in economic and social policy.
"We are about to run a great social and economic experiment about what happens to our economy, people, and communities when workers lose jobs through no fault of their own on a massive scale for a prolonged period of time."
The UI benefit cuts was the main element of a controversial strategy to eliminate a $2.8 billion debt to the U.S. Labor and Treasury departments that helped pay extended jobless benefits during the Great Recession of 2008-11.
According to the U.S. Bureau of Labor Statistics, for the fourth quarter of 2019, N.C. workers received an average weekly UI benefit of $277, with an average duration of 8.7 weeks — last in the country.
Less than 10% of jobless workers in N.C. received UI benefits, also last in the country.
By comparison, North Carolina ranked 24th in the nation before the 2013 changes went into effect.
"Unfortunately, at a time when workers need help the most, North Carolina's system is serving too few jobless workers for too short a time and providing too little in financial assistance," the left-leaning N.C. Justice Center said Tuesday.
"We know that changes have made the state's UI system among the worst in the nation. Fixing those issues is necessary to ensure N.C. communities can get through not just the immediate impacts, but the potential long-term ripple effects of an economic downturn."
Benefit levels
Legislative supporters of the reduced UI benefits have said they were "too rich" before 2012, deterring unemployed people from pursing new work, including part- and full-time jobs that would leave them underemployed for their skill sets.
During the height of the Great Recession, some individuals received up to 99 weeks of regular and extended state and federal UI benefits.
The cuts in funding have played the primary role in establishing the $3.9 billion surplus in the state's UI Fund.
According to the N.C. Justice Center, employers bore about 22% of the UI trust fund repayment burden through a temporary increase in the unemployment insurance tax they pay, while beneficiaries bore 73% through reduced benefits.
Senate leader Phil Berger, R-Rockingham, said in a statement Tuesday that "reforms put in place years ago helped build that large balance to allow the state to adjust its benefits program in response to an economic downturn."
"What adjustments to the state program might be necessary will become clearer once we have more finality on what the federal program will look like."
Limited interest
In April 2019, a group of N.C. House Democrats submitted a bill that would restore UI benefits to their pre-2013 levels of a maximum of 26 weeks.
House Bill 713 also would eliminate having to wait more than one week before benefits begin, and allow people to collect benefits who left employment because of spousal relocation, illness or undue hardship.
The bill was sent to the Rules and Operations committee of the House where it has not been heard.
Mitch Kokai, senior policy analyst with Libertarian think tank John Locke Foundation, said "we're likely to hear calls for North Carolina to liberalize its unemployment compensation rules."
"I would not be surprised to see legislators give the idea serious consideration."
However, Kokai added that "I am certain lawmakers will be unwilling to dig themselves back into the hole that they escaped during the past decade."
"They won't agree to borrow multiple billions of dollars from the feds for unemployment benefits without regard for how they will pay the money back.
"If state-based benefits change, lawmakers will have some plan to pay for it."
Legislation that has cleared the U.S. House provides $1 billion in 2020 for emergency grants to states to assist with processing and paying unemployment insurance.
Half of those funds would be used to provide immediate additional funding to all states for staffing, technology and other administrative costs. The other half would be used for emergency grants to states that experienced at least a 10% increase in unemployment.
Previous worry
Since North Carolina's UI benefits were slashed, there has been an underlining worry among some economists that North Carolina would be ill-prepared for waves of unemployment claims during the next recession.
There's also been concern that most North Carolinians are not aware of the reduced level of UI benefits, along with what the qualifications are for individuals temporarily laid off, most likely in the service sector.
Some businesses have pledged to continue to pay employees through their initial temporary closing periods, but cautioned their policies are subject to change depending on the severity of the pandemic.
A high-profile report released in June by the non-profit National Employment Law Project determined North Carolina was one of eight states that may be ill-prepared to adequately serve the needs of the jobless during the next recession because of the UI benefit restrictions.
The other states highlighted are Florida, Georgia, Idaho, Indiana, Louisiana, South Carolina and Tennessee.
The group examined how state UI programs have been weakened by benefit cuts and policies that discourage unemployed workers from even applying for aid.
Michele Evermore, co-author of the law project's report, said the real test of the socioeconomic experiments in North Carolina and the other seven states "will come when the next recession hits — will enough people have sufficient compensation to avoid catastrophe?"
"We don't know the answer because we haven't experienced a recession with these policies in place."