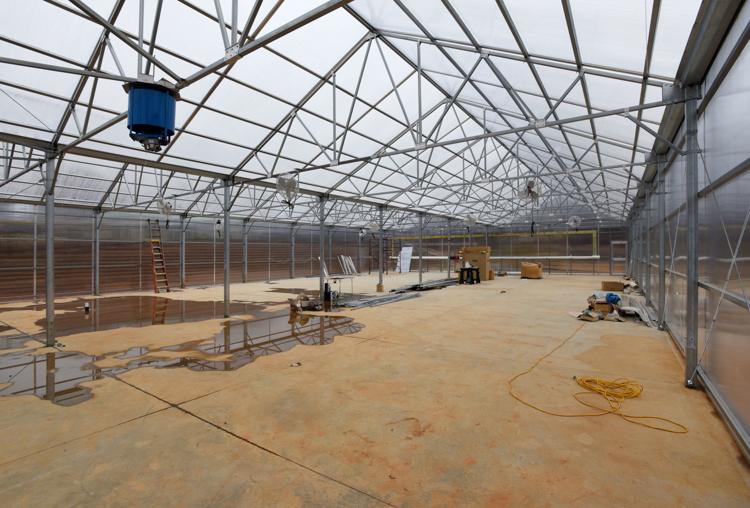 It was a moment of levity in a regularly scheduled meeting of the Winston-Salem City Council's finance committee desperately in need of something to break the tedium.
But it's worth taking note of, particularly when put in the proper context.
Council members, some who sit on the finance committee and others who do not, gathered last week around a round table in the rectangular City Hall to discuss things upon which the larger body might wish to fire-hose cash.
Mostly routine items, grant applications, purchase orders and the letting of contracts, dotted the agenda. Farther down, Item G-3 on Page 4 looked intriguing: the committee needed to recommend whether the full Council should spend an additional $500,000 on a state-of-the-art hydroponics farm that's already cost nearly twice that.
More than $1 million … for a crop of wet tomatoes.
But that wasn't the punchline.
That came later after Councilman Bob Clark, the committee's chairman, jokingly tried begging out of a short discussion about whether the hydroponics operation could grow hemp — basically, a cousin of marijuana without the buzz.
Detailed presentation
To get the full context — there's that word again — it's best to jet back to the place where all good stories start: The beginning.
Seeing an opportunity, the Goler Community Development Corporation pitched to the city council the construction of a hydroponic garden. That's where farmers grow crops in water rather than dirt; it's George Jetson-type stuff.
Building such a thing, the thinking went, would accomplish two things: provide economic opportunity and job training in a futuristic industry and help combat food deserts.
Who's against providing fresh vegetables to hungry kids?
Since the City Council has little problem spending money — and attempting to see that it's distributed more or less evenly — members bit. Only Grumpy Bob Clark, the board's sole Republican, voted no; Clark has this thing about fiscal responsibility.
In August 2016, the Council approved a deal in two parts: the city would lease to Goler a 3-acre section of Kimberley Park for $1 a year for 25 years, and it would provide in the form of a one-time grant some $962,000 to pay the construction costs for the hydroponic farm.
"I assume we should be up and running by the summer of 2017," said Michael Suggs, the president of Goler, in September 2016.
Except that it wasn't.
Cost overruns, unforeseen expenses accumulated. Who knew that a hilly, 3-acre section of park would need to be graded? Or that an access road should be accessible to the handicapped?
Anyhow, the council was asked late last year to consider dropping another $500,000, which it's slated to do tonight.
"It cost more than we thought," Suggs told the finance committee last week while detailing some of those unforeseen expenses.
The finance committee meeting, available here for your viewing pleasure courtesy of the city's website, was cordial and rich in detail.
No one has ever accused anyone at Goler of doing a rush job, financial malfeasance or hiding anything. Suggs' pitch was detailed and presented well; there was always going to be a learning curve with something new and different.
Even Grumpy Bob agreed. "I'm not a fan of the project, but I think you've gone about it the right way," Clark said last week in the finance meeting.
Will it work?
Most of the hydroponic operation finally was built over the summer. It's got four walls, water lines and industrial fans installed. A smattering of construction debris and equipment last week lay on the floor inside and on the ground outside, but that's to be expected on an incomplete job site.
The bigger question, the one no one can answer yet, is will this thing work?
Goler is working with local farmers' markets and groceries to get hydroponic vegetables on shelves and has partnered with Project H.O.P.E. (Help Our People Eat), a thriving nonprofit that provides healthy food for underprivileged kids and families. And those are good things, OK?
But as things stand now, the hydroponics operation will have one full-time and two part-time employees to start — roughly a half million per job, if Council approves the additional $500,000.
So people at the finance committee meeting weren't wrong when someone wondered aloud whether the water garden could be converted to grow hemp if tomato futures went belly up.
CBD oil — a byproduct of hemp production — is hot, hot, hot these days. Users swear by its therapeutic qualities for treating everything from seizures to balky knees to diabetes and problems sleeping.
"A lot of people are interested in … hemp growing," Suggs said. "It's a big thing these days. And this facility could allow it, if that's something that the Council would support."
Cue the comedic relief.
"And for the record, I have no idea what you're talking about," said Clark to a roomful of laughter.
"Yeah, but you did go to college in the '70s," Councilman Jeff MacIntosh offered helpfully.
It's funny, but don't laugh or wonder what they're smoking during those 90-minute committee meetings.
Hemp production, specifically the annual sales of CBD oil products, passed the $1 billion mark in 2018 and is expected to double by 2022. Some 39 states, including this one, allow some form of hemp farming. North Carolina has licensed more than 6,100 acres of farmland and 1.6 million square feet of greenhouse production.
The little hydroponics operation in Kimberley Park might fit in nicely. And it never hurts to have a Plan B.
Even if it's something only Cheech or Chong would love.