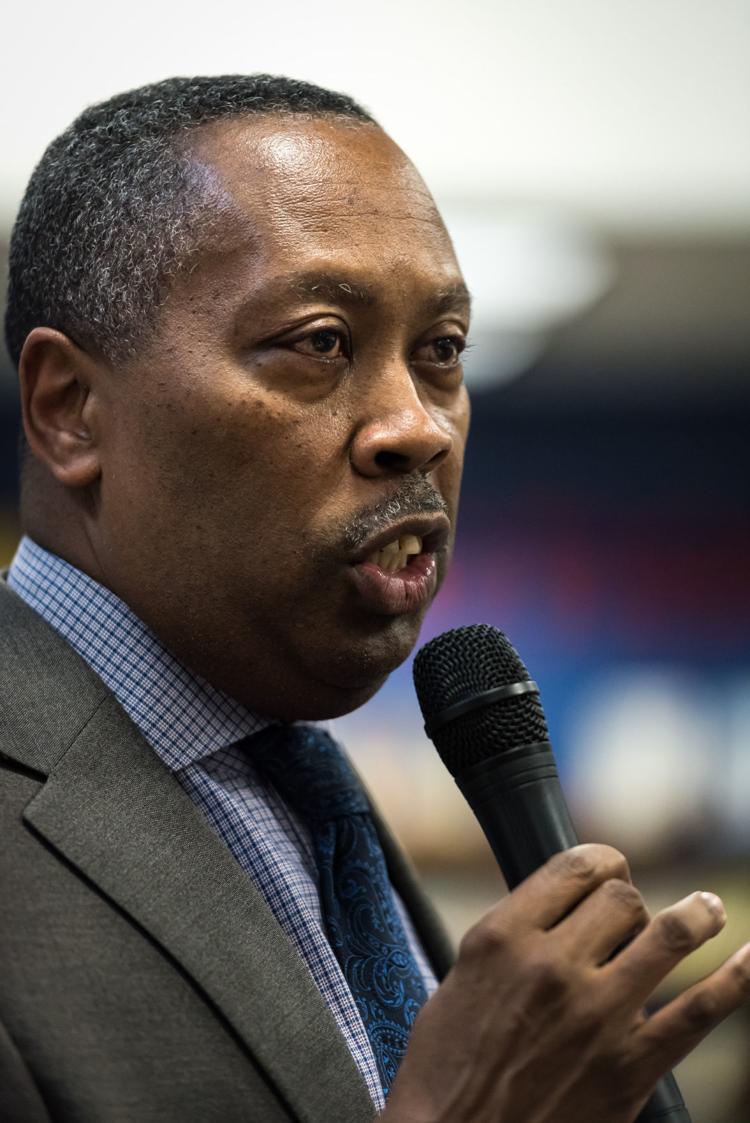 The Winston-Salem/Forsyth County Schools Board of Education recently approved a balanced, $137.6 million preliminary local continuation budget, but had to make several cuts to reach that goal due to a shortfall of $4.3 million.
The shortfall consists of $4.2 million that was not approved by the Forsyth County Board of Commissioners during the county budget process and an additional $150,000 for a school resource officer contract.
To balance the budget, the board approved these cuts: a reduced projection of $800,000 in salary increases, $500,000 from the school district's operations and maintenance departments, $800,000 in transportation efficiency in terms of buses and routes, $829,456 in state fines and forfeitures, which is a one-time revenue source included in the 2019-2020 proposed state budget; $100,000, or a 10 percent reduction, in at-risk funding; and $1.3 million from a teacher laptop refresh plan.
As part of the board's recent budget update given by Interim Superintendent Kenneth Simington of the Winston-Salem/Forsyth County Schools, there was also discussion on teacher supplements.
When the school board approved the 2019-2020 teacher supplement schedule Aug. 13, it approved giving across the board dollar increases to all teachers, as recommended by Simington.
The other options on the table: a 50 percent supplement increase for teachers in the first 15 steps, which is the equivalent of the various years of experience; and increasing supplement for entry steps to be competitive.
In its 2019-2020 fiscal year budget, the Forsyth County Board of Commissioners approved $3.7 million in teacher-salary supplements, the equivalent of a 1-cent property tax rate increase.
Overall, property taxes increased 3 cents in Forsyth County for the current fiscal year. The board of commissioners approved an additional 2 cents property tax increase to help pay for the new courthouse. The increase put the tax rate at 75.35 cents for every $100 of property valuation.
Although the $3.7 million for teacher-salary supplements went into effect July 1, the county has been withholding the money until the school board provides a supplement schedule to the county commissioners "that will serve as a guide in helping the school system make progress in achieving their goal of having a teacher supplement that is in the top five teacher supplements in North Carolina."
Simington said that the school district will be able to provide the information requested by the county commissioners.
He said in a recent interview that school administrators are appreciative of the $3.7 million, saying that the money puts the district in the top 10 districts in the state in terms of average teacher supplements.
In North Carolina, as of November 2018, WS/FCS ranked 20th in average teacher supplements at $4,251 a year for 3,928 teachers.
Simington told school board members Aug. 13 that the school district would have to increase its total spending for teacher supplements by $12 million, or 55 percent, to climb to 5th place in the state rankings at this time.
Representatives for the Forsyth County Association of Educators have voiced concerns about salaries for WS/FCS teachers and classified employees.
Val Young, president of the Forsyth County Association of Educators, said that it's not fair for just teachers to get an increase in pay.
"All employees would like to have a raise," said Young, who is on leave as a teacher to head the local association of educators. "In a classroom, the teachers aren't just doing the work stand-alone. There are other people that are helping us educate our children.
She said that bus drivers are needed to drive students to school and that children would probably go hungry and not be able to learn without the cafeteria workers who feed them.
Young said that teacher assistants are also an integral part of the education process.
"They don't baby sit," she said. "They are there doing work hand-in-hand with us."
Speaking about teacher supplements, Young said that it would be nice to have this fiscal year's final budget passed so that supplements would be on the new salary level.
"Teachers have gone a long time without a significant raise, especially veteran teachers," Young said. "New teachers got something, some people in the middle got something, but your veteran teachers are being left out. We feel like veteran teachers need a little something because we don't get longevity (pay) anymore."