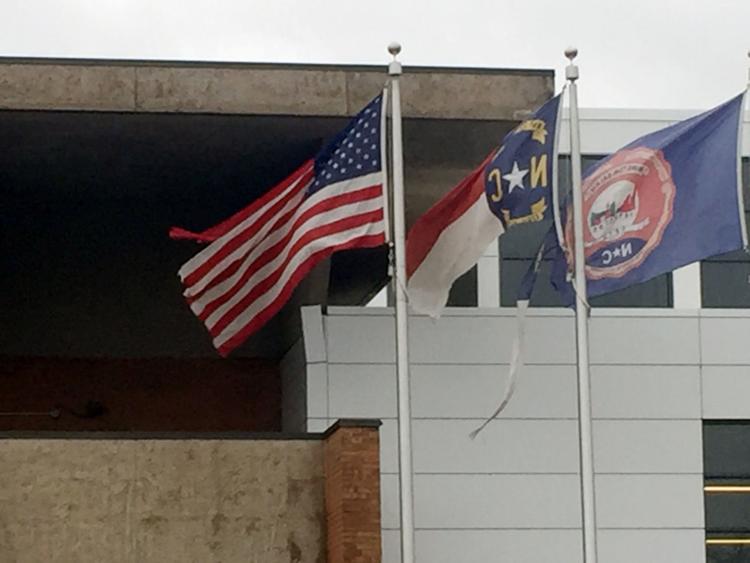 In an entire universe filled with problems and issues — real or imagined, external or self-inflicted — the condition of the flags on display outside the Benton Convention Center surely falls far down the list.
Little kids go to bed hungry, grown men shiver in cardboard "shelters" in the woods or under bridges and women are treated like punching bags in their own homes.
In Raleigh, the honorables can't manage to enact an official state budget. And in Washington, where alleged grown-ups have been entrusted with the nation's care, we stand on the cusp of a shooting war.
Obviously there are bigger concerns in the wide, wide world than a few pieces of cloth — the U.S., state and city flags — flowing in the breeze outside the Benton Convention Center
Still, it was dismaying to look at a public building described as the city's "living room" — and see the most visible symbol of the nation (and state) ripped, frayed and growing worse by the day.
Surely someone would notice.
'Visual impact'
Since its construction in 1969, the Benton Convention Center has been a key piece of the city's efforts to attract conventions — and conventioneers — who drop big dollars in local pockets.
By some estimates, primarily calculated by those with an interest in attracting visitors and out-of-town gold cards, conventions bring as many as 100,000 attendees who fill some 25,000 hotel rooms and inject $30 million into the local economy.
That's not chump change, and wise heads work to protect it.
That's part of the reason why city officials in 2014 approved spending some $17.5 million to overhaul, modernize and refurbish the old Benton.
No question it needed extensive alterations in both appearance and function in order to compete.
And so it was that an outfit out of Chapel Hill called Resolute Building was awarded a contract in 2016 to begin work.
"The visual impact is paramount," Jim Keller, the general manager of the Twin City Quarter, which manages the convention center,said in 2016. "You never get a second chance to make a first impression."
Changes to the exterior, landscaping, entry way and façade were completed. Lighting, carpets, paint and other interior features were enhanced, as well as upgrades to faster, more modern, wireless electronic communications.
"When we set out to do this … we knew we had to do something to this asset that brings extensive revenue to Winston-Salem," Council Member D.D. Adams told fellow council members in 2016. "We are now competing with the big time. People take things in with their eyes."
Yes, we do.
So it was sometime in the late fall — I can't remember precisely when — I started noticing the conditions of the flags on the Benton's western edge.
Not an act of protest
A tear developed in one of the red stripes at the top of the U.S. flag. So, too, did a rip in the North Carolina flag.
That one was along its bottom in the wide, white strip bordering the canton — the blue side with the block letters NC.
Over a period of days, weeks even, the tears grew larger. The state flag tore nearly in half, and an entire red stripe of the American flag eventually flapped wildly in the wind independent of the others.
A small thing, but still, it was a shame. And no one with the ability to do something about it seemed to notice.
Americans are free to burn or destroy the flag. Unpleasant and disrespectful, but free speech nonetheless. I wouldn't do it, but you can.
But letting the flag fall into disrepair through neglect is different. That's sloppy, not an act of protest.
Just when I'd gotten tired of waiting for someone in officialdom to act, a curious — and awesome — thing happened. A few days before Christmas, seemingly out of nowhere, the old and damaged flags were replaced.
A week or so earlier, Billy Rich, an attentive citizen and a member of the city's Public Assembly Facilities Commission, contacted an assistant city manager. Rich even included photos.
Problem solved.
"I noticed the flags when leaving the Journal building on Marshall Street one day," Rich, a retired city employee, wrote in an e-mail when asked about it. "I took pictures of them and sent them to (Ben Rowe, an assistant city manager).
"The convention center is the living room of our city. I felt we needed some new curtains."