Winston-Salem man convicted on charges he shot at police during a 6-mile chase that ended at University Parkway.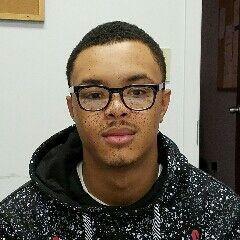 A Winston-Salem man was convicted Thursday in what a Forsyth County judge described as one of the most violent assaults on law-enforcement he has ever seen.
Jashoun Andrew Steele, 23, pleaded guilty in Forsyth Superior Court to three counts of assault on a law-enforcement officer with a firearm, assault with a deadly weapon, with intent to kill; speeding to elude arrest; possession of a stolen firearm; possession of a firearm by a convicted felon; discharging a firearm into an occupied vehicle and being a habitual felon. Admitting to being a habitual felon increased the amount of punishment that Steele would be getting in the plea arrangement.
The charges stem from an incident on June 7, 2018 in which authorities said Steele led Winston-Salem police officers on a 6-mile chase. During that chase, Steele fired at police officers. No police officer was shot, but Steele damaged more than 15 police and civilian vehicles, and Steele was shot three times — once in the right elbow, once in the right upper extremity and thigh and once in the head.
Judge David Hall said it was a miracle that no police officer was killed and that Steele was still alive. Before handing down a sentence, he called the incident one of the most violent assaults on law-enforcement officers he has seen in a long time.
If things had gone differently, Steele would very well be looking at first-degree murder charges, Hall said.
Under the plea arrangement, Hall consolidated all the charges into two separate judgments that totaled a minimum of 15 years to a maximum of 20 years in prison.
Here is what happened, according to Assistant District Attorney Belinda Foster and court documents:
On June 6, 2018, Detective Karl A. Williams was investigating an armed robbery. He tried to stop a vehicle that had been identified in the robbery investigation. Williams said in court Thursday that the car sped off. Williams chased the car for a short while with speeds reaching 100 mph, but decided to call off the chase because of a concern for public safety.
The next day, Williams received information that Steele would be picking up his girlfriend in the parking lot of the former Toys R Us store in the Silas Creek Crossing Shopping Center.
Williams and several other officers were in unmarked police cars, and after they found Steele waiting in his Ford Explorer, the police cars moved in to block Steele's car from the front and the rear. The officers demanded that Steele get out of the car, but Steele did not.
Instead, Steele backed his car up, hitting one police car, and then drove forward toward Officer Matthew LaValley. LaValley fired his gun, hitting the SUV. Steele drove out of the parking lot and onto Hanes Mall Boulevard.
Officer Lucasz Waszczeniuk and B.D. Bolen chased Steele, and Steele continued to fire his gun. The officers didn't fire back.
Steele's SUV crashed into a patrol car that Williams was driving at the intersection of University Parkway and Home Road. Steele fired at Williams, who fired back.
"He shot at my vehicle 15 times, striking it multiple times," Williams said in court Thursday.
By that time, Foster said, the tires on Steele's car were flat from police officers' bullets. And the car finally wrecked, ending the 6-mile chase.
Winston-Salem police seized five firearms from the chase, Foster said.
Yalonda Jackson, Steele's mother, said her son is not a bad person. He was diagnosed with attention-deficit hyperactivity disorder and she got little help to treat it. She also blamed herself for her son's conduct.
"I let the Devil move in," she said.
Jackson also was angry over how she was treated by the Winston-Salem Police Department. She said police officers never told her where her son was after she learned that he had been shot.
Steele had no intention of hitting people's cars or causing anyone harm that day, Jackson said.
"Every car he hit — he didn't intentionally do that," she said. "He had a bullet in his head. He was running on adrenaline."
Hall told Steele things could have turned out worse for everyone involved.
"I've heard nobody say you were a bad person but what you did was a very bad thing," he said.
Near the end of the hearing, under her breath, Jackson said, "He was set up."