Veterans Day observances, changes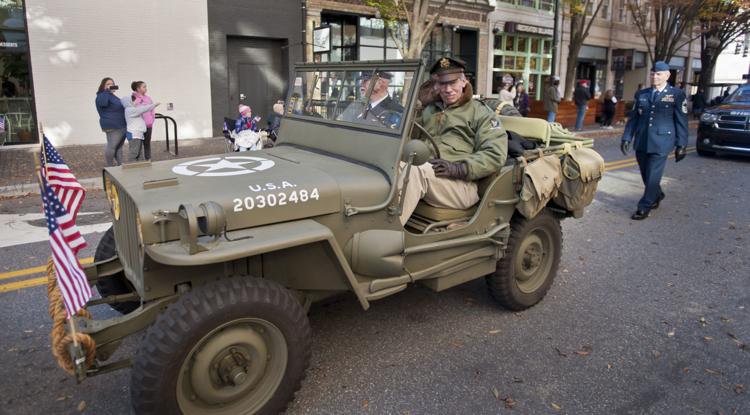 Veterans Day activities
Veterans Day is Monday. The following activities and closings are planned in observance of the holiday:
The Winston-Salem Veterans Day parade will be at 10 a.m. today. It will begin at Fourth and Spring streets and end at Corpening Plaza with a ceremony and 21-gun salute. The theme is "Honoring Dogs of War," and all dogs are welcome to join in the parade.
Harry's Vets will have refreshments and gift bags honoring veterans after the Veterans Day Parade, from noon to 4 p.m. today at 897 Peters Creek Parkway. Reservists and active duty are welcome, also. Proof of service is required.
St. Stephen's Episcopal Church, 810 N. Highland Ave., Winston-Salem, will observe Veterans Day at its 11 a.m. service Sunday. The speaker will be Col. William W. Gore (U.S. Army ret.). A meal will be served following the service. For more information, call 336-724-2614 or email ststephepiscopal@triad.rr.com.
Wake Forest University Salute to Veterans basketball games: Sunday, men's game at 2 p.m.; women's game at 5 p.m. Free to veterans, active military and first responders. Pick up tickets 60 minutes prior to game time at the Salute to Veterans table.
"Vietnam Photographs from North Carolina Veterans": At 4 p.m. Sunday at Bookmarks, 634 W. Fourth St., No. 110, Winston-Salem. Martin Tucker, author of "Vietnam Photographs from North Carolina Veterans" will discuss his book. Free. For more information, go to www.bookmarksnc.org.
Festival of Lights Christmas Light Display: Tanglewood Park, 4061 Clemmons Road, Clemmons, walks begin at 5 or 7 p.m. Sunday. Join the community and other veterans on a 1.3 mile walk through the Festival of Lights Christmas light display. Admission is $20 per person, or $40 per car load. Preregistration is required and can be made at Eventbrite.com, in the event space, type in TOAST. There will be no tickets available Sunday.
Trellis Supportive Care, 101 Hospice Lane, Winston-Salem, will have a Veterans Day program at 11 a.m. Monday in the Veterans Garden on the Trellis campus. A light lunch will be provided after the program.
Carolina Field of Honor at Triad Park, 9652 W. Market St., Kernersville, will have a Veterans Day program at 11 a.m. Nov. 11. The speaker will be retired Col. Dan Camia. The National Anthem and Armed Forces Medley will be performed by Sereh Haley. The ceremony will also feature a USMC Color Guard, bagpipes, special music, the laying of the wreath, taps and other commemorative activities. There will be two bronze plaques for Major George Preddy and Lt. Col. Elmer C Jones, both World War II veterans will be installed.
Novant Health Thomasville Medical Center, 207 Old Lexington Road, Thomasville, will have its annual Veterans Day observance at 11 a.m. Monday in the hospital's lobby. This year's speakers include Ronnie Beverly, a former senior airman with the U.S. Air Force and Winston-Salem State University offensive football player and the Lexington City Schools athletics director, and William "Buddy" Wearmouth, II, a captain in the US Army Reserves and a cardiothoracic and vascular surgeon physician assistant with Novant Health. Wearmouth returned in June from his most recent tour to Kuwait and Iraq. The observance is free and open to the public. Special music will be provided by the choir of Spencer Chapel CME Church and Neil Holladay.
The Yadkin County Veterans Council will present a veterans program at 11 a.m. Monday, at the Yadkin County Park, behind the YMCA, 6540 Service Road, Yadkinville.
K&W Cafeterias will offer all veterans, active duty and military personnel, a complimentary meal from 11 a.m. to closing Monday. Military ID or proof of military service will be required. Every guest visiting K&W will also receive a voucher good for $5 off any future purchase of $20 or more.
Davidson County Veterans Day Parade: 4 p.m. Monday. It will begin on North Main Street in Lexington, near Lexington Senior High School, and travel to South Main Street.
Centenary United Methodist Church, 5280 Hampton Road, Clemmons, will hold its annual Veterans Dinner at 6:30 p.m. Monday. The guest speaker will be Martin Tucker, editor of "Vietnam Photographs from North Carolina Veterans." Call the church at 336-766-5987 or 336-766-1552 by Sunday to make reservations. The dinner is complimentary.
Yadkin County's World War I veterans will be honored by the Yadkin County Historical Society on at 7 p.m. Monday in the County Commission Room, Human Services Building, 250 E. Willow St., Yadkinville. More than 400 veterans will be honored for their military service during 1917-1918. Their descendants and friends are encouraged to attend and bring photographs and other artifacts from World War I to display.
Offices of the City of Winston-Salem and Forsyth County will be closed Monday.
U.S. Government offices will be closed Monday.
Winston-Salem Forsyth County Schools will be closed Monday.
Yards waste cart collection will be postponed one day. There will be no change to garbage and recycling collection.
---