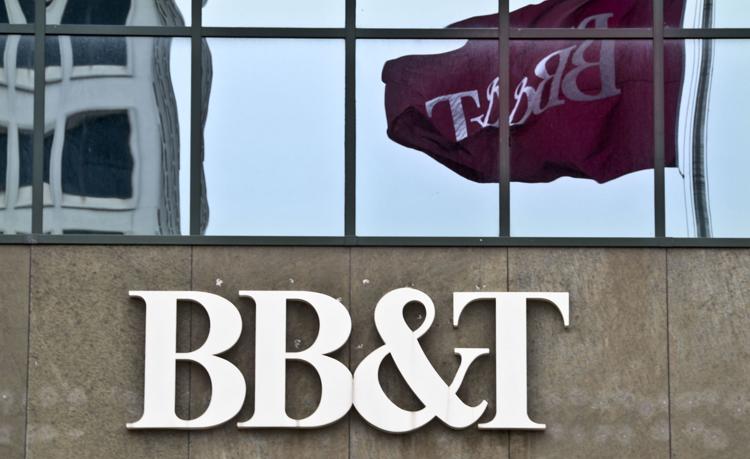 BB&T Corp. said Saturday that its online and mobile banking services are working and its service systems "have substantially recovered" from an outage that has lasted nearly two days.
An equipment malfunction at a data center disrupted the financial routines of millions of BB&T Corp. customers beginning late Thursday afternoon.
The interruption of services has drawn unflattering reactions on social media, both locally and nationally, as customers tried to get money out of an ATM or when checking if the direct deposit of their paycheck had shown up.
"As our systems continue to recover, we want our clients to be aware account information may only reflect transactions made through Thursday night," the bank said in a statement Saturday.
"Our systems are still processing updates, and we expect account information to become current later today."
The bank said it would reimburse customers for any fees they are assessed related to the outage, as well as waive its fees.
"We are carefully reviewing the cause of this issue, and taking steps to make sure this doesn't occur in the future," the bank said. "We are deeply sorry this has happened and we're committed to making this right for our clients."
According to the bank, its debit, credit and prepaid cards are unaffected, although some customers commenting on BB&T's Facebook page said they have had difficulty in using them.
An outage map showed the biggest repercussions were being felt in Charlotte, the Triad and the Triangle, as well as in Atlanta, Washington, Maryland and Philadelphia.
The bank has 2,044 branches in 15 states. Its corporate headquarters are in Winston-Salem.
It was an untimely service breakdown given BB&T's latest marketing pitch is "All we see is you," and the bank had avoided having a major customer-service issue, unlike many of its peers.
BB&T's social-media officials tried to put salve on the glitch via its website and Facebook page with a brief explanation of what happened, service updates, apologies and answers to customer questions.
By 12:45 p.m. Friday, BB&T had restored use of its ATM machines and automated Phone24 service.
By 3:30 p.m. Friday, it posted a notice that branches would stay open extra on Friday and branches that are normally open Saturdays would have two additional business hours.
Roger Beahm, executive director of the Center for Retail Innovation at Wake Forest University, said BB&T's service issue particularly is intrusive given that "today people take digital-banking services for granted, just as they do electricity or gasoline."
"When those necessities are suddenly taken away, people persevere through resourcefulness until the crisis is over, but they don't forget easily," Beahm said.
As Friday progressed, BB&T's Facebook page filled with customer comments complaining about the inconvenience and limited access to their money, and decrying the lack of a backup system to quickly correct the issue.
"I get direct deposit with my job and I finally was able to access my account just a short time ago, but my account did not reflect my check," Rafael Pena wrote on BB&T's Facebook page.
"My bills are set up to be paid via direct deposit, so if no money is in my account for it to be withdrawn, I not only get an overdraft fee from BB&T but a fee from the institution that tried to take payment and was sent back. This error is costing me money, heartache and time."
Dana Ann Houser wrote "screwing with people's finances is way beyond major."
"I'm a nurse. We work weekends. Need gas in the car to get there," Houser wrote. "I have four kids. I'm sure they'll want to eat ... before Tuesday."
BB&T responded with a post saying, "We will work with clients who have incurred fees or experienced other challenges."
BB&T reported in October 2012 and January 2013 being among several national and super-regional banks whose online services had been cyberhacked by groups sponsored by the Iranian government, causing "denial of service" disruptions.
"At this time, we have no reason to believe this issue is related to cybersecurity," BB&T spokesman Brian Davis said Friday.
John Sweeney, an advertising professor at UNC Chapel Hill, said the longer BB&T customers are affected by the limited service, the more it could have "a lingering impact and increasing damage."
Beahm said BB&T's biggest potential concern is from "image erosion. ... The bank cannot afford to close its eyes on its customers."
In January, BB&T said it plans to spend up to $50 million to expand its presence in digital financial technology as part of a cost-cutting initiative.
Chris Marinac of FIG Partners, a financial-services firm, said BB&T has emerged as an industry leader with digital banking. That represents a 180-degree turn from when BB&T was known for taking a toe-dipping approach to new technology and strategies.
"BB&T, even as a $220 billion bank, has become more nimble because it has realized how much costs it can take out of its system through digital," Marinac said. "It is laser-focused on this effort, not waiting around for other banks to try it first."
In April, BB&T top executive Kelly King's enthusiasm for plugging artificial intelligence and robotics into its back-office, customer-service and compliance operations raised eyebrows with analysts and economists.
BB&T has joined Wells Fargo & Co. and other national and super-regional banks in spending hundreds of millions of dollars to pursue what they believe will be significant future cost savings from data mining of customer patterns.
"We will be pretty aggressive about that," King said. "We just think there are huge ways to reduce cost in the backroom by the use of that."
According to analysts, financial institutions have been slower adapters of AI and robotics.