Black Friday starts earlier and earlier as merchants don't want to lose chances to boost bottom lines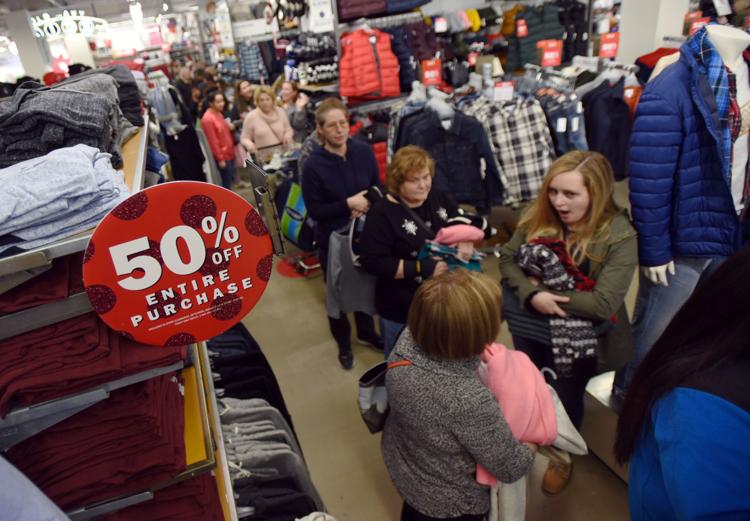 The calendar has put the squeeze on the official start of the holiday shopping season this year, with Thanksgiving Day arriving the latest it can in any year.
That means six fewer days to shop for Christmas.
But that might not be an issue. Shoppers have been getting information about Black Friday deals for weeks.
"Consumers don't wait for Thanksgiving or Black Friday anymore, and neither do retailers," said Phil Rist, the executive vice president of strategy for Prosper Insights & Analytics, an Ohio company that analyzes data from various sources to predict consumers' future behavior.
"Retailers responded this year by offering promotions earlier than ever, with some rolling out holiday deals even before Halloween," Rist said.
The National Retail Federation has responded to the earlier shopping trend by expanding the holiday shopping season from Nov. 1 to Dec. 31.
The retail foundation's consumer shopping survey found that 56% of respondents began buying gifts by the first week of November. That's up from 48% who had already started at the same point a decade ago.
However, those shopping sprees only represents about a quarter of the money that respondents planned to spend. Only 4% reported being finished with shopping.
The federation's latest forecast is that overall holiday retail sales will be between $727.9 billion and $730.7 billion, up about 4%.
"Thanksgiving is still a hallmark of the season, and there's billions of dollars in shopping still to come," said Matthew Shay, the federation's president and chief executive. "But many consumers have already been shopping for weeks, and retailers are increasingly adapting to that," Shay said.
Opening on Thanksgiving Day
In Winston-Salem, the majority of big-box department stores and discounters on Hanes Mall Boulevard and some department stores in Hanes Mall are opening between 2 and 6 p.m. today Thursday.
Stores with their own public entrances can set their own hours, but mall common areas will not be accessible today, Thursday.
Hanes Mall, like all other shopping centers owned by CBL & Properties will be closed Thanksgiving Day for the fourth consecutive year, opting to start Black Friday at 6 a.m. Friday. The Thanksgiving-closing decision affects about 2,500 people who work at the mall.
"Hanes Mall retailers are heading into holiday following a year-over-year sales-growth trend," said Sarah Kotelnicki, the marketing director for the mall and Friendly Center in Greensboro.
"While predictions are always difficult to make, this third-quarter trend, coupled with National Retail Federation reports that current economic data suggest a much stronger holiday season than last year, we anticipate a successful end to 2019," Kotelnicki said
According to online shopping research group RetailMeNot, the shortened time frame has led 14% of shoppers to report being stressed about completing their holiday shopping on time, 28% to make their first holiday purchase sooner, and 34% to start looking for deals earlier in the season.
"Shoppers are getting savvier every year when it comes to holiday preparation," RetailMeNot's Sara Skirboll said
"They are deal hunting, comparison shopping and they're choosing not to spend all their holiday budget solely in November and December," Skirboll said. "It was surprising to see our survey results showed more individuals buying gifts in July."
EMarketers forecasts overall U.S. retail sales will climb 3.8%, to $1.01 trillion, making it the first-ever trillion-dollar holiday season, while U.S. retail e-commerce spending will rise 13.2%, to $135.35 billion.
"With low unemployment, a rising stock market and historic low interest rates, this holiday shopping season should be very good with year-over-year sales rising 4%," said Michael Walden, an economics professor at N.C. State University in Raleigh.
"Online buying will take up an increasing share of sales, and may even outpace brick-and-mortar store sales for the first time," Walden said.
Millions of shoppers
The National Retail Foundation projects that 39.6 million consumers nationwide will shop on Thanksgiving Day, 114.6 million on Black Friday, 66.6 million on Small Business Saturday, 33.3 million on Sunday and 68.7 million on Cyber Monday.
At least 43 prominent retailers will be closed today, Thursday, including Academy Sports, Apple, Barnes & Noble, Burlington, Costco, Crate & Barrel, Dillard's, Gander Outdoors, Home Depot, Lowe's home improvement, Marshalls, Office Depot, Pier1 Imports, Publix, Sam's Club, Staples, Stein Mart, TJ Maxx and Trader Joe's.
However, most of those retailers are offering online sales on Thanksgiving Day to capture some potential purchases.
Reversing their past stances, Bed Bath & Beyond and GameStop returned to being open on Thanksgiving.
Closer to the Triad, a recent High Point University Poll found that 38% of North Carolinians plan to shop on Black Friday, while 53% said they would not. The survey did not ask about Thanksgiving Day shopping plans.
By comparison, 31% in the 2018 poll said they would shop in Black Friday; 59% said they would pass.
The poll found that 33% plan to split their shopping between brick-and-mortar stores and online vendors, while 32% said they would do the majority of their shopping online and 24% said the majority in stores
"Compared with the 2018 survey results, respondents indicated that overall shopping and the level of brick-and-mortar shopping will be about the same, so the increase could simply be more online shopping on Black Friday," said Daniel Hall, the chairman of HPU's economics department.
About 54% of poll respondents said they'll spend the same amount of money on the holidays this year compared with last year. About 22% said they will spend more. Respondents on average expect to spend a combined $949 on gifts, food, decorations and other holidays items.
About 31% of respondents say the holidays bring more stress to their lives, while 10% say the holidays lessen their stress levels.
It's own season
Black Friday traditionally marks the day when many retailers begin turning a profit for the year and their financial numbers shift from red ink to black, hence the name Black Friday.
Some economists say Black Friday has become its own season, starting before Halloween displays are gone.
"Retailers are capitalizing on the excitement the term Black Friday sale generates," said Roger Beahm, the executive director of the Center for Retail Innovation at Wake Forest University School of Business in Winston-Salem.
"They are leveraging it into the three-plus weeks proceeding the actual day itself, just as Christmas is not just a day, but also a season," Beahm said..
"Waiting until Black Friday itself to announce Black Friday sales can mean leaving a meaningful portion of shopper dollars on the table for competitors," he said. "Merchants have learned the hard way that hesitation means opportunity loss."
Mark Vitner, a senior economist with Wells Fargo Securities in Charlotte, projects that "consumers are going to spend fairly freely this holiday season."
"The economy is strong. Jobs remain plentiful, and wages are rising for more workers than any other time during this expansion," Vitner said.
"The compressed holiday season should keep retailers busy even with a larger proportion of spending going online," he said.
Zagros Madjd-Sadjadi, an economics professor at Winston-Salem State University, said, "Retailers, however, are still on edge given the continued trade frictions between the U.S. and China."
"But if there is a resolution to that before the end of the year, this economy could gather up steam going forward."
Top shopping days
Despite all of the Thanksgiving Day shopping hype, RetailMeNot said it was just the sixth-most popular shopping day in 2018, trailing Black Friday, Cyber Monday, Dec. 26, Small Business Day on Saturday and Christmas Eve.
Skirboll said 45% of Black Friday shoppers are expected to complete the majority of their shopping online this year, up 31% from last year.
"While many Americans do not view stores deciding to open on Thanksgiving in a favorable light, the fact is many major retailers just cannot afford to close," said Phil Dengler with BestBlackFriday.com.
JLL Retail said the majority of consumers — 57.3% — will make at least one brick-and-mortar purchase, whether in-store, picking up an online order or through the retailer's website. About half of consumers are expected to use their smartphones to make at least one purchase.
The retail federation's Shay said younger consumers are significantly more likely to shop over the Thanksgiving weekend.
Among those ages 18-24, 88% are likely to shop, compared with 84% of those ages 25-34 and 69% of holiday shoppers overall.
Shay said about 47% of shoppers plan to begin their holiday spending at brick-and-mortar stores, while 41% will start online.
According to EMarketers, "The largest online and big-box retailers appear well-positioned for the 2019 holiday season.
"With fast shipping at a premium during the compressed holiday season, retailers like Amazon have an advantage for online deliveries, while those with advanced click-and-collect operations, like Walmart, Target and Best Buy, will also get a leg up on the competition."