Donald Trump Jr. lauds family's 'sacrifice'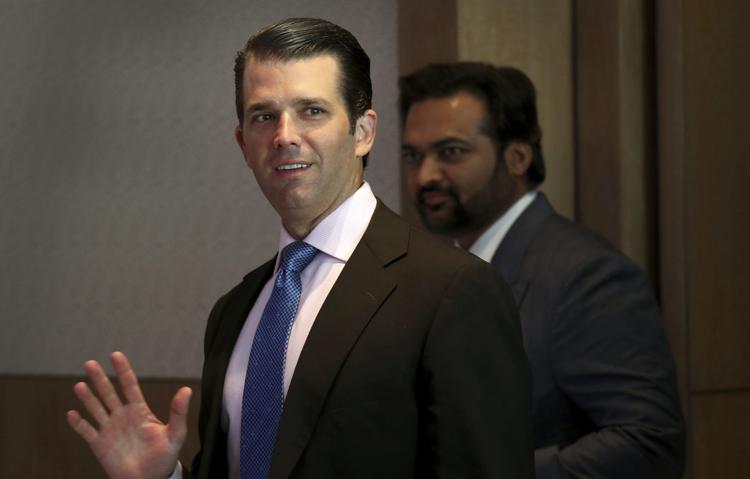 It was the day before his father was inaugurated president of the United States when the weight of the office first washed over Donald Trump Jr.
President-elect Donald Trump and the new first family were at Arlington National Cemetery, where Trump was to lay a wreath on the Tomb of the Unknown Soldier.
"I rarely get emotional, if ever," Trump Jr. wrote in his new book, "Triggered: How the Left Thrives on Hate and Wants to Silence Us." "Yet, as we drove past the rows of white grave markers, in the gravity of the moment, I had a deep sense of the importance of the presidency and a love of our country."
He also had another revelation as he watched his father standing in front of the tomb, surrounded by more than 400,000 graves, listening to the Army Band bugler playing taps: The Trump family had already suffered, he recalled thinking, and this was only the beginning.
"In that moment, I also thought of all the attacks we'd already suffered as a family, and about all the sacrifices we'd have to make to help my father succeed — voluntarily giving up a huge chunk of our business and all international deals to avoid the appearance that we were 'profiting off the office,'" Trump Jr. wrote.
The book bills itself as a 300-page evisceration of so-called PC culture - "the book that leftist elites don't want you to read," its Amazon page twice crows. In it, Trump Jr. writes that, "A victimhood complex has taken root in the American left," yet, in his telling, the real victim is often him, his father or another Trump family member.
His framing of the Arlington Cemetery anecdote, in particular, has provoked fervent criticism and accusations of callousness.
"Eight men I served with are buried in Section 60 of Arlington. I visit them monthly," tweeted Rep. Ruben Gallego, D-Ariz., who served in the Iraq War. "Even if Donald JR. lived a 1,000 years he will never even get close to being as good and honorable as they were. Sacrifice is only a word to the Trumps."
Trump Organization spokespeople did not respond to a request for comment on the criticism leveled at the president's eldest child over his telling of Jan. 19, 2017, but on television and online, he and his defenders have, fittingly, labeled naysayers "triggered."
In the book, Trump Jr. contends that his father's assumption of the most powerful political position on the planet, "was a big sacrifice, costing us millions and millions of dollars annually."
Trump Jr. and his brother Eric both made similar statements last month, claiming that "We literally stopped" and "We got out of all international business," respectively. Both claims, The Washington Post's Fact Checker found, were false.
Trump refused to divest from his private business holdings before taking office, instead choosing to place them in a trust controlled by Eric, Trump Jr. and Trump Organization executive Allen Weisselberg. The company continues to operate nearly a dozen hotels and about 20 golf courses worldwide.