FDA to review R.J. Reynolds Vuse electronic cigarettes to assess whether they are safer than tobacco products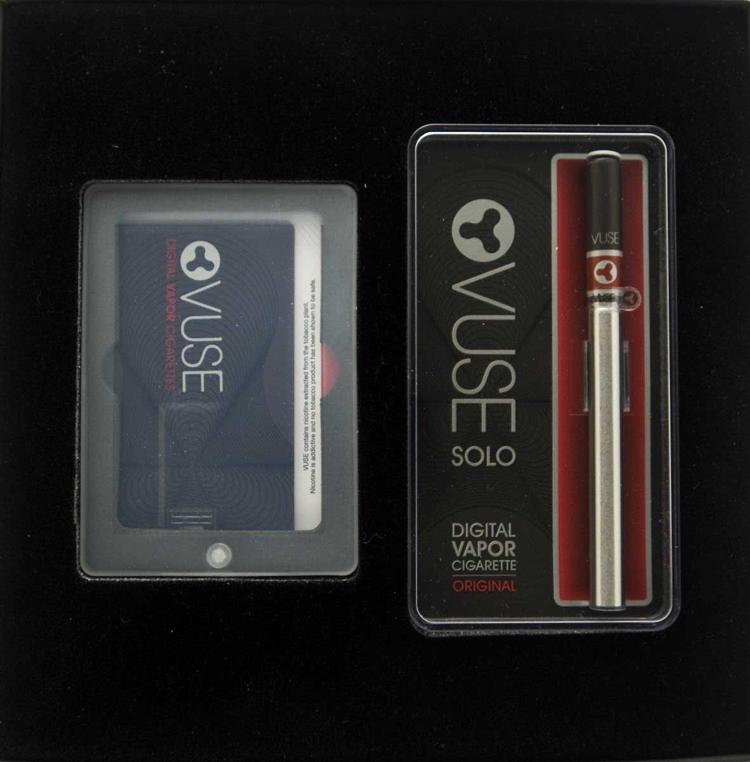 The Food and Drug Administration will review whether the Vuse electronic cigarette made by R.J. Reynolds Vapor Co. can claim that it is a lower-risk tobacco product.
Reynolds entered the FDA's regulatory gauntlet Oct. 11 with its submission for premarket approval of multiple Vuse e-cigarette products.
The FDA declined to comment on the Reynolds statement or the planned Vuse review.
The premarket standard requires the FDA to consider products' existing risks and benefits to the population as a whole, including users and non-users, particularly as it compares with traditional cigarettes.
Reynolds is requesting permission to market Vuse, the No. 2-selling U.S. e-cigarette, as an electronic nicotine delivery system aimed at adult consumers.
"This is a first-of-its-kind application for Vuse products, and it puts Vuse one step closer to gaining a marketing order from the FDA," Ricardo Oberlander, chief executive of Reynolds American Inc., said in a statement.
"FDA will now review our scientific justification and determine the appropriateness of Vuse e-cigarette products against the public health standard."
In July, a federal judge gave tobacco manufacturers until May 11, 2020, to file pre-market tobacco applications for e-cigarettes and cigars.
A coalition of seven public-health and anti-tobacco groups sued the FDA in March 2018 to accelerate the timetable from August 2022.
Reynolds said its submission contained more than 150,000 pages of documentation. The FDA also will conduct inspections of manufacturing sites, as well as sites and entities involved in clinical and nonclinical studies.
James Figlar, executive vice president of research and development for Reynolds, said the submission includes "the data and clinical information necessary for predicting the effect of continued marketing of Vuse products on the public health."
"We surveyed current tobacco users to understand product use behavior and demographics, conducted behavioral studies of current and non-users of tobacco to gauge consumer understanding of risks and interest in product use, and performed statistical population modeling to project the effect on the population as a whole."
The FDA acceptance of the Vuse application for review comes as the federal Centers for Disease Control and Prevention has said its investigation into an outbreak of severe vaping-related illnesses is focused primarily on open-pod e-cigarettes in which liquids containing the marijuana compound THC are being vaped.
The CDC has determined there have been at least 2,300 cases nationwide and at least 47 related deaths. The CDC said it has found a "very strong culprit" in the vaping illnesses with vitamin E acetate. Most who got sick said they had vaped liquids that contain THC, the high-inducing part of marijuana.
Meanwhile, there have been few incidents reported involving the closed-pod e-cigarettes sold by the Reynolds and the top-four manufacturers.
On Oct. 12, the chairman of a second U.S. House committee began an attempt to put pressure on Reynolds to curtail, if not halt, advertising of its Vuse products. Vuse began running commercials on national cable channels' late-night programs earlier this year.
U.S. Rep. Raja Krishnamoorthi, D-Ill., and chairman of the House Oversight and Reform committee's panel on consumer products, requested Sept. 25 that the leading e-cigarette manufacturers voluntarily stop advertising their products. The manufacturers are not required to respond to any congressional request since Congress doesn't have the authority to halt advertising.
Gregory Conley, president of American Vaping Association, said "the FDA appears to be under great pressure from the Trump Administration to show that they are actually capable of performing their regulatory duties."
"It is great that Reynolds' application is moving along, but the FDA stepping up for one company changes nothing for the hundreds of e-liquid manufacturers that don't have cigarette profits that they can use to subsidize their vaping product science."
Scott Ballin, past chairman of the anti-smoking alliance Coalition of Science or Health, said he "remains concerned that the processes that the FDA/Center for Tobacco Products has used in consideration of potentially lower-risk products is costly, burdensome and does not encourage innovation, but rather stifles it."
"I believe that the agency should be establishing product standards that would allow for great competition in the market place, rather than dealing with products on a one-by-one basis."
Ballin said that the FDA "laid out a vision" in July 2017 for a new tobacco and nicotine policy "that was to streamline the application processes, regulate based on the continuum of risk, encourage innovation and research, and not stifle it."
"In two years, little has been done to move things forward as the agency continues to get tied up in rule-making, litigation and numerous issues surrounding e-cigarettes.
"Much of the chaos and confusion could have been avoided," Ballin said.
On Oct. 22, the FDA approved authorization for eight General Snus styles by Swedish Match USA Inc. as a modified-risk product.
Snus are teabag-like pouches or loose tobacco that users stick between their cheek and gum, but that doesn't require spitting. They are marketed in part for use in places where smoking is prohibited.
Anti-smoking advocates say the FDA's General Snus ruling should bode well for R.J. Reynolds Tobacco Co.'s Camel Snus products, which entered the FDA regulatory gauntlet in April 2017.
Reynolds said in a statement Oct. 22 that "we are encouraged that ... the FDA has taken a step forward by allowing a manufacturer to communicate with adult tobacco consumers about the relative risks of tobacco products."
"We look forward to the agency's decision regarding our pending application for Camel Snus."
Reynolds submitted its applications in April 2017, which included more than 450,000 pages of data and extensive scientific research.