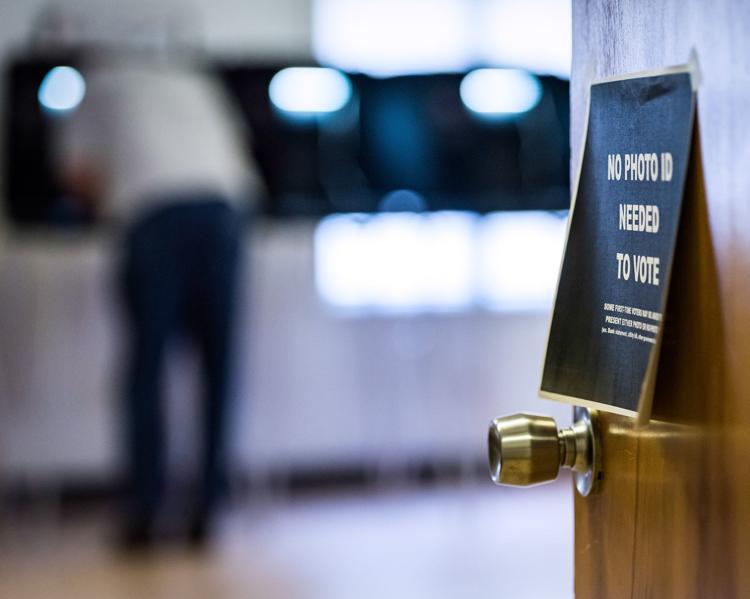 A federal judge has officially blocked North Carolina's voter ID law, saying she found compelling evidence that state Republican legislators acted with racially discriminatory intent in passing it.
The ruling issued by U.S. District Judge Loretta C. Biggs late Tuesday afternoon means that voters will not have to present photo ID when they cast ballots during the March 3 primary elections. Biggs kept intact a provision in the law that allows a larger number of poll observers who are appointed by both the Democrat and Republican parties.
The N.C. NAACP and several local chapters, including the Winston-Salem chapter, filed a federal lawsuit challenging the law, which was approved in December 2018. Gov. Roy Cooper vetoed the legislation, but state Republican legislators, who still had super majorities in both the House and Senate, overrode Cooper's veto.
On Dec. 3, Biggs heard arguments from both sides in a hearing in U.S. District Court in Winston-Salem on whether to temporarily block the law. She indicated that she would grant an injunction.
Republican House Speaker Tim Moore and Senate leader Phil Berger said Monday that the N.C. Department of Justice must seek a stay in the case.
Some reactions
On Tuesday, Berger's office issued a reaction to Biggs' decision.
"It is absolutely ridiculous that the judge would accuse the bill sponsors — including an African American Democrat — of being racist," Lauren Horsch, a spokeswoman for Berger said of the ruling. "The voters saw the need for voter ID and approved the constitutional amendment. The legislature, acting on the will of the people, enacted one of the broadest voter ID laws in the nation. Now this lawsuit, and last-minute ruling, have sowed additional discord and confusion about the voting process."
In a lengthy 60-page decision, Biggs said that North Carolina has a long history of racial discrimination in voting, and that cannot be disentangled from how this latest legislation was passed. In fact, Biggs said in her ruling, the state's most recent history is also instructive in analyzing whether the voter ID law has racially discriminatory intent and whether it would have a disproportionate impact on minority voters.
North Carolina Republicans have tried several times, first in 2011 and again in 2013, to pass a photo ID law. In 2013, a limited photo ID bill sat in a committee for months until after the U.S. Supreme Court invalidated a section of the Voting Rights Act of 1965 that required certain states and counties, including 40 counties in North Carolina, to get prior approval before passing election laws.
After that decision, state Republican leaders rapidly approved House Bill 589, which not only required photo IDs but also eliminated same-day voter registration, cut the number of days for early voting and prohibited county elections officials from counting out-of-precinct ballots. Opponents of the law said the very measures Republican legislators either curtailed or eliminated were used disproportionately by black voters.
That law was challenged in federal court, and in 2016, the 4th U.S. Circuit Court of Appeals struck the law down, finding that Republican legislators had racially discriminatory intent in passing the law.
Biggs said that many of the same Republican leaders who pushed House Bill 589 also supported the new voter ID law. She said they also publicly opposed the 4th Circuit's 2016 ruling against House Bill 589 and made statements that they wanted to push a new law, which could withstand judicial scrutiny.
State Republican legislators argued in court papers and in public discussions that both laws were necessary to combat potential voter fraud and restore confidence.
The road to the recent law was somewhat different. State Republican legislators scheduled a November 2018 referendum on requiring photo ID. Voters approved the proposal, and then state Republican legislators introduced legislation to implement the requirement.
Attorneys for the N.C. Attorney General's Office argued that this new voter ID law was different from the 2013 law — more photo IDs were acceptable, student IDs were also accepted and people without a photo ID could get a free ID from either the county board of elections or the N.C. Department of Motor Vehicles. They also contended that there was a reasonable impediment component in which people who did not have a photo ID could still cast a ballot.
In short, their argument was that there was no way that people would be kept from voting with the law.
However, Biggs largely rejected those arguments. Plaintiffs had presented enough evidence to show that black and Hispanic voters were less likely to have photo IDs than white voters. And because black and Hispanic voters are more likely to be poor and to lack transportation, they will have more obstacles in obtaining the free IDs, Biggs said in her ruling.
She also found it suspicious that certain types of photo IDs that blacks and Hispanics were more likely to have were specifically excluded from being acceptable forms of IDs at the ballot box. The reasonable impediment exception also didn't have any guidelines outlining what standards a board of election should accept or reject on voters' explanations for why they couldn't get a photo ID, Biggs argued in her ruling. She noted that in the March 2016 primary, when photo ID was required, blacks made up a disproportionate number of voters whose provisional ballots were not counted, despite having a reasonable impediment provision.
Biggs also said that the non-racial reasons defendants gave for needing the law didn't hold up. Republican legislators have cited voter fraud as a main reason a voter ID law if necessary.
But plaintiff experts have said that there is no evidence that rampant in-person voter fraud is occurring, she said in the ruling. And one of the places where voter fraud does occur is absentee voting, Biggs said.
The new law does address absentee voting, but Biggs said that state Republican legislators only added it at the last minute.
In addition to a possible stay, defendants can appeal Biggs' decision to the 4th U.S. Circuit Court of Appeals.
Laura Brewer, a spokeswoman for the N.C. Attorney General's Office, said that the office is reviewing the order.