Greensboro man is facing charges of trying to hire someone to kill a witness in a murder trial. He is being re-tried on allegations that he fatally shot a Winston-Salem man after a mistrial was declared last year.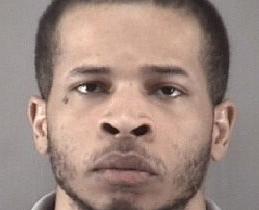 A Greensboro man who is being retried in Forsyth Superior Court for first-degree murder after a mistrial last year is facing new charges that he tried to hire someone to kill a key eyewitness to the fatal shooting — the girlfriend of the victim.
William Anthony Brown, 29, of the 1900 block of Sheldon Road in Greensboro is charged with one count of solicitation of first-degree murder and one count of attempted solicitation of first-degree murder, according to arrest warrants and the prosecutor on the case.
Forsyth County Assistant District Attorney Matt Breeding said Brown is accused of trying to hire someone to kill Kayauna Talley, who was the girlfriend of Jahmil Ismail Al-Amin.
Al-Amin was shot multiple times on March 10, 2017, in the parking lot of 703 Bethabara Pointe Circle in Winston-Salem. Prosecutors in Brown's previous trial in November 2018 said bullets pierced Al-Amin's heart, lungs and bowels. With the jury deadlocked 9-3 on the first-degree murder charge after deliberating eight hours over three days, Judge Brad Long declared a mistrial.
According to the arrest warrants, alleged incidents of solicitation happened between May 10 and July 4 of 2018. At that time, Brown was being held at the Forsyth County jail awaiting trial on the murder charge.
Breeding declined Thursday to comment on the alleged facts because the case is still pending. But during the murder trial in November 2018, Breeding introduced jail letters that he said were Brown's attempts to hire someone to kill Talley.
According to search warrants, a jail inmate said in February 2018 that Brown tried to get him to kill Talley. Brown told the inmate that once the inmate was released from jail, he needed to meet with someone named "Glock" and that "they would go kill the witness," the search warrants said. The jail inmate told a detention officer that Brown would get him the address for that witness.
In May 2018, detention officers recovered a handwritten note from Brown to another jail inmate. That note, the search warrants said, asked the inmate to kill Talley.
Then in July 2018, Winston-Salem police Detective Michael Ognosky received a letter written by Brown that had been intercepted at the jail. The letter itself was addressed to a man named "Henry" but was inside an envelope addressed to Ray Inge Jr., a purported attorney who lived in Danville, Va. The envelope had "Legal Mail" written on it in several areas. An attorney with the name Ray Inge Jr. was not registered with the Virginia State Bar, the search warrants said.
"Henry, I gotta keep it short on a lot of things, but I need you," Brown wrote in the letter, according to the search warrants. "I'm locked up on another one, no evidence just a finger. I go to trial in 90 days, if the finger doesn't show, I will walk." Breeding told a jury that in that letter, Brown noted that Talley's house was not being watched.
Brown later wrote, "Fill up your tank, pull up, do it for real, get back on the highway," the search warrants said. In another section, Brown wrote, "If you need a lighter, have my BM link you up with Kane." The search warrants said the word "lighter" is another term for a gun.
Search warrants said Ognosky received another letter dated July 9, 2018, and addressed to an Imani Vanstory, saying that prosecutors had no evidence except for "a (expletive) saying that she saw my face and she watched me slump her boyfriend, looking out of a window into the parking lot of a dark (expletive) neighborhood."
Talley testified during the trial that she was sitting on the arm of a sofa in an apartment and waiting for Al-Amin to return from running some errands when she saw a silver Chevrolet Malibu drive slowly by the apartment complex. Then the same car came back around and backed up between her car and another car, she told the jury.
Al-Amin was at the front door of the apartment when someone in the car called him back. Talley said she saw Al-Amin have a brief conversation with the people in the car and then she saw Brown, whom she knew as Skeme, pull a handgun and fire eight times.
Search warrants said jail officials seized several letters that Brown had written to other people, indicating that Talley did not need to show up in court and did not need to testify. He included in those letters information about Talley's address, where she worked, her cellphone number and descriptions of her car, the search warrants said.
Jason Crump, Brown's attorney, declined to comment Thursday on the new charges.
Breeding said Thursday that Brown is being retried on the murder charge, and that trial is scheduled to start Sept. 16. A trial date on the new charges hasn't been set.
Brown is in the Forsyth County jail with no bond allowed on the murder charge and a $1 million bond on the solicitation charges.