The WS/FCS district is considering ways to recruit and retain bus drivers, make more of them full time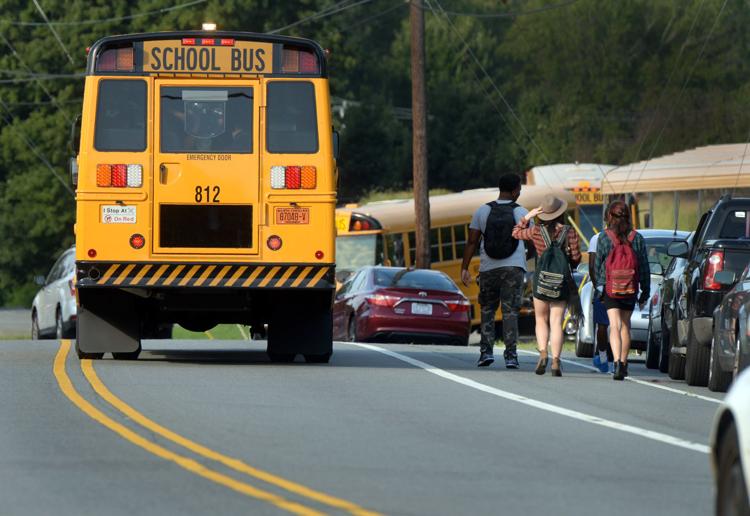 Winston-Salem/Forsyth County Schools has hired additional bus drivers since school started in August, but as of last month the district was still short 37 drivers.
At the beginning of the 2019-2020 school year, the district was short 45 bus drivers. Most of those were part-time positions.
Wayne Loflin, chief operating officer of operations for WS/FCS, said that the school system is looking at different ways to recruit and retain drivers.
"We're really looking at the whole model and looking at what we can do differently and thinking out of the box with that," Loflin said.
Although Loflin said he could not share all the possible ideas until bus drivers had been told about them, he said that a focus is routing for full-time positions.
School officials hope to increase the number of full-time bus drivers to 255 and have the remaining drivers work part time.
"That is what we would like to have but that could fluctuate a little bit as we dive into the data," Loflin said.
Still, he said that the district will always need part-time bus drivers.
The district considers full-time employment for bus drivers as 6.25 hours daily for five days a week. Full-time status would give the drivers benefits. The starting salary for a WS/FCS bus driver is $13.64.
In October, there were 181 bus drivers working full time, 94 part time and 37 as substitutes.
Bus accidents rose significantly during the 2018-19 school years to 74, compared with 61 in the 2017-2018 school year. So far for the 2019-2020 school year, there have been 10 accidents involving buses.
The average student ridership was down 4.4 percent, or 26,009 riders, in October 2019, compared with 27,208 riders in October 2018. Although the average bus ridership rose slightly in October 2018 from October 2017, average bus ridership has been flat or declining since 2014.
Loflin said that the district is trying to figure out why students are not riding the buses.
"Is it because of the lack of drivers?" he said. "Is it because of the lack of drivers we're not able to get to schools on time or we're not getting to the stops on time? Are parents getting frustrated with that and deciding to take their own child to school or is it today's jobs and the environment of our jobs that people have more flexibility to have the time to take their kids to school?"
Loflin said there have been complaints from some schools and parents about late buses.
"When you've got the shortage we have, we're going to have late businesses," he said. "We do have some schools that have a legitimate complaint."
The number of bus routes is also down. This year, the school system has 1,831 routes compared with 1,866 the previous school year. There were 1,913 routes in 2017-2018.
Loflin said that current part-time employees are being polled about their interest in working full time.
"So far, we have had 52 respondents internally that are interested," he said.
Routing and challenges
Angela P. Hairston, WS/FCS superintendent, said that the district's bus shortage is something that every district across the country is experiencing.
"That's really due to the increase in trucking because a lot of our bus drivers leave bus driving to go into the trucking industry and delivery industry," Hairston said.
She said that prior to her arrival as superintendent, Kenneth Simington, retired interim WS/FCS superintendent, had a consultant work with the district on transportation to come up with some ideas and strategies, which included moving to additional full-time status for bus drivers.
She said that nobody wants to look into changing school starting times, but they do drive a lot of the district's challenges when it comes to increased traffic in different areas.
"So we have to use some of the other strategies," Hairston said.
Over the next three to four months, the district will work on routing drivers full time, but a lot of factors go into the routing process.
The district tries to route drivers full time, Loflin said, but because it doesn't always have enough drivers to do so it then takes a look at the part-time drivers.
"You have some people that can only drive in the mornings because they have a job in the afternoon," Loflin said. "You have some people who can only drive in the afternoon due to jobs in the morning."
He also said that some drivers might be able to drive two days one week then three days the next.
Loflin said that the district is faced with a number of challenges when it comes to filling open positions for bus drivers.
"Unemployment is down," Loflin said. "I think the job market is really good."
Then there's the fact that some people prefer working a straight 8-hour job rather than a split shift as many drivers do for the school system.
"Even as a full-time driver, a lot of drivers are getting off at 9 or 9:30 in the morning and not coming back to work until 1 o'clock," he said. "That can pose some potential problems for some people. Some people just want a full 8-hour workday, and we can't accommodate that for everyone."
Loflin said some drivers work close to 8 hours a day, but those are the ones who do mid-day runs, including those for the district's Career Center and the Exceptional Children's division.
"We don't have enough of that to have everybody full time," he said.
Loflin spoke of how manufacturing industrial jobs have been on the decline for years, saying that a lot of people who used to work second and third shift in that job sector, as well as retirees, would often drive a bus during the day.
"A lot of the jobs these days are pretty much just daytime during the time that we need folks," he said.
In addition, part-time drivers don't get benefits.
"I'm sure it does not appeal to a lot of folks that are looking for jobs with benefits," Loflin said. "That's really another reason we're looking at more full-time jobs."
Things to consider
The cost for people to go through the school system's bus driver classes if they are not employed by the district is on average $300.
"A lot of people that are looking for jobs simply can't afford that," Loflin said.
Along with three days of classroom training, bus drivers are required to have their minimum Class B Commercial Driver's License as well as S and P (school bus and passenger) endorsements.
Candidates must also meet DOT physical/medical requirements to hold a CDL. They also have to pass the school district's background check and a drug test.
"They have to have their behind the wheel training with DMV before they can ever become full time or even a driver period for our students," Loflin said.
Currently bus drivers are required to renew and pay for their own medical DOT and CDL's.
To speed up the process, the district is researching ways to help applicants with some of the costs.
The district is also considering bringing in a medical provider that would provide a mobile clinic in a district staging lot to do drug tests and the DOT medical requirements.
Loflin said the mobile unit could help lessen the inconvenience for new hires as well as current bus drivers.