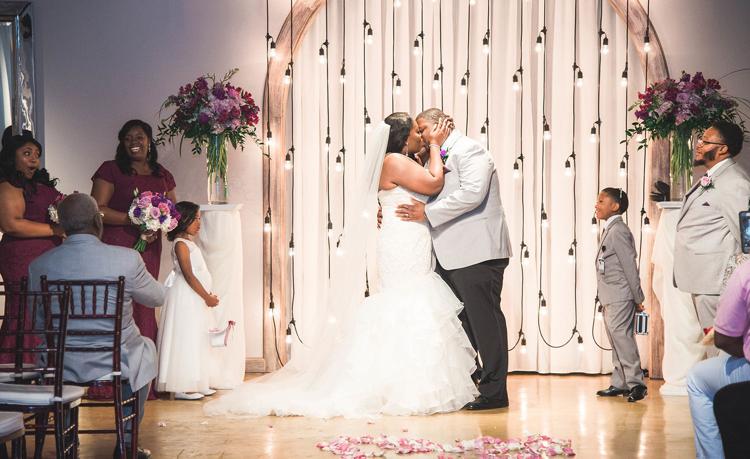 Tiffany and Josh's love story began when they were both teachers at an elementary school. It was her first year teaching there, and Josh's last before he moved on to another school. Both say they have no doubt it was God's will that brought them together.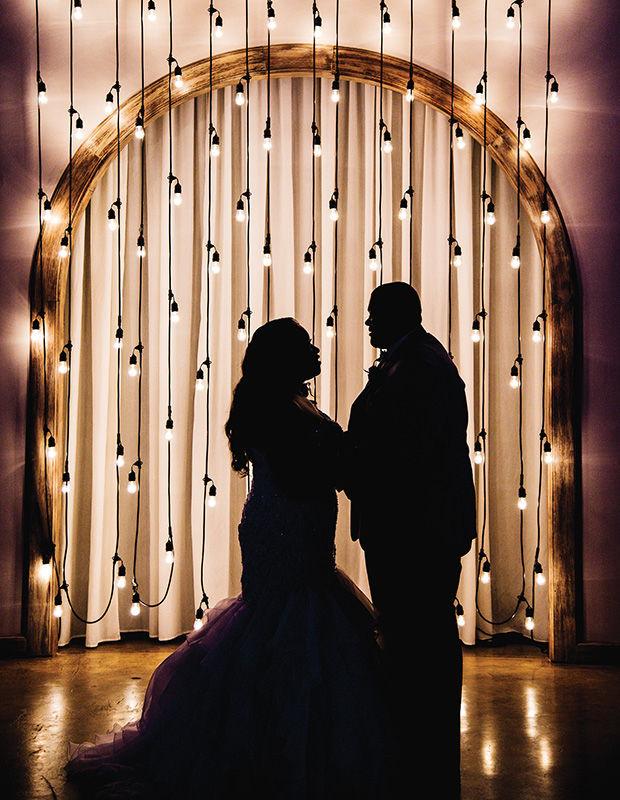 Lunchtime conversations and teacher workdays together led them to realize they were interested in each other. At first it was a little awkward, and neither really wanted a work romance. After many prayers, Josh decided to ask Tiffany out for her 27th birthday. They went to a local restaurant and didn't want the night to end. After that first date, both say they knew they were destined to be together.
Naturally, a love story like this has a romantic proposal. After asking Tiffany's mom for her daughter's hand in marriage, Josh decided to pop the question on their upcoming trip to Orlando. In a very unique fashion, his proposal began with a scavenger hunt he mapped out himself.
Tiffany's first hint was that it would all lead to a "sweet treat," so when she found the chocolate-covered strawberries in the fridge she thought she was finished. Little did she know it would lead to a life-changing "treat." The last clue was "Roses are red, violets are blue; you watch TV while it watches you." Then Tiffany found the ring box underneath the TV.
The couple planned were married at Villa de l'Amour in High Point. They both made the day extraordinary for each other with meaningful gifts. Tiffany says, "While I was getting dressed, every 10 minutes I received a gift leading up to our wedding. Each gift was thoughtful and demonstrated how much Joshua truly loves me." He even left her a sweet love note on the bottom of her shoes. Tiffany bought Josh an acoustic guitar. "As soon as I opened it, a few of my groomsmen began singing, and we were able to sing and play to my wife before I took off her garter. Her reaction was perfect," Josh says.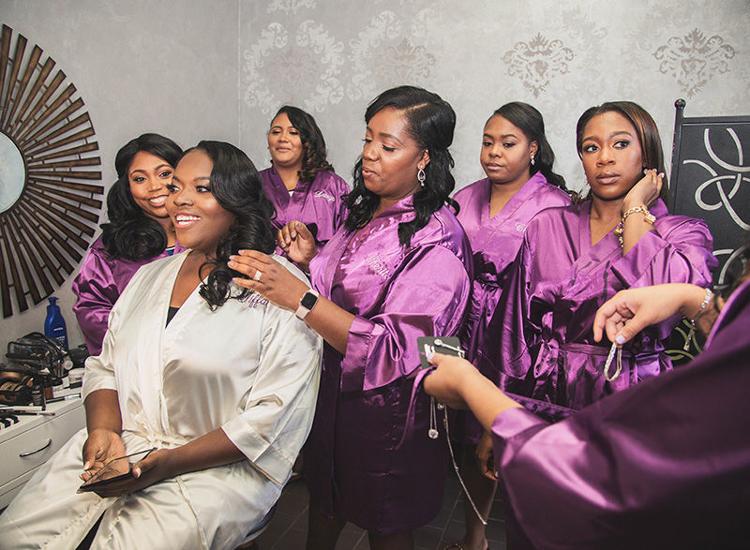 First looks are becoming increasingly popular at weddings, but Tiffany and Josh did something a little different for theirs — a "first touch." They held each other's hands, talked and said a prayer together without being able to see each other. It is what both remember most looking back on that day. "What I loved the most about our wedding day was being able to pray with Joshua before saying I do. When I felt his hand, I felt such a peace and I was ready to walk down to aisle to marry the man of my dreams," she says. "My most memorable moment from the wedding day was having the opportunity to do a first touch with Tiffany before we got married," Josh says. "Being able to talk with her and pray before the wedding day was a very special moment."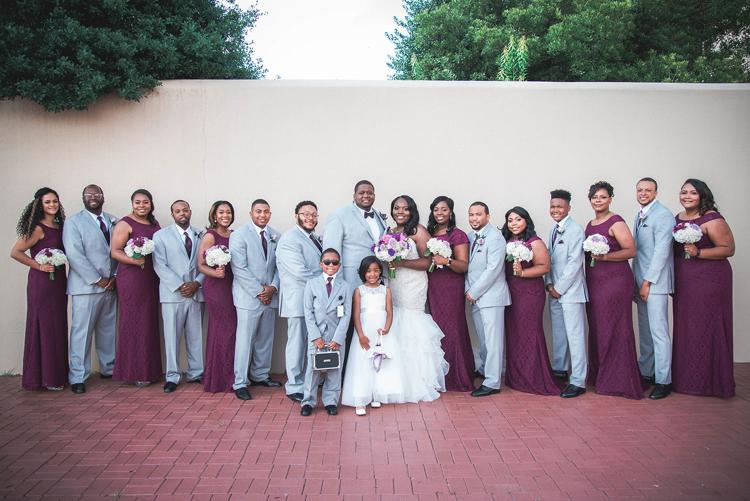 THE COUPLE: Tiffany Cohen, fifth-grade teacher, and Josh Hinton, sixth-grade teacher
NUMBER OF GUESTS: 185
VENUE: Villa de l'Amour, High Point
COLORS: Purple and gray
THEME: Romantic
FAVORS: Candy table
FIRST DANCE SONG: "So Beautiful" by Musiq Soulchild
SPECIAL TOUCH: A candy table for guests; a saxophonist played "I Believe In You and Me" by Whitney Houston as Tiffany walked down the aisle; and a photo booth.
ADVICE FOR BRIDES: "You can have the wedding you desire on a budget. Do your best to not compare your wedding to other weddings. It is your day, and no one can mimic that."
---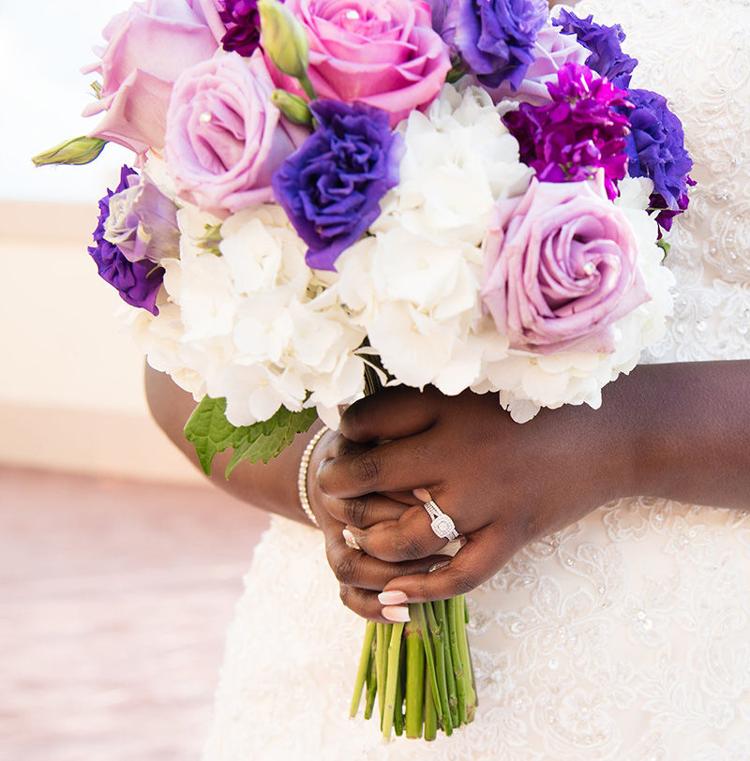 VENDORS
WEDDING DIRECTORS: Tonya Felton and Tonya Daniels
FLOWERS: Sedgefield Florist
PHOTOGRAPHY: Sarah Sekaly Photography
VIDEOGRAPHY: Chaz Reid Films
CATERING: Above and Beyond Catering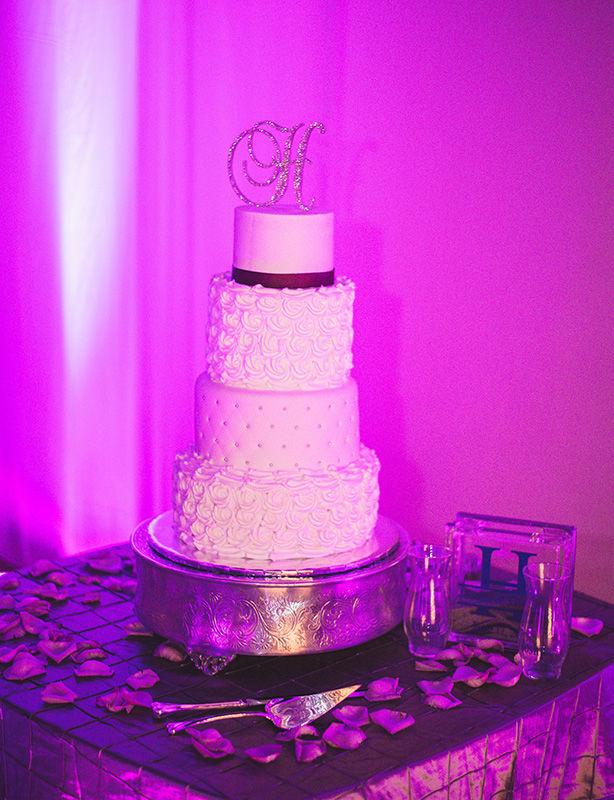 CAKE: Easy Peasy Decadent Desserts (lemon, strawberry balsamic, red velvet)
DRESS: Lasting Impressions
BRIDESMAIDS' DRESSES: Etsy
TUXEDOES: Men's Warehouse
MUSIC: DJ FTM
HAIR & MAKEUP: Kay Davenport, Amber Lynne Artistry Hair (Shalonda Lorraine)
PRINTING: Catprint and Staples
STATIONERY: Etsy
ALTERATIONS: Lasting Impressions
PHOTO BOOTH: Forever Young Photo Booth