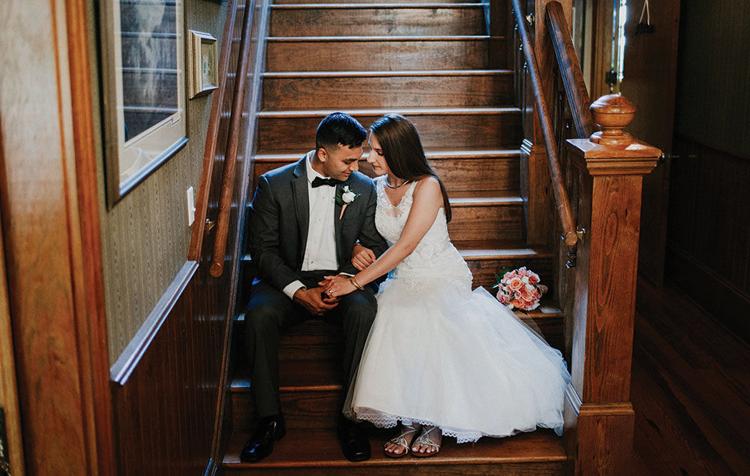 Having met on Tinder, Mandonna and Faisal went on four dates before Faisal, who is on active duty in the Air Force, had to fly to Germany. They knew they had something special and decided to proceed with a long-distance relationship. Mandonna flew out to see him four months later and continued visiting him in Europe every few months after that.
About a year after they met, Faisal flew to North Carolina to meet Mandonna's parents and asked them for her hand in marriage. Before popping the question, he had gone ring shopping but was worried Mandonna might not like a ring he had chosen, so they ended up looking at rings together. It turned out that he knew his bride-to-be very well — the first ring she tried on was the one he had previously picked out.
Unlike many couples, Faisal and Mandonna were able to relive the magic multiple times, with three separate weddings. The first took place in a German courthouse to bring them together legally as husband and wife. Mandonna says, "It took place on the same day that my parents got married, which wasn't even planned but made it super-special." Both of their parents joined them virtually with FaceTime, and Faisal's co-workers attended the ceremony.
A second ceremony was hosted to honor their Iranian (Mandonna) and Pakistani (Faisal) heritage. In this beautiful cultural ceremony, they sat side by side in front of a spread known as a sofreh aghd. "Each item in the spread is represented as an element of the couple's new life and marriage together. The items have various meanings, but follow the pathways of love, sweetness and fertility," Mandonna explained. Because it's a religious ceremony, they had both a Quran and Bible on the spread because Mandonna comes from a family of both faiths.
Many symbolic gestures to "bring sweetness into the marriage" were part of the ceremony. For instance, several female family members grind sugar above the couple's heads while they are sitting at the sofreh aghd.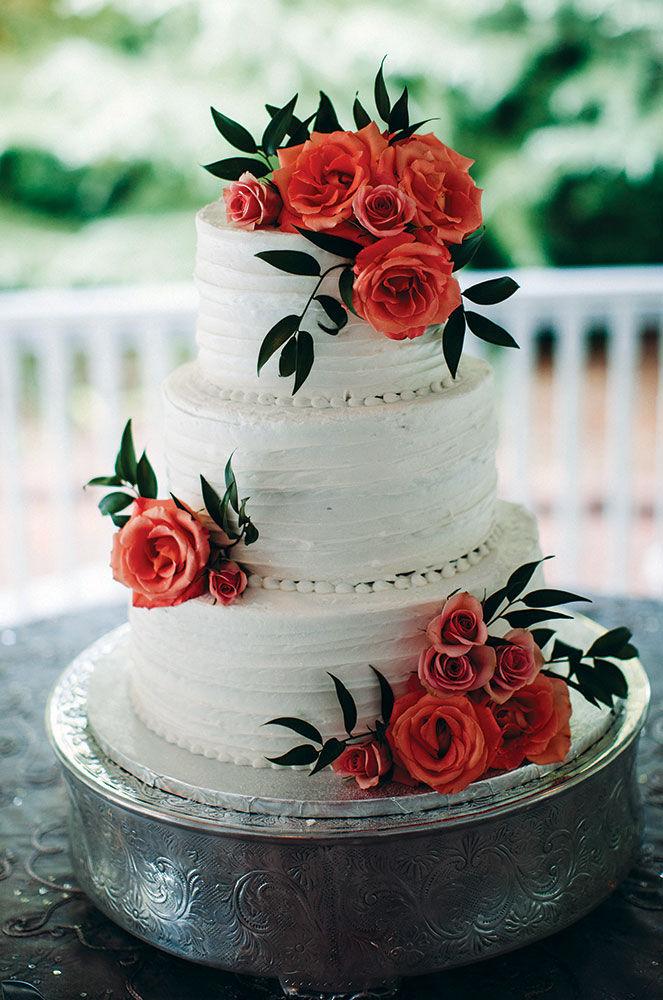 To honor and include Faisal's culture, Mandonna wore a red traditional Pakistani dress. The main focus of this ceremony was "to make this our own and serve as a way to bring our cultures and families together."
Last but not least, they hosted a more traditional wedding ceremony in Summerfield at Gray Gables. "Even though we were already married, we wanted to share the experience of a wedding ceremony with everyone so they could all be a part of it."
Everyone enjoyed a beautiful three-tiered cake by Easy Peasy, which had a first layer with chocolate ganache, a second layer with vanilla ganache, and a third layer with fresh strawberries and chocolate ganache.
Faisal says his most memorable moment from this ceremony was their "first reveal."
"I remember this the most because her dress was the one thing that she kept hidden from me for such a lengthy period of time." Mandonna remembers, "Looking at Faisal throughout the event and feeling relaxed, happy and so thankful that this man is my husband and that we are on an incredible journey together."
---
THE COUPLE: Mandonna Amirehsani, volunteers for many organizations on base including United Services Organizations (USO) and the American Red Cross, and Faisal Farooq, active duty in the Air Force
NUMBER OF GUESTS: 65
VENUE: The Gardens at Gray Gables in Summerfield
COLORS: Various shades of coral
FIRST DANCE: "Can't Help Falling in Love" by Hailey Reinhart
SPECIAL TOUCH: The couple had three wedding ceremonies – a legal one in Germany, a religious ceremony with a sofreh aghd to celebrate their Iranian and Pakistani backgrounds and beliefs, and a more traditional wedding ceremony and reception.
ADVICE FOR BRIDES: "My advice would be to understand that the effort should be put into the marriage and not all into the wedding. The whole point of having a wedding is to share this special moment with your loved ones, but if all you care about is perfection and décor, then that may reflect on your marriage."
VENDORS
Flowers: OAK RIDGE FLORIST
Photography: URBAN BLOOM PHOTOGRAPHY
Catering: EXCLAMATIONS CATERING
Cake: EASY PEASY (THREE-TIERED CAKE)
Dress: DAVID'S BRIDAL
Tuxedos: MEN'S WEARHOUSE
Music: COMPLETE WEDDINGS & EVENTS
Hair: LOCAL HONEY SALON WITH HAIRSTYLIST CAT BROCKWAY
Invitations: MINTED
Wedding Program Fan: LOLLIEJDESIGN ON ETSY