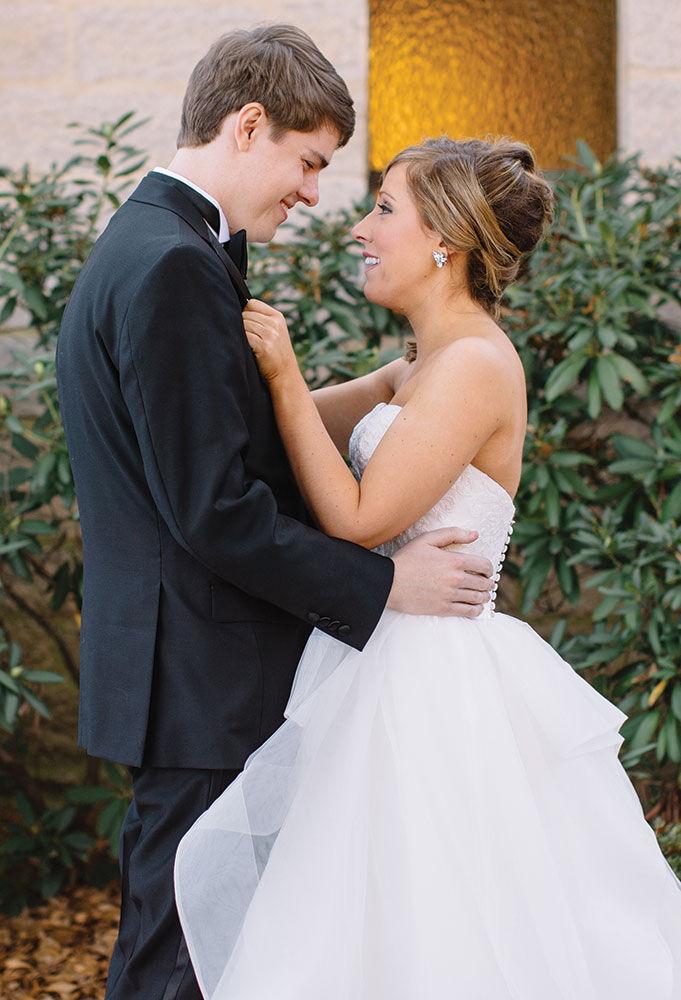 Sarah and Lee became instant friends in the fall of 2007 at N.C. State, where they both attended college. Throughout their time there they grew their friendship, but when they rang in 2011 together celebrating New Year's Eve they began to realize they wanted to begin dating. Sarah says, "It's the best decision we ever made!"
A couple years down the road, Sarah thought their October beach trip to Fripp Island, S.C., was just a fun getaway together, but Lee had a romantic, life-changing weekend planned. One morning they went for a relaxing walk on the beach. Upon finding a perfect sand dollar, Sarah thought Lee was bending down to pick it up. Instead he got down on one knee, took out the ring and asked her to be his wife.
But that wasn't the end of the surprises Lee had in store. Next he took Sarah for a carriage ride in Beaufort, S.C., where they checked into a downtown B&B, the Rehett House, and ended the day with a celebratory waterfront dinner. Reluctantly heading home, Sarah was in for one last surprise. Lee had contacted their families, who surprised her at their apartment when they returned and celebrated their engagement. Sarah was thrilled. "It was the perfect way to end such a perfect weekend," she says.
Using their wedding planning as a way to become even closer, Sarah and Lee took ballroom dancing lessons to prepare for their first dance. "It gave us a fun date night to look forward to and get away from the routine of wedding planning," says Sarah. She strongly recommends other engaged couples to "find something that you and your fiancé can do together throughout the process." 
Both knew they wanted to keep traditions for their wedding and keep things elegant, but at the same time, they wanted to add their own spin to make the night uniquely theirs.
Joining the couple at Moretz Mills, 175 guests enjoyed a fun assortment of catering perks. One of the biggest hits for dinner was a pasta bar provided by Liazzo's Catering. Guests could customize their meals from a choice of noodles, sauces and toppings.
In addition to their three-tiered cake, they also offered cake shots. Sarah had seen them created by Icing on the Edge at a bridal show in Charlotte and loved the idea. It proved to be a great way for people to be able to enjoy them while walking around rather than having to sit down to eat cake as with most wedding receptions.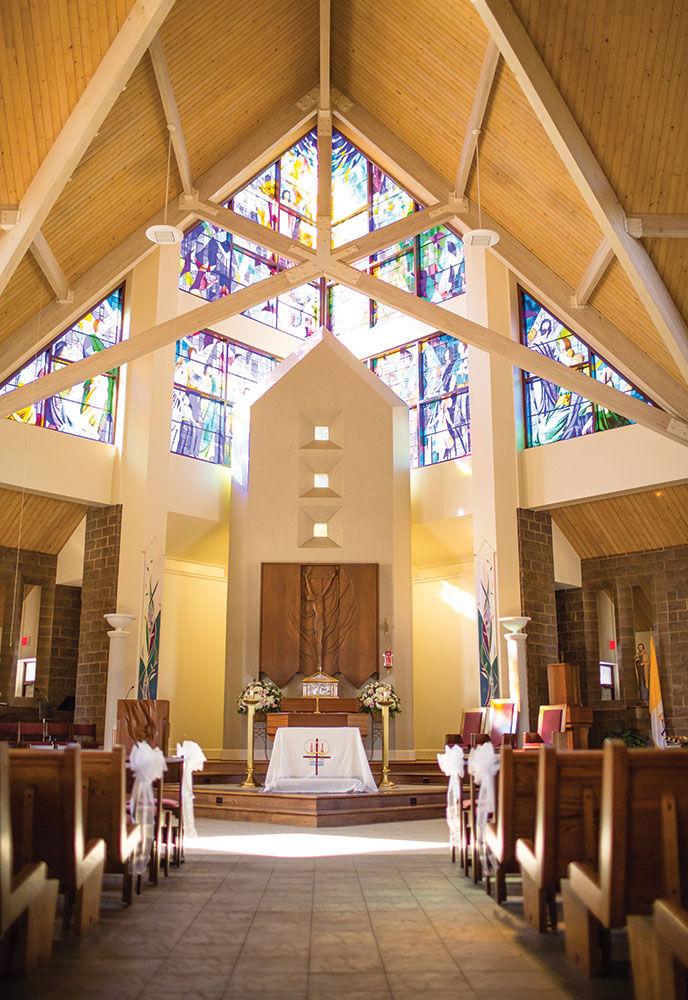 Contrasting the traditional ring bearers, Sarah came up with a unique and fun idea for her nephews, ages 2 and 5, to walk down the aisle. The boys walked in front of her carrying a sign that said "Here Comes the Love of Your Life." "The look on Lee's face combined with the pictures we got of my two nephews were priceless," says Sarah, adding that it was one of her favorite parts of the day.
Looking back, Sarah and Lee say the most memorable part of the day was their "first look." Lee says, "Seeing my soon-to-be-wife for the first time in her wedding dress and spending a few moments together in a courtyard outside the church will always stick out. We were both able to calm our nerves before saying 'I do' in front of all our friends and family."
---
THE COUPLE: Sarah Giovannini, seller, and Lee Mann, investment professional
NUMBER OF GUESTS: 175
VENUE: 74 South Event Center at Moretz Mills in Hickory
COLORS: "All of our colors were more like accent colors – I didn't want any one color to become too dominant," she says. "Pops of gold, blush and black, all grounded back to white."
THEME: A new spin on elegant and classy
FAVORS: Koozies
FIRST DANCE SONG: "Loving You Easy" by Zac Brown Band
SPECIAL TOUCH: Liazzo's Catering didn't just provide the amazing reception food but also offered late-night bites. Long after dinner, when everyone was on the dance floor, the caterer brought in snacks that were simple but delicious, including mini-pizza bites and french fry cups with ketchup.
ADVICE FOR BRIDES: "Don't sweat the small stuff!  Everyone along the way will tell you this, but I didn't really believe them (or listen to them in some cases).  But at the end of the day, the most important thing is that you are getting to celebrate spending the rest of your life with the love of your life – don't get wrapped up in the little things that may distract you from that."
VENDORS
Wedding Director: TARA B'S EVENTFUL PLANNING
Flowers: TARA B'S EVENTFUL PLANNING
Photography: REVIVAL PHOTOGRAPHY
Catering: LIAZZO'S CATERING
Cake: "WE DID A THREE-TIERED CAKE AS WELL AS CAKE SHOTS – OUR CAKE DESIGNER WAS ICING ON THE EDGE."
Dress Designer: LIS SIMON 
Bridal Shop: LADIES OF LINEAGE