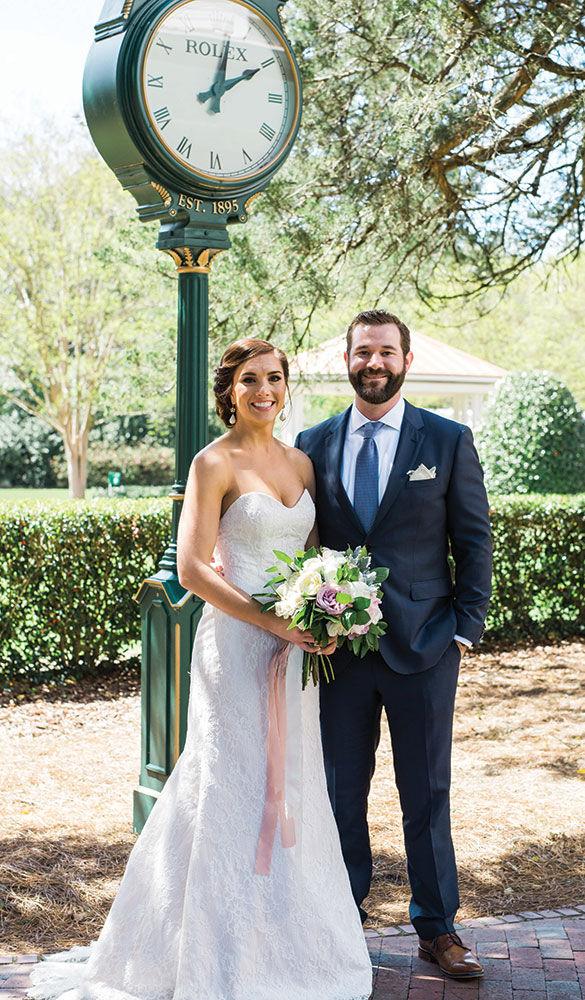 While Tinder often gets a bad name in the dating world, it's this very app that brought Jennifer and Andrew back together after many years apart. Both grew up in Raleigh and even went to middle school together, and they had similar groups of friends in high school, but eventually went their separate ways.
In June 2015, they happened to find each other on Tinder and decided to meet for drinks at William and Co., which is now their favorite date night location. That record six-hour first date soon led to a Rolling Stones concert, then a few months later celebrating Andrew's 30th birthday in Chicago, where they fell in love.
Andrew had planned on popping the question in August 2016 to Jennifer at the park on the way to their favorite date spot. However, Jennifer's phone chat with her sister ran long, and Andrew realized it was much too late —and too dark — to propose in the park. He then hoped to do so at the restaurant instead. However, the restaurant was busier than usual, and he knew Jennifer wouldn't like a huge public proposal, so he ended up keeping the ring in his pocket the whole night. By the end of the week, with the ring still "burning a hole in his pocket," he decided there was no time like the present. That Friday afternoon, Andrew asked Jennifer to sit on the couch and surprised her with two glasses of champagne. He then bent down on one knee and asked her to spend the rest of her life with him. Their proposal story just goes to show that sometimes the best plans are unplanned.
Both originally wanted a destination wedding, but yet again, destiny proved to Andrew and Jennifer that plans aren't always meant to be what we think. They realized that Jennifer's grandfather, nieces and nephews, all of whom they wanted to attend, most likely wouldn't be able to make it. Because Andrew loves golf and Jennifer's grandfather lived in Pinehurst, the charming town ended up being the ideal location for their special day. The couple had a beautiful Southern-style wedding at The Arboretum at Pinehurst, and neither would have wanted it any other way, they say.
Their 152 guests enjoyed a fun reception with lots of dancing. Andrew fondly remembers his first dance with Jennifer. "I remember the band played a rendition of the song 'Stand by Me,' and all of our guests gathered around us as we danced. It was awesome to see everyone we loved dancing and singing with us and having so much fun."
The party favors were sweet, literally – little jars of honey with customized tags. Amazing food was provided by Rocky Top Catering, including fun buffets like the taco bar and a variety of "shake it up" salads in mason jars.
This reception also offered a unique bar experience provided by Camp Cocktail. "Camp Cocktail is an old-school camper that owner Samantha Harriss renovated and uses at social functions as a bar," Jennifer says. "It is a brilliant idea and such a cute addition to a wedding reception." And as their wedding napkins stated, "Every great love story begins with a cocktail … at least ours did."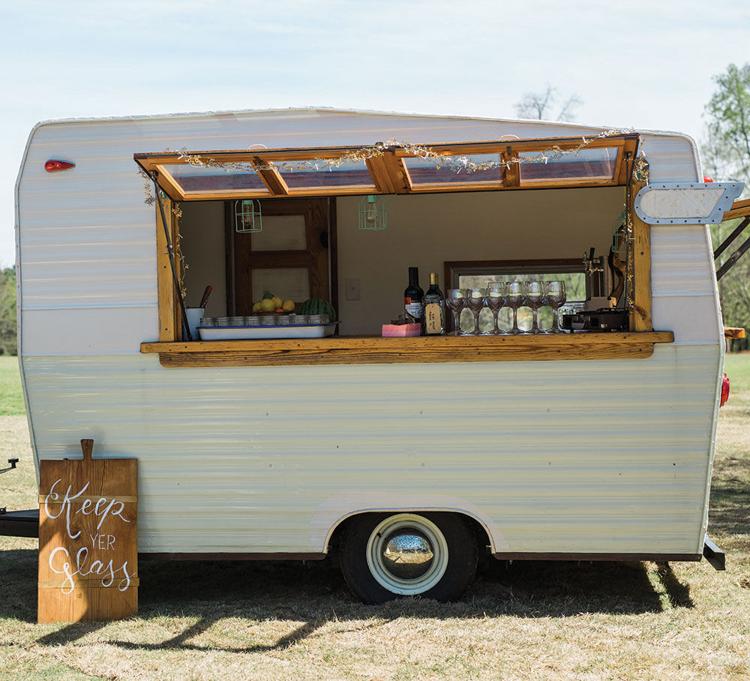 Wedding guests sent the couple off at the end of the epic night under a line of streamers.
Looking back, Jennifer says, "I think what I remember most is how nervous yet excited I was to see Andrew at our first look. Once I saw him, I knew the rest of the day would be absolutely amazing."
---
THE COUPLE: Jennifer Butler, pharmaceutical development, and Andrew Ervin, real estate agent
NUMBER OF GUESTS: 152
VENUE: The Arboretum at Pinehurst
COLORS: Navy and blush with gold accents
THEME: Garden chic
FAVORS: Honey jars
FIRST DANCE SONG: "Crazy Love" by Van Morrison
SPECIAL TOUCH: A horse-drawn carriage drove Jennifer, her mom, sister (maid of honor) and nephew (ring bearer) to the site where she and Andrew saw each other for the first time that day. She says, "It was an awesome experience riding through old town Pinehurst and everyone clapping and cheering for us."
ADVICE FOR BRIDES: "Relax and enjoy every minute of the actual wedding day. You have prepped for months for this day and executed every little detail of the ceremony and reception, so why not enjoy it all stress-free? Something may or may not happen on that day, but if it does, just roll with it! Your guests will never know, and will think your entire day turned out perfectly regardless."
VENDORS
Wedding Director: JENN DITURO FROM VISION EVENTS
Flowers: ONE SWEET DAY IN MAY (MICHELLE SCHMIDT)
Photography: LIBBY MCGOWAN PHOTOGRAPHY
Videography: SK FILMS (SAM KEEL)
Catering: ROCKY TOP CATERING
Cake: TIERED TRES LECHES CAKE WITH ALMOND CREAM FILLING BY SWEET FI'S CAKES
Dress: ASTRID AND MERCEDES BY LEA-ANN BELTER BOUGHT AT TRADITIONS BY ANNA
Bridesmaids Dresses: MOH: J. CREW
Tuxedos: SUITS BY HUGO BOSS
Music: E.G. PETERS BAND 
Hair & Makeup: RETRO SALON IN SOUTHERN PINES
Transportation: KIRK TOURS
Printing: THE BRIDE DID THE MAJORITY OF THE PRINTING, INCLUDING REHEARSAL DINNER INVITES AND PROGRAMS, ONLINE THROUGH ETSY.
Alterations: EXCLUSIVE ALTERATIONS BY SHALA
Bar: CAMP COCKTAIL
Rentals: PARTY REFLECTIONS