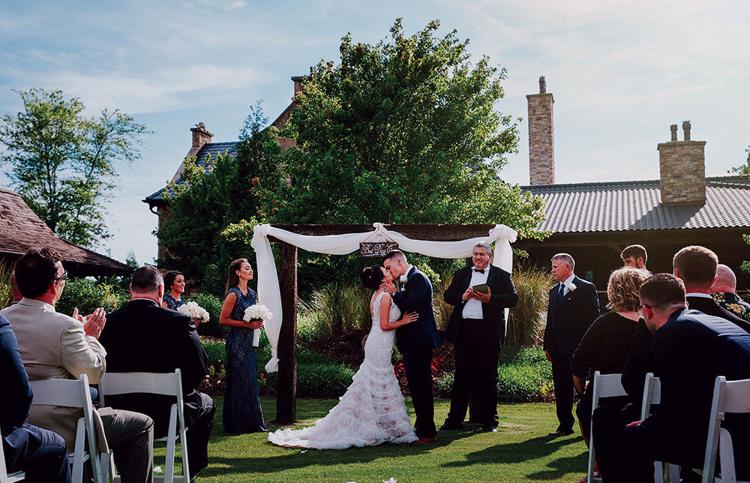 Luke and Lexi's story goes to show that time apart really does make the heart grow fonder. After six months of Luke being in San Antonio for Air Force training and classes, the couple had planned to have a photo shoot together. During their time apart, they only saw each other twice, and for two of those months they could only communicate by handwritten letters, which they lovingly displayed at their wedding reception. Luke decided that the photo shoot would make for the perfect proposal moment.
While taking photos at the top of picturesque Pilot Mountain, Luke dropped down on one knee and popped the question. His uniform, her gorgeous red dress and a beautiful backdrop led to a stunning engagement photo.
The couple met in their hometown gym. Lexi found out through a friend she was working out with that Luke was the brother of another friend. After repeated visits, eye contact and a clear connection — but no words exchanged — Lexi decided to "take matters into my own hands" and sent Luke a Facebook friend request. He quickly accepted and sent her a message. Next they set a date to work out together, and according to the couple, "The rest was history."
Lexi, who was a financially savvy bride, recommends to future brides that there are many clever ways to save on wedding expenses. One such way she saved was on flowers. Instead of going to a florist where a bouquet would have cost $150, she bought flowers from Lowes Foods, where her bridal bouquet was only $50.
Printing can be another big expense. Lexi saved money by buying invitation box sets of 30 each from Michael's that included invitation cards, ribbon to wrap around the invitations, RSVP cards with envelopes, address labels, a card to put directions on and an embroidered envelope for everything to go inside. "All of that for 30 invitations at only about $20. This is a deal that other brides could really benefit from," she says. "The box included a website where I could find a template to say whatever I wanted, then all I had to do was stick the invite, RSVP and address label in the printer and out popped a beautiful invitation."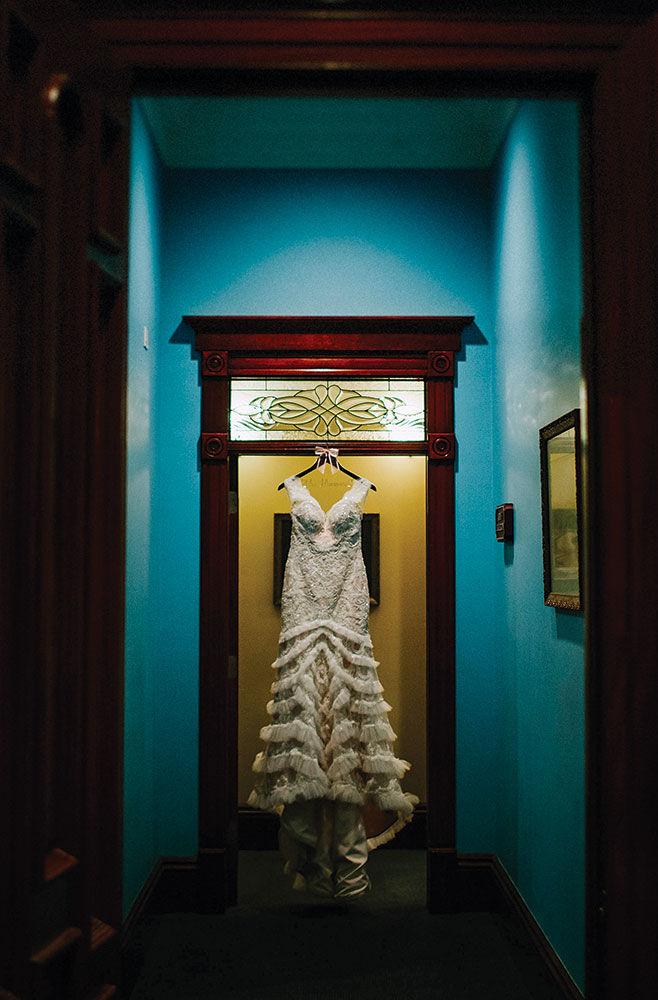 As with many other couples today, they decided to have a "first look" before the ceremony. This increasingly popular trend allows brides and grooms to have a more intimate moment on their big day before they say "I do." Both Luke and Lexi say this was their most memorable moment of the day. Lexi remembers, "The look on his face is something I will never forget. When he saw me, he instantly started to cry, and which made me cry. We just stared at each other with tears rolling down our faces; it was if time had stopped." Luke says, "She walked up and tapped me on the shoulder, and when I turned around I was amazed. She was so beautiful that it brought me to tears, and I will never forget that moment."
They also have a very special keepsake from their wedding day. At the reception they had a photo booth with a scrapbook beside it so that guests who took pictures could put copies into the book with personal notes and signatures. "It's something we have that we can always go back and look at."
---
THE COUPLE: Lexi Mandragona, full-time student at UNC-Greensboro, and Luke Macemore, active duty in the Air Force
NUMBER OF GUESTS: 75
VENUE: Thistle Golf Club
COLORS: Navy and gold
THEME: Classy and elegant
FAVORS: A candy table
FIRST DANCE SONG: "Die a Happy Man" by Thomas Rhett
SPECIAL TOUCH: A photo booth where guests could print copies of their pictures and place them in a nearby scrapbook, along with notes and signatures
ADVICE FOR BRIDES: "Try and not fret the small things; the big things, yes, but don't worry yourself to death over it!"
VENDORS
Flowers: LOWES FOODS
Photography: URBAN BLOOM PHOTOGRAPHY
Catering: THE VENUE, THISTLE GOLF CLUB, PROVIDED THE FOOD AND CATERING
Cake: A THREE-TIERED CAKE FROM COCCADOTT'S CAKE SHOP. IT WAS A WHITE CAKE WITH SCRIPT WORK ON THE TOP AND BOTTOM TIERS. IT ALSO HAD GOLD ACCENTS AROUND THE BOTTOM OF EACH TIER AND A GOLD "M" ON THE MIDDLE TIER.
Dress: A GALINA SIGNATURE — A BEADED IVORY AND BLUSH LACE WEDDING DRESS WITH A PLUNGING NECKLINE
Bridesmaids' Dresses: A BLUE STEEL, LONG, LACE CAP-SLEEVED DRESS WITH A KEYHOLE BACK
Tuxedos: JOSEPH ABBOUD NAVY SATIN EDGED NOTCH LAPEL, MEN'S WEARHOUSE
Music: PAUL MATTHEWS ENTERTAINMENT
Hair and Makeup: DONE BY THE MAID OF HONOR
Stationery: "BRIDES" INVITATION KIT, MICHAEL'S
Photo Booth: PAUL MATTHEWS ENTERTAINMENT