Malika and Alex first met at a New Year's Eve party in 2012 and went on their first date soon after. The couple tied the knot three years later, celebrating with a lavish and colorful weekend-long affair that honored both Malika's Indian heritage and Alex's American roots.
Malika and Alex didn't pull off the extravagant wedding on their own; they worked with an experienced planner to make sure everything came together. "Having a wedding planner really helped, as she would set the tasks and a timeline we had to complete them," Malika says. "My mom also played a big role in working with the wedding planner to coordinate the event."
The couple trusted photographer Nicole Moering with the task of capturing all the details of their one-of-kind fusion wedding. "When we first talked with Malika about her vision for her wedding we were already blown away!" says Nicole. "She described an Indian fusion day, filled with traditions from her Indian culture, as well as traditions from her husband to-be's American culture."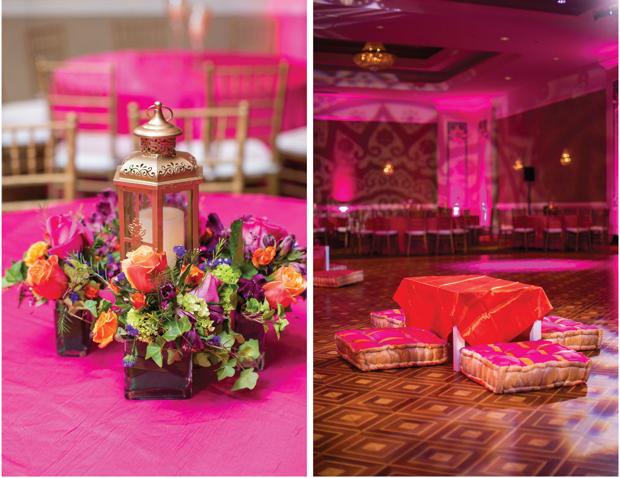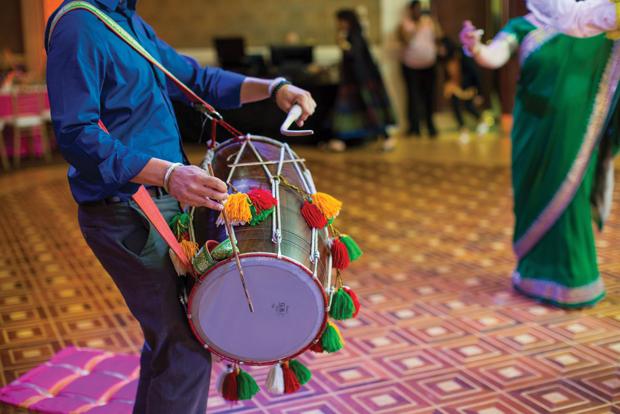 The festivities kicked off with a lively Sangeet party — a traditional Indian pre-wedding ceremony — as guests gathered at Greensboro's Grandover Resort to enjoy food, music and dancing in the elaborately decorated ballroom. The bride, along with her bridesmaids and female relatives, also took part in the mehndi ceremony, during which artists applied intricate henna designs to their
hands and feet. The dark ink would brush off to reveal a beautiful red stain for Sunday's ceremony.
"With the damask up, lighting on the walls, the walls drenched with hues of fuchsia, the bright table arrangements, and pouf seating across the dance floor, it truly felt like we were transported to another place!" Nicole describes.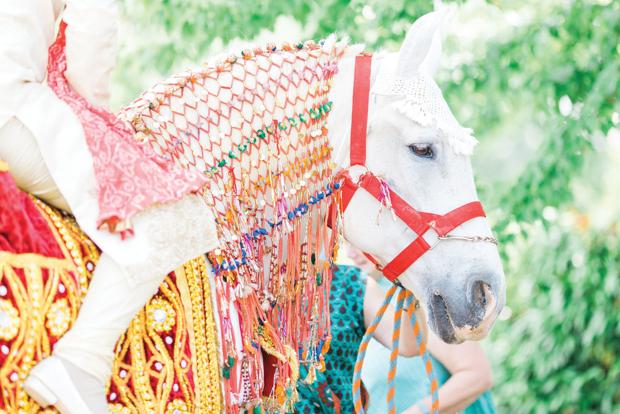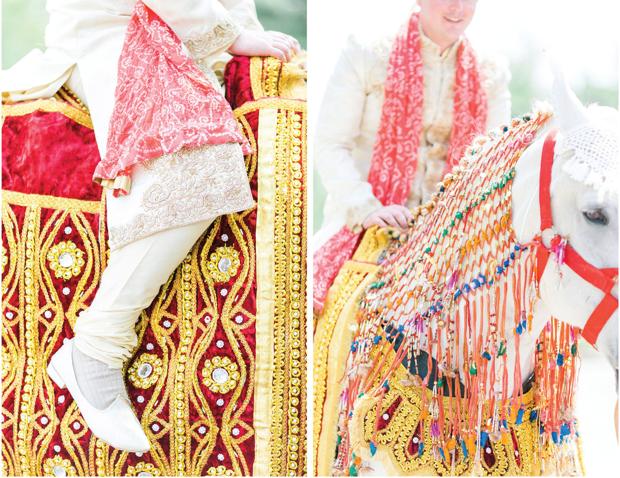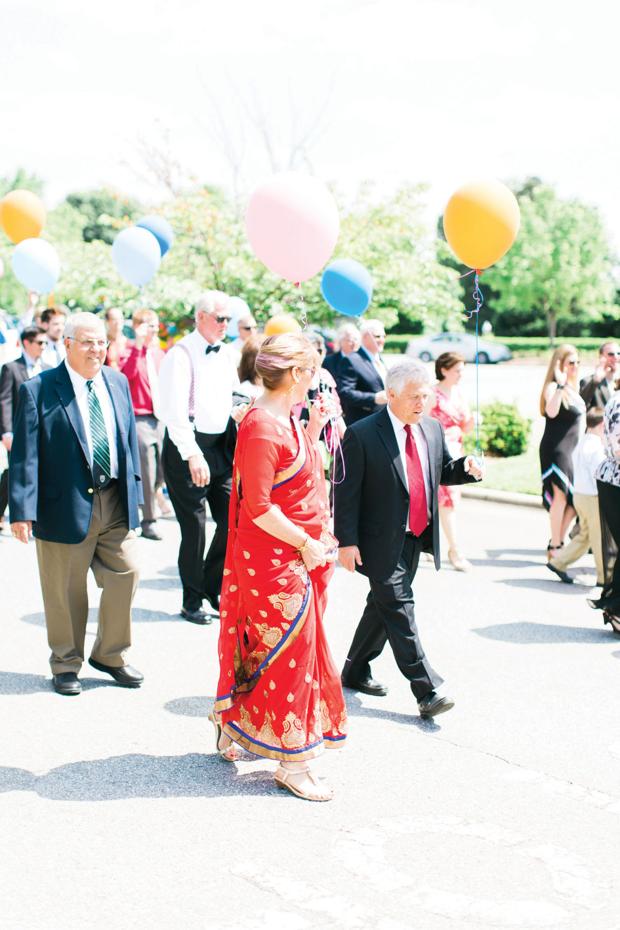 The next morning began with the baraat marriage procession, as guests gathered to escort the bridegroom to the wedding venue. Dressed in traditional Indian attire of a gold-embroidered achkan and turban, Alex made his way down Greensboro's streets with 200 friends and family accompanying him on-foot.
"Alex rode in on a white horse that was decked out in colorful beading with all of the wedding guests surrounding him in celebration," Nicole recounts. "It was so wonderful to capture!"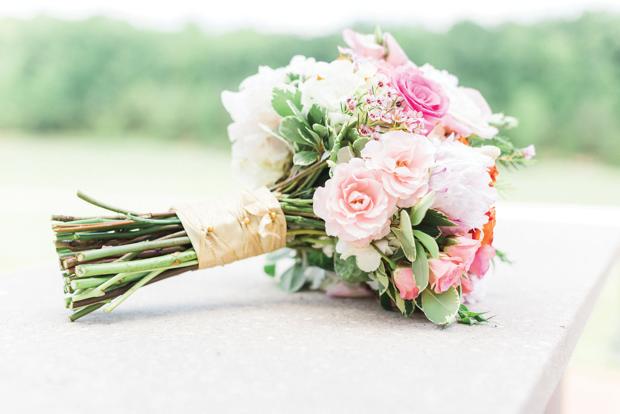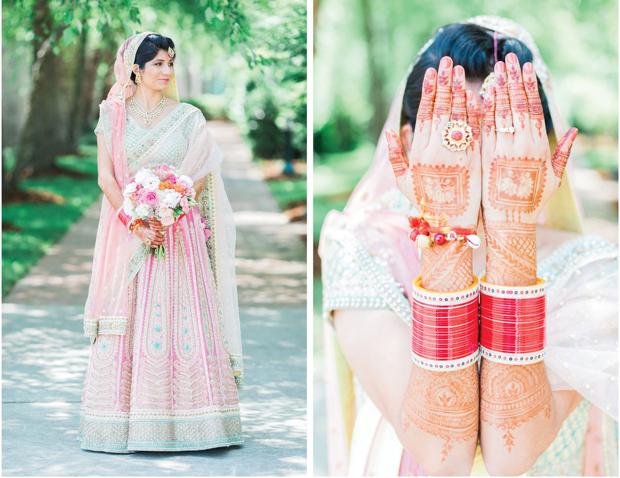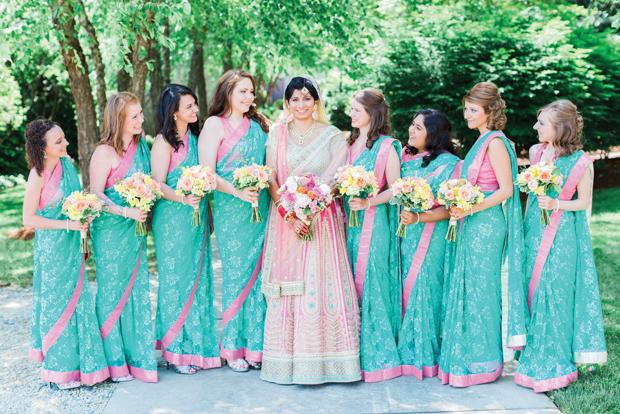 For the traditional Hindu ceremony, Malika wore a lehenga-style saree embellished with rich embroidery and various beads, pearls, and sequins. Malika's aunt designed and created the bridesmaids' teal and pink saris to match the vibrant theme.
"A lot of our inspiration came from Pinterest," Malika says, describing their color scheme. "Indian weddings are usually very colorful and detailed."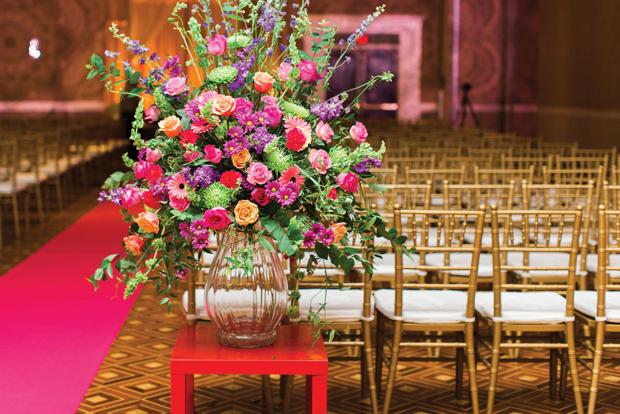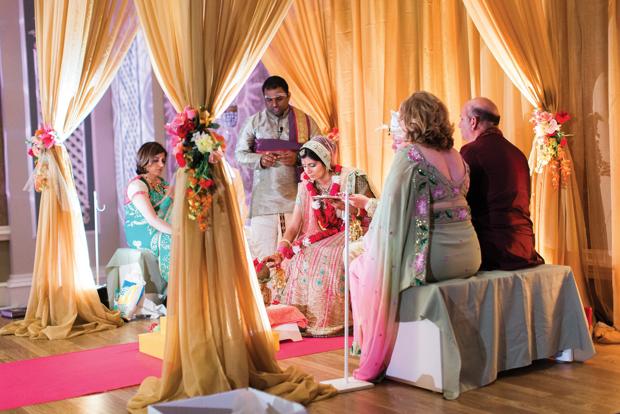 The couple was married under a beautiful wedding mandap draped in gold chiffon and adorned with bright array of flowers.
After walking back down the bright pink aisle as husband and wife, Malika changed into a white wedding gown and Alex switched into a black suit before they rejoined their guests at the reception.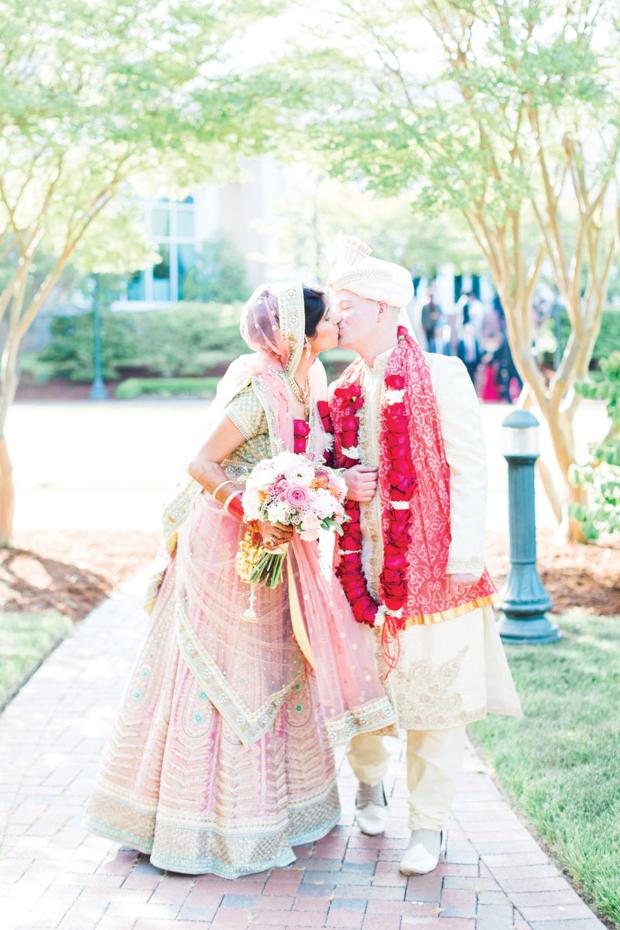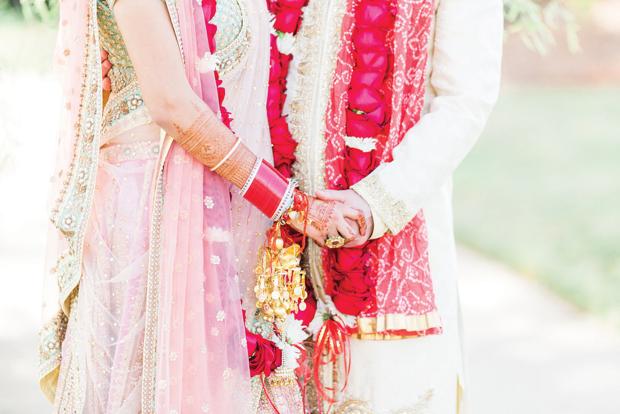 Transformed with extravagant floral centerpieces, gold details and a raised couples' table, the ballroom was the perfect space for an American-style reception. Guests sat down to a formal plated dinner before Malika and Alex cut into their exquisite four-tiered cake with alternating flavors of Oreo and white raspberry. American traditions, including a throwing of the bridal bouquet, the garter removal and a newlyweds' first dance to "Fly Me to the Moon," were highlights of the evening.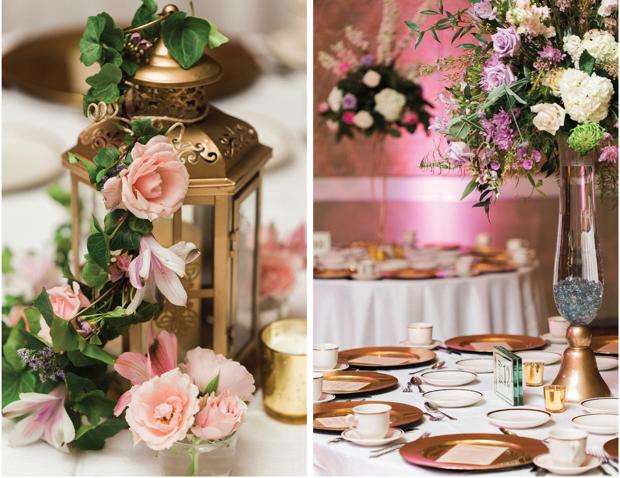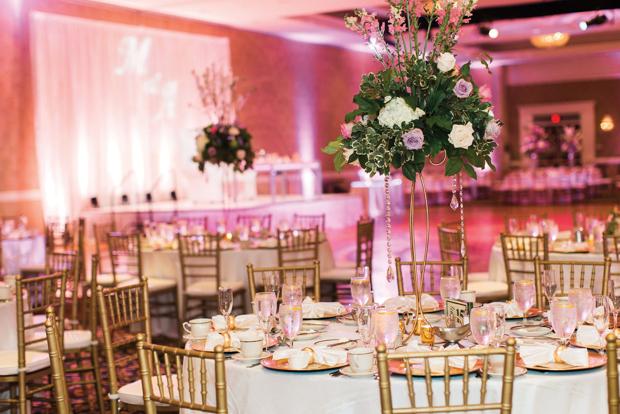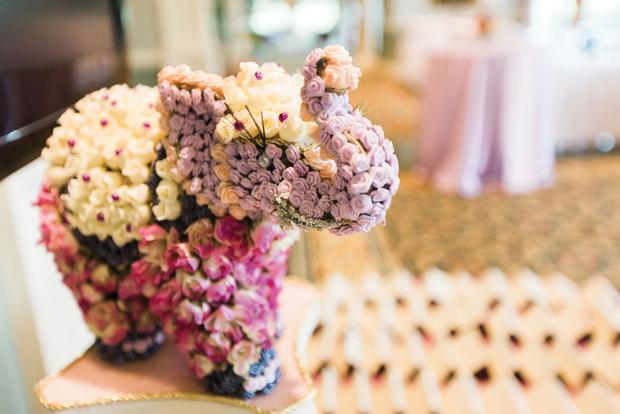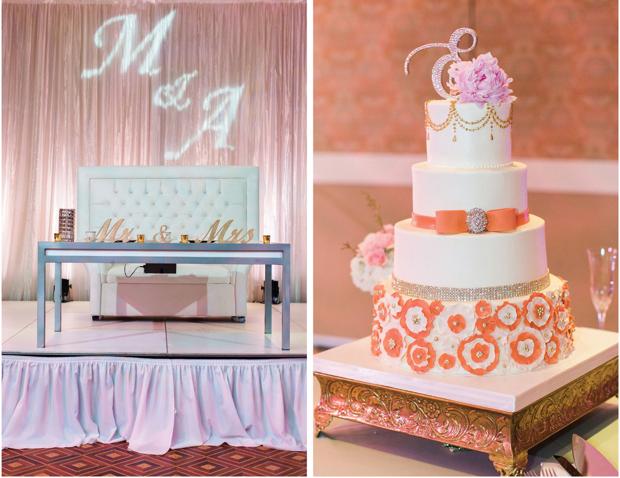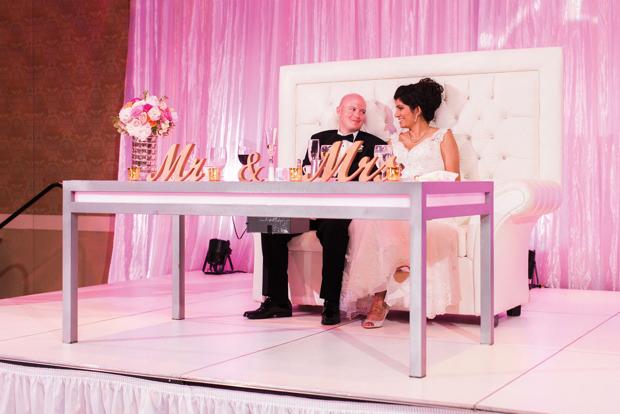 Nicole describes Malika and Alex's fusion celebration as one she is grateful to have experienced first-hand.
"After stepping inside the ballroom we were blown away by what the team of vendors behind this special day had put together…We are just so thankful we got to be a part of it all!"
The Couple: Malika Malhotra & Alex Aubanks
Number of Guests: 200

Venue: Grandover Resort
Colors: Pink, teal and gold
Theme: Indian
First Dance Song: "Fly Me to the Moon" by Frank Sinatra
Favors: Traditional Indian sweets
Special Touch: The couple incorporated American and Indian traditions to honor their respective heritages.
Advice for Brides: "Don't stress too much about everything going perfectly and what everyone else will think. The most important part is marrying someone you love!"
---
Photography: Three Little Birds Photography LLC | Wedding Planner: Veronica Foster, Behind the Scenes | Venue: Grandover Resort | Florals: Designs North Florist |  Hair And Make-Up: Up Do's Studio | Dress: DIVAS | Bridesmaid Dresses: David's Bridal | Catering: Grandover Resort | Cake: Maxi B's | Music: A&A Disc Jockey | Videography: Iron Kite Films | Bridal Henna: Poonam Henna Art | Lighting: Atlas Stageworks Lighting | Horse: White Horse Weddings