Brooks and Sean started off big with the perfect winter engagement. While treating themselves to a weekend getaway in Asheville, the couple's first stop was a tour of the Biltmore Estate fully regaled in its holiday décor.  "I insisted on getting a hot chocolate before moseying out to the lit Christmas tree on the front lawn," Brooks says, "when we finally made it to a quiet, tree-lit spot, Sean proposed!"
The couple decided to organize their wedding without a planner, allowing them to soak in every moment of the planning process with each other. When describing their relaxed and low-key approach, Brooks says it was important to just "ride the waves and enjoy the lulls."
Although the couple exchanged rings in Greensboro where Brooks had grown up, incorporating traditions from Sean's hometown of Baton Rouge, Louisiana, played an important part of their day. Summing up their overall vision, Brooks says: "We wanted as much North Carolina and Louisiana flare as possible, with romantic lighting and a great band."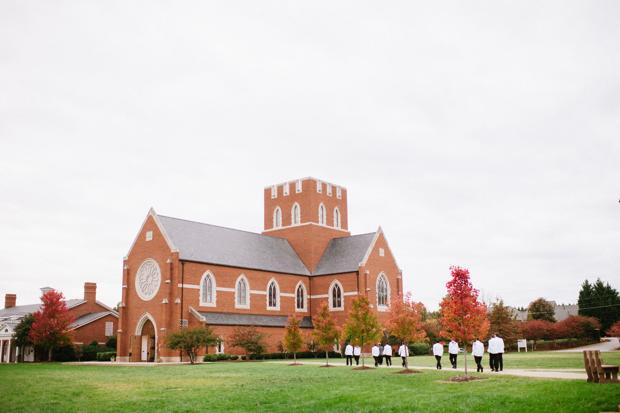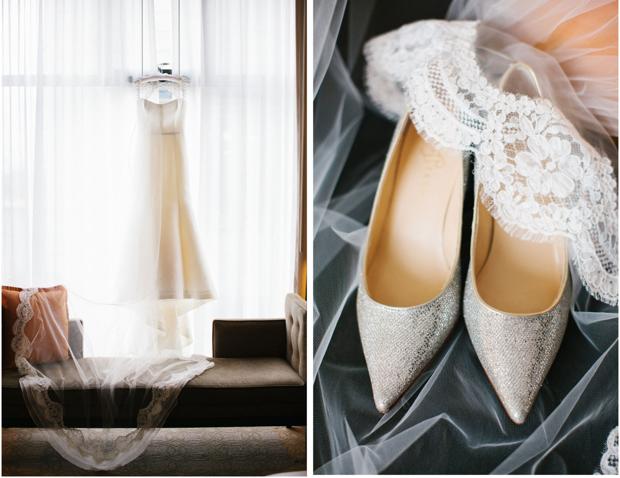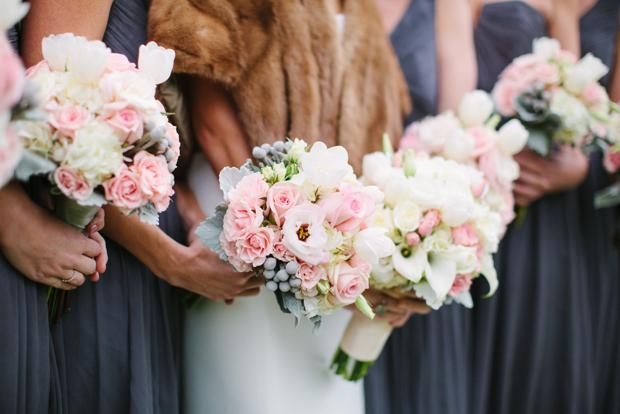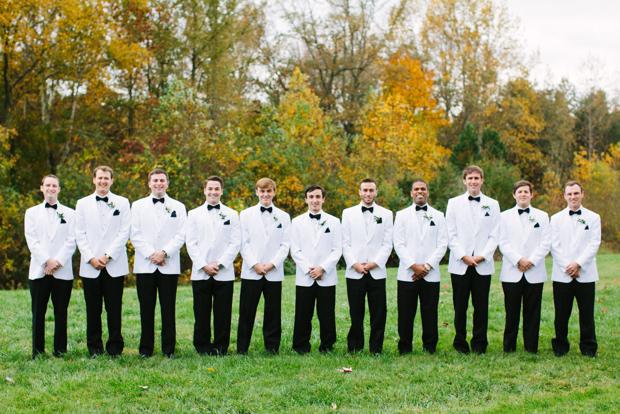 Prior to the ceremony, the bride and groom savored their time with friends and family as everyone got ready in their Proximity Hotel suites. "It was very relaxing and we enjoyed having all of our closest friends together with us," Sean recounts. One of his favorite moments was when the bride's father stopped in to spend time with Sean and his parents. "Brooks and I had written letter to each other's parents and they had the chance to read them together," Sean says, "It was a nice, quiet moment that I will always remember."
Brooks walked down the aisle at Phillips Chapel in Canterbury School, with processional music performed by a live bagpiper.  "My mom was worried about the acoustics in the Chapel," she says, "but everything turned out great – it was so breathtaking!"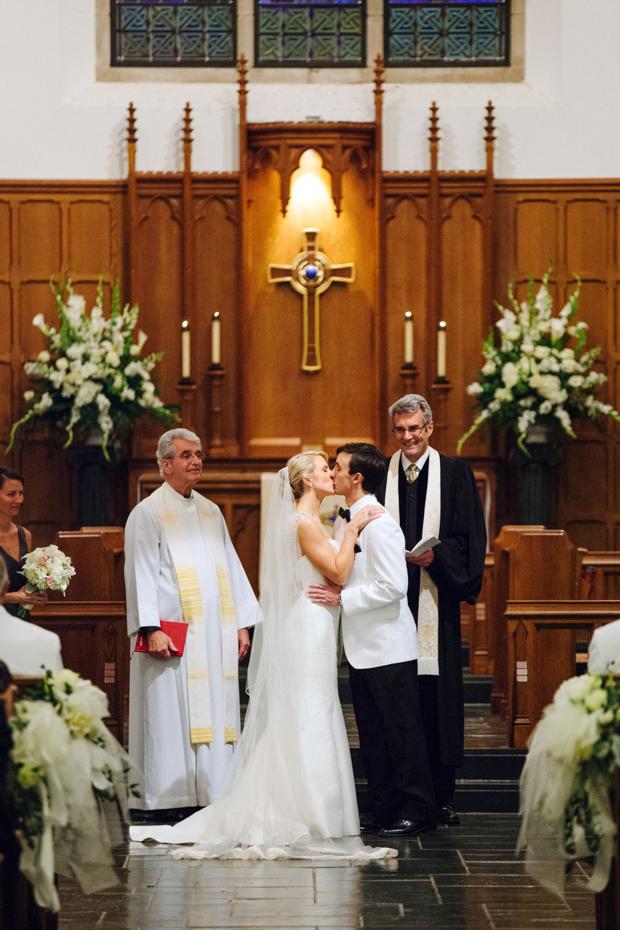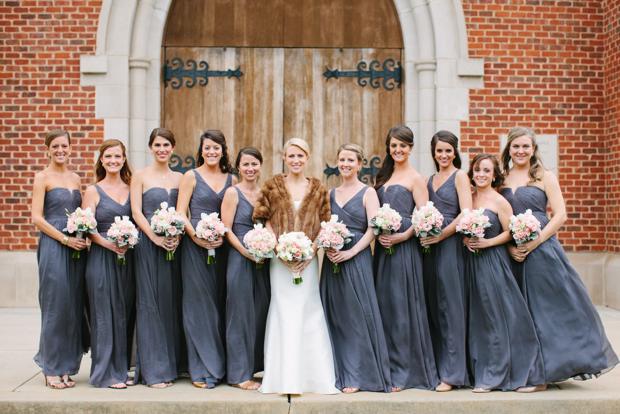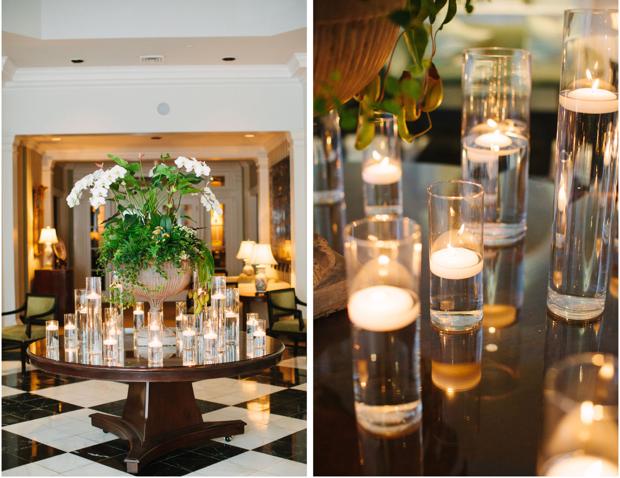 The reception party kicked off at Greensboro Country Club and started with a good-ole' Southern dinner. Food stations served up traditional North Carolina plates, including Carolina barbeque, shrimp and grits, pork tenderloin, and green beans. Later in the evening, guests enjoyed a wedding cake featuring alternating tiers of yellow chiffon with lemon filling and chocolate chiffon with raspberry filling.
Mardi Grad beads were handed out for everyone to wear as they danced along to the Sleeping Booty Band's jams.  Even though it ended up being Brooks and Sean's biggest splurge, they said booking a live band was a must-have: "We both come from families and groups of friends that love to dance, so having a lively reception was non-negotiable."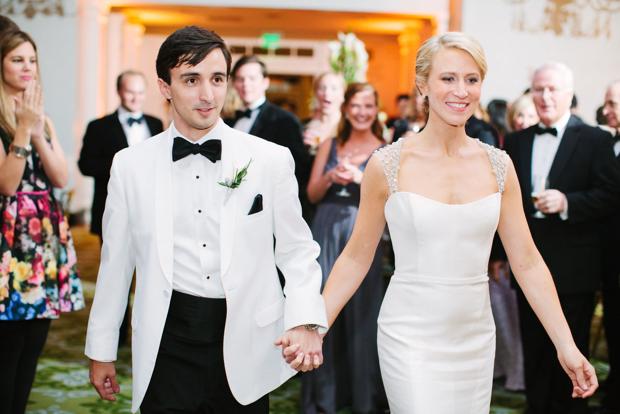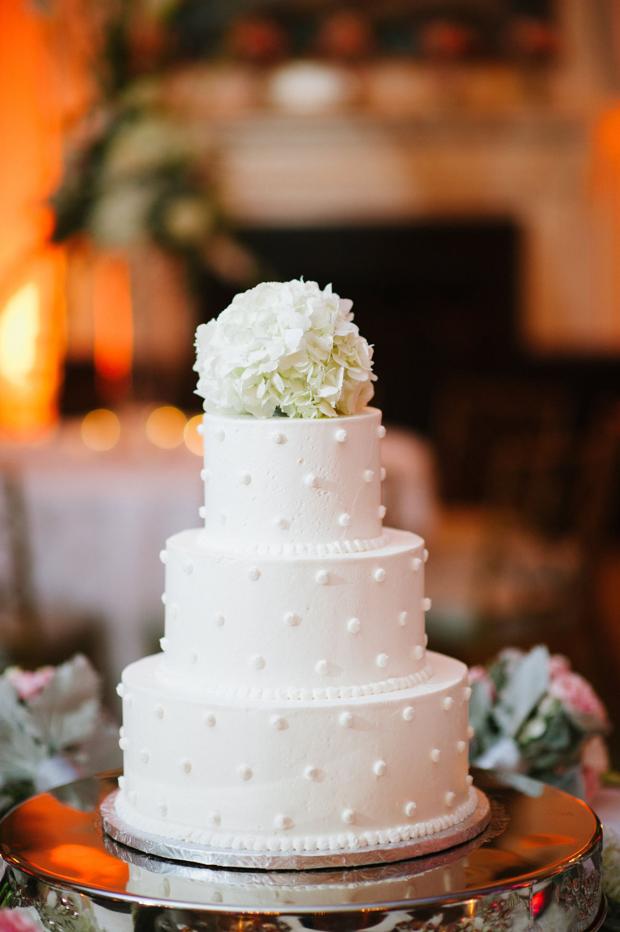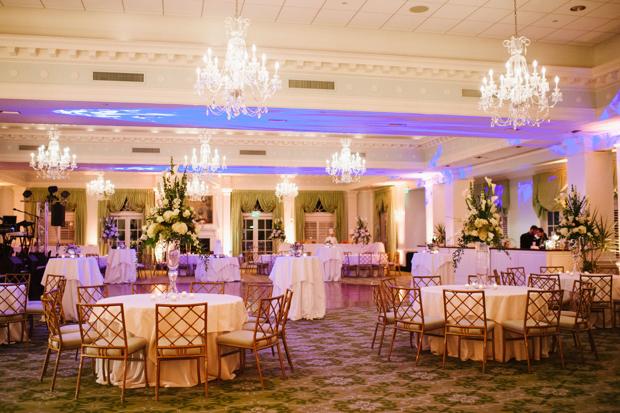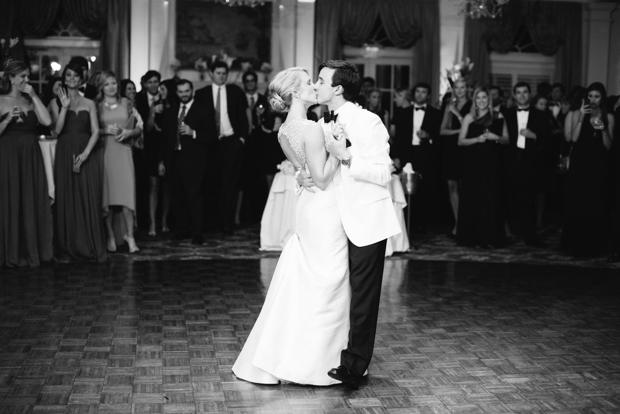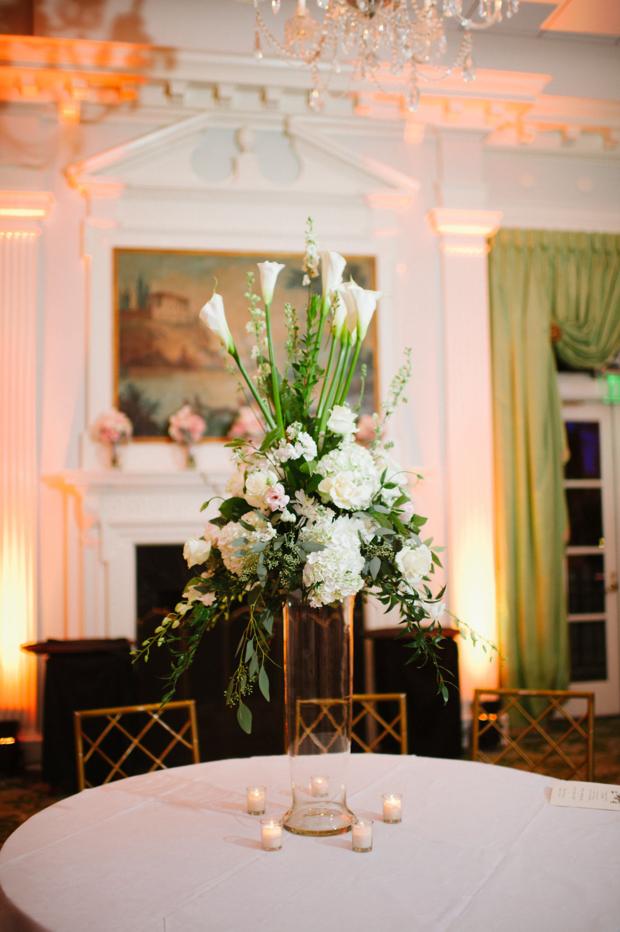 Toward the end of the night, guests took part in a Second-Line dance - a traditional celebratory dance in Louisiana - during which the couple carried fleur-de-lies-decorated parasols as their guests followed behind them, waving their personalized handkerchiefs.
When asked to describe the best part of the day, the couple says their favorite memory is "having everyone we love in the same room for one night."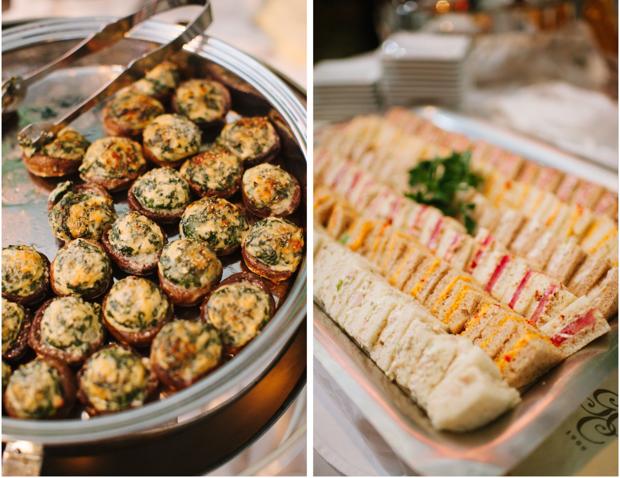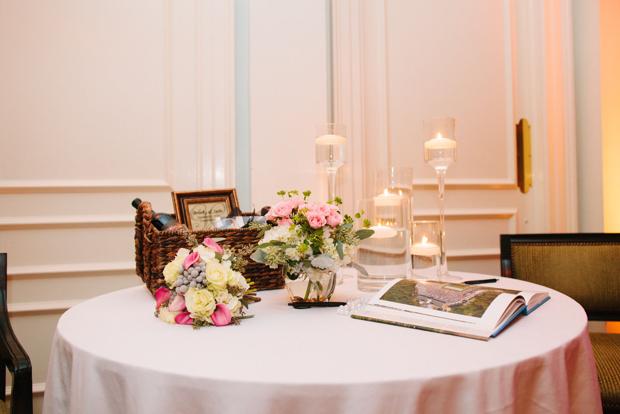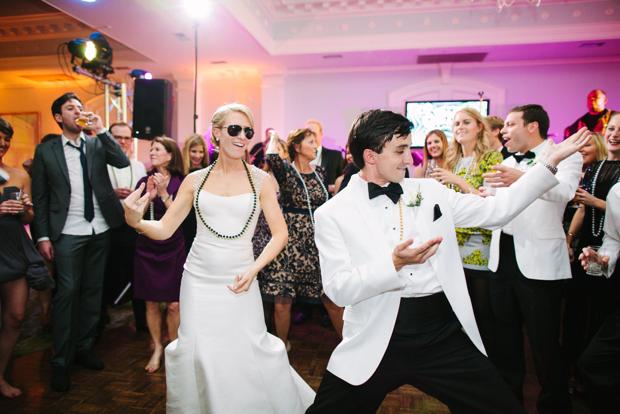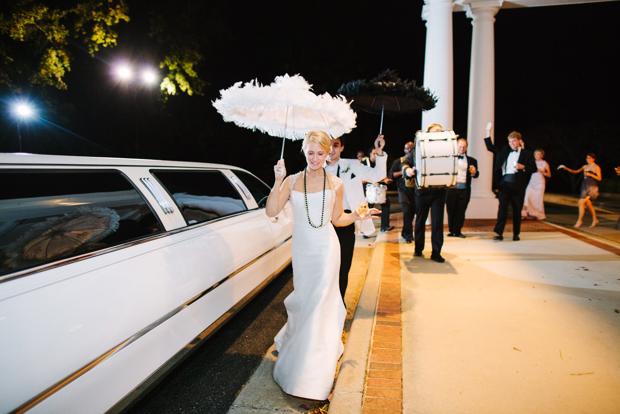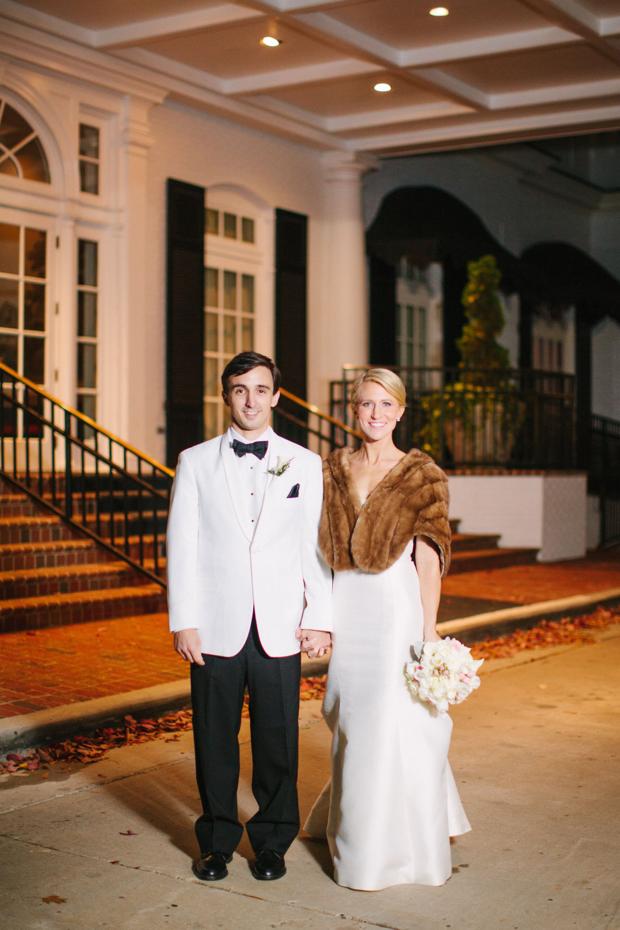 The Couple: Brooks Powell & Sean Dauterive
Number of Guests: 250
Venue: Phillips Chapel at The Canterbury School; Greensboro Country Club
Colors: Blush, charcoal and green
Theme: Lively, relaxed and elegant
First Dance Song: "Into the Mystic" by Van Morrison
Splurge: The live band
Special Touch: Sean's family priest from Baton Rouge, La., officiated
Advice for Brides: "Make sure that you and your fiance are both comfortable with the things that are most important for the big day."
---
Photography: Anna Routh Photography | Wedding Coordinator: Mimi McGinn | Ceremony Venue: Phillips Chapel at The Canterbury School | Reception Venue: Greensboro Country Club | Catering: Greensboro Country Club | Entertainment: Sleeping Booty Band | Florals: Colum Florist | Hair And Make-Up: Colleen Kelly | Bride's Dress: Amsale | Cake: Cakes by Manfred