Kristen and Mark's relationship was full of outdoor adventure from the beginning. They first met in the summer of 2009 while working as raft guides in the two mile-long town of Idaho Springs, Colorado. With more raft instructors than residents in the city and both employed by the same raft company, crossing paths was inevitable and their relationship soon took off.
Mark proposed five years later during a hike up Sam Knob in Asheville with Kristen and their 2-year-old chocolate lab Rupert.
"When we got to the top I turned around and Rupert had a note on his collar. The note read: 'Mommy, I'm almost three and no longer a puppy, so can we take the last name of daddy and become one big happy family?'" Kristen says. "I looked up and saw Mark on one knee, and it was the most perfect proposal ever."
As they started planning their May 2015 wedding at Summerfield Farms the couple knew they wanted to keep it simple, relaxed and fun – a reflection of who they were. Kristen credits their wedding planner Melissa Lewkowicz for helping their shared vision come to life: "She was so laid-back and fun, but also on-point and detailed. I knew I could plan the little things but on the wedding day would really need her to take over."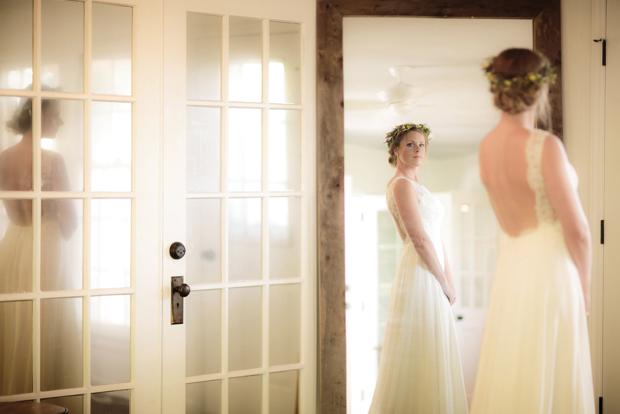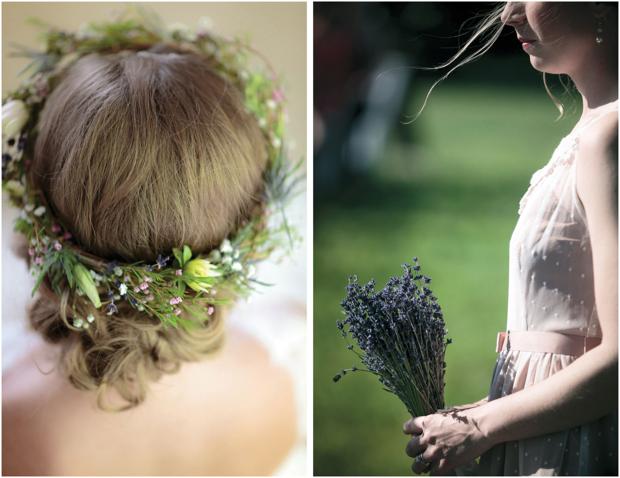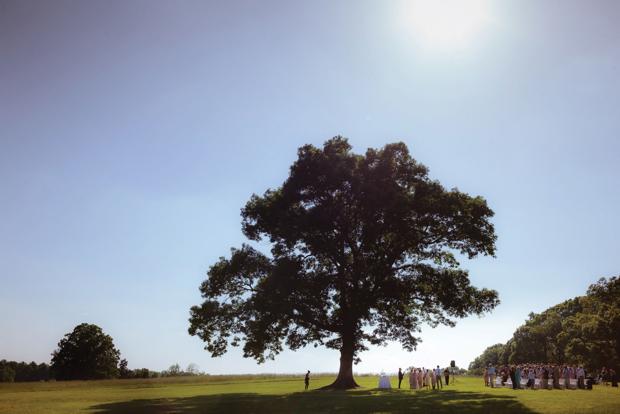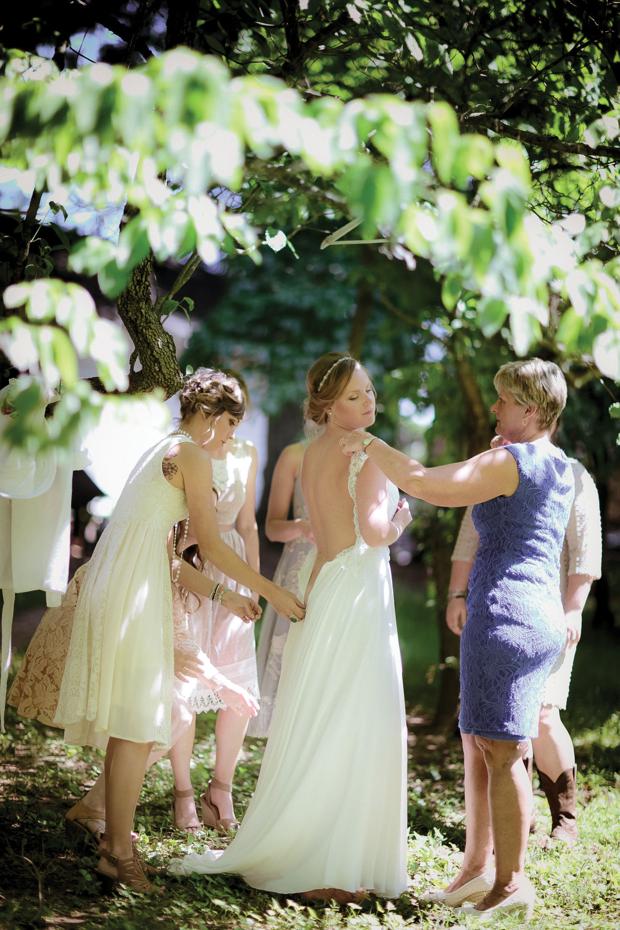 Mark and Kristen incorporated their love of nature and being outdoors by saying their vows under the sprawling branches of a giant old oak tree. Kristen embodied a romantic, bohemian style in her airy Sarah Seven gown, which she paired with a wildflower crown and bare feet. Her bridesmaids also kept with the simplistic theme in neutral, mismatched dresses.
Rupert was a special addition to the wedding party, serving as an honorary groomsman and standing by his parents in a pale blue bowtie as they became one family. 
"We got him four years ago in Colorado at only 6-weeks-old," Kristen explains. "He has changed our lives from that day forward and made our little family complete."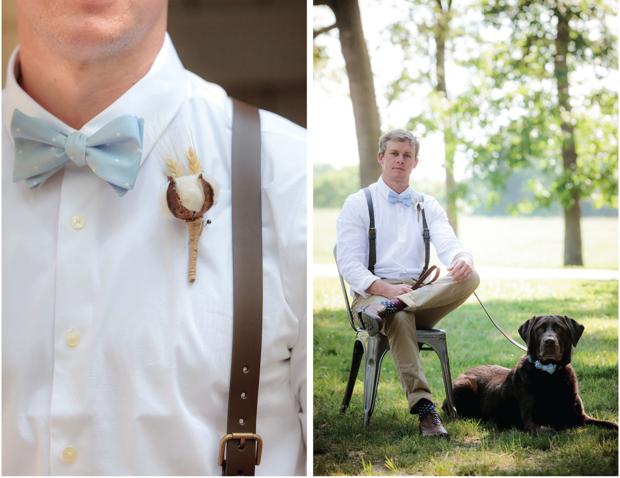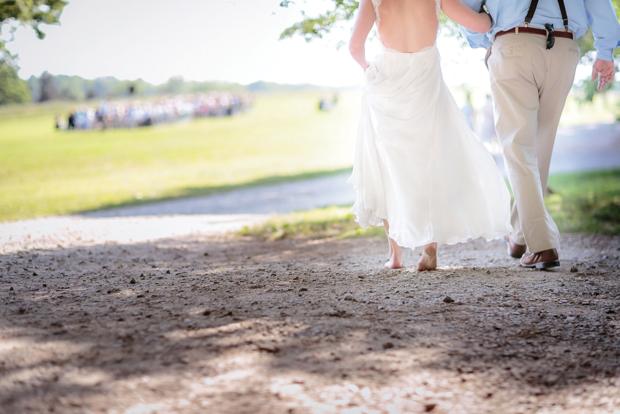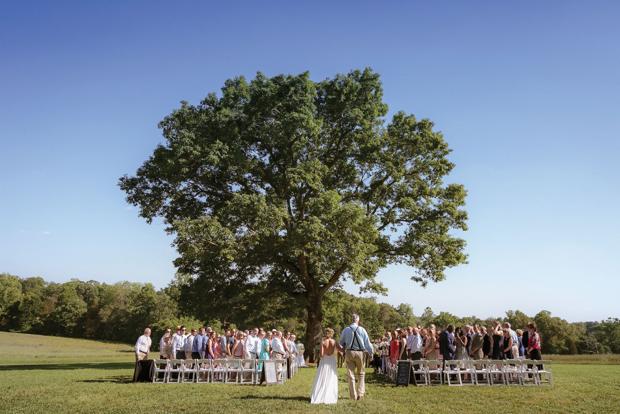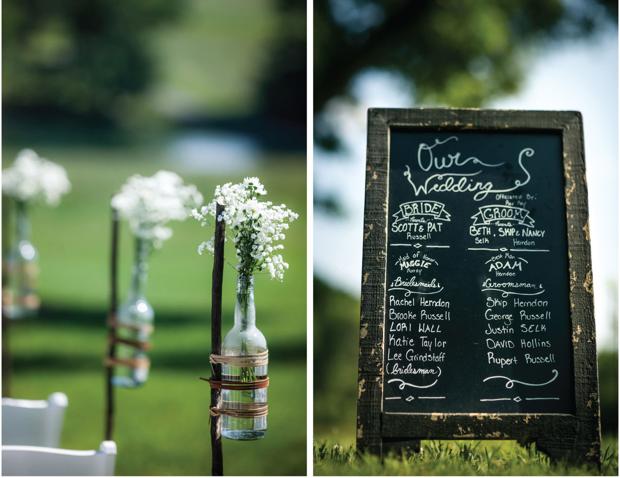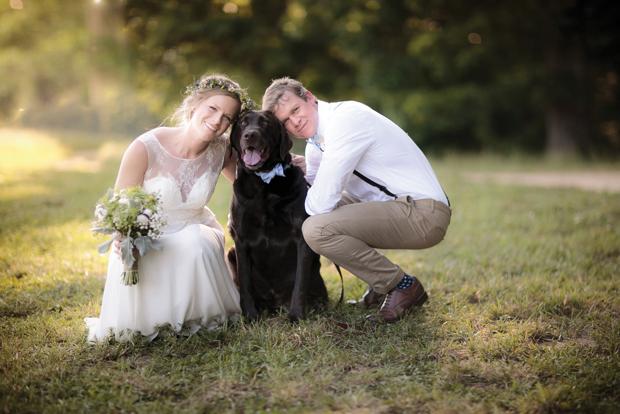 The reception took place in the nearby barn, where the couple continued their simplistic style with white linens, rustic centerpieces, vintage fabric garlands, and pops of pink and mint color. About 130 friends and family sat down to enjoy a Southern dinner of barbeque, macaroni and cheese, salad and vegetables.
"[It was a] perfect menu for our wedding; nothing fancy. People were telling us the next day how amazing the food was!"
In place of a traditional wedding cake, a dessert wagon offered a spread of cupcakes in a variety of flavors, including vanilla, red velvet, key lime pie and banana. Also on display were fun, personalized favors for guests to take home: matches stamped with "Kristen and Mark, a perfect match"; koozies with "eat, drink, be merry" on one side and a silhouette of a lab on the other; and Mason jars with an N.C. chalkboard outline.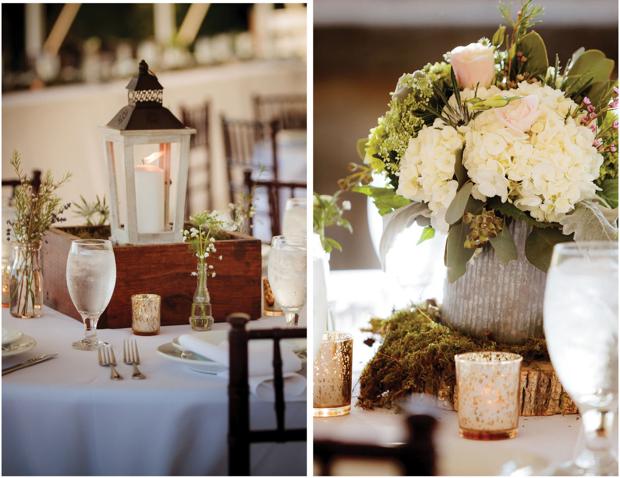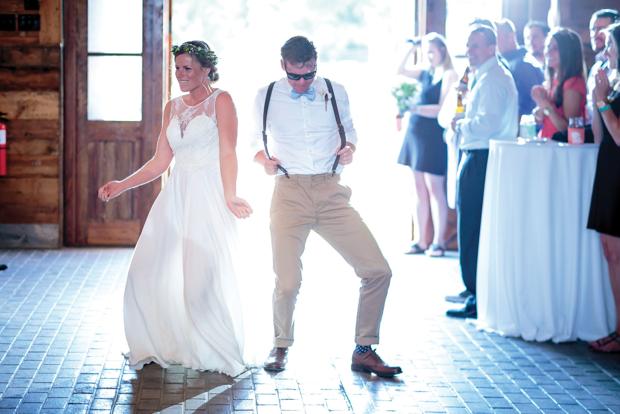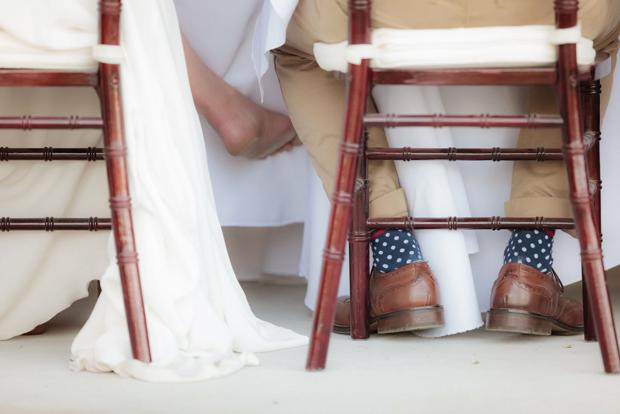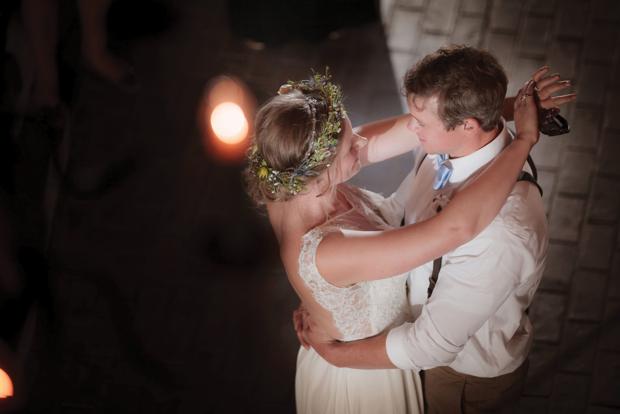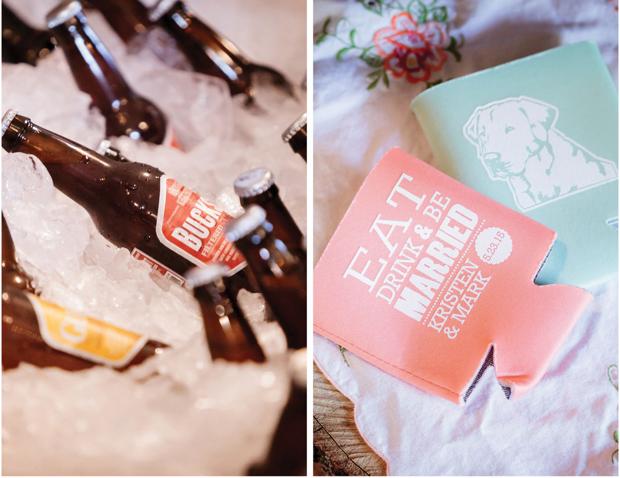 The majority of the evening was spent on the dance floor, as family and friends celebrated the newly married couple under beautiful wood ceiling beams illuminated by bright string lights. Mark and Kristen added one last quirky touch to their day by making their exit under the cover of thousands of translucent bubbles.
When asked to pick a favorite memory, the couple simply said: "Just seeing all our family and friends come together and enjoy that day as much as we were … it was just a big party for everyone!"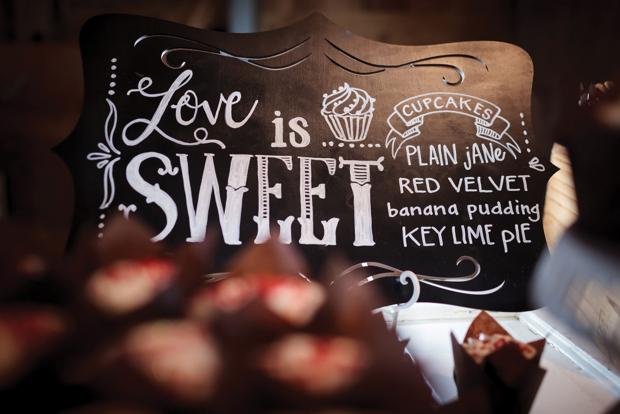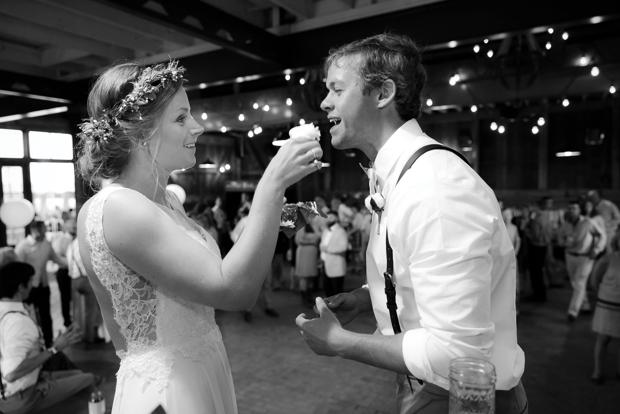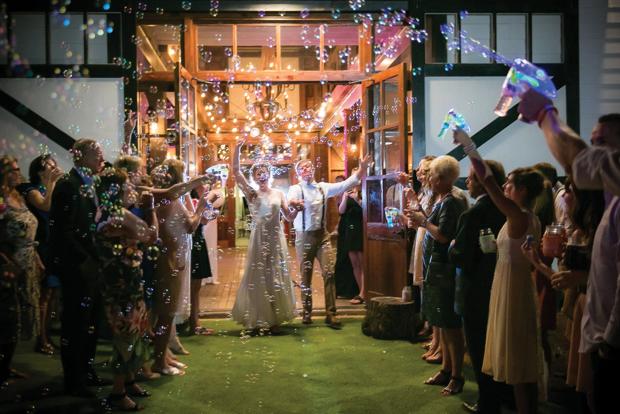 The Couple: Kristen Marie Russell & Mark Evan Herndon
Number of Guests: 130
Venue: Summerfield Farms
Colors: Green, white, burlap and light pink
Theme: Outdoorsy boho-chic
First Dance Song: "Crazy Love" by Van Morrison
Favors: Personalized matches and koozies, and Mason jar glasses with an N.C. chalkboard outline
Special Touch: The couple's dog Rupert was one of the groomsmen!
Advice for Brides: "Everyone says it but it's so true: Take in every moment and enjoy every second on your big day because it goes by so fast. I turned to my husband at the end of the night and told him 'I don't want it to be over!'"
---
Photography: Traci Arney Photography | Wedding Planners: Melissa Lewkowicz, Relish Design Company; Erika Richmond, Fresh.Local.Good | Venue: Summerfield Farms | Florals: Joy Klaff, Relish Design Company |  Hair And Make-Up: Laura Meredith Bray | Dress: Sarah Seven | Catering: Iron Hen | Cupcakes: Easy Peasy | Music: K2 Productions | Photo Booth: Classic Carolina | Videography: Blueberry Creative