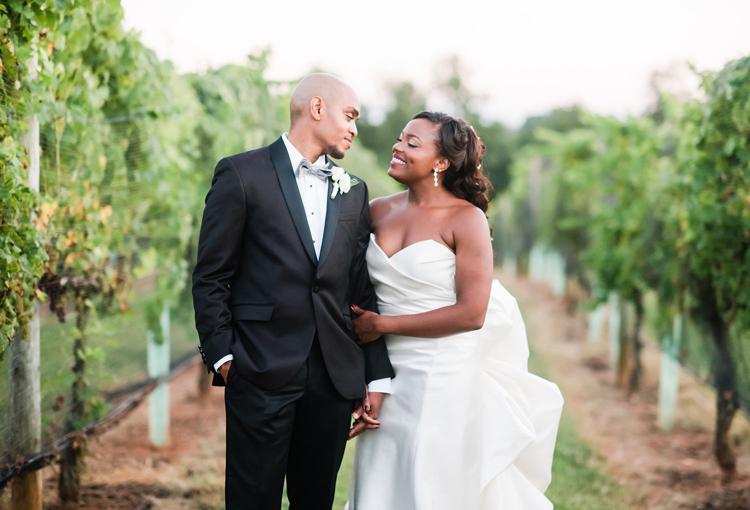 Most random encounters between people are just that, but in Cabria and Benjamin's case, a meeting became a glimpse into their future together. The pair met at an event in Yards Park in Washington, D.C., while both were with groups of friends, including some mutual acquaintances. They fondly remember locking eyes for several seconds during the introduction, although they exchanged very few words that evening.
Fate had plans for them, however. Two months later they found each other again on an online dating site. And a little less than three years later, they said "I do."
In June 2016, they traveled to Cabo San Lucas, Mexico, for what ended up being a life-changing vacation. On the next to last night of their vacation after a dinner cruise, Benjamin asked if Cabria wanted to go for a walk on the beach to smoke a cigar before heading back to the resort. Because it was dark, Cabria had asked Benjamin to use his phone's flashlight so they could see where they were walking. He ended up a little ways behind her and asked her to turn on her phone's light, too. She did, and when she turned around, the light revealed Benjamin standing there with an engagement ring. He bent down on one knee and proposed, and she happily accepted.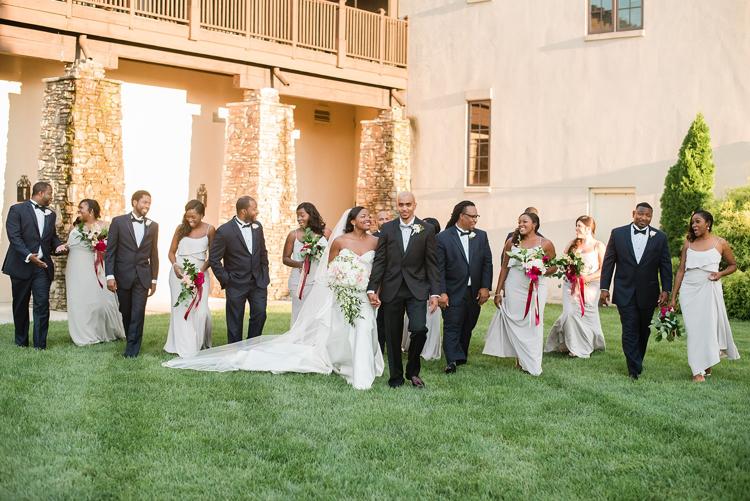 What followed was a stunning wedding at Childress Vineyards with 200 guests. Cabria says she indulged in a few splurges for her special day. "I splurged a lot on my dress," she says, adding that she found it at Nordstrom. "I had the designer extend my train 2 feet, and my veil was a bit pricier than most."
Another thing she wanted was a LOT of flowers, something she had always pictured when she dreamed of her wedding day. Because the bridesmaids' dresses were a subdued light grey, flowers seemed like the perfect way to add colors that popped. All of the arrangements were put together by Sami Price, owner of Just Priceless.
Benjamin and Cabria say they both have fond memories they'll always cherish.
"I actually remember the whole day," she says. "I kept reminding myself to stay aware and be present, because I was told it would all go by so fast. So throughout the day, I definitely made sure I absorbed each moment in hopes that it wouldn't all be a blur the next day. It worked!"
"What I remember about the day is that I was so anxious, I couldn't sleep the night before," Benjamin says. "I literally woke up every hour on the hour. Everything turned out great; it was truly a beautiful day."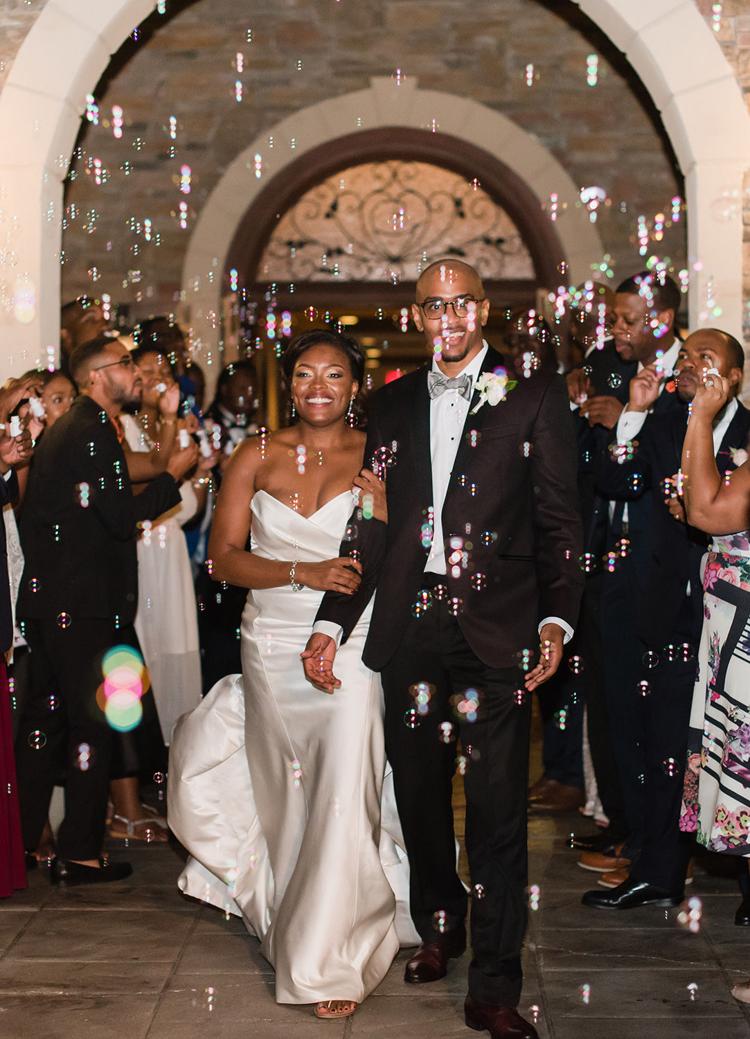 THE COUPLE: Cabria E. Simms, industrial and systems engineer working as a construction manager, and Benjamin G. Delaney III, computer science engineer working as an IT contract officer
NUMBER OF GUESTS: 200
VENUE: Childress Vineyards, Lexington
COLORS: Wine, blush baby pink, white and green
THEME: Vineyard classy and timeless
FAVORS: Chocolate truffles and custom cigars
FIRST DANCE SONG: "Latch" (acoustic) by Sam Smith
SPECIAL TOUCHES: The couple had some surprises for their guests. First, they rented a photo booth complete with a red carpet and a personalized step-and-repeat backdrop with their names on it for guests to take fun photos. "It turned out to be a very nice classy touch," Cabria says. Second, they had a hand-rolled cigar bar, which was a huge hit. "When my husband made the announcement that cigars were available during the reception, all we heard from the crowd was ooo and ahhs!" Both extras were at the recommendation of their wedding event planner, Turisa Tuttle Ogletree, owner of RKO Inspirations.
HER ADVICE FOR BRIDES: "Do what you want to do to make your day special and unforgettable to you. Don't hold back. Trust me; it will be worth it in the end. It's a day that you personally will never forget and will cherish forever."
---
VENDORS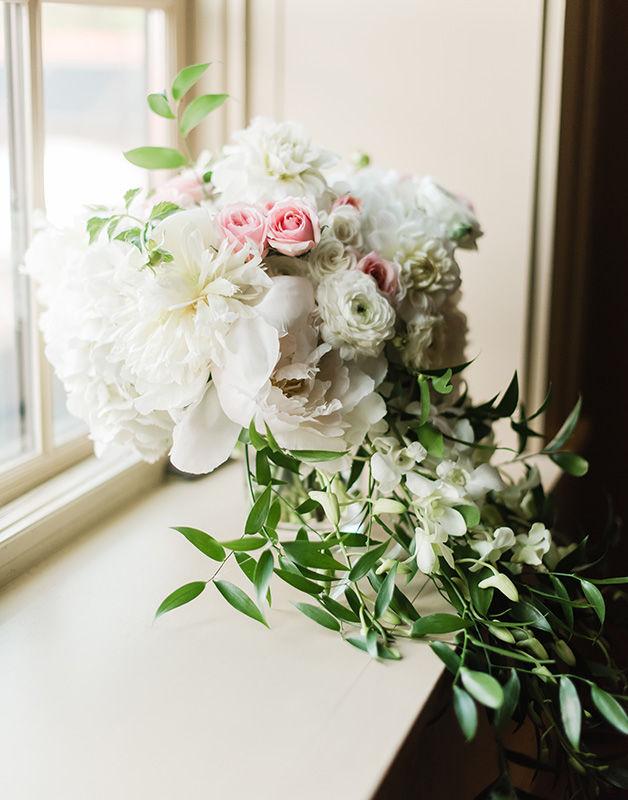 WEDDING EVENT PLANNER: RKO Inspirations
FLOWERS: Just Priceless Creative Floral Design
PHOTOGRAPHY: Jodie Brim Photography
VIDEOGRAPHY: One Love Productions, LLC
CATERING: Childress Vineyards
CAKE: Edible Artistry; included three tiers of tres leche and a fourth, bottom tier of white cake.
DRESS: Anna Maier – Ulla-Maija Felicite
BRIDESMAIDS' DRESSES: Jenny Yoo
GROOM'S TUXEDO: Ted Baker London
GROOMSMENS' TUXEDOES: Joseph Abboud
MUSIC: Live band, and DJ by Joel Holloway
HAIR & MAKEUP:  Hair by Sheila's Creative Hair; makeup by MUA Essence Lewis
TRANSPORTATION: Black Explorer rental from Enterprise
PRINTING: Printology Press
STATIONERY: WR Calligraphy
ALTERATIONS: Nordstrom Bridal Suite
PHOTO BOOTH: QC Photo Booths
CIGAR COMPANY: Twin City Cigar Company, LLC
LIGHTING & MONOGRAM: K2 Productions
OFFICIANT: Minister Joseph Frierson of Mount Zion Baptist Church, Greensboro
LINENS & CHAIR COVERS: Connie Duglin Linen Rental