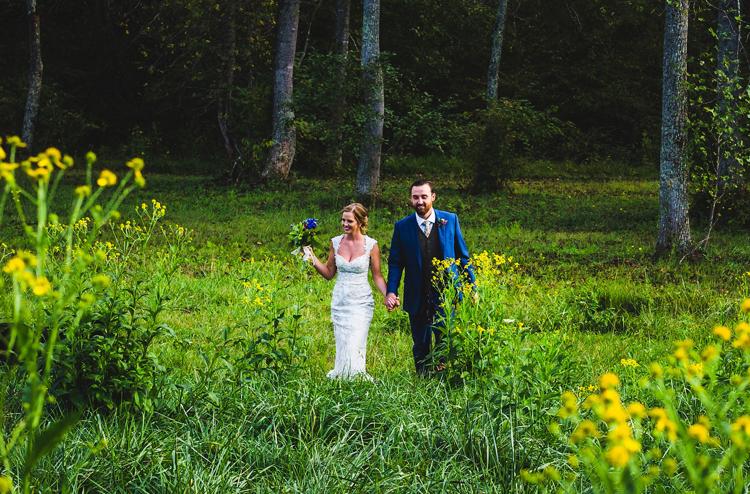 Eme and Jake have been in love with each other for most of their lives, they say. She may have kept him at "arm's length" for a few months, but she sealed their fate when she finally agreed to their first movie double date.
One soon-to-be memorable day, Jake made an unplanned trip to the grocery store. "He told me he needed to go to the store to buy creamer, which he doesn't even use," she says. It turned out that Jake had been planning to propose, and he actually had to go to his parents' home to pick up the engagement ring.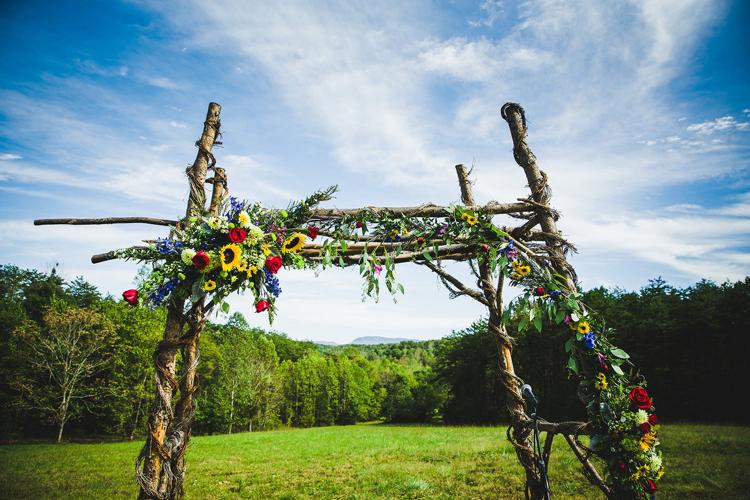 When he returned home, Jake asked Eme to join him in their living room. As they stood in front of the fireplace, he gave her a big hug and told her how grateful he was for her. With their faithful dog, Lloyd, by his side, Jake asked Eme to be his wife. She was so shocked that she recalls breaking out in a sweat instead of tears, she says. Amid the surprise, she said gleefully agreed.
Their wedding was held at the beautiful and earthy Luna's Trail Farm and Event Center in Westfield. The venue worked perfectly with the couple's rustic boho-chic theme and could not have been more accommodating, Eme says.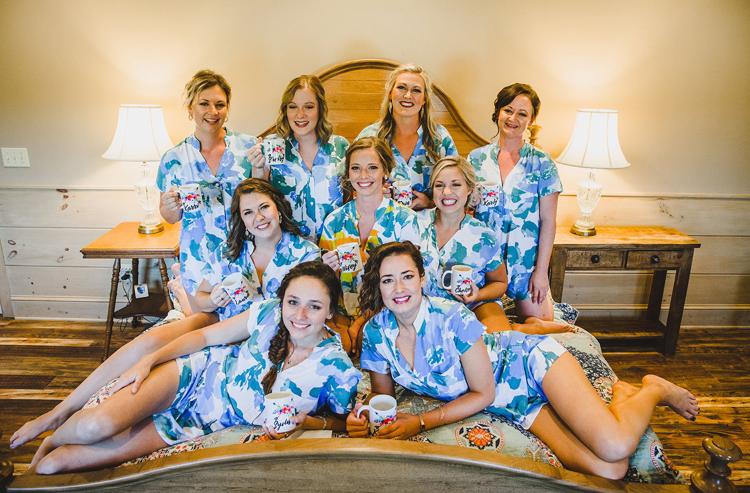 The couple stayed in the cabins provided Friday and Saturday nights, and also had a designated camping area for their guests to spend the night. And most important, Eme and Jake were able to bring their beloved dog, Lloyd. "He definitely completed the day," Eme says.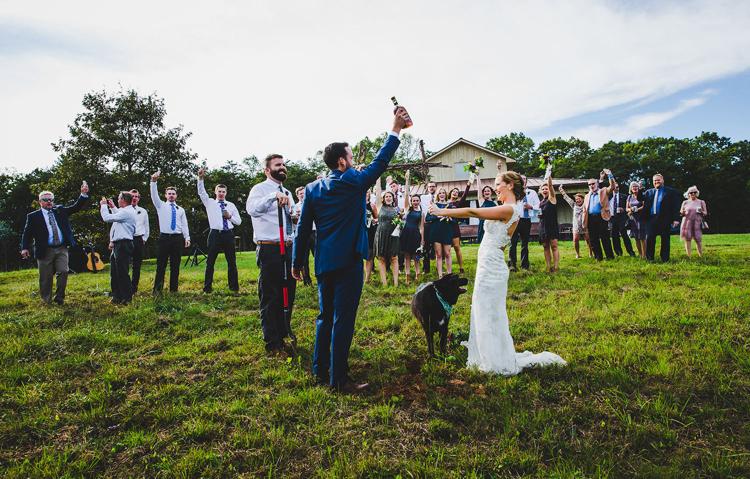 One unique touch they incorporated was digging a bottle of whiskey out of the earth together. The couple had buried it one month before their wedding, and once they dug it up, they shared shots with the wedding party and family after the ceremony.
That part was Eme's favorite memory of their day, she says. Jake's favorite memory was the moment they pulled the curtain back, when he finally got to see his beautiful bride on their wedding day.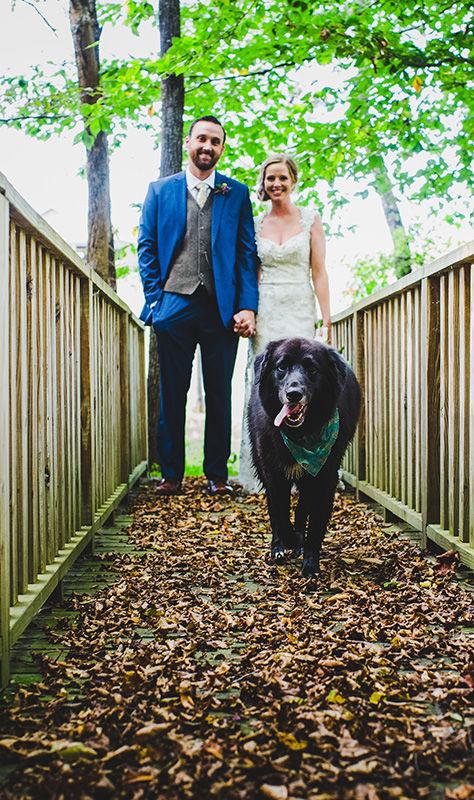 THE COUPLE: Eme Spinks, a cardiac cath lab nurse, and Jake Loy, a former physical education teacher now studying physical therapy
NUMBER OF GUESTS: 225
VENUE: Luna's Trail Farm and Event Center in Westfield
COLORS: Multiple
THEME: Rustic boho-chic
FAVORS: Custom coasters from Red Dog Wood Works in Summerfield
FIRST DANCE SONG: "Have a Little Faith In Me" by John Hiatt
SPECIAL TOUCH: "Our dog Lloyd is very important to us and we wanted him to be a part of our day. We are so glad that we allowed him to be there. We also buried a bottle of whiskey before our wedding day and dug it up to share shots with our wedding party and family after the ceremony."
ADVICE FOR BRIDES: "Don't worry about the things you can't control. If you expect that some things won't go as planned, you will be grateful when they do."
---
VENDORS
WEDDING DIRECTOR: Katie Tedder with Tedderfarm Consulting
FLOWERS: Bennett Baskets 'n Bows for bouquets, boutonnieres and arbor flowers. The rest were from Trader Joe's.
PHOTOGRAPHY: Urban Bloom Photography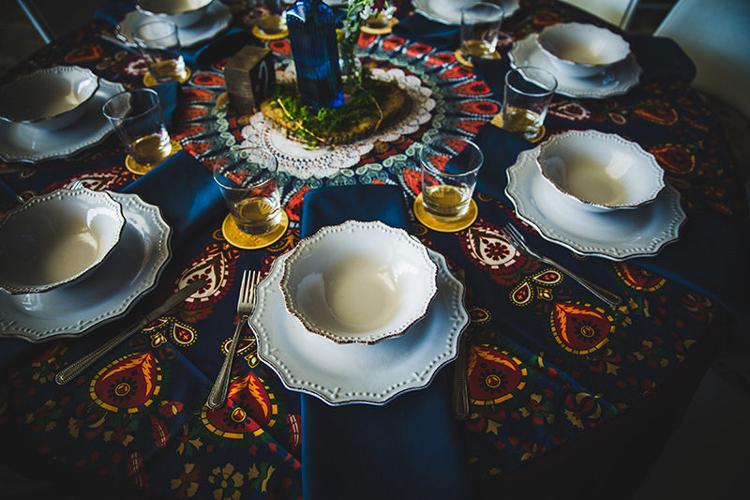 CATERING: Dennis and Jane Ruff from Germanton
CAKE: Artist's Way Creations Bakery Café – cake (strawberry, blackberry wine and white wine) and mini-pies (apple and pecan)
DRESS: Maggie Sottero, Lasting Impressions
BRIDESMAIDS' DRESSES: Altar'd State
TUXEDOES: Pants from Eddie Bauer and ties from Jos. A. Bank
MUSIC: Old Man Noize and Dan River Drifters
HAIR & MAKEUP: Casey Kiefer (hair) and Jessica Chaffin (makeup)
TRANSPORTATION: Borrowed the blue Ghia from a family friend and had an Uber driver and another driver from Barefoot Transportation to help get guests home safely.
PRINTING: Wooden and tin frame for guest book, as well as the "So the Adventure Begins" sign made by Meredith and Tyler Van Meter from King with "His Promises"
STATIONERY: Wedding invitations from Etsy "studiofortydesign" in Seattle