Macy's entered its 14th year as a Hanes Mall anchor earlier this month.
But as a store-closing clearance sale begins Monday, Macy's customers interviewed last week spoke less about the store's pending departure and more about the potential of what could fill its three-story, 151,415-square-foot space.
The majority of those customers said they occasionally — or only rarely — shop at Macy's, in part because many perceive the merchandise as too expensive for the quality of the product.
They also said Macy's never attempted to adjust its overall urban marketing and pricing to cater to middle-class Southern shopping expectations and sensibilities.
"I hate that they are closing because at times, Macy's was reasonable with good quality products in all price ranges," said Linda Wishon of Lexington. "But over time, it seemed to get away from the lower-price items, and I think that's why people don't shop with them as much now."
"You never got the feeling they were trying to relate to their customers the way that Thalhimers did," Wishon said.
Thalhimers, a longtime mall tenant, became an anchor of the south Hanes Mall addition that opened in 1990. It was acquired by Hecht's in 1992, which was in turn bought by Macy's in 2006.
Tarasha Saxon of Winston-Salem also grew up shopping at Thalhimers.
"I'm not going to miss Macy's too much because they haven't done much to entice you into their stores with specials or price discounts," Saxon said. "Their displays speak of 'here it is, either like it or not.' "
Saxon said she was at Macy's last week because she thought the clearance sale already had started. Since it hadn't, she took her time pricing merchandise in anticipation of significant discounts.
"It would take at least a 50% discount for me to buy some of the items I looked at today," Saxon said. "75% would be even better, but at 50%, it would be fairly priced."
Marilyn Reed of Clemmons was shopping Macy's in part because she had received several Macy's gift cards from family members who favor shopping there, and in part because she also thought the clearance sale had begun.
"My family members have always liked the clothing that Macy's offers, and thought I would as well," Reed said.
Reed said it was telling, in a kind way, that family members typically gave her a $100 Macy's gift card "because they knew it would take that much for a good deal."
Reed said that once the clearance sale begins, she would keep track of the discounts and return to use the gift cards "once the prices give me the best bang for the buck for what I want."
Sears closure
During Sears' slow-motion closure from the fall of 2018 to January 2019, there was time for long-time customers to become both nostalgic and melancholy for an original mall anchor.
In Winston-Salem Journal articles at that time, customers described coming to Sears with their parents or with their children to buy back-to-school clothing, to try out the latest video games when Pong and Pac Man were king, and get another appliance or tool kit.
They reminisced about Sears being a one-stop shop for so many years, and regretted that Sears could not or would not adapt to online shopping and convenience.
The Sears declaration of bankruptcy by what was once America's largest retailer "is the irony of ironies," said Roger Beahm, executive director of the Center for Retail Innovation at Wake Forest University School of Business.
"The company that once began as a remote-order and direct-delivery business has now all but lost the battle for survival to a retail environment that is, once again, becoming remote-order and direct-delivery."
'Young people's clothing'?
For many of the Macy's shoppers, there was a sense of "we hardly knew you" even after 14 years at the mall
Adelaide Carter of Kernersville and Lorraine Wood of Rural Hall, two long-time friends, were sitting on a bench outside the upper-level Macy's entrance.
As shoppers came and went at the store, they reflected on their limited Macy's experiences.
"Look at the displays there," Carter said, pointing to an array of short, colorful dresses and outfits. "They welcome you in the door with young people's clothing that an older woman, like myself, would not wear.
"To me, it's a sign of why they're closing here, because their apparel is overpriced and not appealing to elderly consumers unless it in the clearance area. Us older folks tend to have money to spend.
"Meanwhile, they're trying to cater to young people who are doing the majority of their shopping online and who don't typically shop at department stores because they can't afford the prices, either," Carter said.
Wood said she tries to get her 20-something granddaughter to consider shopping at Macy's, but she doesn't "because she says their clothing doesn't appeal to her."
"They should be selling products that appeal to the majority of mall shoppers."
'Very elegant ... great sales'
Several people posted about the closing on the Winston-Salem Journal's Facebook page.
Lynn Biggam wrote that "I will miss Macy's — they carry a variety of items that other stores don't."
She cautioned that she "never buys without some kind of sale price. It's a shame that big stores are closing & people are losing their jobs. Hanes Mall has really deteriorated!"
Delois Coles wrote that she will miss Macy's "a lot. It's a big beautiful store. Very elegant ... great sales."
Lesa Bruce West wrote that she "LOVE Macy's prices and quality, but I won't go to Hanes Mall anymore."
"The clientele at the mall are not Macy's shoppers, and the mall isn't safe to shop any more. I'm surprised Macy's lasted this long."
Meanwhile, Kari Duper Cottingham wrote "Meh, who cares. That store is super dated. Would love to see Nordstrom's, but our demographics don't support that. That mall in general is going downhill fast."
Prom dresses
Wanda Carpenter of Hickory said she preferred Belk's and J.C. Penney to Macy's because Belk knew Southern culture and J.C. Penney has been a retail institution along the lines of Sears, particularly during the prime of its catalog days.
'I like (Macy's) merchandise, but it was often too expensive for my budget," Carpenter said.
Dana Cox of Mooresville said the average Macy's price was much higher than the average price at Target or Kohl's for what they saw as essentially the same quality apparel.
"It's like they had a New York City price mindset that just carried over to every one of their stores," Cox said.
"They never adjusted, at least in my mind, to the Southern buyer. They just never fit in here."
Cox said those who will miss Macy's the most may be teenage girls who are losing a dependable shopping option for prom dresses.
Angie Burdick of Mocksville said she enjoyed shopping with Hecht's because "it had a lot of basic-type apparel and linens and was light on the fluff."
"Macy's, meanwhile, is way more about the fluff with little basics. When they made the change, they lost a lot of their clientele."
Burdick said the loss of Macy's will hurt the mall's appeal "because I think many people come for the anchors, and then shop the smaller stores while you're here."
Looking to the future
When asked what they would like to see go into the Macy's space, shoppers offered a wide variety of options.
Wood said a good re-purposing could be a grocery, like a Trader Joe's, or another specialty-type retailer.
Hallie Krebs, who lives near the mall, liked the grocery store suggestion, as well as opening a branch of the YMCA or some form of sports-oriented entertainment.
"I don't think a department store would work there any more, or those that might come would be too similar to Macy's," Krebs said.
Emily Aljets of Winston-Salem suggested a good fit would be some sort of destination museum.
Shoppers said they would like to see Hanes Mall attract more specialty stores similar to what Friendly Center in Greensboro has, such as Apple, Brooks Brothers, Caribou Coffee, The Cheesecake Factory, DSW Shoes, Lululemon, Ultra Beauty and West Elm.
For Phyllis Bean of Lexington, "a home run" retailer would be landing Bass Pro Shops, which does not have a store in the Triad and is located only in Cary and Charlotte in the state.
"That would appeal to a lot of people, men in particular, especially with Gander Outdoors closed," Bean said.
Saxon said she could envision the three stories being split into three different uses, with a series of sit-down restaurants on the bottom floor, and an entertainment venue with basketball courts, arcades, bowling alley, indoor Putt-Putt "or other things to keep youths occupied in a positive way."
"Now, given that it seems like Novant and Wake Forest Baptist are buying up real estate every chance they get, it wouldn't surprise me for Wake Forest Baptist to buy the Macy's space to counter what Novant is doing with the Sears space."
Hanes Mall signage

Hanes Mall Boulevard extension site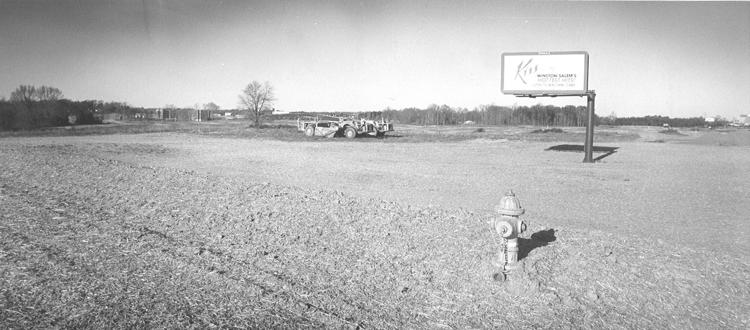 Hanes Mall shopping center site, 1981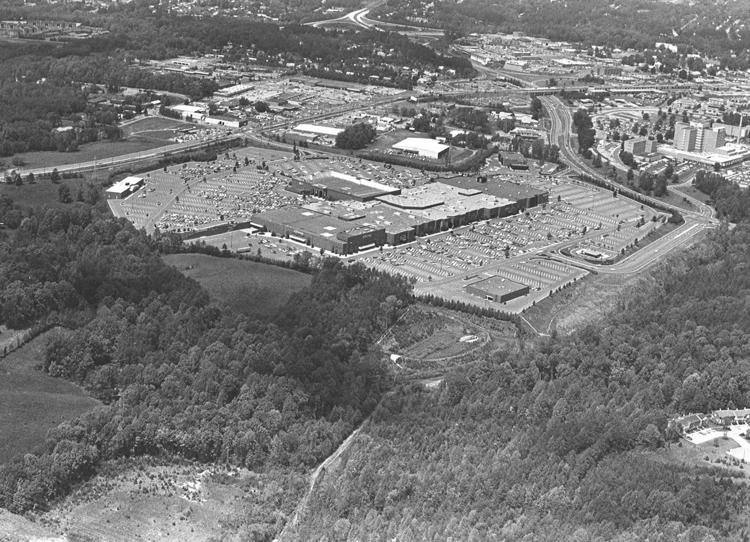 Hanes Mall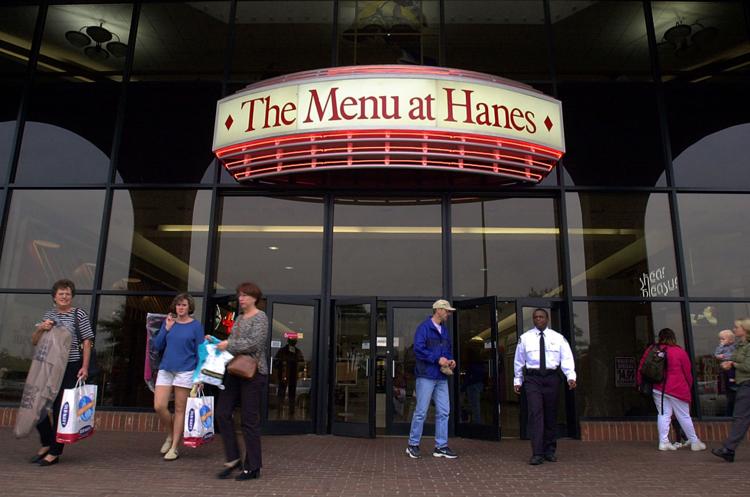 Aerial view of Hanes Mall Blvd. construction, 2001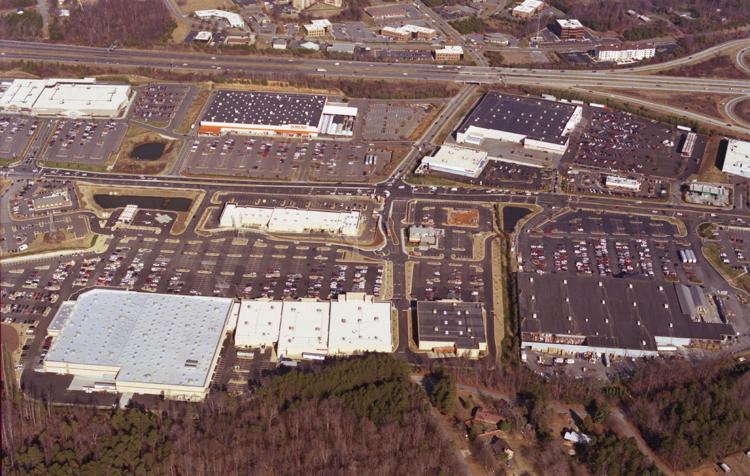 Christmas shopping at Hanes Mall, 2001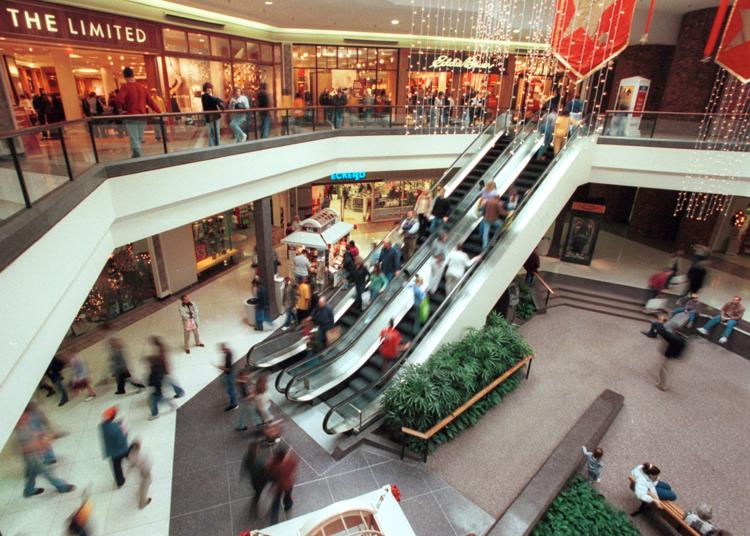 Carosel at Hanes Mall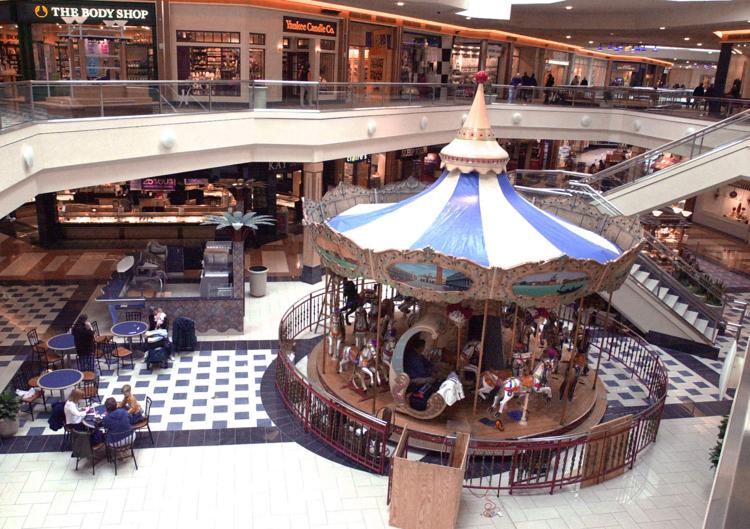 Silas Creek Crossing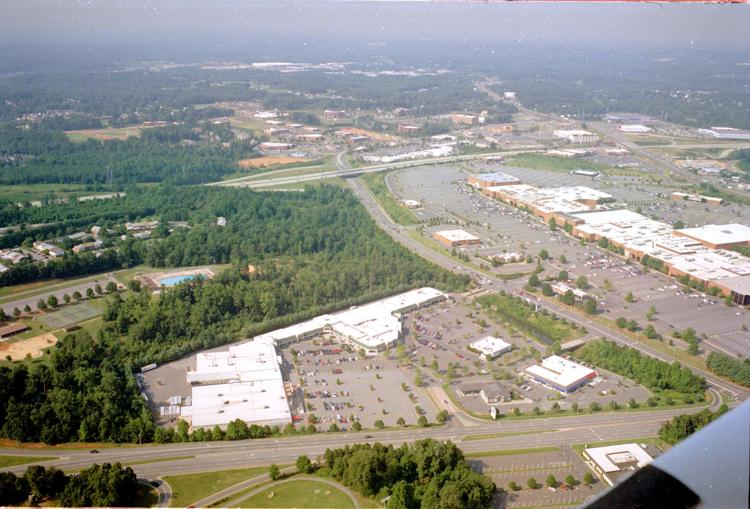 Hanes Mall Food Court, 2002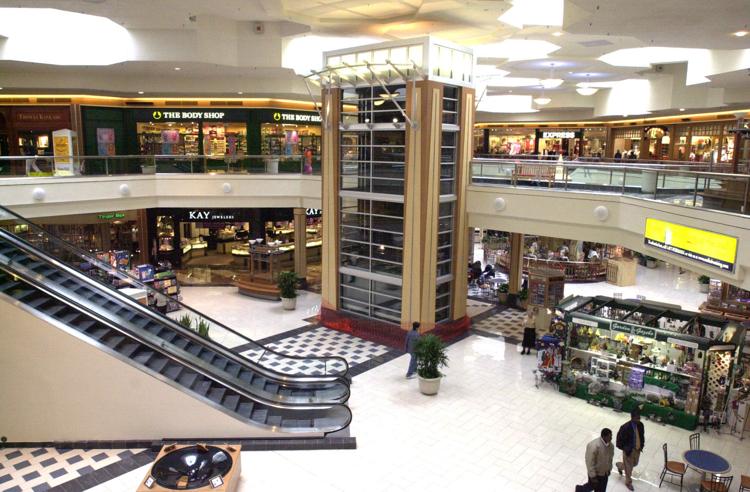 Christmas shopping, 2002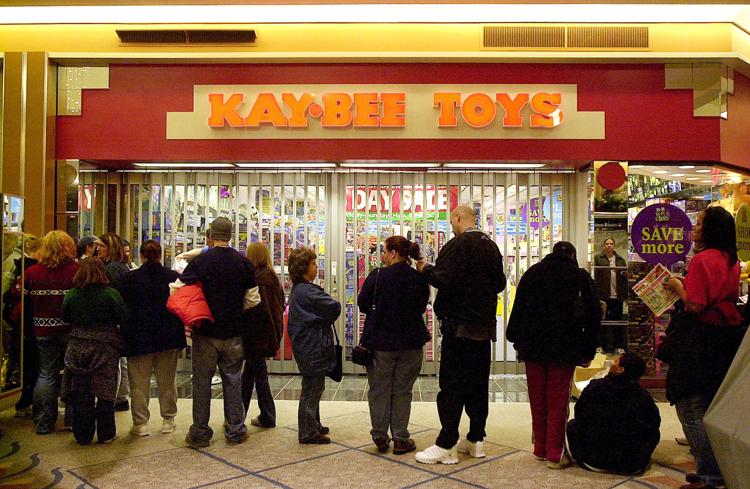 Renovations at Hanes Mall